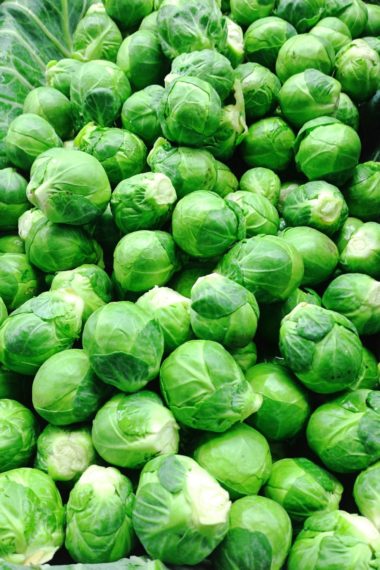 It seems that over the past few years I have fallen in love with Brussel sprouts. (Honesty, I think I've developed a slight obsession with them!.) Although they can be fixed in a number of different ways, my favorite is quick and easy pan-fried Brussel sprouts. This cooking method is super simple and uncomplicated. 

Naturally gluten-free, Brussel sprouts make an exceptional side dish and pair well with all kinds of meats. Besides being delicious, these tasty little gems are loaded with nutrients and antioxidants.
To help support our blogging activities, our site contains affiliate links. If you make a purchase from a link on our site, we may receive a small percentage of that sale, at no extra cost to you. Blessed Beyond Crazy is a participant in the Amazon Services LLC Associates Program, an affiliate advertising program designed to provide a means for sites to earn advertising fees by advertising and linking to amazon.com.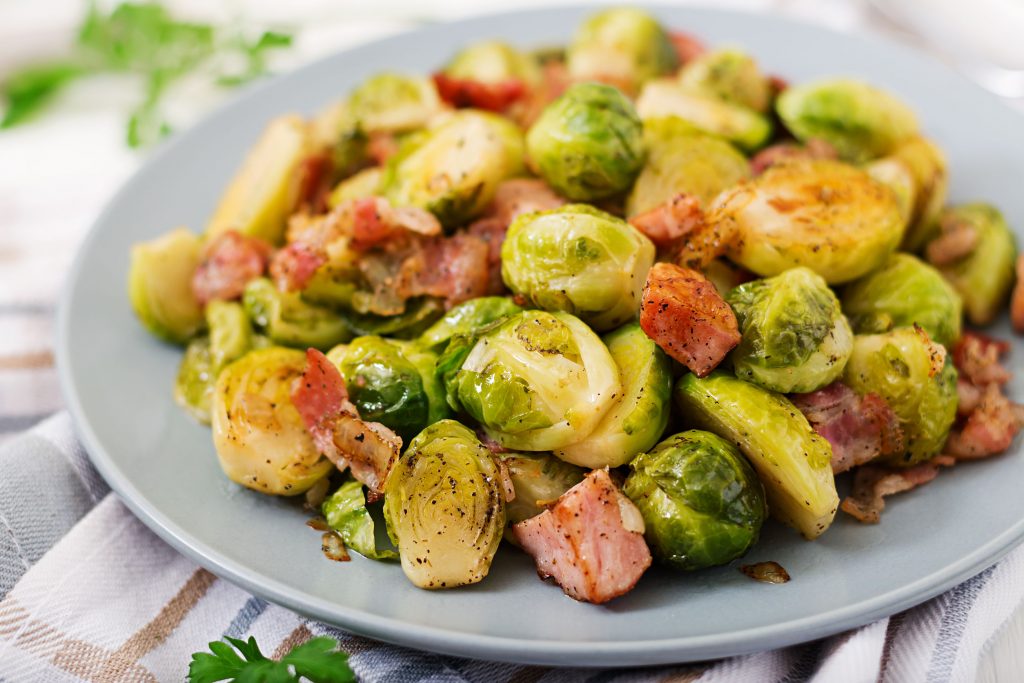 Cruciferous Vegetables
As everyone knows, Brussel sprouts resemble cute, tiny little cabbages. They have a dense texture and a mild, nutty flavor. Brussel sprouts belong in the cruciferous vegetable family and are high in sulfur-containing compounds called glucosinolates.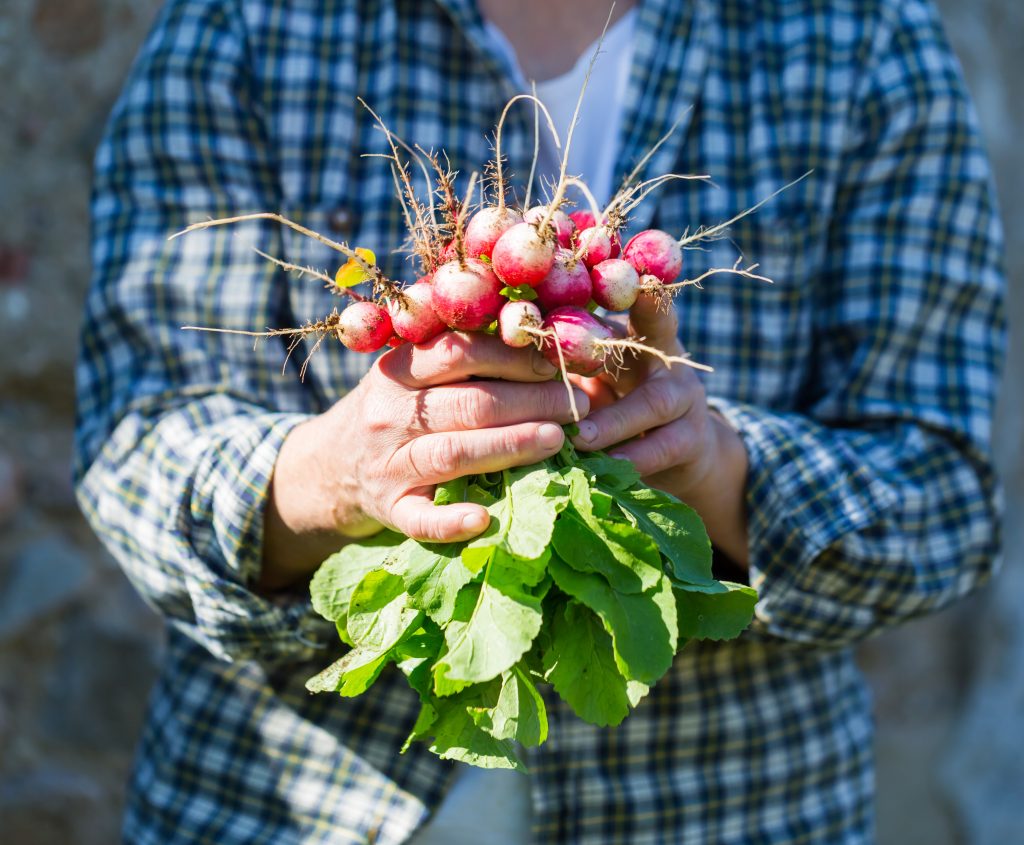 Other cruciferous vegetables include cauliflower, broccoli, cabbage, kale, arugula, bok choy, radishes, watercress, and collard greens. Did you know that research suggests that cruciferous vegetables help lower inflammation and may offer protection again certain forms of cancer? (Just one more reason to love them!)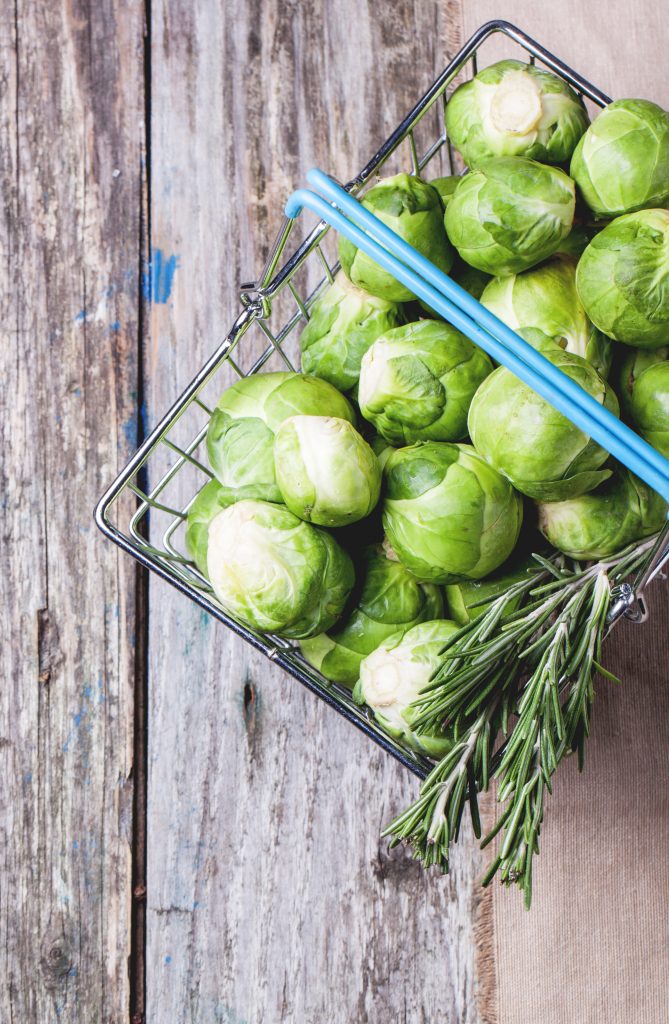 Fresh is the Best!
Like any garden produce, fresh is always best. Larger Brussel sprouts taste more like cabbage whereas smaller sprouts are a little more tender and sweeter. The best sprouts are vivid green, firm, have tightly wrapped leaves, and are uniform in size.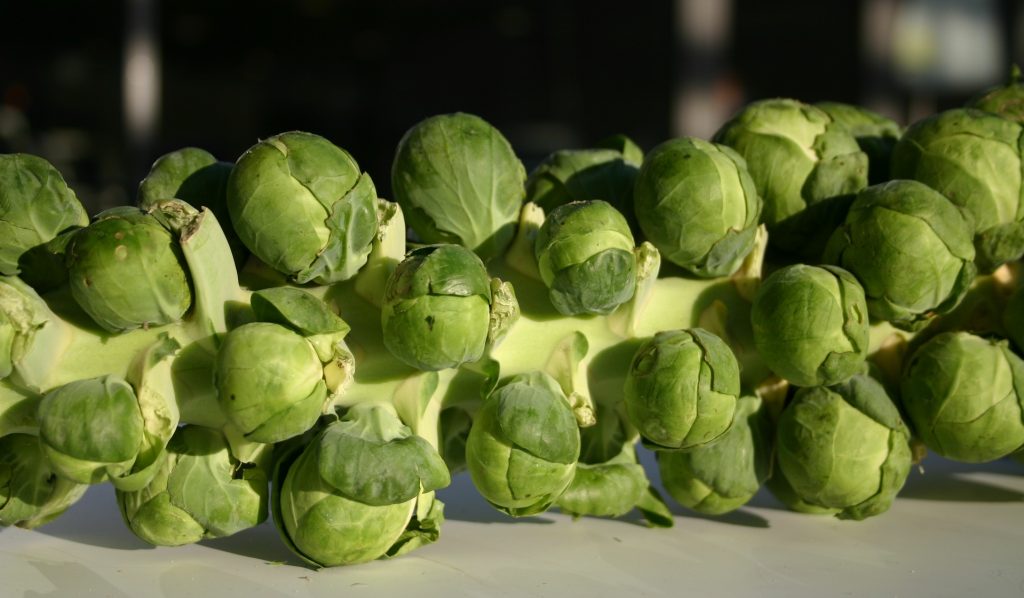 Storage
Fresh, unwashed sprouts keep well up to one week when stored in a bag or vegetable storage container in the crisper section of the refrigerator. When ready to use, simply rinse the sprouts in cool water, then drain. Use a sharp knife to carefully slice off the very tip of the base of each sprout and remove any tough outer leaves.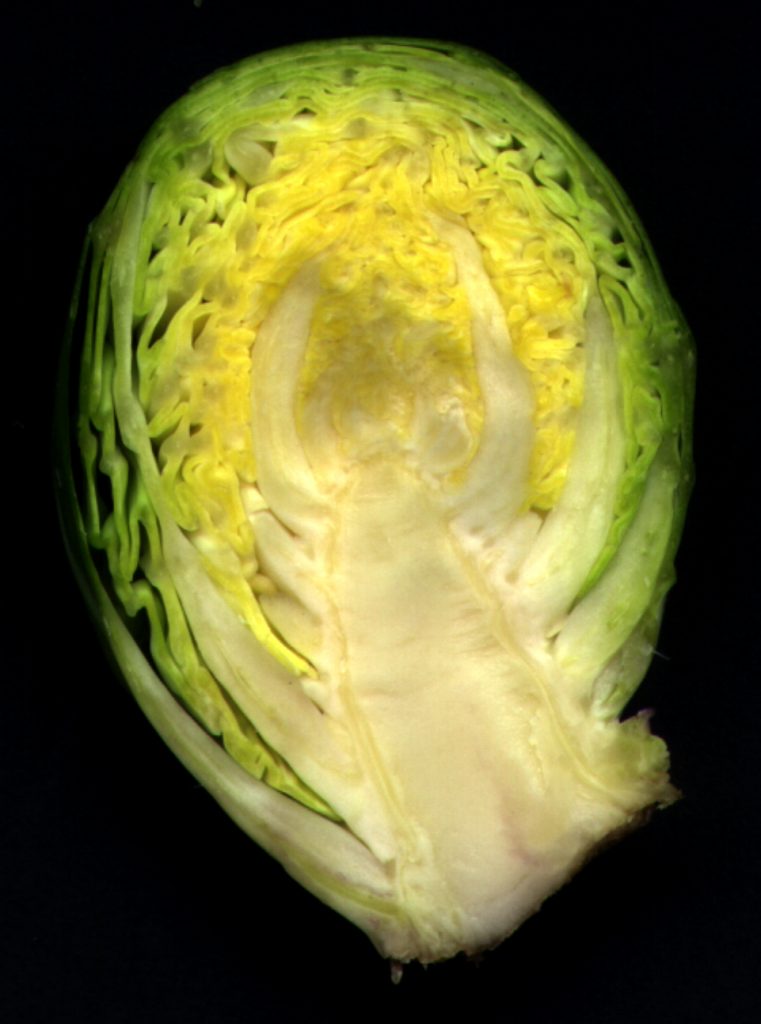 Cut Sprouts in Half
I suggest cutting sprouts lengthwise, but be sure to keep the inner core intact. This allows the sprouts to cook quicker, more evenly, and obtain a natural, golden caramelization on the cut sides.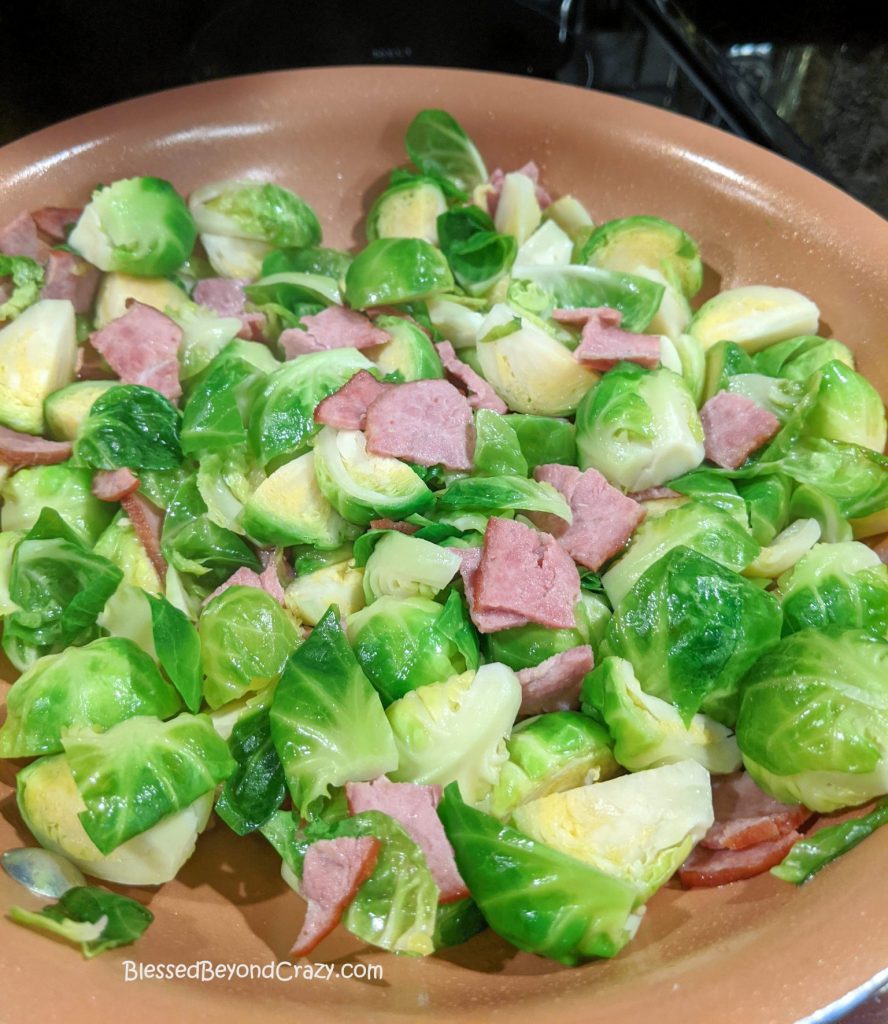 Pan-Fry
I have discovered a few key tips when pan-frying Brussel sprouts. First, use similar size sprouts to achieve uniform cooking (cut larger sprouts in half to achieve similar sizes). Secondly, do not overcrowd them in the skillet, and thirdly, do not overcook the sprouts.
Quick and Easy Pan-Fried Brussel Sprouts start by heating a little olive oil in a non-stick skillet. Next, add chopped bacon (I like to use turkey bacon) or chunks of ham and cook until it's slightly browned. Now add the prepared Brussel sprouts, a pinch of salt and pepper, and saute until the sprouts are golden brown and have reached a crisp-tender stage (neither mushy nor undercooked).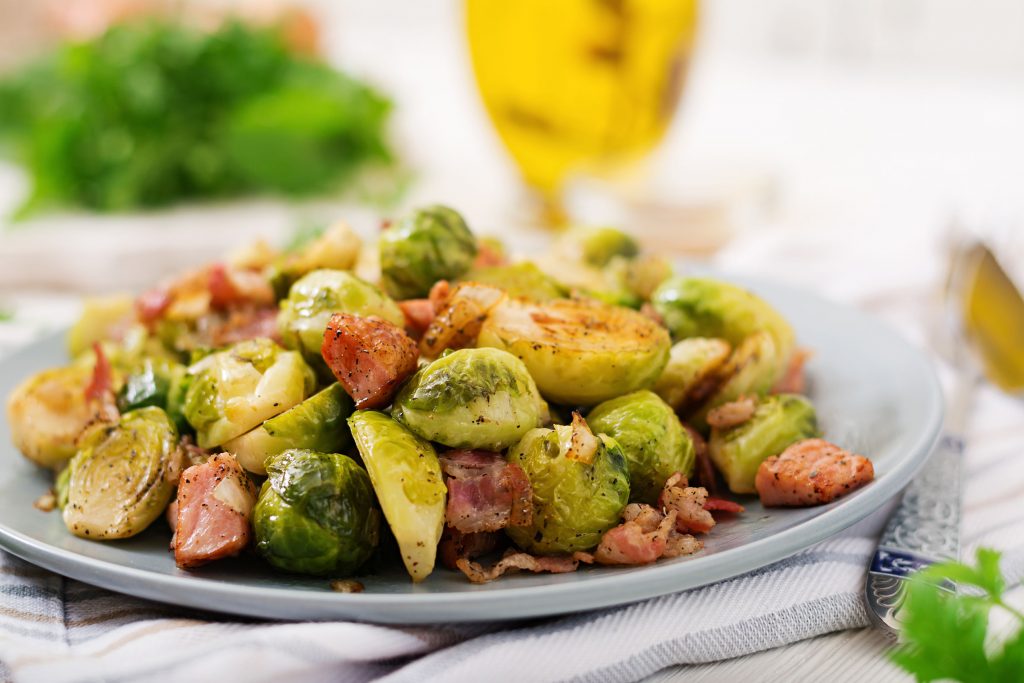 Brussel sprouts can also be oven-roasted, steamed, braised, or enjoyed raw by thinly slicing and adding them to salads.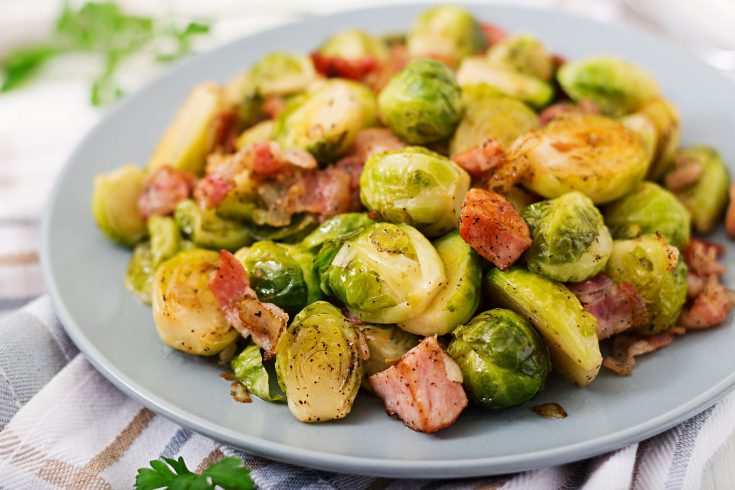 Yield: 4 servings
Quick and Easy Pan-Fried Brussel Sprouts
Prep Time: 10 minutes

Cook Time: 20 minutes

Total Time: 30 minutes

Brussel sprouts make an exceptional side-dish and pair well with all types of meats. Besides being delicious, these tasty little gems are loaded with nutrients and antioxidants.
Ingredients
4 cups fresh Brussel sprouts, rinsed and drained
2 Tablespoon olive oil, (more if needed)
1/2 cup bacon or ham, cut into bite-size segments (GF Option: I use gluten-free, preservative-free and nitrite-free bacon and ham)
Salt and pepper to taste
Instructions
Rinse, drain, trim and cut Brussel sprouts in half lengthwise (keep the core intact).
Drizzle olive oil into skillet and heat to medium heat. Carefully add bacon to the skillet and cook until lightly browned.
Add Brussel sprouts, salt, and pepper; stir into the bacon. Cook until sprouts are crisp-tender, stirring occasionally. (Add a light drizzle of olive oil if sprouts start sticking to the pan.)
Serve hot.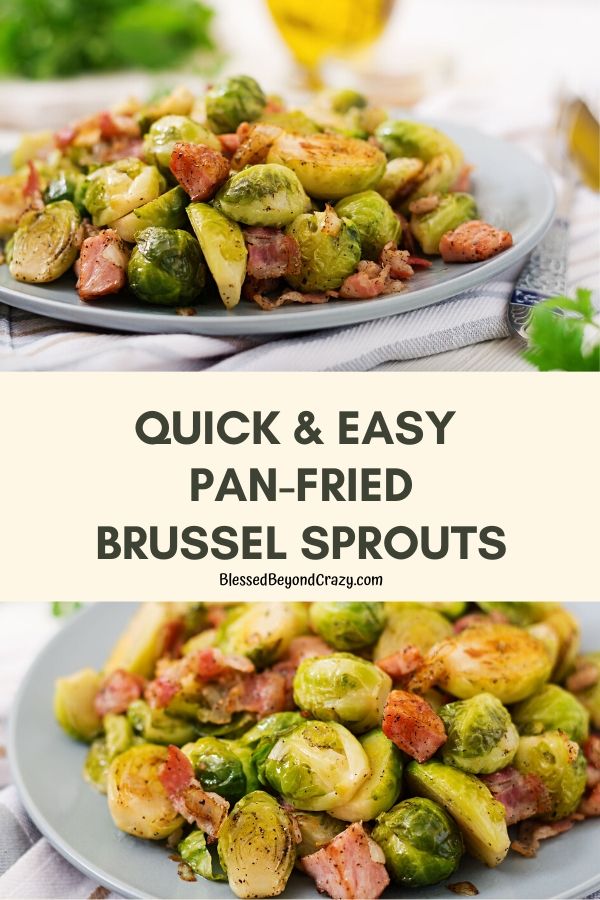 These Brussel sprouts are absolutely delightful and make a wonderful side dish. Serve them alongside pork chops, BBQ chicken, ham, steak, lamb, burgers, etc…
Enjoy!
Linda
More great ideas: