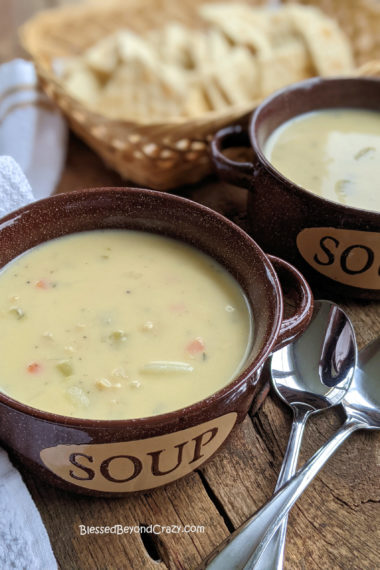 Quick and Easy Clam Chowder is one of those meals that seems to make any day just a tad bit better. This hearty meal is naturally gluten-free and abundant with flavor. Although my family enjoys it as is, feel free to garnish each bowl with a little bit of crispy chopped bacon. Either way, it's a bowl of steamy creamy deliciousness.

---
To help support our blogging activities, our site contains affiliate links. If you make a purchase from a link on our site, we may receive a small percentage of that sale, at no extra cost to you. Blessed Beyond Crazy is a participant in the Amazon Services LLC Associates Program, an affiliate advertising program designed to provide a means for sites to earn advertising fees by advertising and linking to amazon.com. As an Amazon Associate, I earn from qualifying purchases.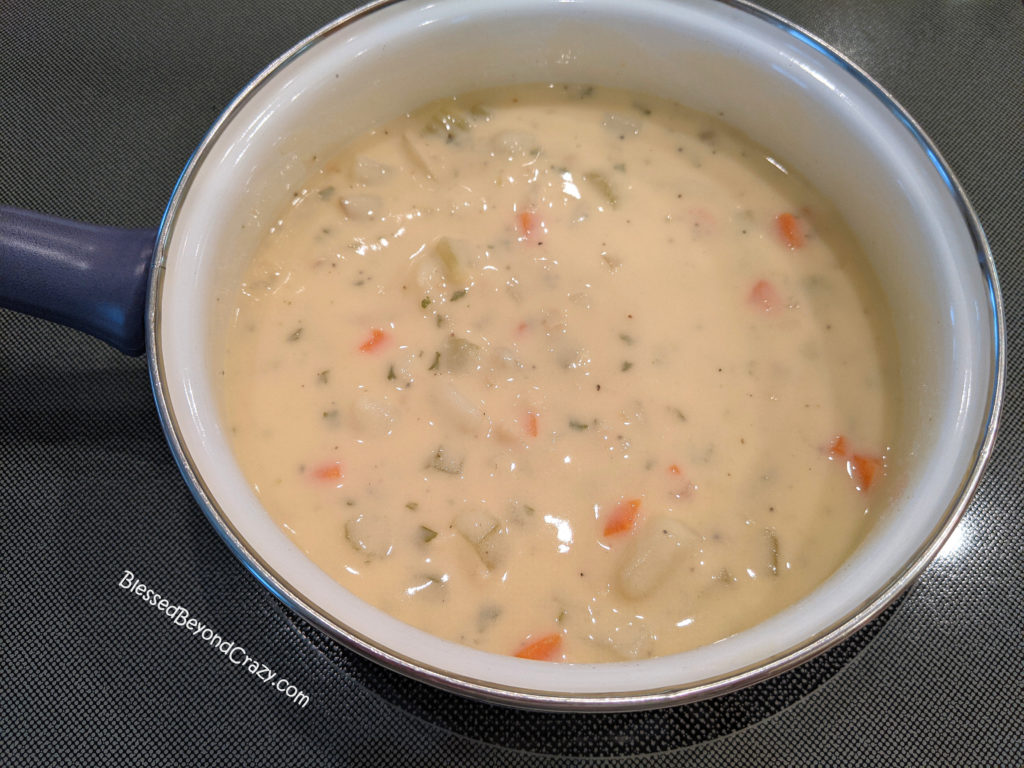 Before we begin, you can easily make this clam chowder on the thicker side simply by adding a little more corn starch. Also, if you are allergic to corn like I am you can substitute arrowroot for corn starch. It a great thickening alternative and it's also naturally gluten-free.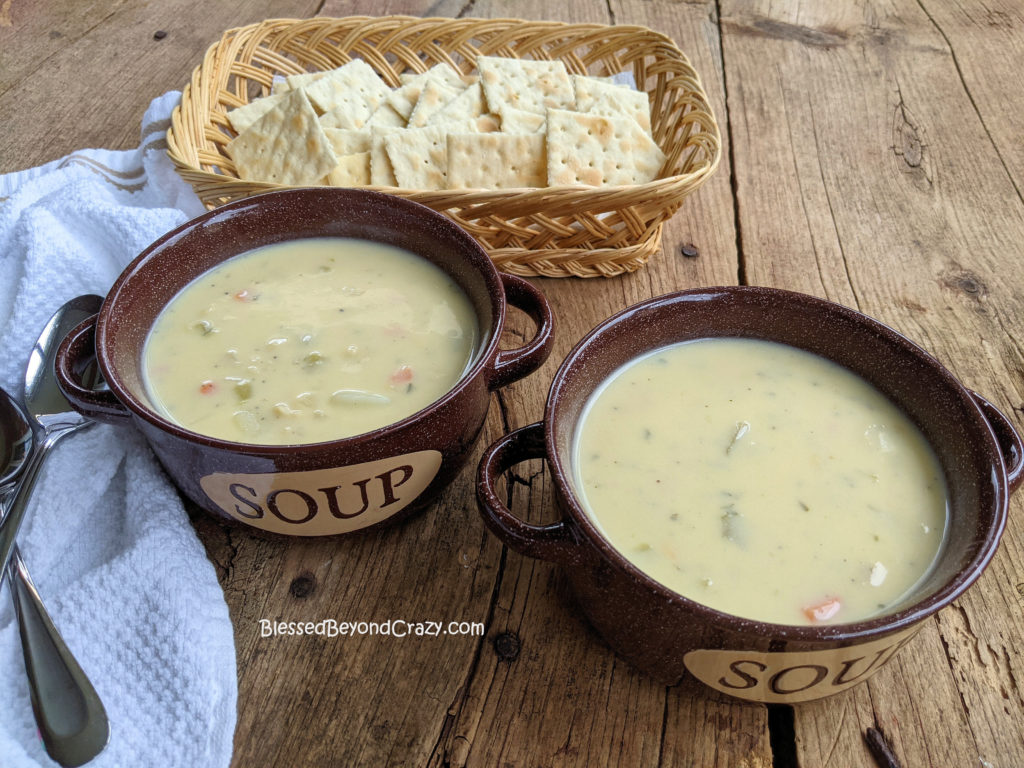 Depending on your serving size, one recipe should yield approximately four (2 cups, each) servings. The chowder will possibly serve six, especially if you serve it with crackers, a side salad, and perhaps a slice of warm homemade oatmeal bread or cream cheese biscuits.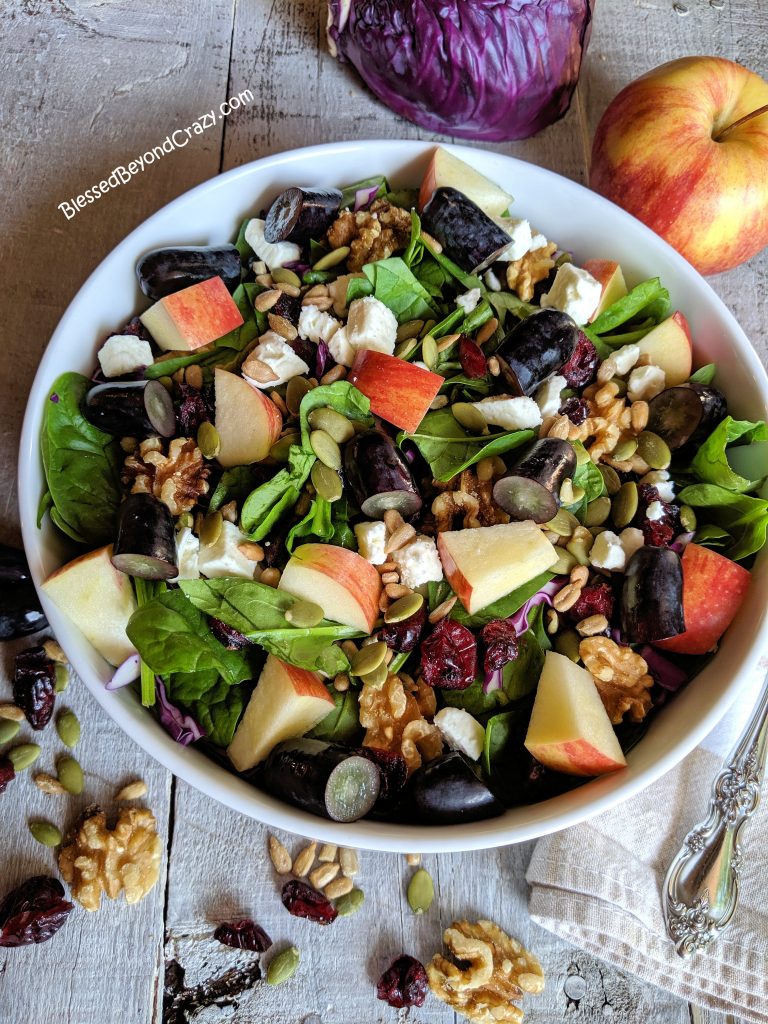 An Autumn Harvest Salad with Hot Bacon Dressing is wonderful served alongside any soup or chowder.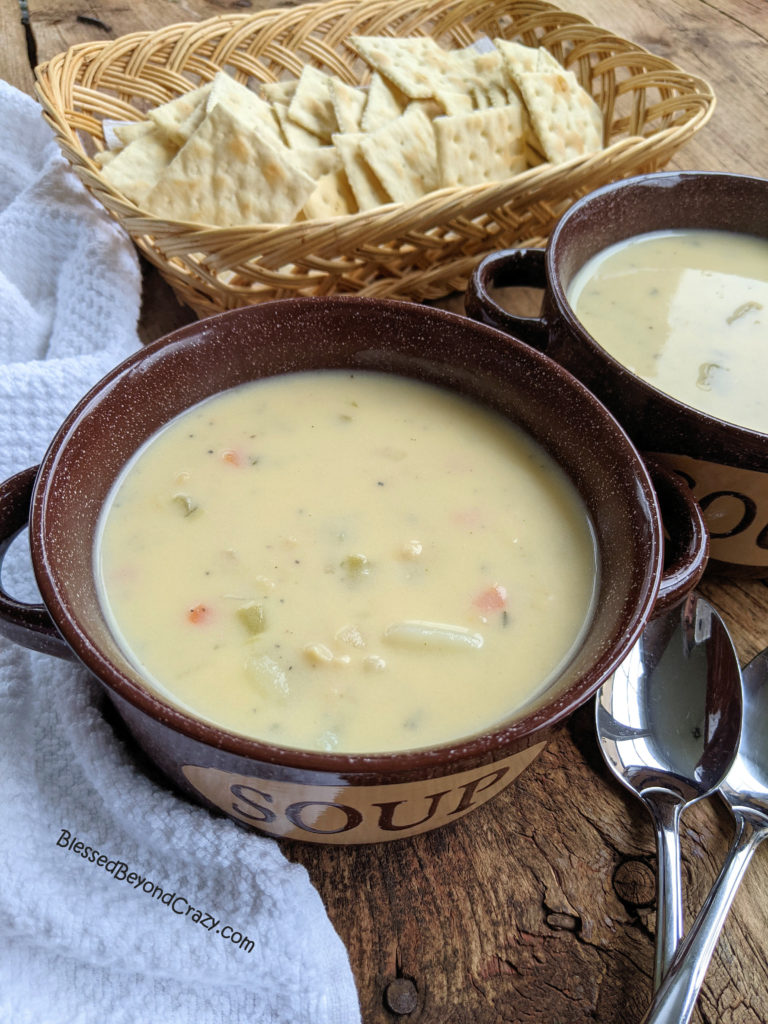 I always use a can of gluten-free chopped clams. Gluten-free whole baby clams also work well in this chowder. Although I think most brands are naturally gluten-free it's always wise to read the labels.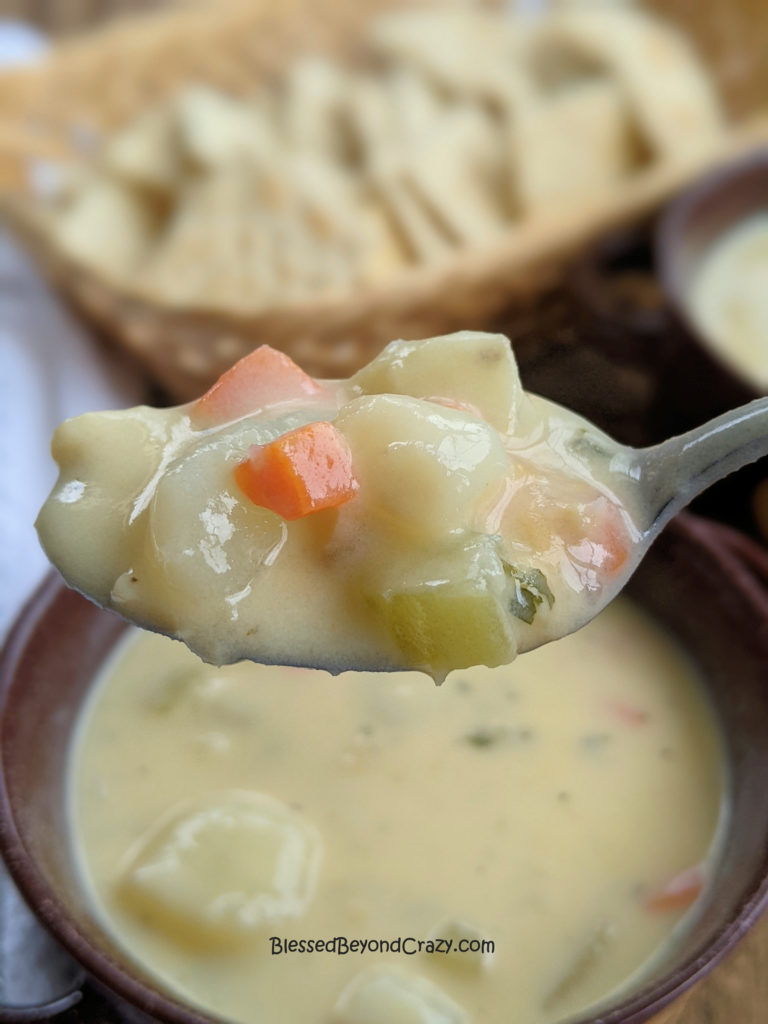 See how every bite is loaded with chunks of potato, carrots, onion, and clams? Mmm! So good!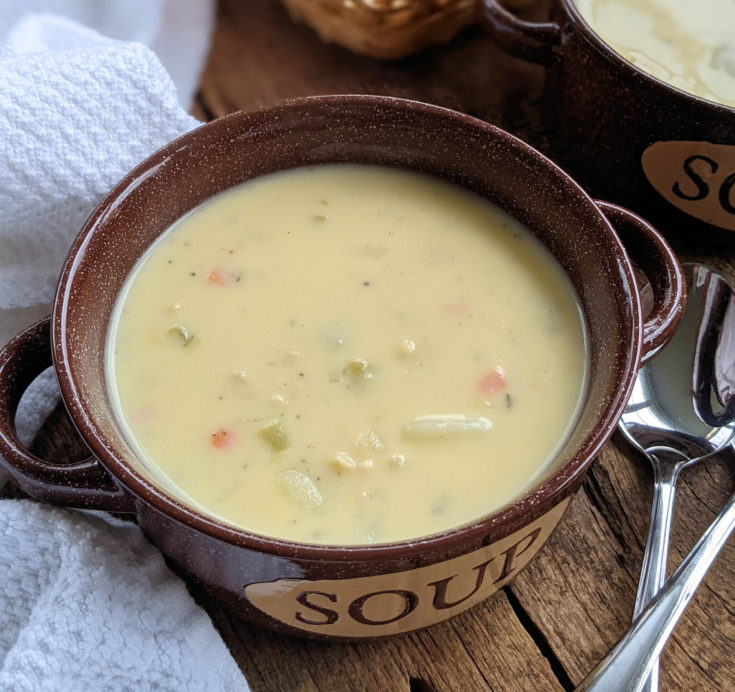 Yield: Approx. 2 Quarts
Quick and Easy Clam Chowder
Prep Time: 15 minutes

Cook Time: 30 minutes

Total Time: 45 minutes

A steamy hot bowl of creamy clam chowder really hits the spot on a chilly day. This recipe is naturally gluten-free and loaded with flavor!
Ingredients
2-quarts chicken broth (I make my own homemade naturally gluten-free chicken broth from scratch)
3 cups cubed potatoes
2 cups chopped carrots
1/2 cup diced onion
1 tablespoon fresh or dried parsley
salt and pepper to taste
1 can (10-ounce) chopped clams + juice (be sure to use a gluten-free brand)
3/4 cup cubed process cheese (be sure to use a gluten-free brand of cheese)
1 1/2 cup milk
2 tablespoons corn starch or arrowroot
Instructions
In a large saucepan, combine chicken broth, potatoes, carrots, onion, parsley, salt, and pepper. Bring to a low boil. Cover and cook until potatoes and carrots are tender (about 15 minutes). Reduce heat to simmer.
Add clams + their juice, cheese, and milk. Stir until cheese is thoroughly melted.
In a small bowl, combine corn starch and just enough water to make a thin, smooth paste. Gradually add to the soup, stirring constantly until thickened.
Optional: garnish with crispy chopped bacon
Serve hot.
Notes
To make a thicker chowder use more corn starch. Whisk it into a little water and gradually add to chowder (stirring constantly) until you reach the desired consistency.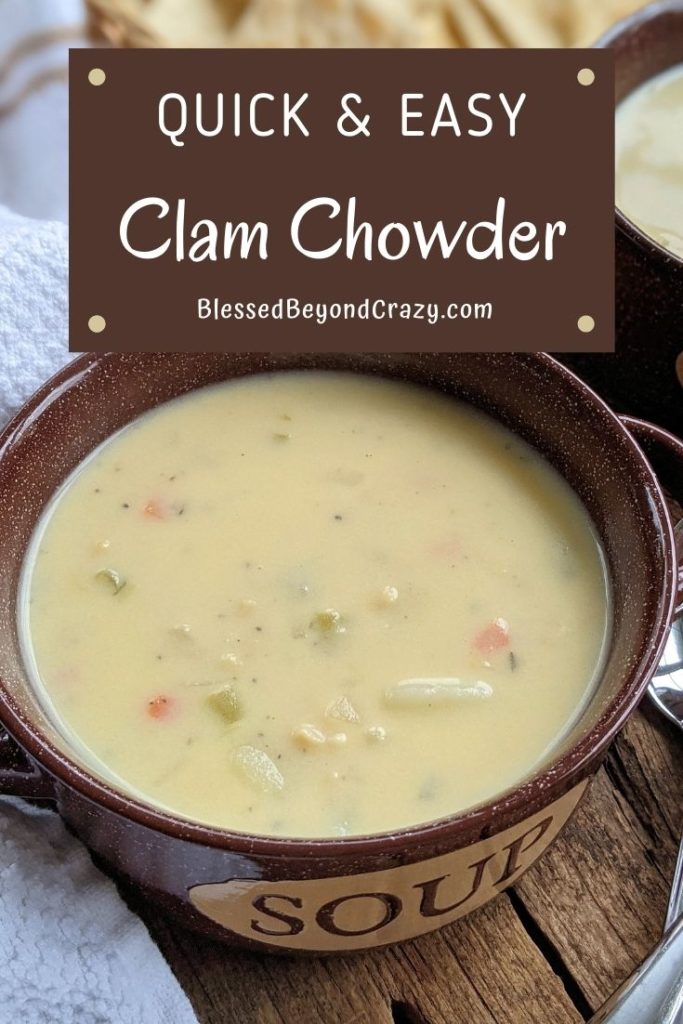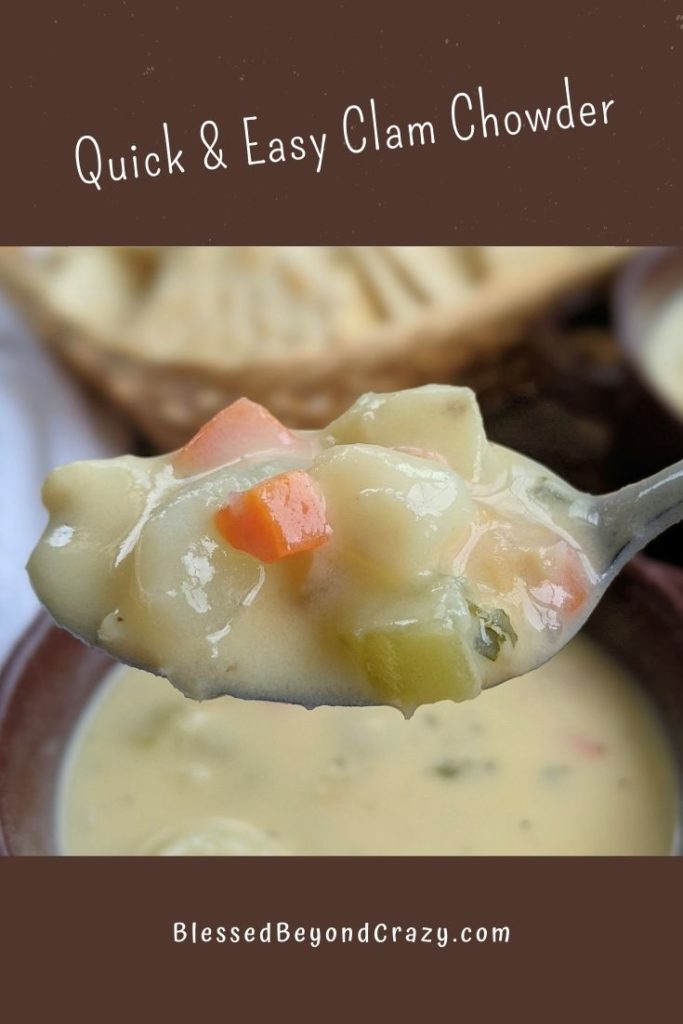 Enjoy!
Linda
More great ideas: