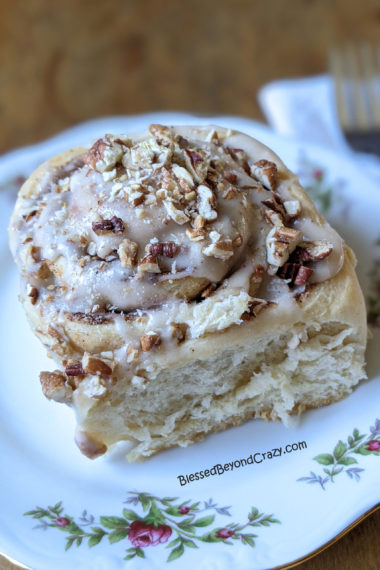 This recipe for Easy Cinnamon Rolls is hands-down my favorite way to make homemade yeast rolls. Only a few ingredients are required and the recipe can easily be modified to be gluten-free. These rolls are also freezer-friendly which means they can be made ahead of time. (Think upcoming holidays!)

To help support our blogging activities, our site contains affiliate links. If you make a purchase from a link on our site, we may receive a small percentage of that sale, at no extra cost to you. Blessed Beyond Crazy is a participant in the Amazon Services LLC Associates Program, an affiliate advertising program designed to provide a means for sites to earn advertising fees by advertising and linking to amazon.com. As an Amazon Associate, I earn from qualifying purchases.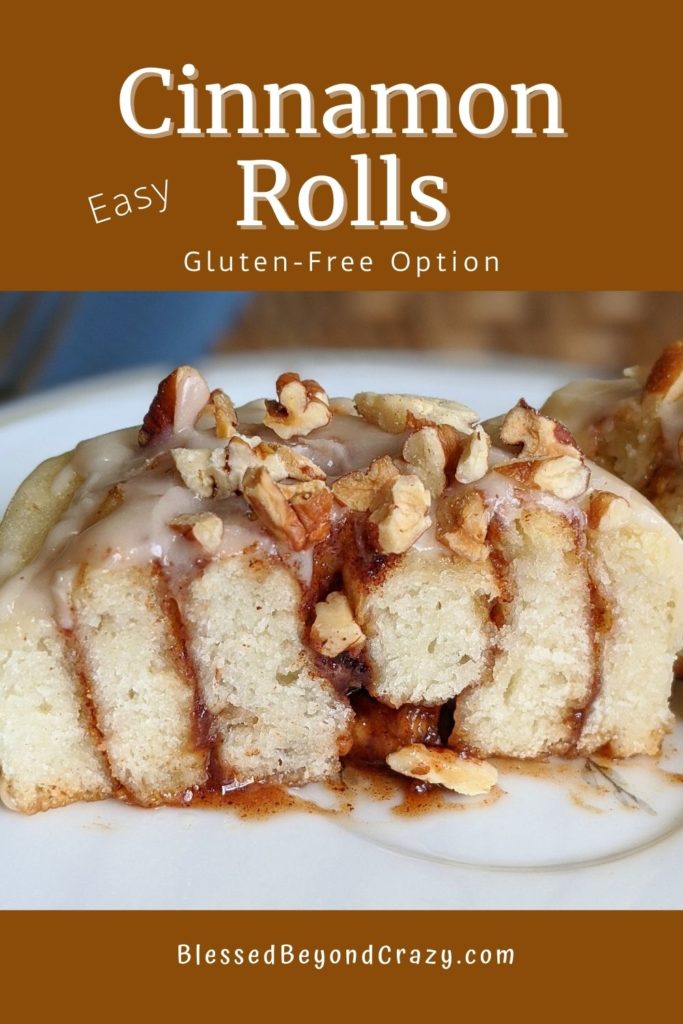 Thanks for sharing!!!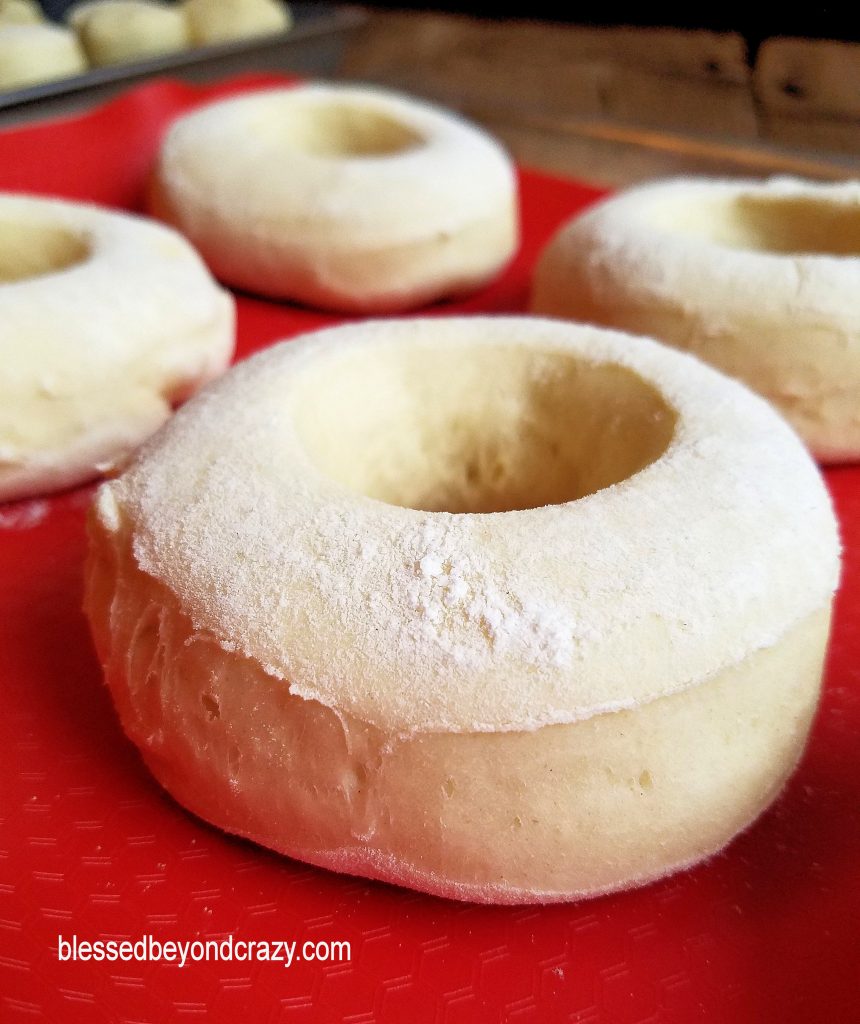 Versatile Recipe
Before we begin, I should point out that this recipe is the same exact recipe that I use to make Grandma's Light-as-a-Feather Doughnuts.
Yep! It's true!!!
You can make either homemade yeast doughnuts or cinnamon rolls using this recipe. In the end, it's all about how to fix the dough!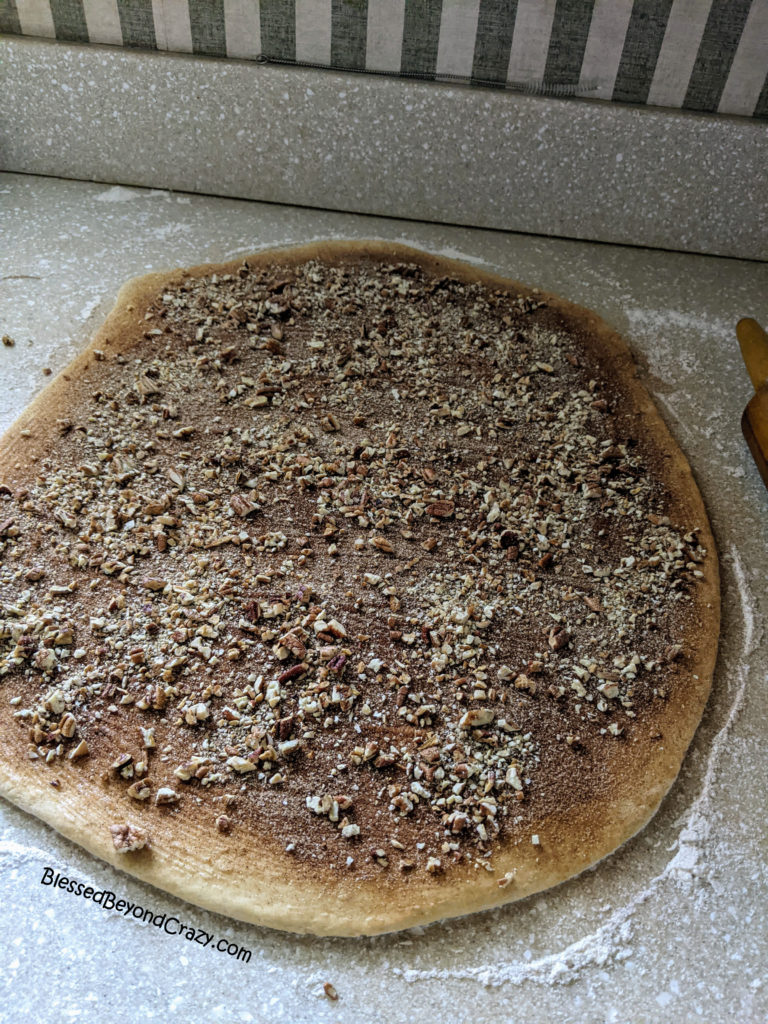 If you want to see step-by-step photos showing how to make this dough click > HERE!
(NOTE: I like to use a bread machine set on the dough setting to both mix the ingredients and for the first rise. However, you can easily make the dough without using a bread machine.
To make cinnamon rolls follow these directions:
First, lightly flour a clean, flat working surface and using a rolling pin roll out the dough to approximately 1/4-inch thickness.
Secondly, using a basting brush, lightly brush melted butter all over the top of the dough.
Thirdly, sprinkle ground cinnamon, sugar, and chopped pecans evenly over the dough. If you don't like pecans you can simply omit them. Also, some people like to sprinkle on raisins.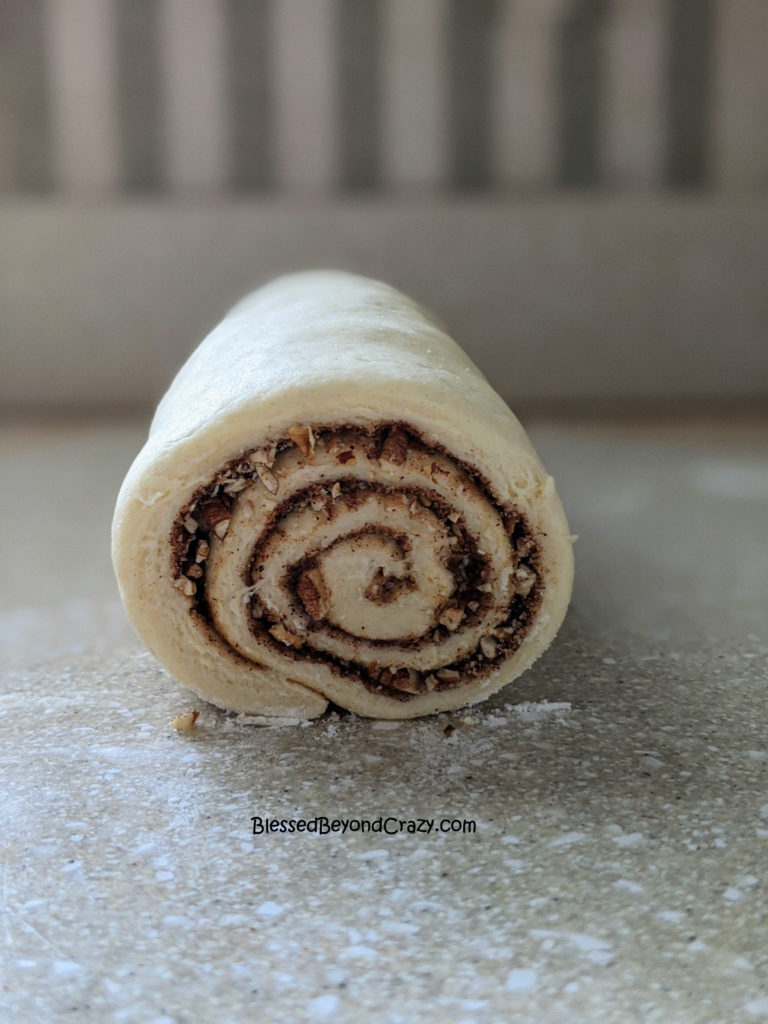 Next, carefully start on one side and roll the dough into the shape of a log. When finished, turn the log and finish with the "seam" on the bottom. (This helps everything stay in place when cutting the dough.)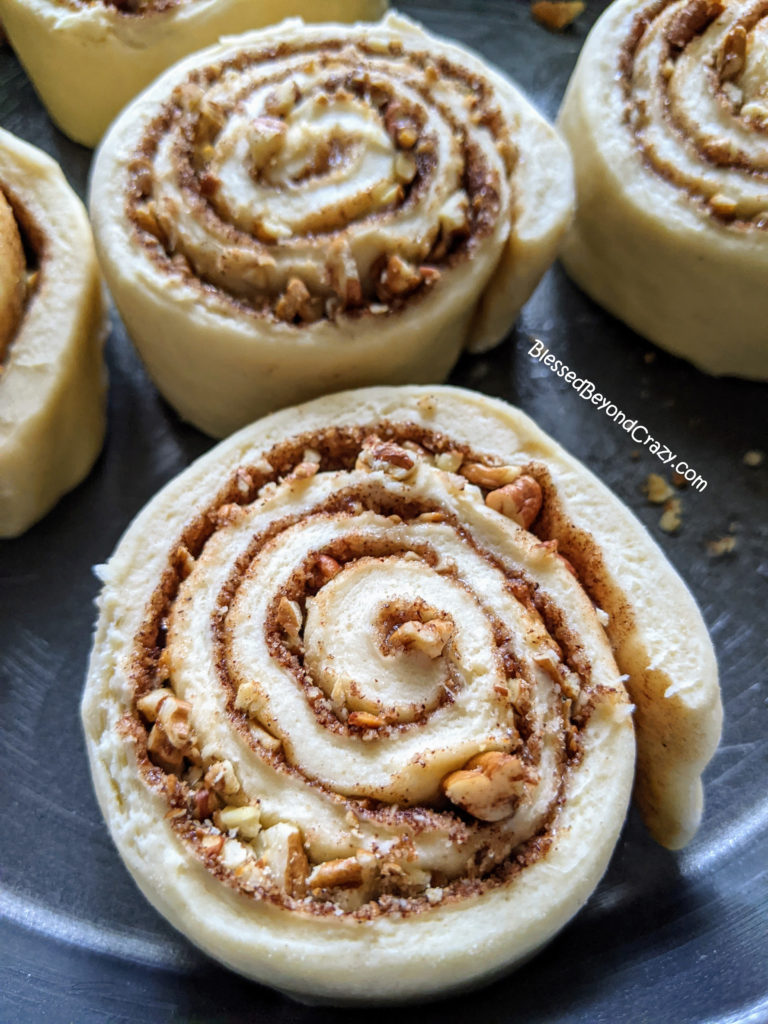 The easiest way to cut the dough into rolls is to use a strip of floss or sewing thread. Gently slide the floss or string under the log, wrap it around, and slice through the dough. I recommend making each roll approximately somewhere between 1-1/2″ to 2″ thick.
How to Freeze:
If you want to freeze the rolls simply place them on a parchment-lined baking pan, cover the pan with saran wrap, and place it in the freezer.
Once the rolls are frozen solid, remove them from the pan and place them into freezer baggies or a freezer container. Keep frozen until you are ready to use them.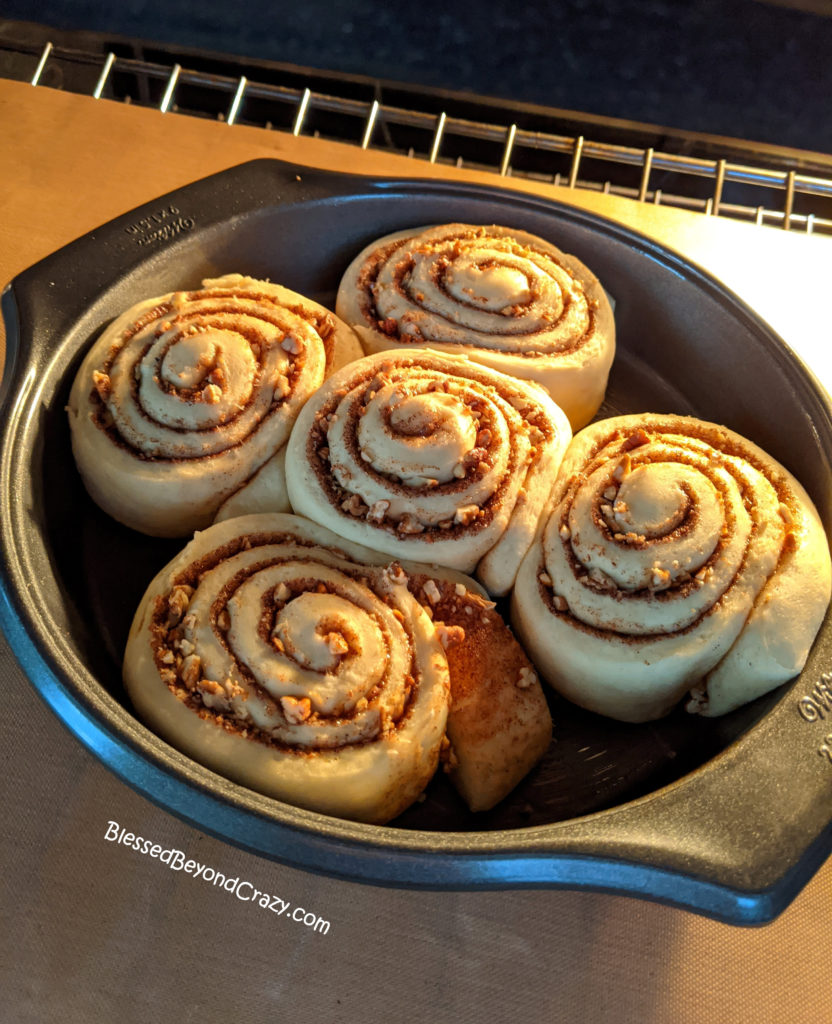 If you are baking the cinnamon rolls now, place them into a greased baking pan, set the pan in a warm place, and allow the dough to double in size.
(NOTE: If I'm in a hurry or if it's a damp, cool day I speed up the process by heating my oven to 100 degrees F. and place the pan of rolls inside to rise.)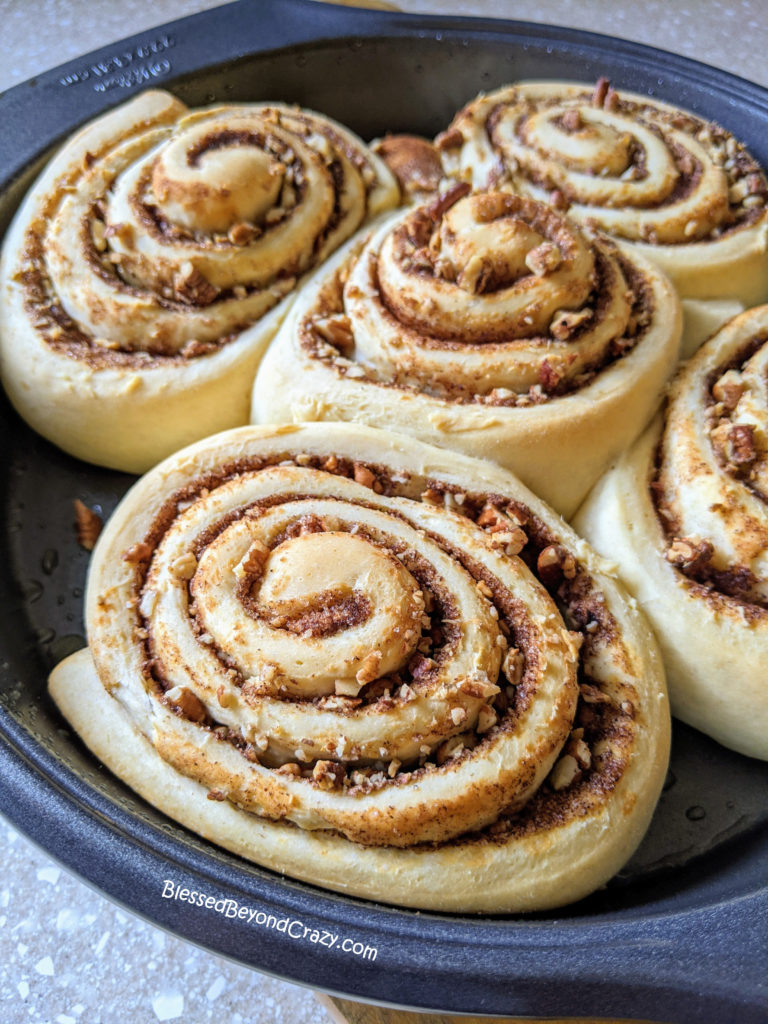 Finally, when the dough has risen for the second time, heat the oven to 350 degrees F. and bake for 10 to 15 minutes (depending on how thick you cut the rolls) or until the rolls are golden brown and the centers are done.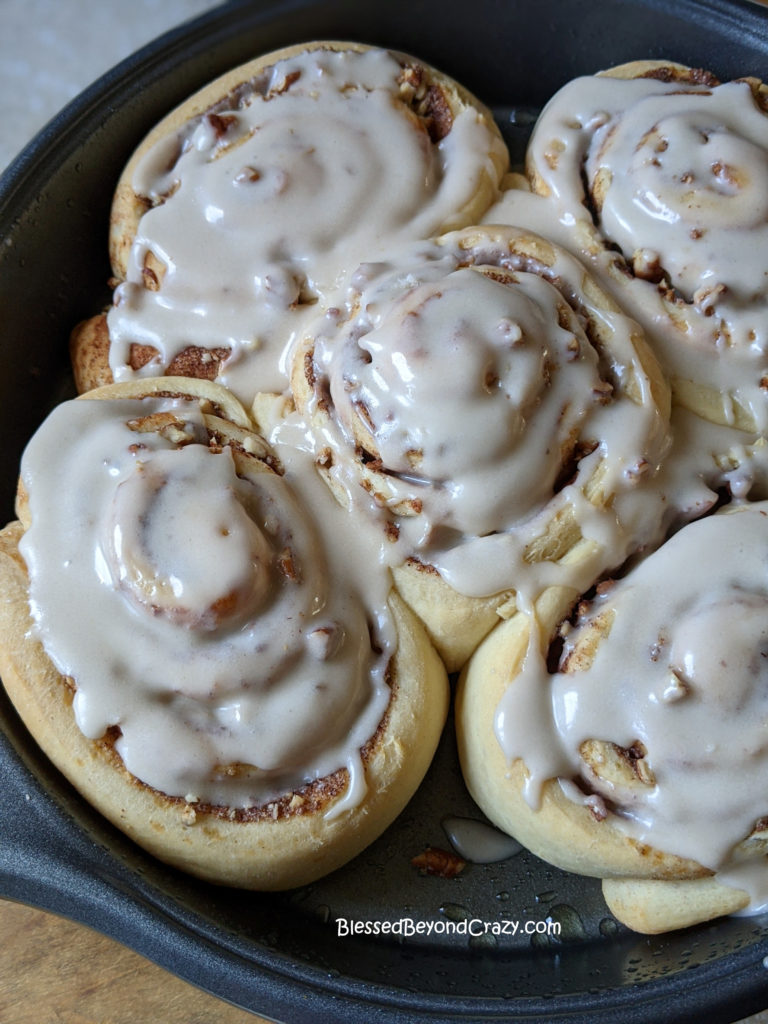 You certainly can enjoy the cinnamon rolls just as they are, or you can add a touch of icing.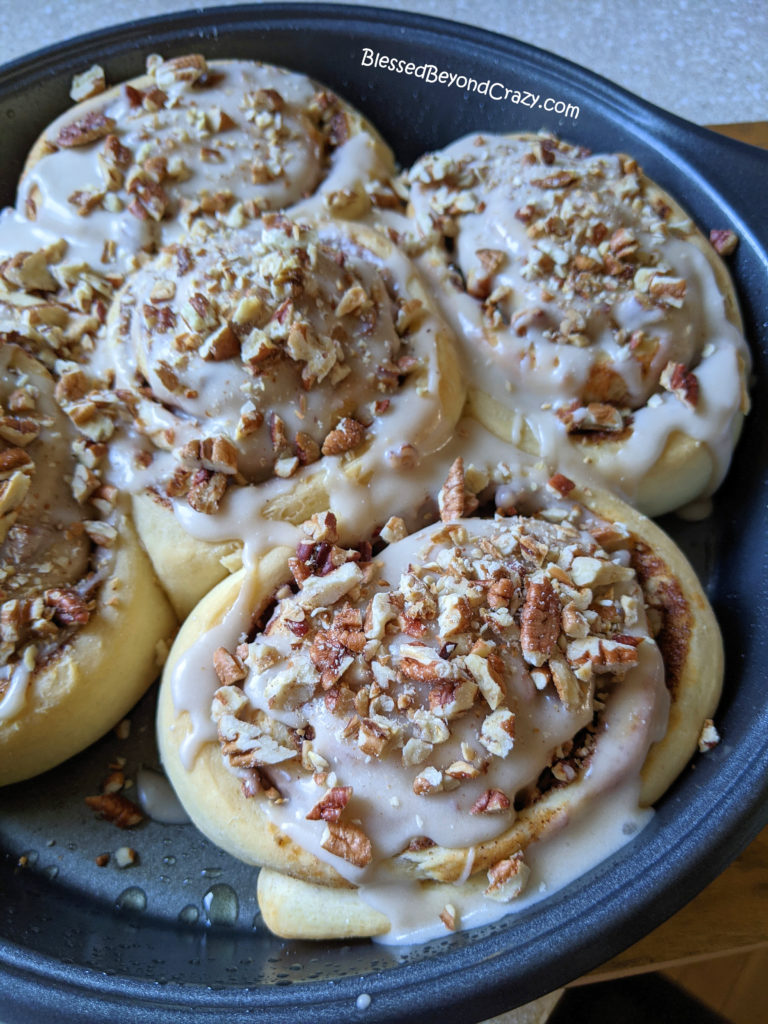 Personally, I like to add more chopped pecans as a garnish.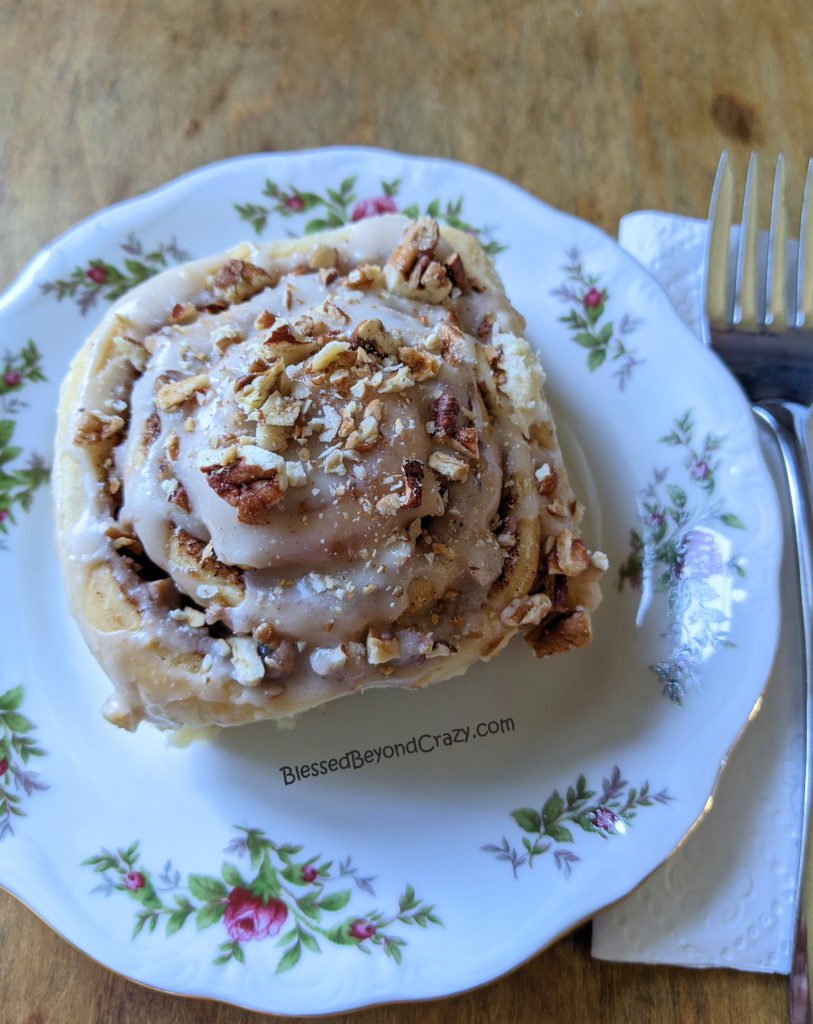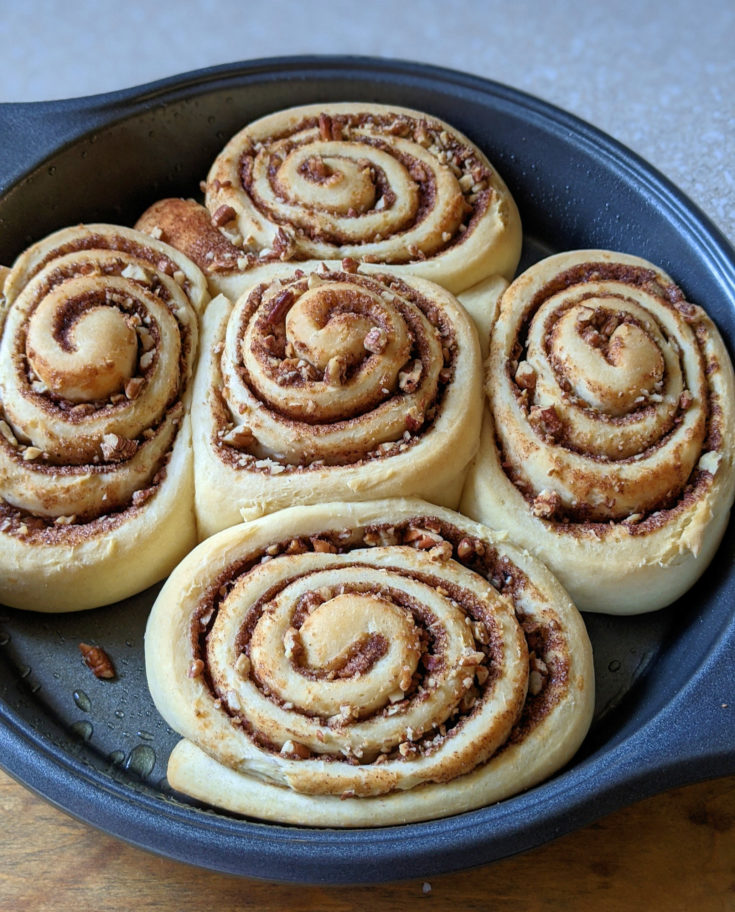 Yield:

14 - 16 Rolls
Easy Cinnamon Rolls (Gluten-Free Option)
Total Time:
2 hours
30 minutes
What's better than delicious, fresh homemade cinnamon rolls, hot out of the oven?
Ingredients
BREAD:
1/4 cup water
1 package yeast
1/4 teaspoon sugar (added to yeast mixture)
3/4 cup 2% or whole milk
1/4 cup sugar
1 teaspoon salt
1/4 cup (1/2 a stick) butter
1 egg
3 1/4 cups all-purpose flour (GF Option - use your favorite gluten-free flour blend + 3 teaspoons xanthan gum - unless flour already contains it. I use 2 cups GF rice flour + 2/3 cup potato starch + 1/3 cup tapioca flour/starch + 2 teaspoons xanthan gum)
CENTER INGREDIENTS:
1/4 cup melted butter
1 - 2 tablespoons ground cinnamon
1/2 cup granulated sugar
1 cup chopped pecans
ICING:
3 cups powdered sugar
1/2 teaspoon butter, melted
1/2 teaspoon vanilla
milk (just enough to make the glaze thin enough to drizzle)
Instructions
Warm water (it should be warm like a baby's bottle); add yeast and sugar.
Warm milk, sugar, salt, and butter in a saucepan over low heat just until butter is melted. Cool to room temp. Add activated yeast, egg, and flour (one cup at a time) to the milk mixture.
Sprinkle a light dusting of flour onto a dry, flat work surface. Knead dough until it resembles a soft baby's bottom. Place dough into a large, lightly buttered mixing bowl and brush on a light coating of butter to the top of the dough.
Cover the bowl with a clean tea towel and set in a warm spot in your home. When the dough has doubled in size, gently punch it in the center with your fist. Roll the dough out onto your floured working surface.
Using a rolling pin, roll the dough out to 1/4" thickness. (You may need to add additional sprinkles of flour on top of the dough to prevent your rolling pin from sticking).
Brush melted butter over the top surface of the dough. Sprinkle with cinnamon, sugar, and chopped pecans. Starting on one side, carefully roll the dough into a log shape.
Using a piece of floss or thread, cut the dough log into rolls, approximately 1-1/2" to 2" thick. Place rolls into a greased 9" x 13" baking pan; leave space between each roll.
Cover the pan with a tea towel and allow the rolls to rise until they are doubled in size.
Bake in a preheated 350-degree F. oven for 10 to 15 minutes or until they are golden brown. Remove from the oven; cool.
In a mixing bowl, combine powdered sugar, butter, vanilla, and milk. Stir until ingredients are well combined and no lumps are visible. Drizzle icing evenly over the rolls. Garnish with chopped pecans if desired. Serve.
Store in an air-tight container.
Notes
These cinnamon rolls are freezer-friendly. After cutting them into rolls, place them onto a parchment-lined baking pan, cover with saran wrap and freeze until firm. Remove rolls from the pan and place them into a freezer baggie.
When ready to use, remove the desired amount of rolls from the baggie and place them onto a greased baking pan. Place the pan in a warm place in your home and allow the rolls to thaw, then double in size. Bake according to recipe directions.
Keep reading to see the Gluten-Free Version!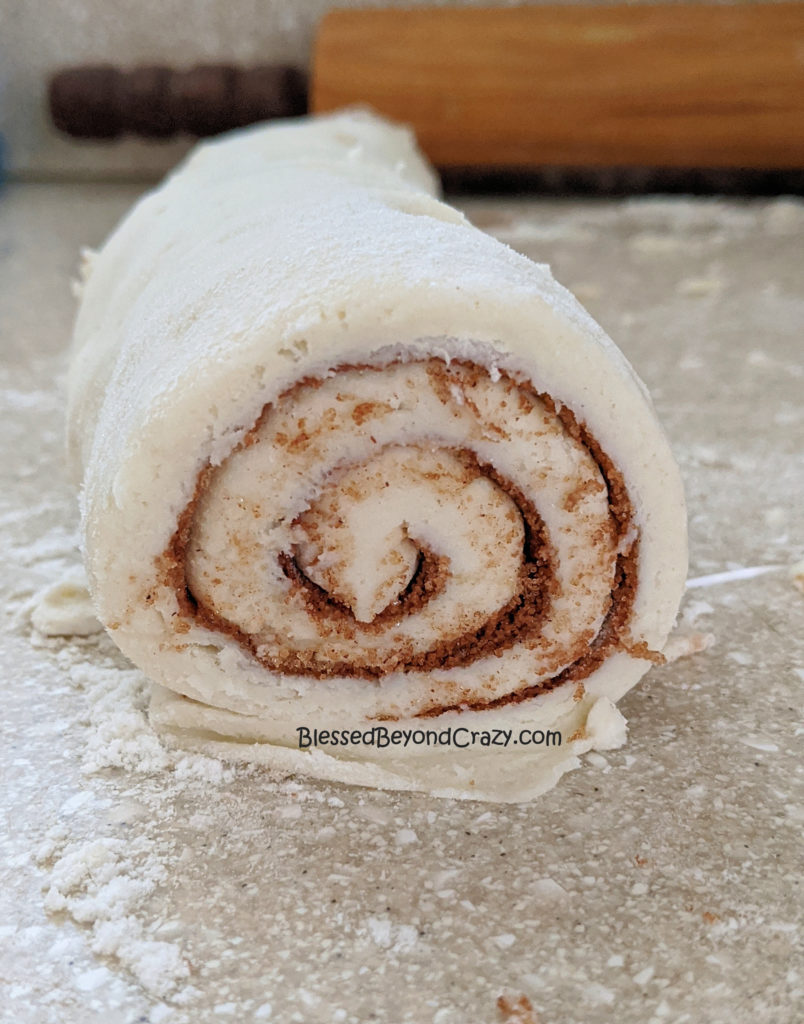 Gluten-Free Cinnamon Rolls
As previously stated, with one simple modification you can make gluten-free cinnamon rolls. (The photo above and the following photos are of a gluten-free version.)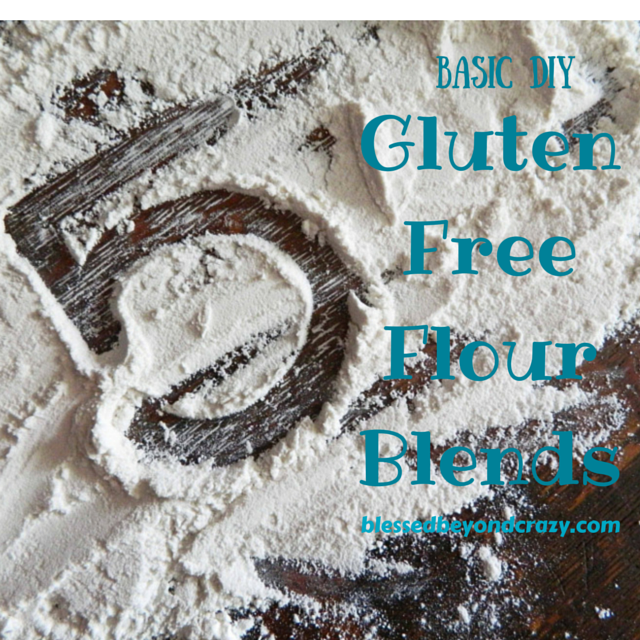 NOTE: To make these cinnamon rolls gluten-free please feel free to use your favorite gluten-free flour. I personally use 2 cups GF rice flour + 2/3 cup potato starch + 1/3 cup tapioca flour/starch + 2 teaspoons xanthan gum.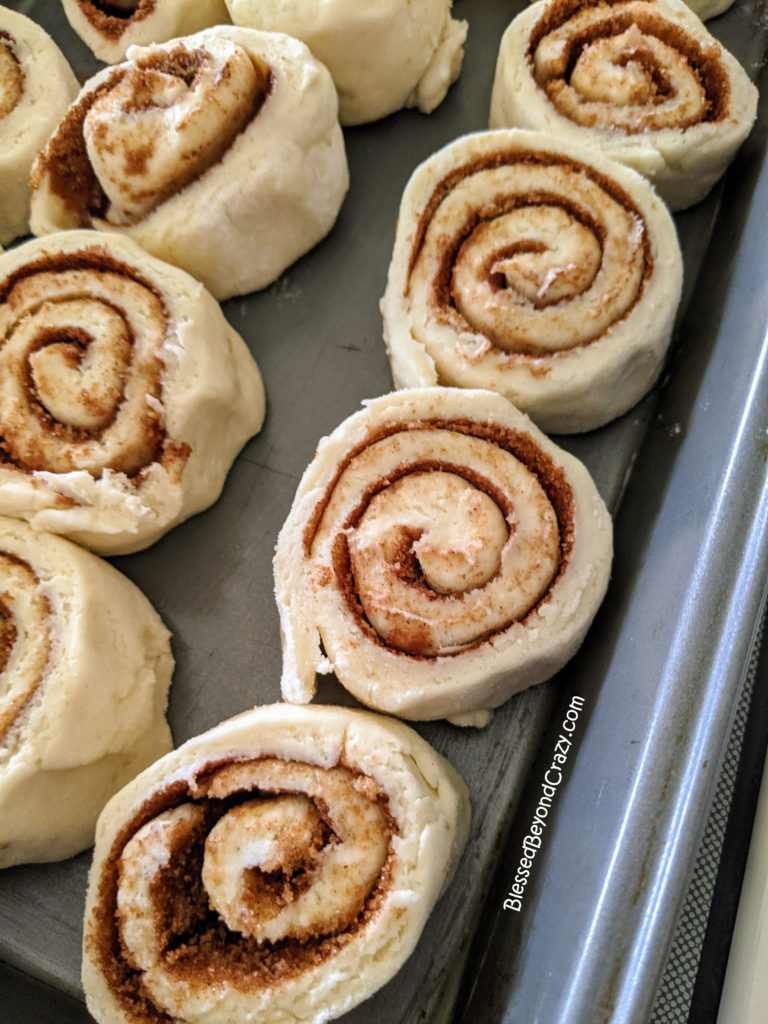 Gluten-free dough is a little more fragile and may not rise quite as high as when using wheat flour, but they still taste amazing!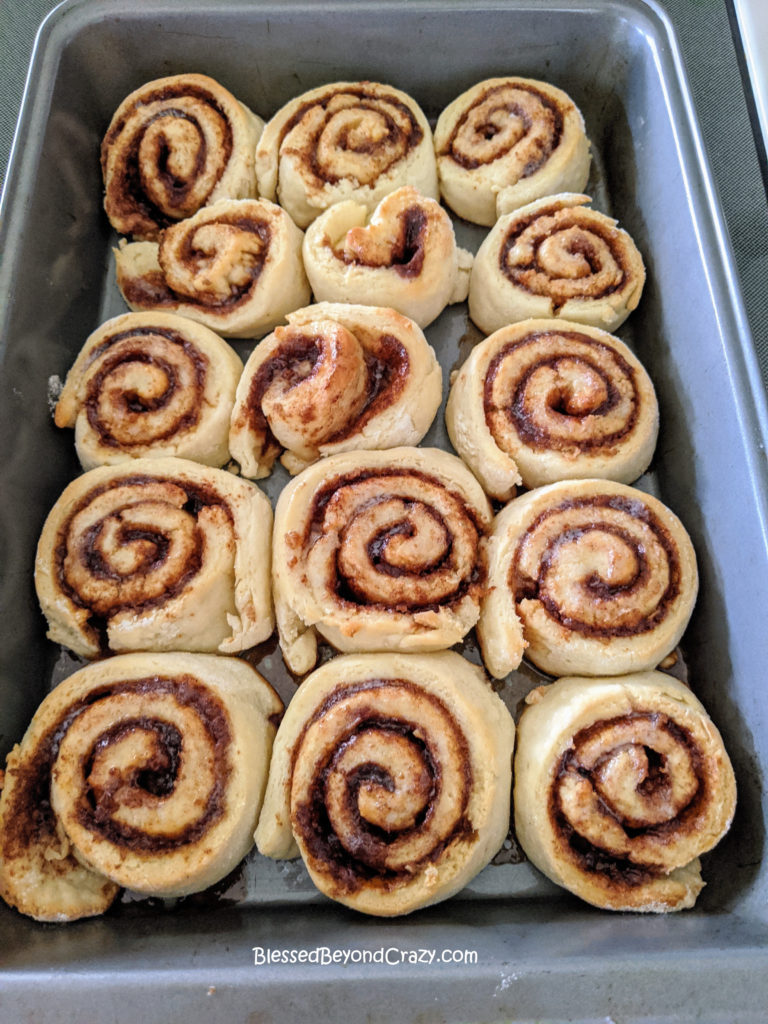 Some of my family do not care for pecans so I left them out of the cinnamon rolls this time.
(NOTE: Baking time may vary slightly when making the gluten-free version. They may require more or less time depending on how thick you cut them.)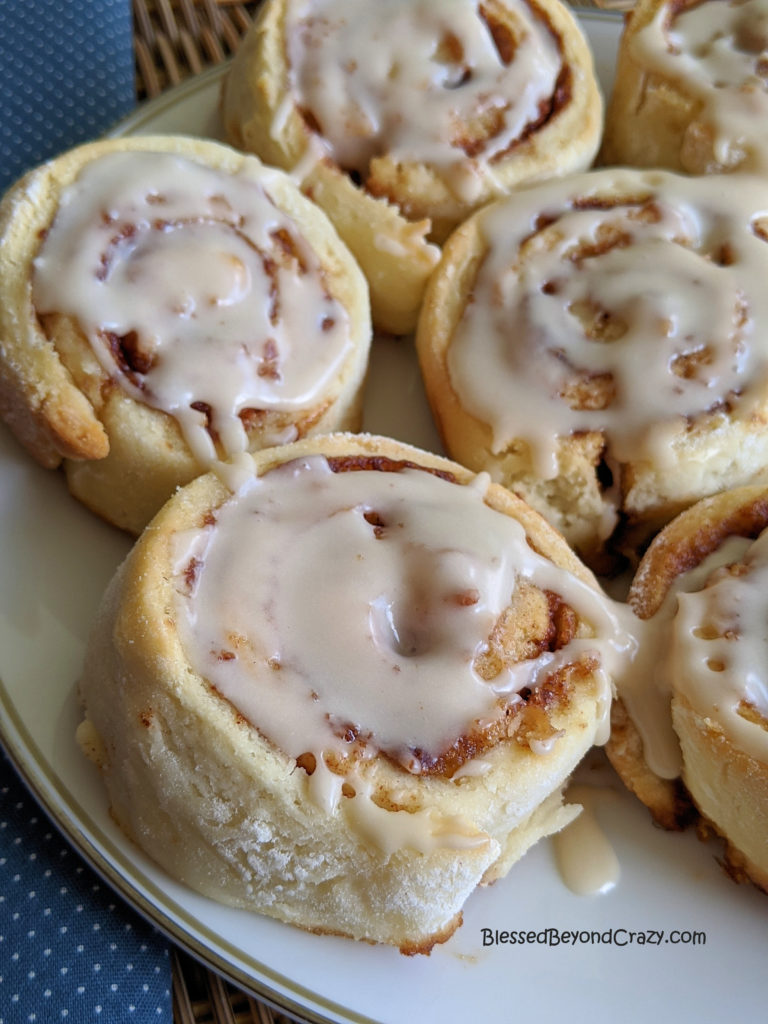 A nice little drizzle of icing for the finishing touch!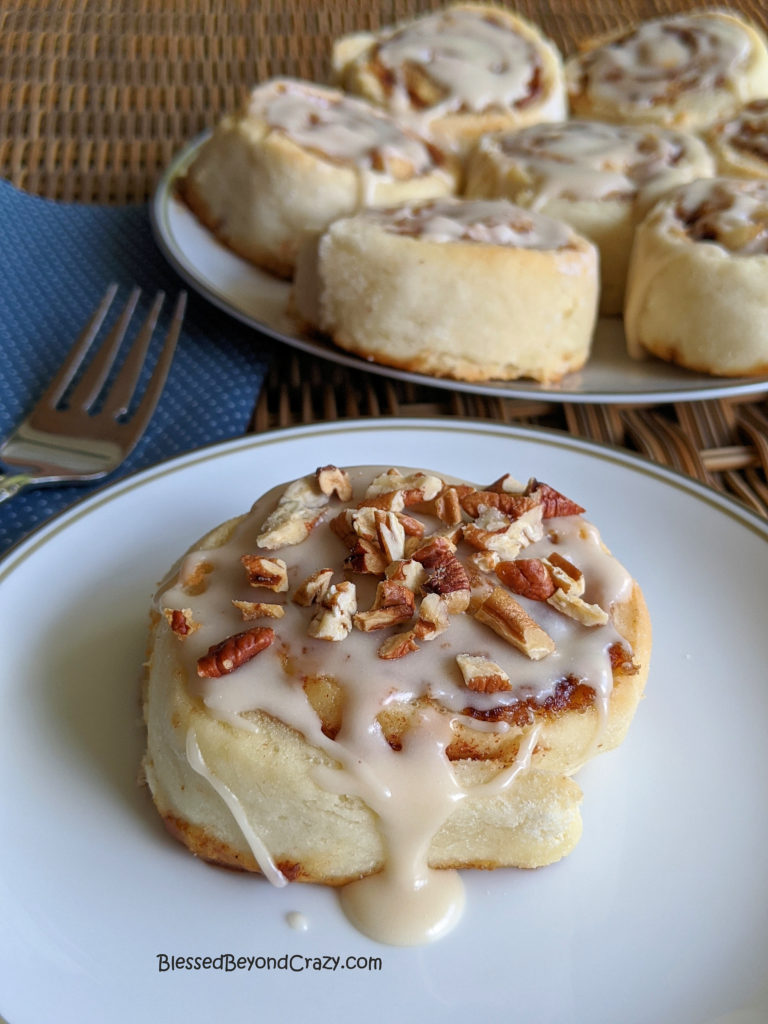 Most of my family members like pecans and therefore I add a few on top of a couple of cinnamon rolls and leave the rest without.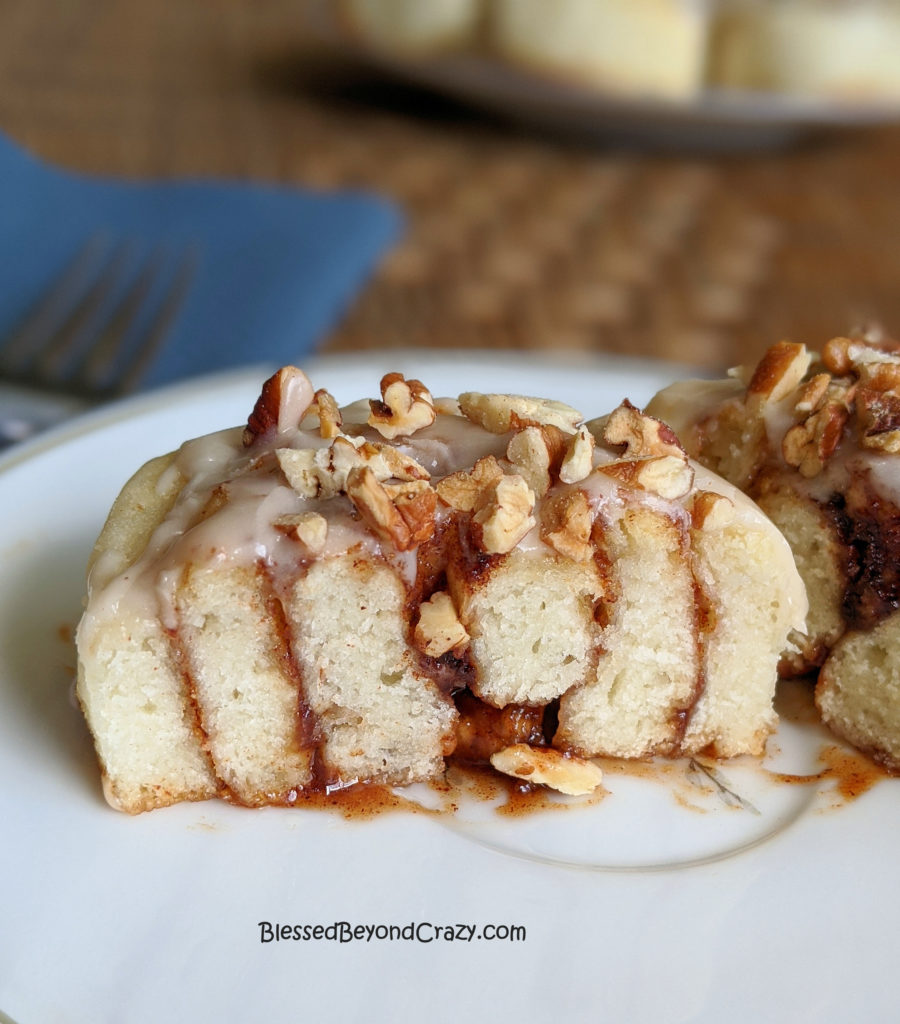 Oh, my! Just look at the layers of ooey-gooey goodness topped with a touch of sweet vanilla icing and pecans!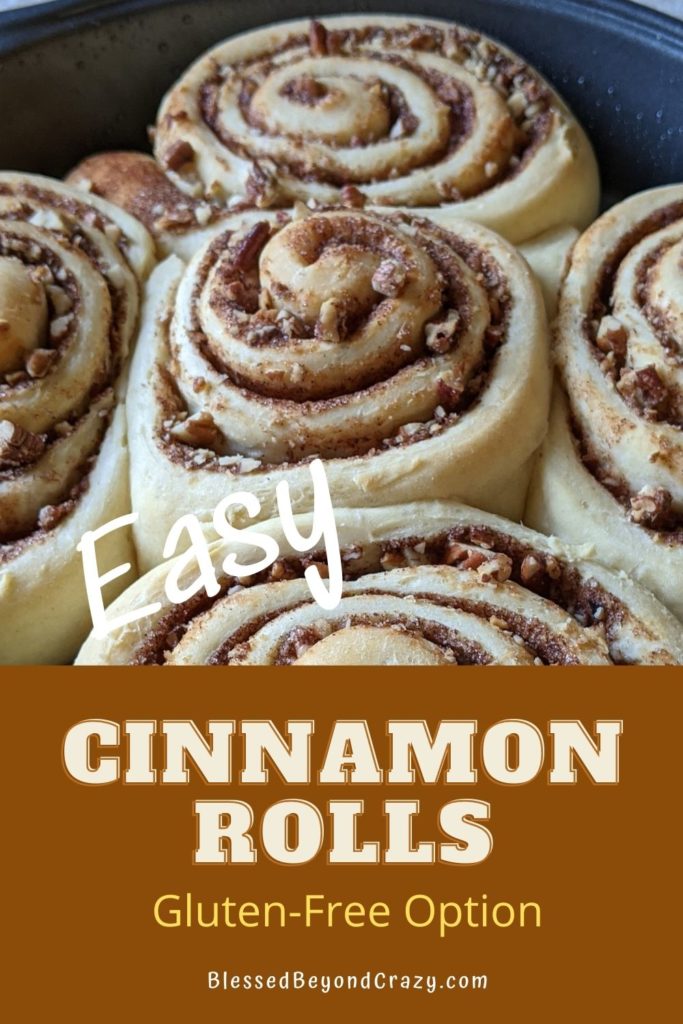 I hope that you enjoy this recipe for Easy Cinnamon Rolls (Gluten-Free Option) as much as I do!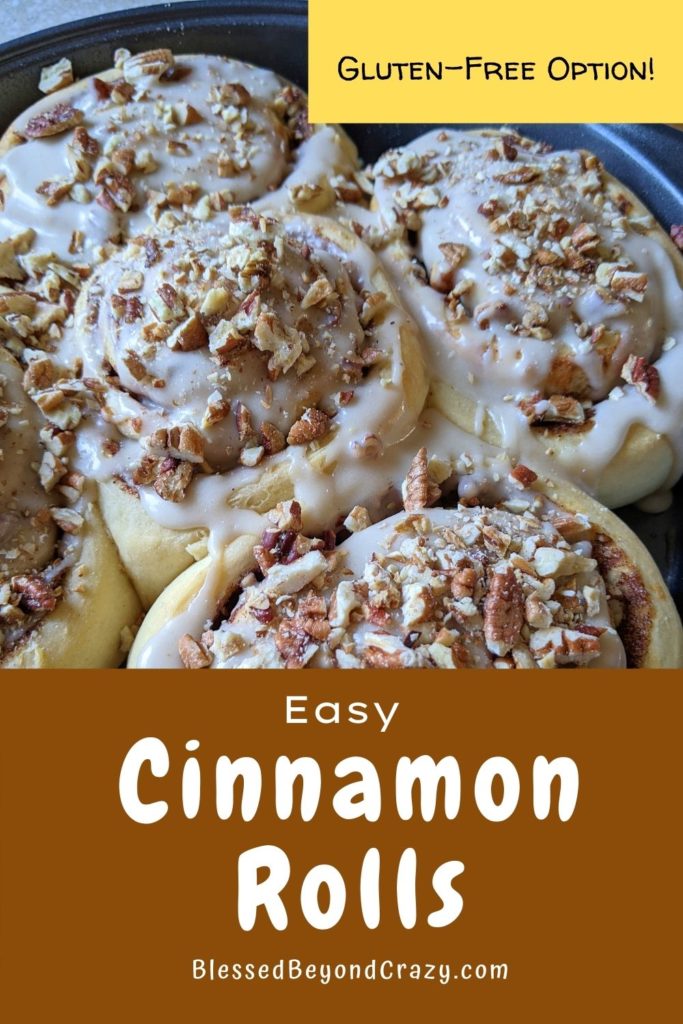 Enjoy!
Linda
More great ideas: