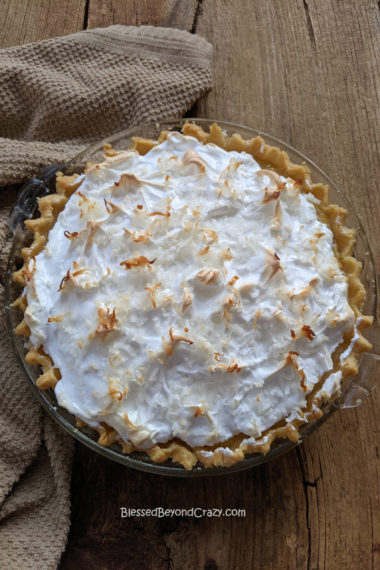 Coconut Cream Pie is probably one of the most beloved desserts of all time. Especially when it's made from scratch, just like grandma used to make. Not only is this lush creamy pie delicious, but it's also extremely easy to make gluten-free. I call that a win-win! 🙂

To help support our blogging activities, our site contains affiliate links. If you make a purchase from a link on our site, we may receive a small percentage of that sale, at no extra cost to you. Blessed Beyond Crazy is a participant in the Amazon Services LLC Associates Program, an affiliate advertising program designed to provide a means for sites to earn advertising fees by advertising and linking to amazon.com. As an Amazon Associate, I earn from qualifying purchases.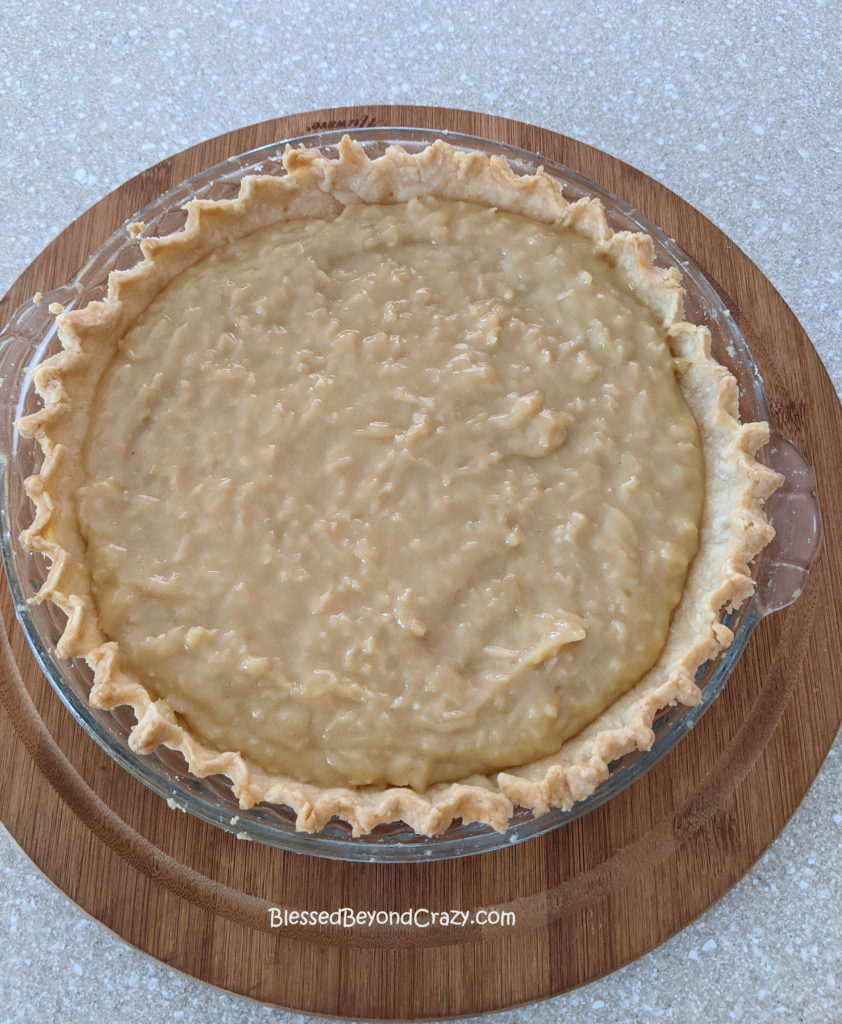 Make-Ahead Dessert
I love a good make-ahead dessert recipe and this Coconut Cream Pie certainly fits the bill. Usually, I bake a homemade pie crust the day beforehand or simply grab a prebaked crust from my freezer and let it thaw. Easy peasy!
The rich creamy stovetop coconut filling is super easy to make and although it does require attention as it cooks, it really doesn't take long to make. Once the yummy mixture is cooked to the perfect consistency simply pour it into your prebaked pie crust.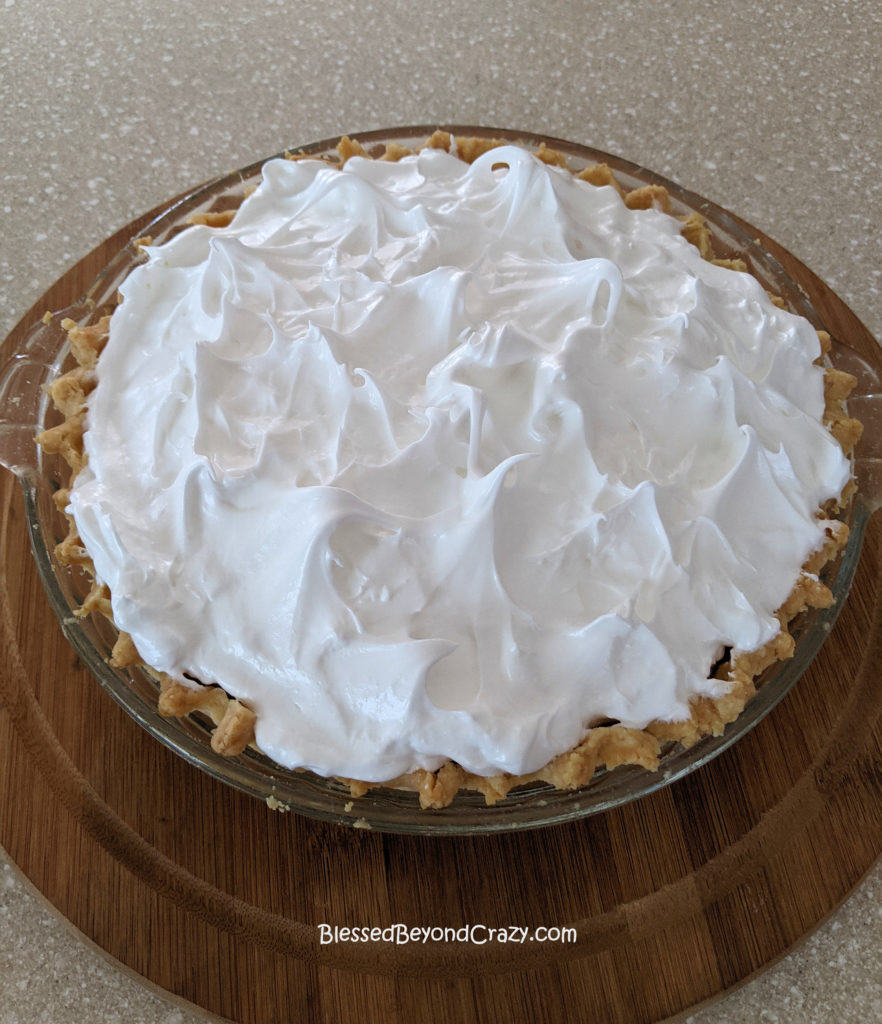 Meringue Topping
Next, the meringue topping is made from beaten egg whites, sugar, and cream of tartar.
NOTES:
Caster sugar works well when making meringue because it dissolves/incorporates quickly.
Cream of tartar helps to stabilize and prevent the meringue from weeping.
It's best to add sugar gradually to the meringue (one tablespoon at a time). Beat the egg whites until the sugar is completely dissolved and the egg whites form stiff glossy peaks.
Use a clean glass or metal mixing bowl rather than a plastic bowl. Even minuscule amounts of oil or a film of grease (oftentimes found on plastic) prevent egg whites from foaming.
For best results, egg whites should be at room temperature before beating them.
Spread the meringue over the pie filling while it is hot and be sure to spread it all the way to the edge of the pie crust.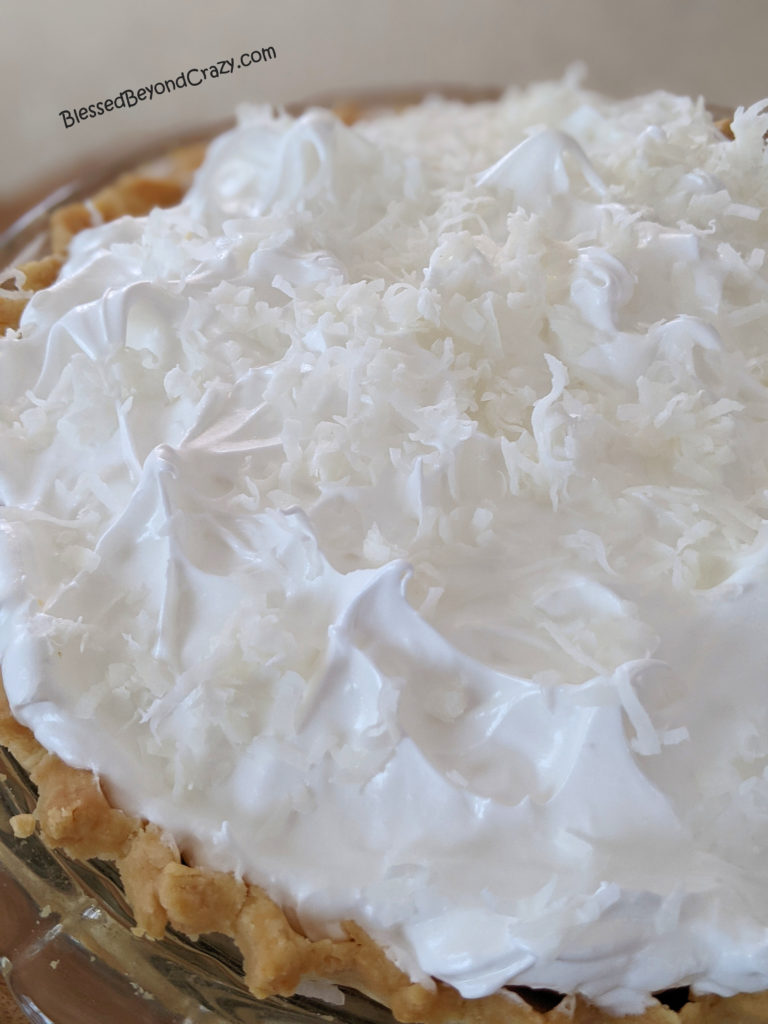 Coconut
Obviously, you need shredded coconut to make this pie. Coconut is in both the filling and the sprinkled on top of the meringue.
Final Touch
The final touch is to brown the meringue in a 350 degree F oven for 12 to 15 minutes. Next, allow the pie to cool completely then refrigerate for 5 to 6 hours before serving.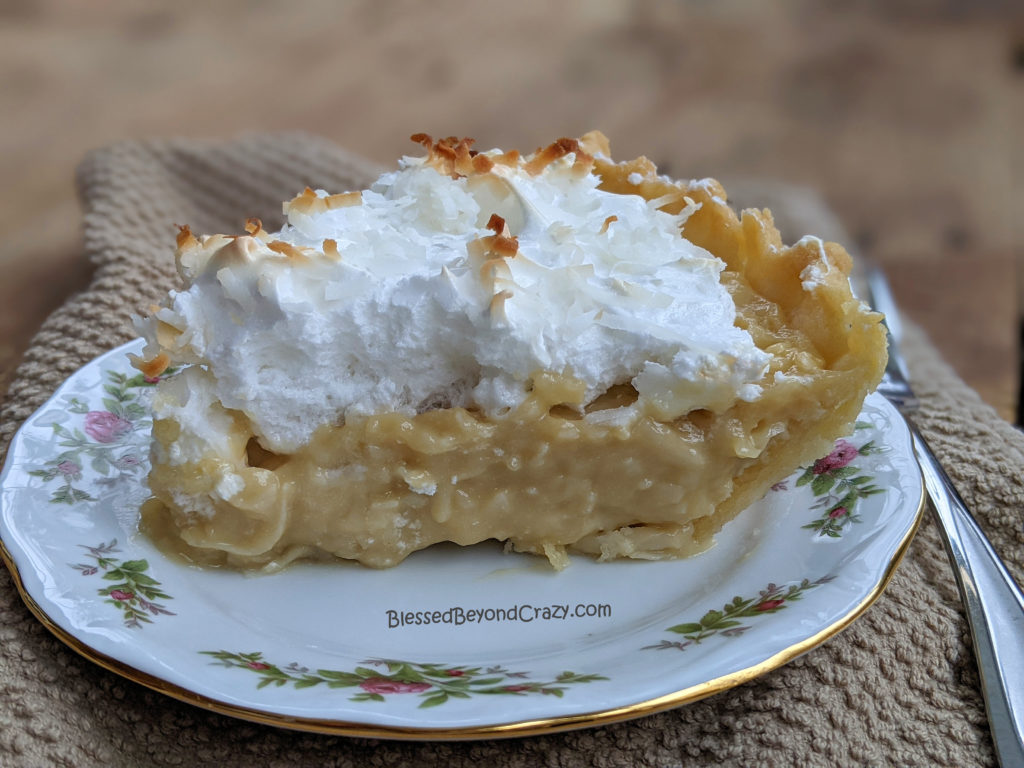 Serve
This Coconut Cream Pie should yield 6 to 8 servings, depending on how big you cut each serving.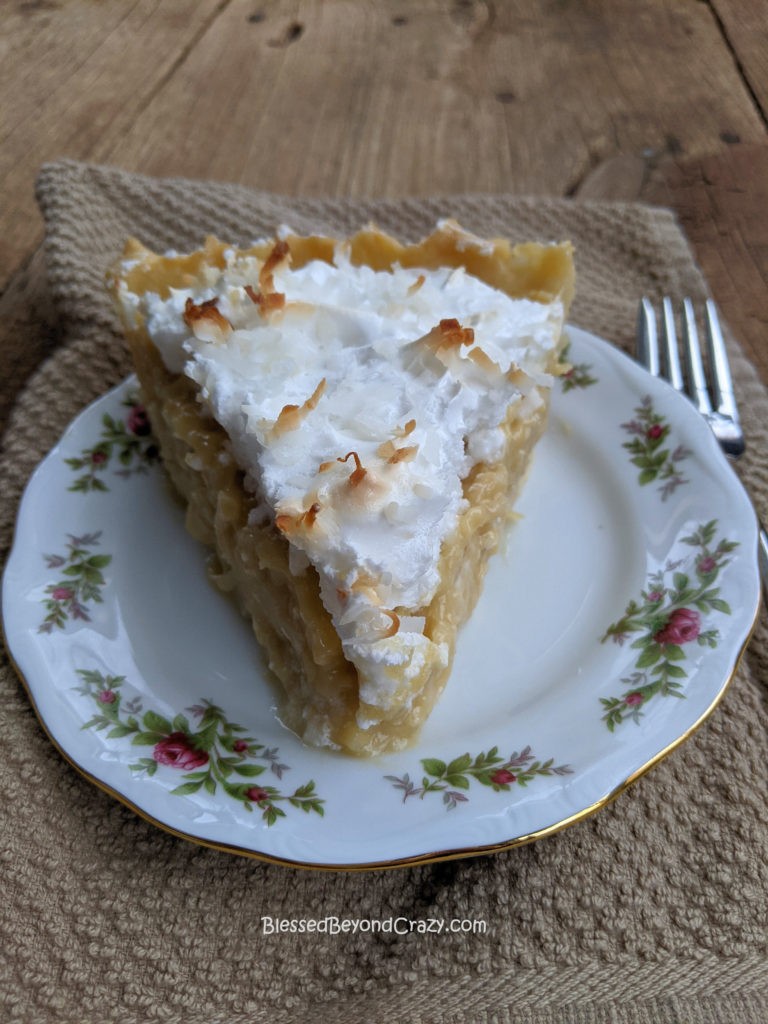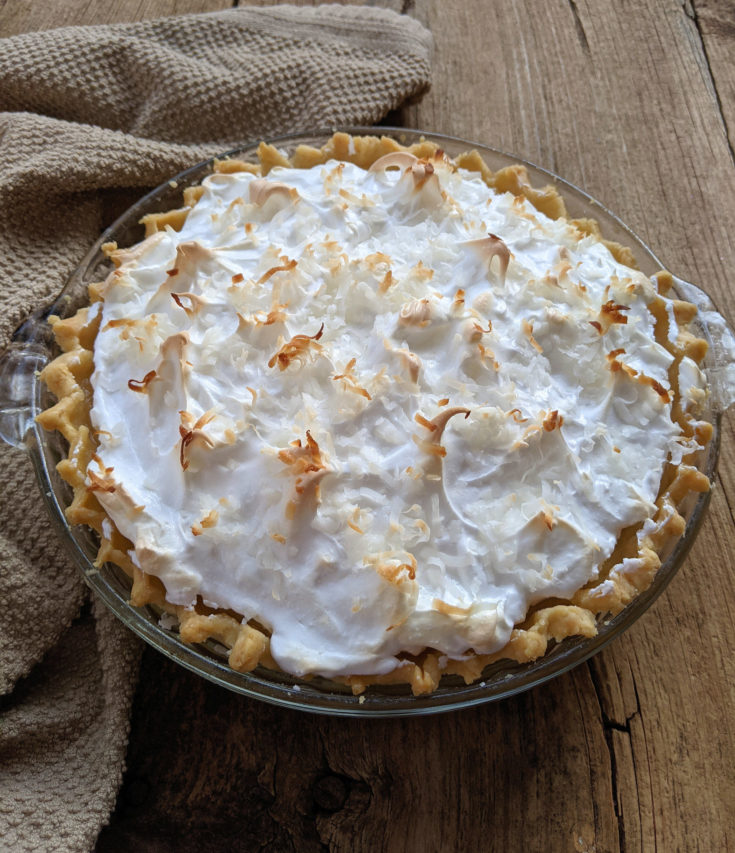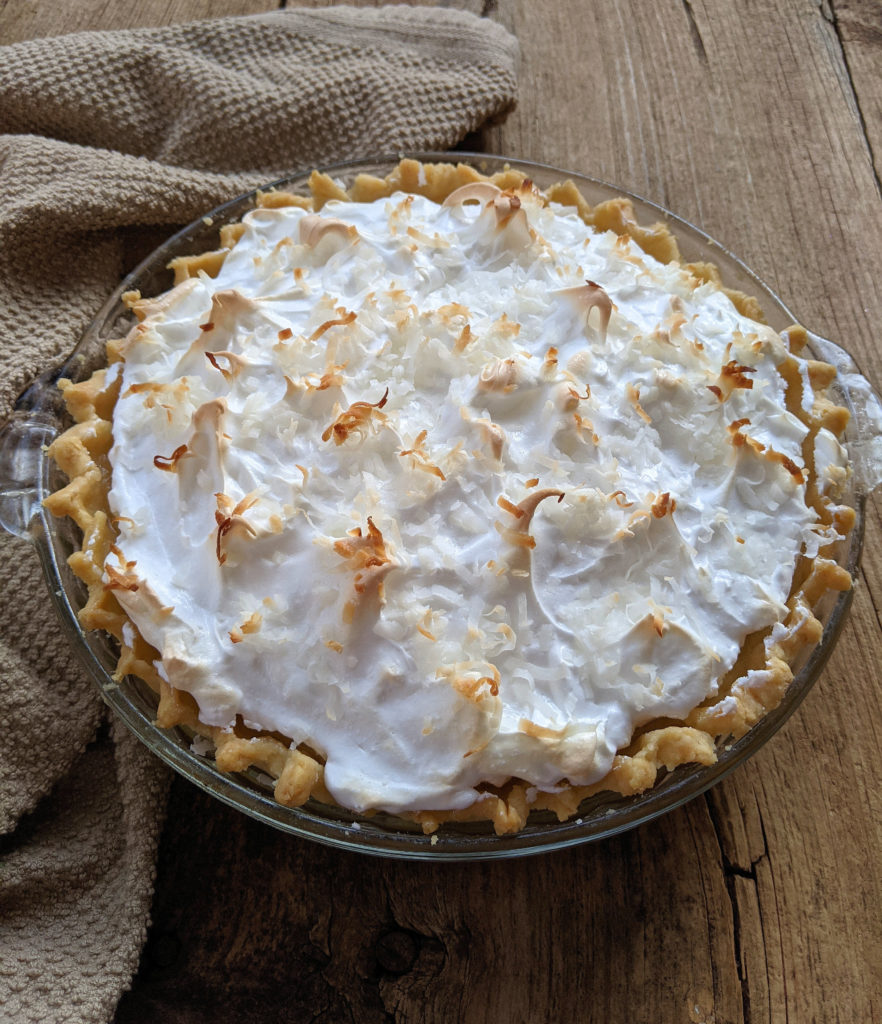 Yield: 6 - 8 Servings
Coconut Cream Pie (Gluten-Free Option)
Prep Time: 15 minutes

Cook Time: 20 minutes

Additional Time: 15 minutes

Total Time: 50 minutes

A good old-fashioned coconut cream pie, just like grandma used to make.
Ingredients
1 (9-inch) baked pie shell (GF Option: use a baked gluten-free pie crust)
1/4 cup all-purpose flour (GF Option: omit flour)
1 teaspoon cornstarch (GF Option: use 2-1/4 tablespoons cornstarch)
3/4 cup granulated sugar
dash of salt
2 cups milk
3 egg yolks, beaten
1 tablespoon salted butter
1-1/2 teaspoons vanilla extract (GF Option: use a gluten-free brand)
1-1/4 cups flaked sweetened coconut, divided
MERINGUE:
3 egg whites (room temperature)
6 tablespoons sugar (caster sugar works best)
3/8 teaspoon cream of tartar
Instructions
In a saucepan, whisk together flour, cornstarch, sugar, and salt. Add milk, egg yolks, and butter. Mix well. Cook over medium heat, whisking constantly until mixture is thickened. Reduce heat; cook and whisk for 2 minutes more. Remove from heat; stir in vanilla and 1 cup coconut. Pour filling into pie shell.
For meringue, beat room temperature egg whites in a glass or metal mixing bowl until soft peaks form. Gradually beat in sugar and cream of tartar until mixture forms stiff glossy peaks. Spread meringue over hot filling. Sprinkle with remaining coconut.
Bake at 350 degrees F. for 12 - 15 minutes or until the meringue is golden brown.
Cool completely. Refrigerate 5 to 6 hours before serving.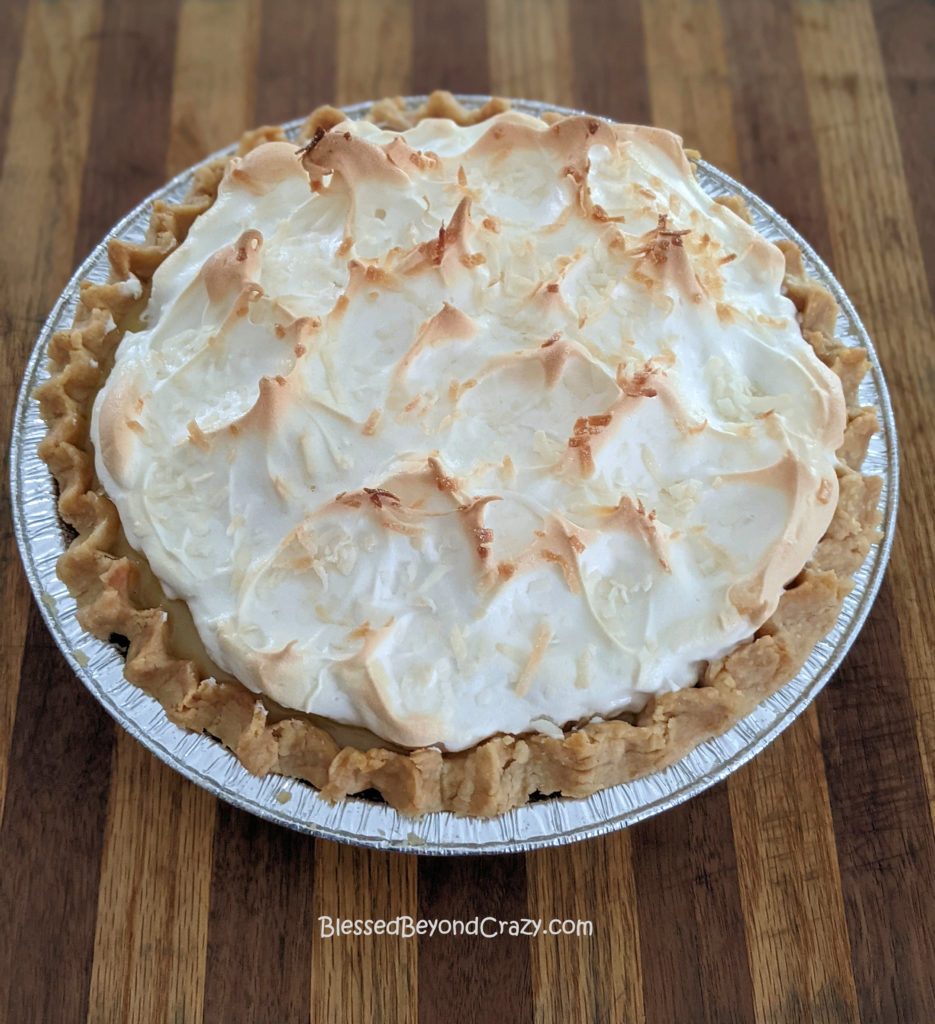 Fyi… A Coconut Cream Pie makes a fabulous homemade gift! For example, I made this one for a neighbor that offered to snowplow a driveway for us yesterday. 🙂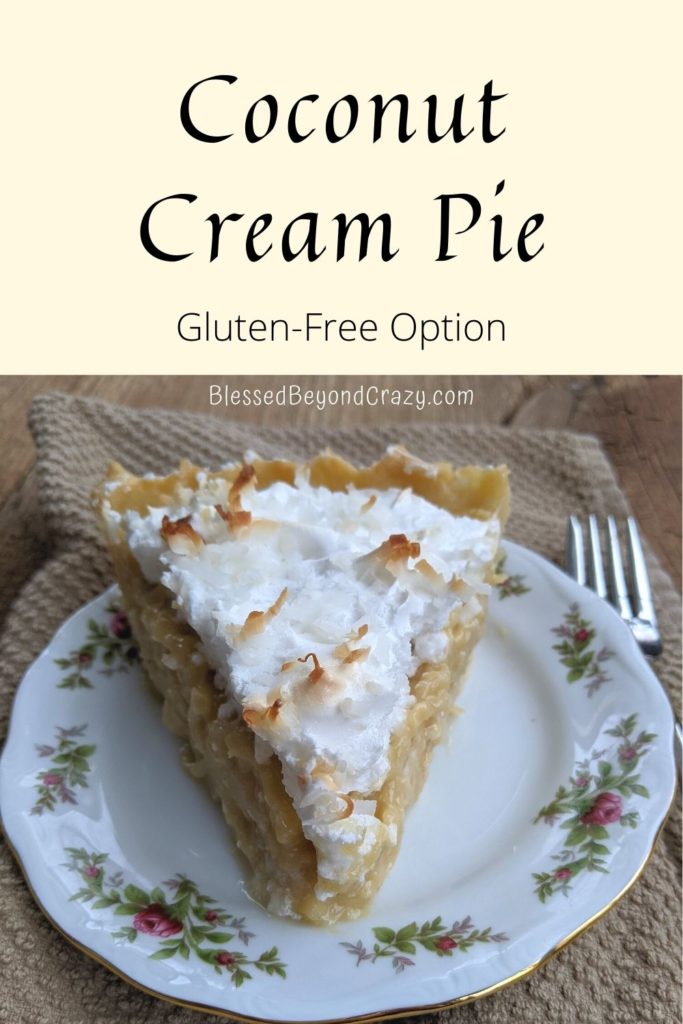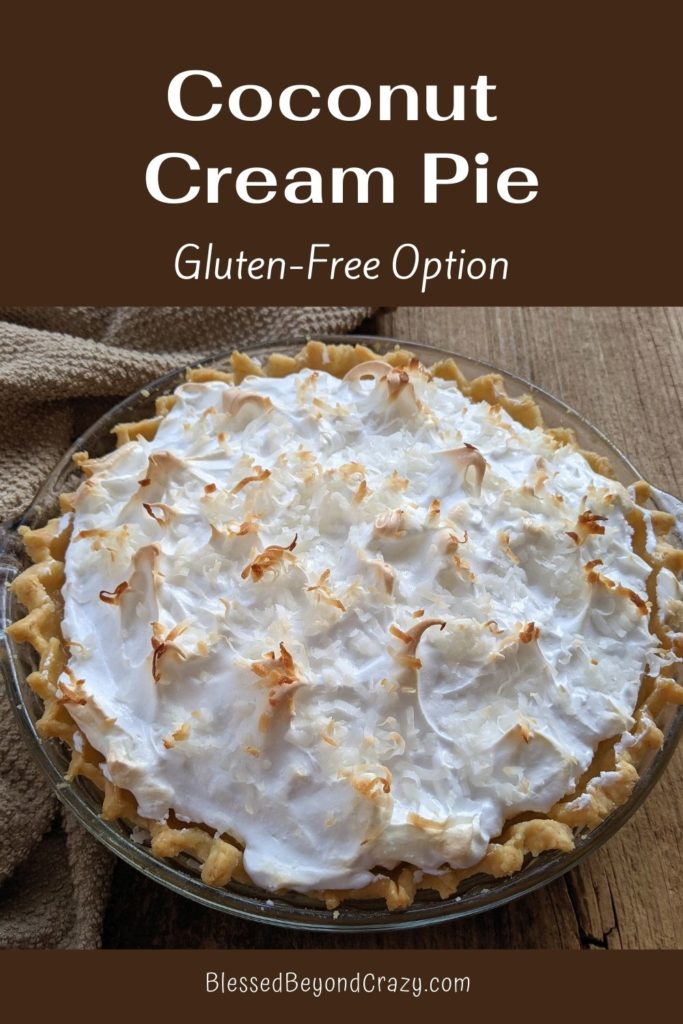 What's your favorite pie recipe?
Enjoy!
Linda
More great ideas: