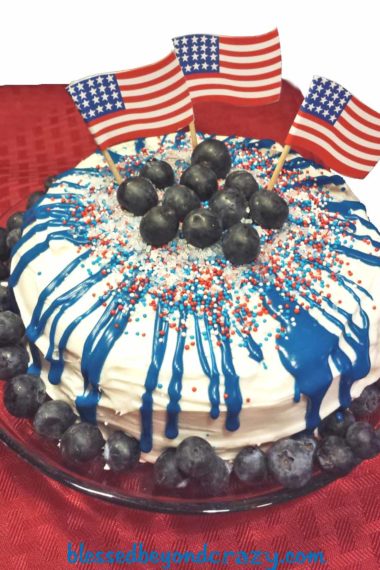 Happy Birthday America Cakes are a tasty and fun way to celebrate the birth of our nation!
To help support our blogging activities, our site contains affiliate links. If you make a purchase from a link on our site, we may receive a small percentage of that sale at no extra cost to you. Blessed Beyond Crazy is a participant in the Amazon Services LLC Associates Program, an affiliate advertising program designed to provide a means for sites to earn advertising fees by advertising and linking to amazon.com.
Recently I have fallen in love with "mini" and "bite-size" foods. A few years ago my family and I started a new tradition. For many of our holiday gatherings, we have a carry-in featuring different appetizers and bite-sized treats. We all love this idea because we are able to try a wide variety of yummy morsels.
Since we are talking about mini treats, I thought it would be fun to make Happy Birthday Cakes in honor of the 4th of July. I recently purchased a Wilton 6″ x 2″ cake pan, (the small one the professionals use to make the very top tier on a wedding cake). To find the pan I used click here: 6 x 2 Inch Round Pan.
I made a regular white cake mix according to the box directions and divided the batter evenly into two pans. Once the cakes were finished and cool, I carefully sliced the very top off of each cake so they would be flat. Rather than make my own icing, each cake was iced with store-bought white icing.
Time to decorate the cakes!!! First of all, I mixed 1 tsp. melted butter, 1 cup powdered sugar, 1/4 teaspoon vanilla, and just enough milk to make the icing thin. Next, I divided the icing into two separate bowls, added red and blue food coloring, and drizzled them over the cakes.
Finally, an addition of red, white, and blue candies and a sprinkle of white sparkling crystal sugar topped each cake.
Since we are celebrating, I also added fresh blueberries and American Flag toothpicks to garnish each cake.
These cakes are so easy, fun, and yet festive! Therefore, they will be cute on your 4th. of July tablescape.
These little Happy Birthday America Cakes are super fun to make with children. Each child can either make their own cake and/or simply decorate them.
I love this country most of all, and am so grateful for those who have sacrificed for our freedom!
In conclusion, if you also like appetizers, you may be interested in a couple of my Pinterest boards. Both have TONS of appetizer recipes. You can find them here: Appetizers and Party Foods and Amazing Appetizers.
Happy Birthday, America!!!
Linda
More great ideas:
Frozen Parfaits You Can Literally Make in 2 Minutes