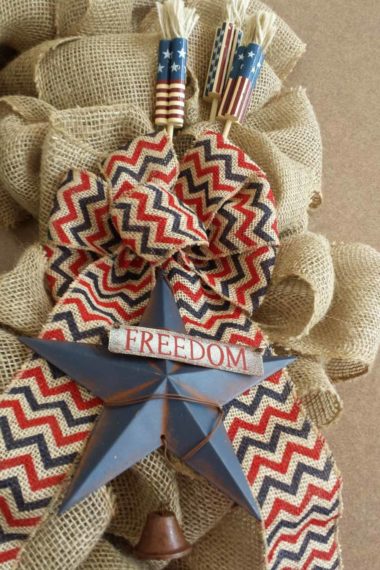 A rustic DIY Patriotic Burlap Wreath is festive, super easy to make, and is a lovely addition to any patriotic decor.
To help support our blogging activities, our site contains affiliate links. If you make a purchase from a link on our site, we may receive a small percentage of that sale, at no extra cost to you. Blessed Beyond Crazy is a participant in the Amazon Services LLC Associates Program, an affiliate advertising program designed to provide a means for sites to earn advertising fees by advertising and linking to amazon.com.
It's funny that although I have always liked a pretty burlap wreath I have never made one until now. It seems that the rustic charm of burlap lends itself well to almost any decor.
My list of supplies includes the following:


After gathering all of my supplies, I began making my DIY Patriotic Burlap Wreath by cutting 4″ strips of wire. Next, I made a loop with the burlap, wrapped the wire around the bottom of the loop, and twisted the wire to secure it.
Next, the ends of the wire were wrapped around the wireframe and twisted to secure the burlap loop in place. This certainly isn't difficult, although it does take a little bit of time.
I continued wrapping and securing the burlap loops onto the wireframe. The loops can be as big, or as small, as you like.
Continue to cover the entire wire framework until it is completely covered.
Attach your choice of patriotic embellishments to the wreath with more strips of thin wire or by using dots of hot glue.
I added a few more embellishments to balance the entire look. The USA letters cost $3 and a small bottle of red craft paint for 50 cents.



I already had the metal blue star on hand and thought it would make a great addition. The letters and the blue metal star were attached with just a few drops of hot glue.



This wreath was easy to make and took just a couple of hours to construct.



You might also like the adorable 4th of July Wreath that Anna made using a grapevine wreath frame.
Happy 4th of July!
Linda
More great ideas: