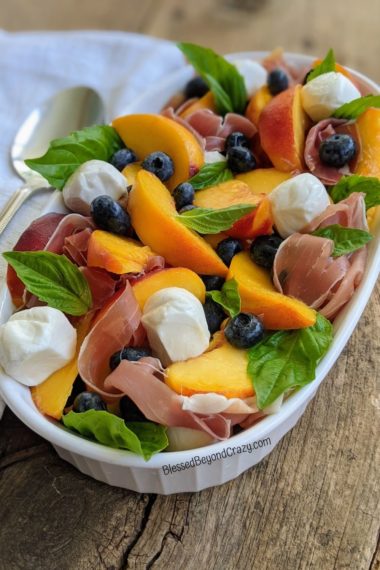 Peach and Prosciutto Salad really is amazing! Why? Because it's a salad that is a little unconventional. Not only is it gorgeous, but it's also quite appetizing, naturally gluten-free, and ready in approximately fifteen minutes.

To help support our blogging activities, our site contains affiliate links. If you make a purchase from a link on our site, we may receive a small percentage of that sale, at no extra cost to you. Blessed Beyond Crazy is a participant in the Amazon Services LLC Associates Program, an affiliate advertising program designed to provide a means for sites to earn advertising fees by advertising and linking to amazon.com.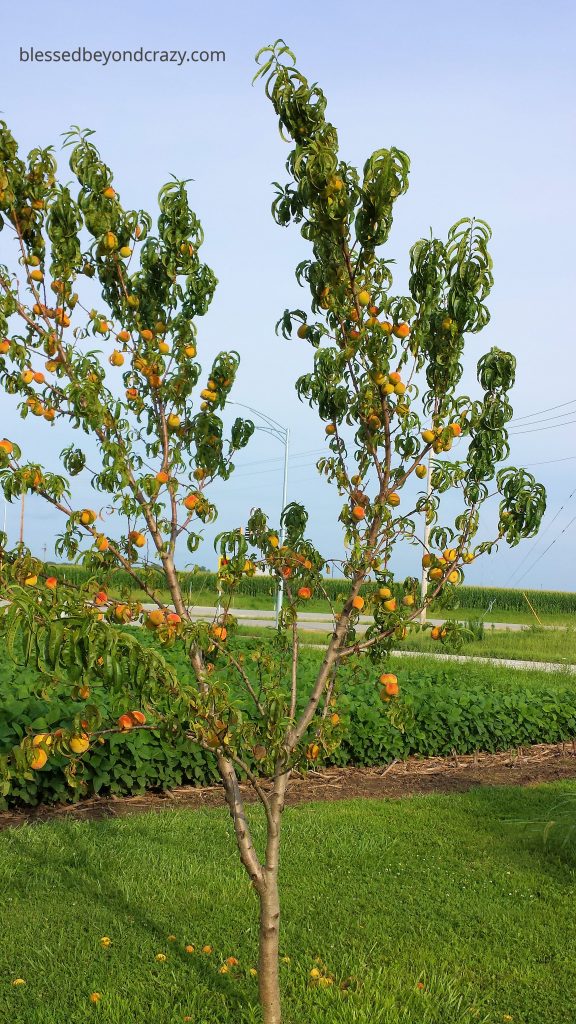 Homegrown Peaches
This year we are pleasantly surprised by our hearty peach crop. Japanese beetles ate the majority of our peaches the previous year and therefore we didn't expect to have many this year either. Thankfully that isn't the case. Therefore we're doing a happy dance because that means we get to enjoy a bunch of yummy peach recipes!
Simple Salad
I don't know about you but I love an easy recipe and one that doesn't require heating up the kitchen in the heat of summer. That's probably why salads usually come to mind when I don't feel like putting a lot of time and energy into a meal.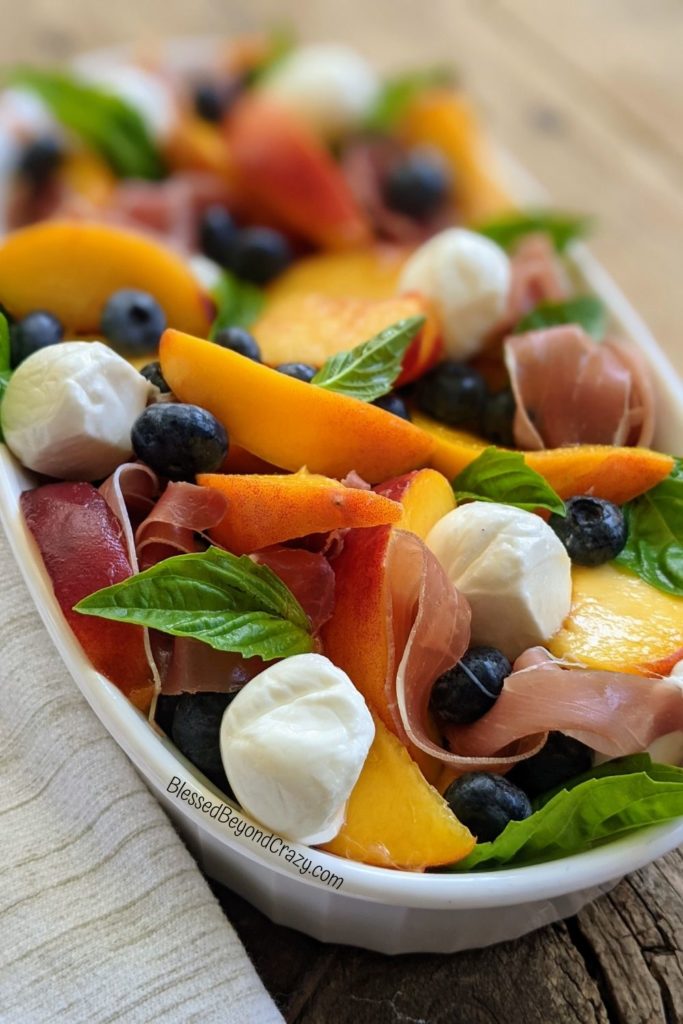 Delicious Salad
Not only is this Amazing Peach and Prosciutto Salad delicious but it's also chuck full of flavor and tantalizing textures. The fresh peaches and blueberries are sweet and juicy and the delicate prosciutto is mildly salty. The addition of mozzarella pearls and fresh basil provide additional texture and flavor.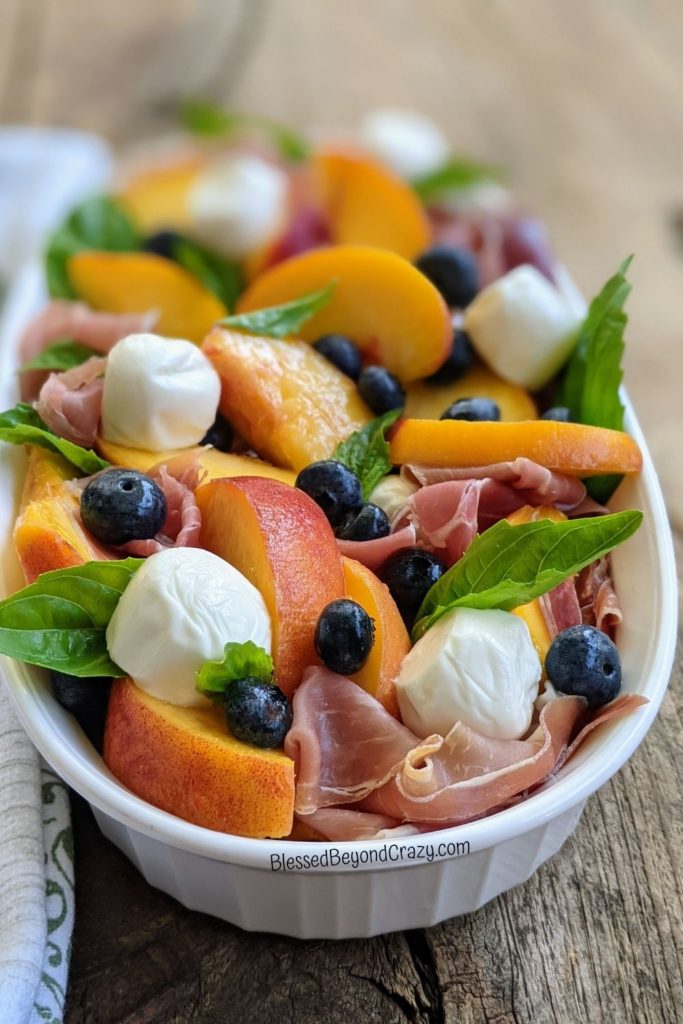 Pretty Summertime Salad
Years ago I heard that food displays well when served in a white bowl, or on a white plate, or platter. I have definitely found this to be true. The color of the various ingredients really "pop" against the white background.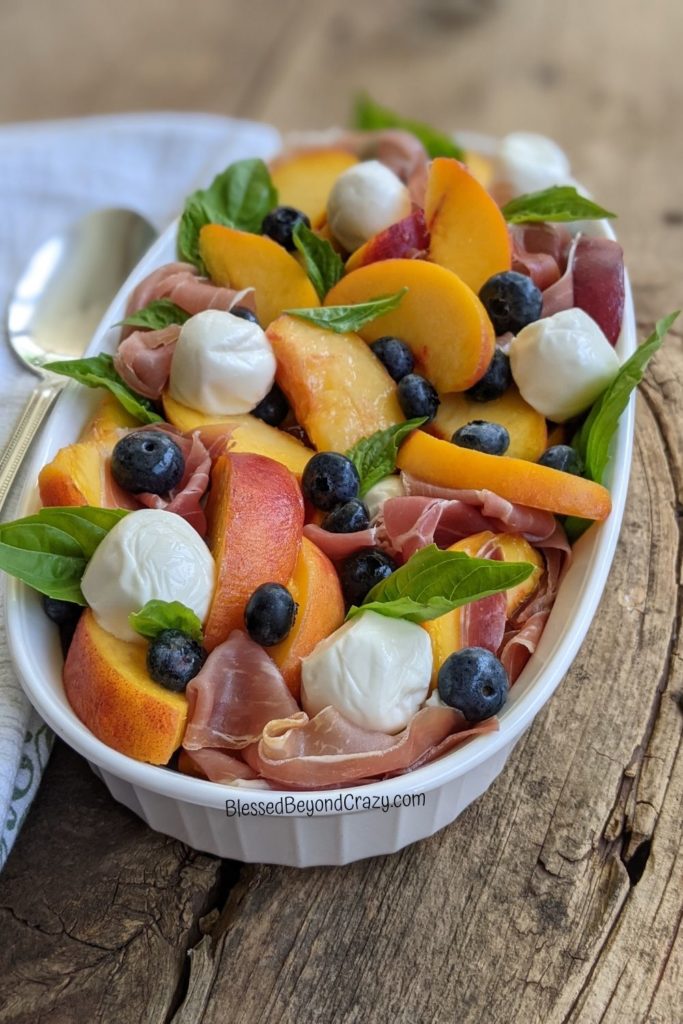 Salad Dressing
It's my personal option that Amazing Peach and Prosciutto Salad really doesn't need dressing. However, having said that, feel free to drizzle your favorite Balsamic Vinaigrette over the top.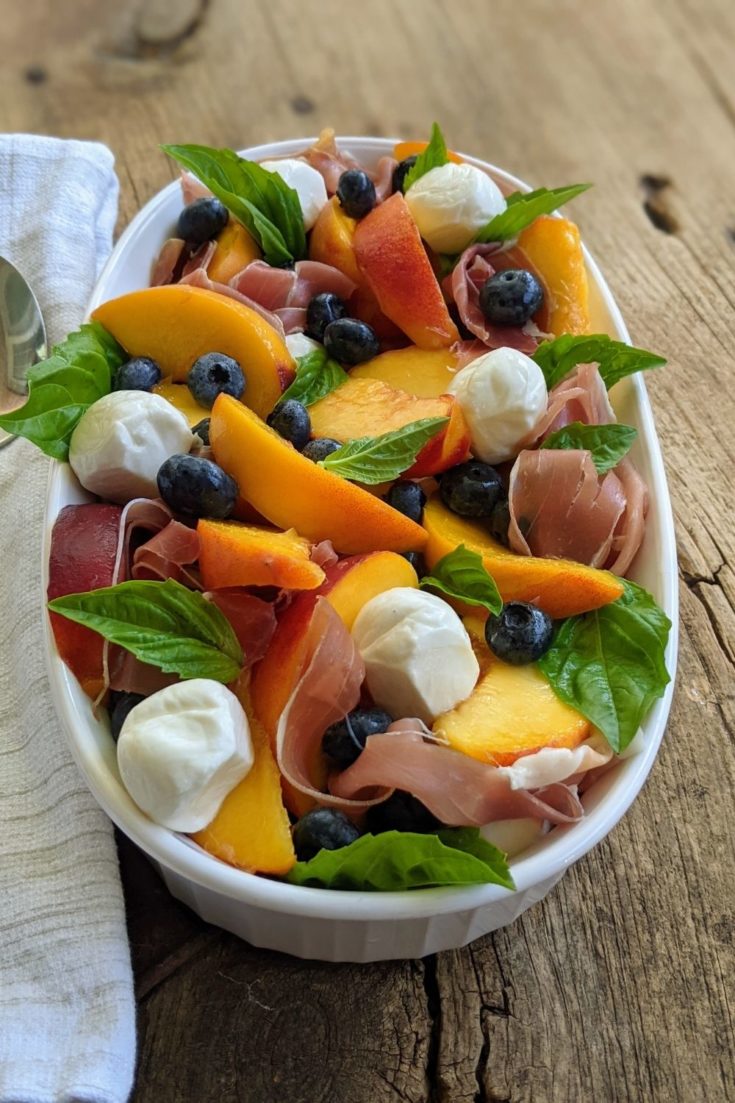 Yield:

Serves 8
Amazing Peach and Prosciutto Salad
Not only is this salad delicious and naturally gluten-free, but it's also loaded with wonderful flavors and textures.
Ingredients
5 to 6 fresh peaches, pitted and sliced
1/3 cup fresh blueberries
3 ounces prosciutto (GF Option: most brands are naturally gluten-free but always be sure to check labels.)
5 ounces fresh mozzarella pearls
fresh basil leaves
Optional: your favorite Balsamic vinaigrette dressing (GF Option: use a gluten-free brand)
Instructions
Layer peaches, blueberries, prosciutto, mozzarella pearls, and basil leaves in a shallow serving bowl. Drizzle with Balsamic vinaigrette dressing if desired. Serve immediately. Refrigerate leftovers.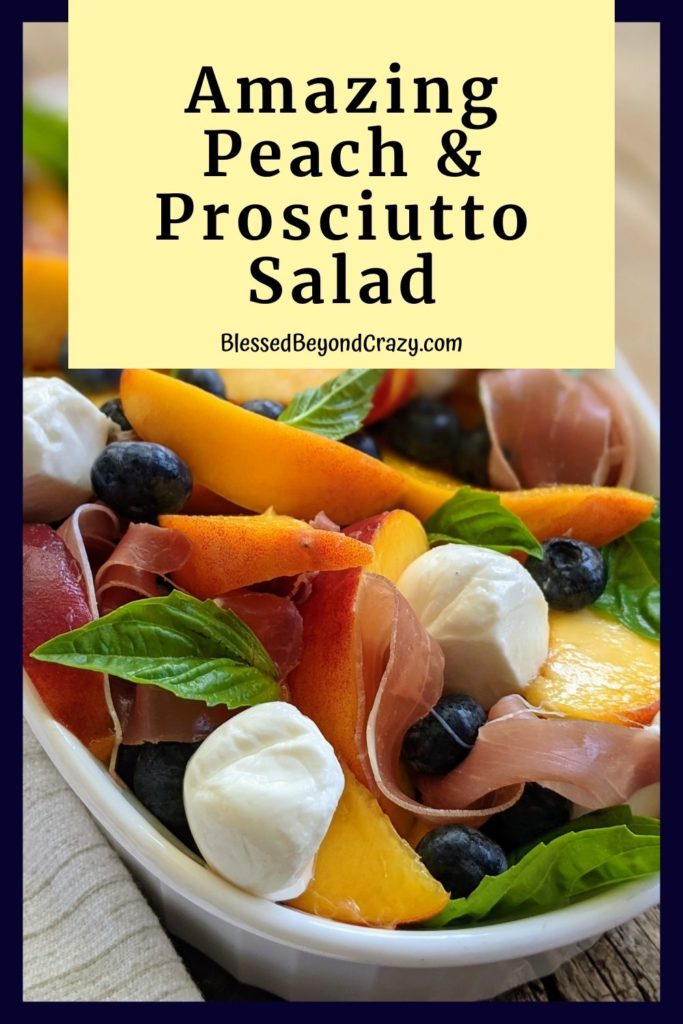 Thanks for Sharing!
What's your favorite summertime salad?
Linda
More Great Ideas: