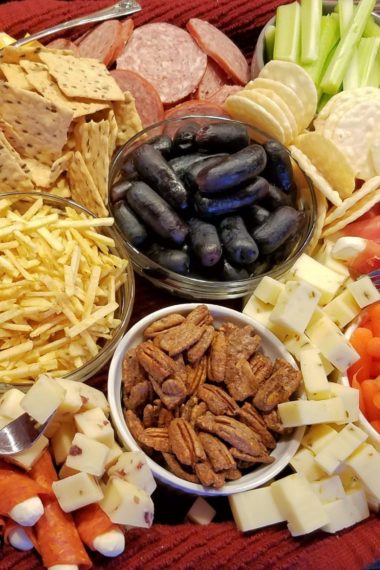 Looking for an impressive, yet an uncomplicated way to serve ready-to-eat finger foods to your guests? If so, then you should consider creating a charcuterie board. Simple. Easy. Festive. Delicious!
To help support our blogging activities, our site contains affiliate links if you make a purchase from a link on our site, we may receive a small percentage of that sale, at no extra cost to you. Blessed Beyond Crazy is a participant in the Amazon Services LLC Associates Program. This is an affiliate advertising program designed to provide a means for sites to earn advertising fees by advertising and linking to amazon.com.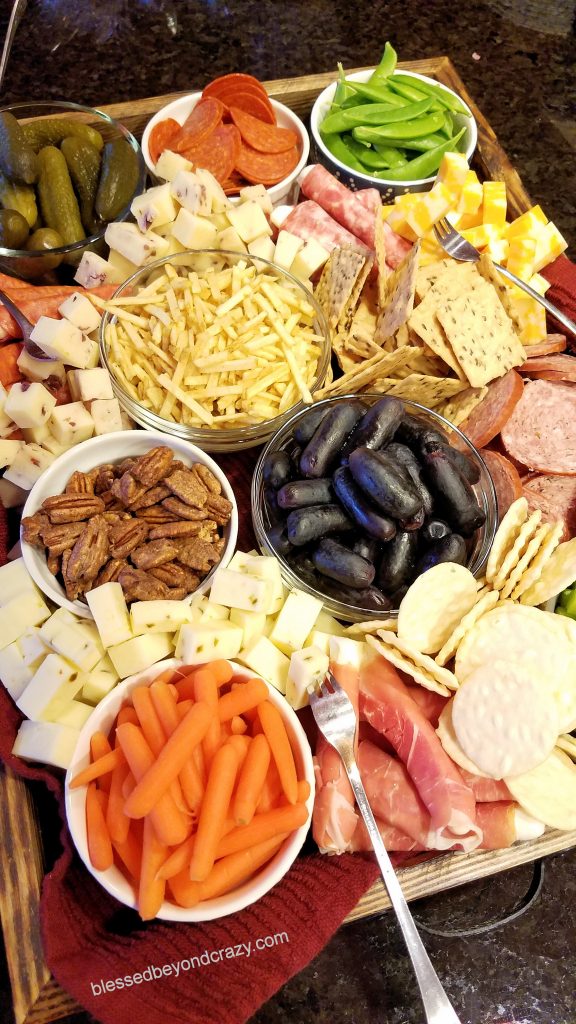 First of all, the word charcuterie (shar/kew/tree) is French. It refers to artisan-prepared smoked, dry-cured, or cooked meats. Some of the most popular of these types of meats are prosciutto, soppressata, chorizo, saucisson, mortadella, bresaola, and dry-cured ham (jamon).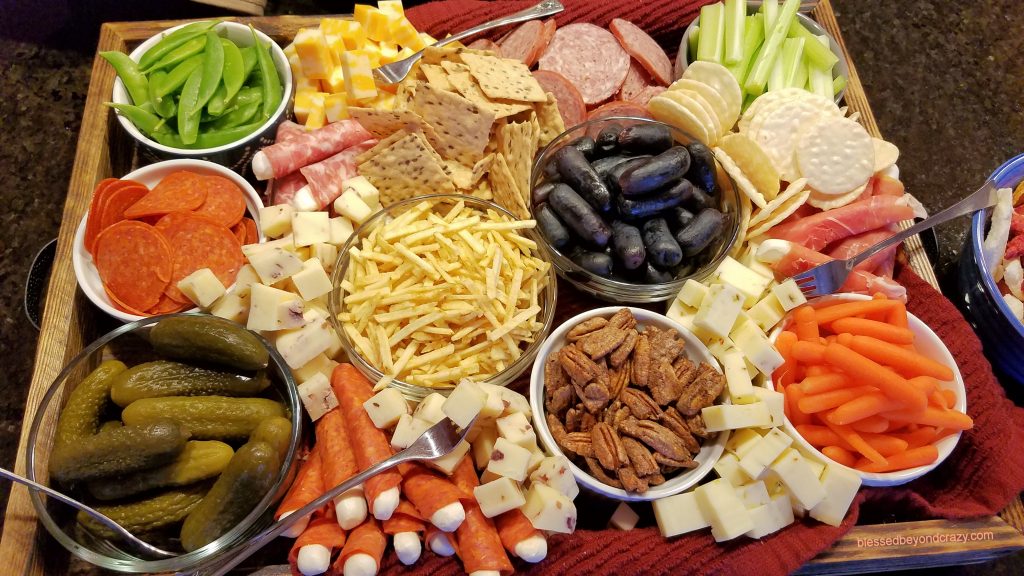 Along with gourmet meats, you'll usually find a variety of fresh fruits and vegetables, dips and sauces, cheese, crackers, nuts, olives, and pickles on a charcuterie board.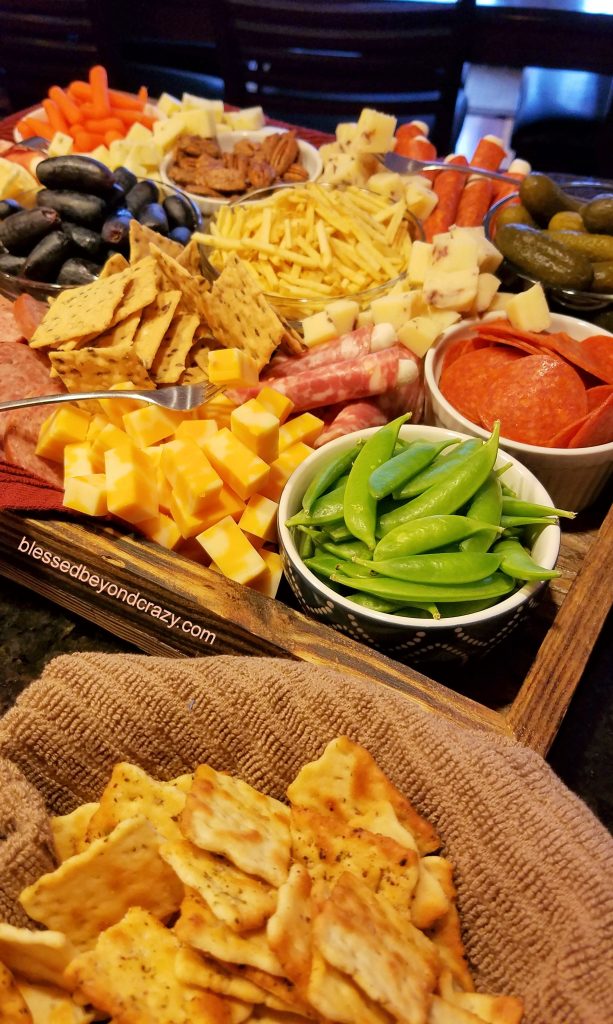 As you can see in the picture above, I also added a couple of baskets of crackers on the side since I ran out of space on my charcuterie board.
Another wonderful aspect is that you can easily create a charcuterie board that suits a special diet, such as gluten-free, dairy-free, vegan, paleo, Whole30, low-carb, etc…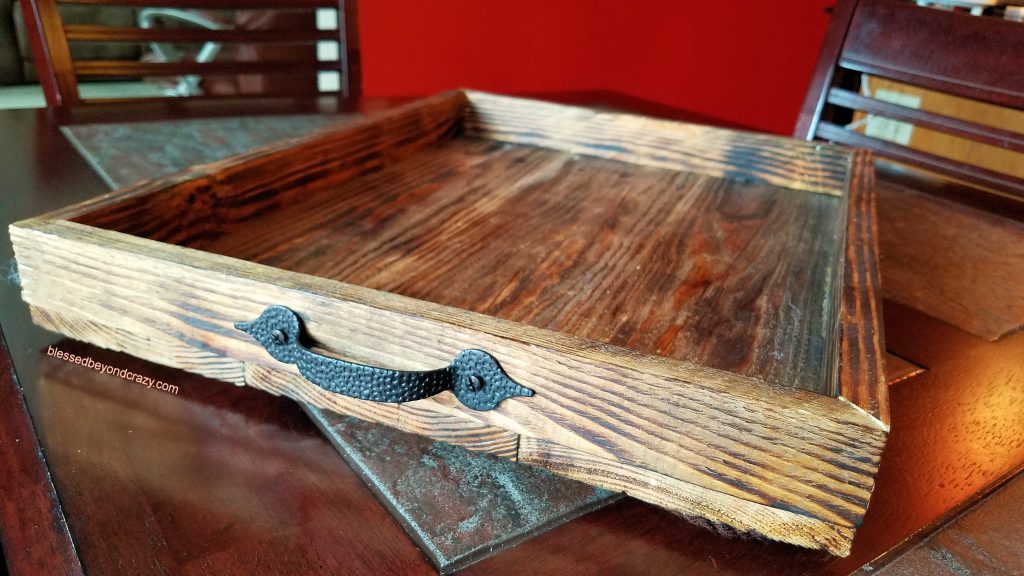 There are unlimited options when it comes to charcuterie boards. Items such as a bamboo cheese board, a cutting board, a rustic serving tray, and a slate cheese board are most commonly used. Personally, I like to use a wooden serving tray that my son-in-law made for me (pictured above).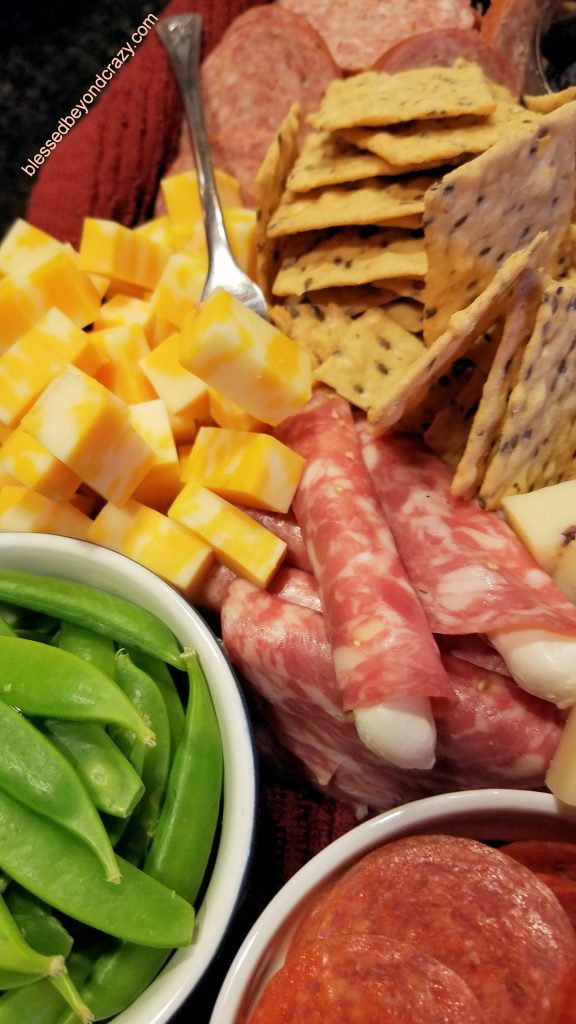 When creating a charcuterie board simply gather your food items and artfully arrange them on the board. There really isn't a right or wrong way to do it so just have fun and be creative.
For my family, I like to include thin slices of pepperoni and salami. I also like to include fresh mozzarella cheese wrapped in prosciutto, soppressata, or pepperoni.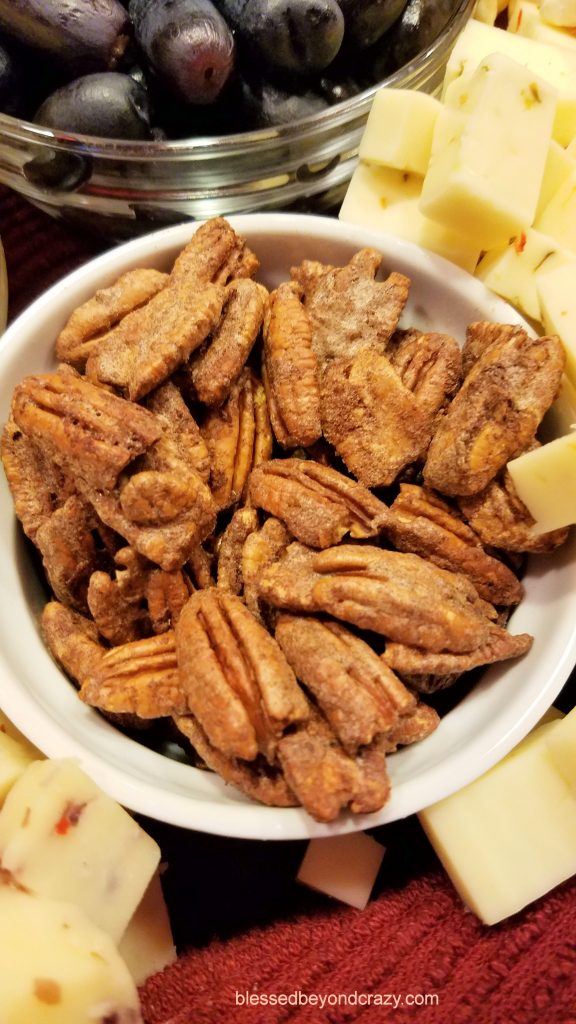 Raw, roasted, or seasoned nuts are always a great addition to a charcuterie board. For example, my mother contributed a bowl of her Sugar and Spice Pecans (pictured above).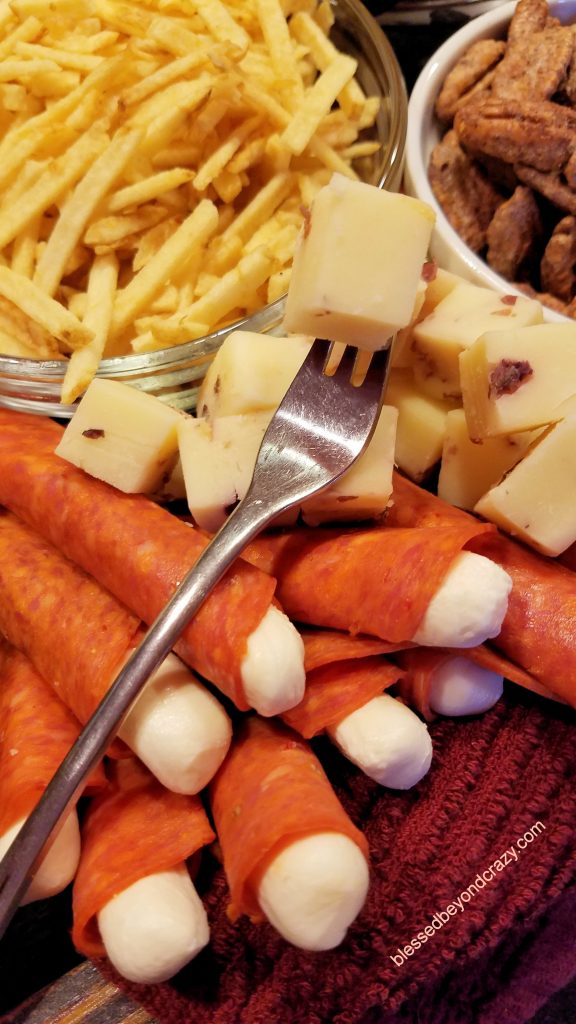 I also incorporate a variety of cheese on my board. My family seems to like Colby Jack, Pepper Jack, and Cranberry cheese. Other lovely cheese options are Brie, Gouda, Provolone, and Blue Cheese.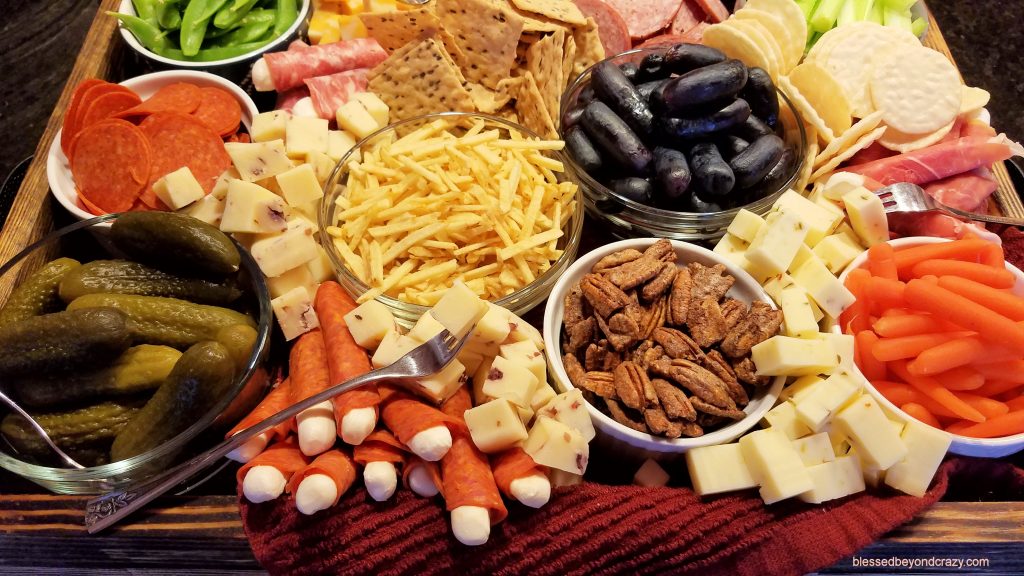 Besides meat and cheese, I add sweet pickles, baby carrots, celery, snap peas, moon drop grapes, and shoestring potatoes to my charcuterie board.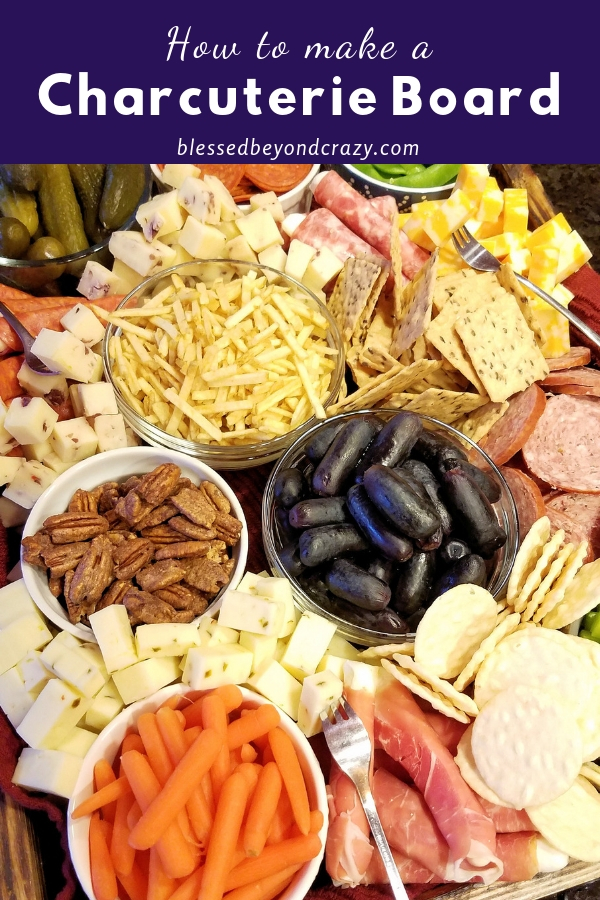 Finally, it seems that my family enjoys dining that features a grazing aspect. Therefore, rather than gorge ourselves on a huge meal we like to graze all day on an assortment of appetizers. For that reason, a charcuterie board is the perfect party food option for us.
Happy munching!
Linda
More great ideas: