Grain-Free Mini Almond Cakes are deliciously moist and naturally gluten-free!
A few months ago my daughter, Anna, introduced me to online shopping at Thrive Market. I had never heard of this site before but I can tell you that it has quickly become one of my favorite internet sites to visit. Its mission is to make healthy living easy, affordable, and accessible for every American family.
To help support our blogging activities, our site contains affiliate links. If you make a purchase from a link on our site, we may receive a small percentage of that sale, at no extra cost to you. Blessed Beyond Crazy is a participant in the Amazon Services LLC Associates Program, an affiliate advertising program designed to provide a means for sites to earn advertising fees by advertising and linking to am .azon.com. As an Amazon Associate, I earn from qualifying purchases.
Thanks for sharing!!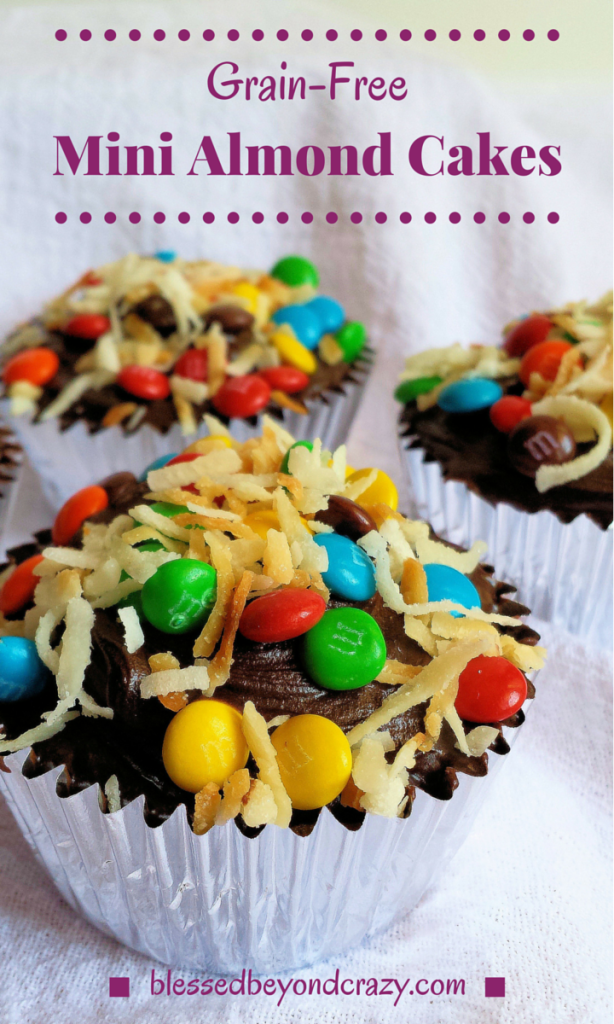 Remove featured image
I mention Thrive Market because that is where I purchased a bag of almond meal flour for a fraction of the amount I would spend at our local grocery store. Most stores would charge anywhere between $12.95 – $14.00 for a 16-ounce bag. Through Thrive Market I paid $9.45 for a 16-ounce bag; plus it was delivered right to my door!
Amazon also carries Bob's Red Mill Almond Meal/Flour in case you decide not to subscribe to Thrive at this time.
Bob's Red Mill Almond Meal/Flour is:
Made from 100% all-natural blanched almonds

An excellent source of Vitamin E, protein, and magnesium

Gives baked goods and sweets a rich flavor and moist texture

Naturally gluten-free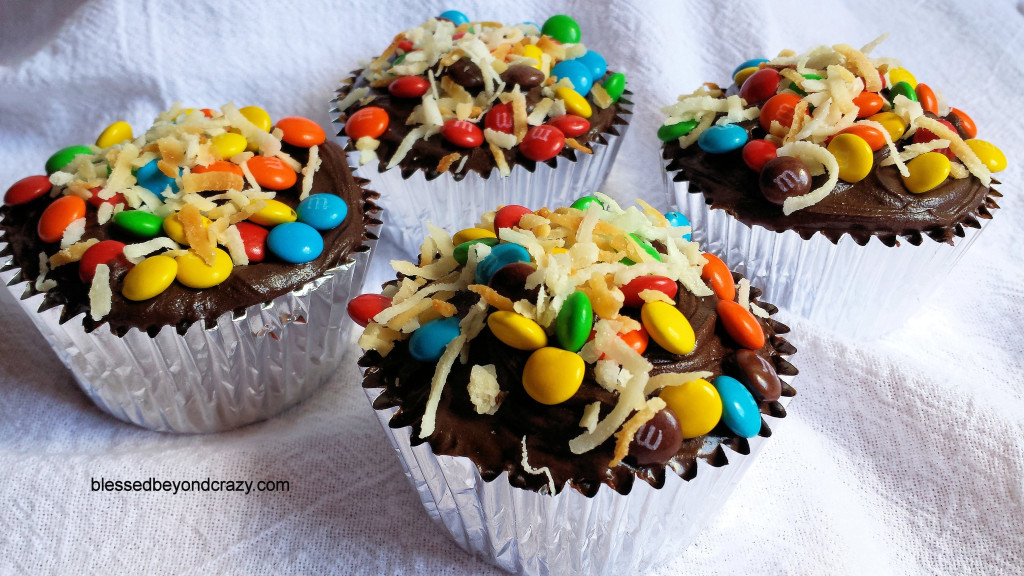 Okay, now onto this recipe. Last weekend we celebrated my grandson's 7th. birthday. I volunteered to make a gluten-free Triple Berry Angel Food Trifle for the guests who are on a gluten-free diet. While I had the oven on and I was in the baking mode, I also whipped up a batch of these delicious Grain-Free Mini Almond Cakes.
(I wanted to surprise my grandchildren with a tasty treat, so the hubby and I secretly dropped them off at their house when they weren't home! Sneaky, sneaky grandma Linda!! lol).
Next, I wanted to make the cakes festive so I iced them with dark chocolate icing, mini M&M's and some toasted coconut, (all gluten-free of course).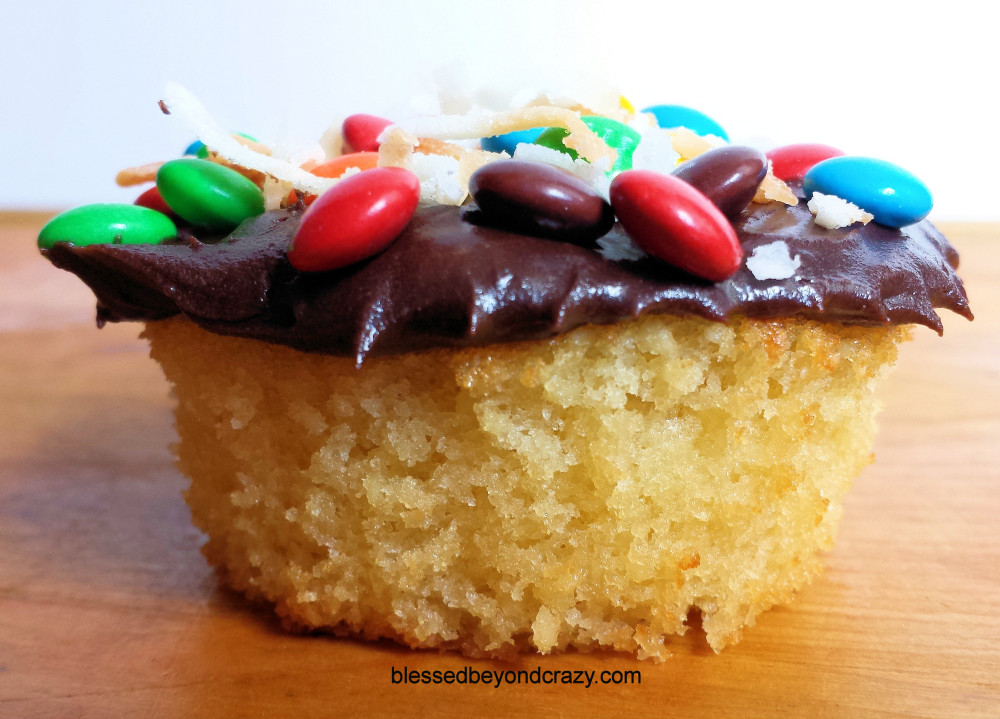 Since I wanted you to see the texture of these yummy cupcakes, I removed one of the cupcake liners. The almond meal creates a tender and super moist cake and the flavor is truly wonderful, (especially when paired with a touch of chocolate! But then again… ANYTHING is better with a touch of chocolate!) I digress…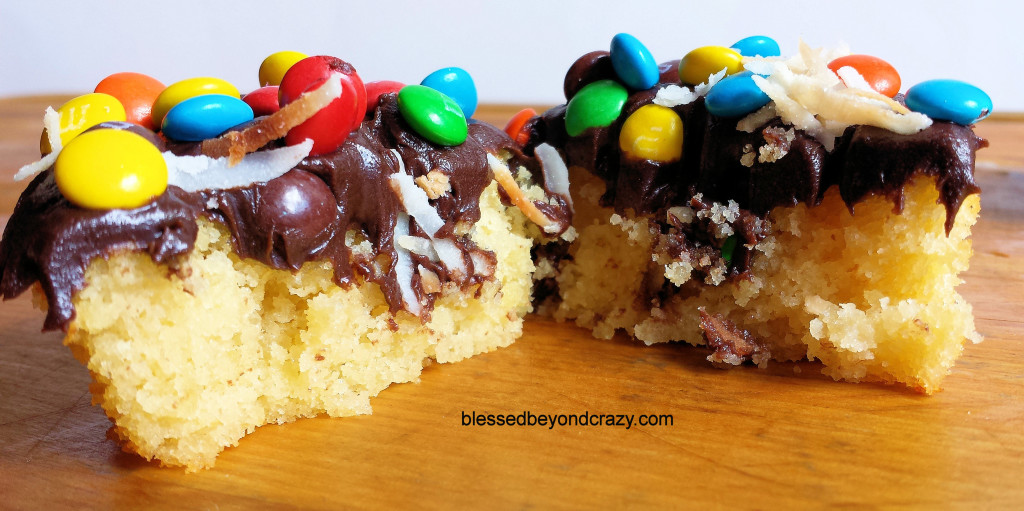 Here is a cut-away picture of the inside of the cakes. (I sure wish I could give you a bite because they are yummy, yummy!)
I may, or may not, have taste-tested one, or two, or three of these...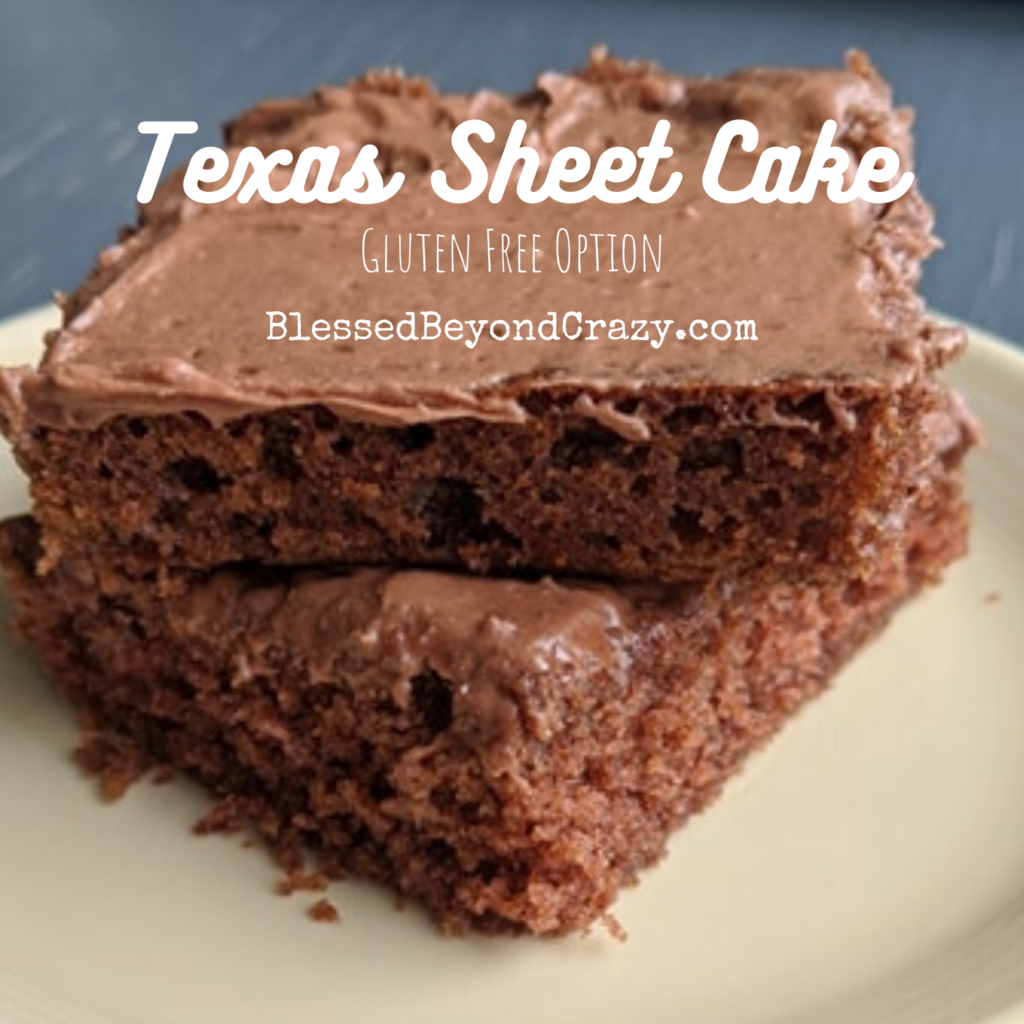 (Oh, by the way… Anna makes the BEST Texas Sheet Cake (GF Option)!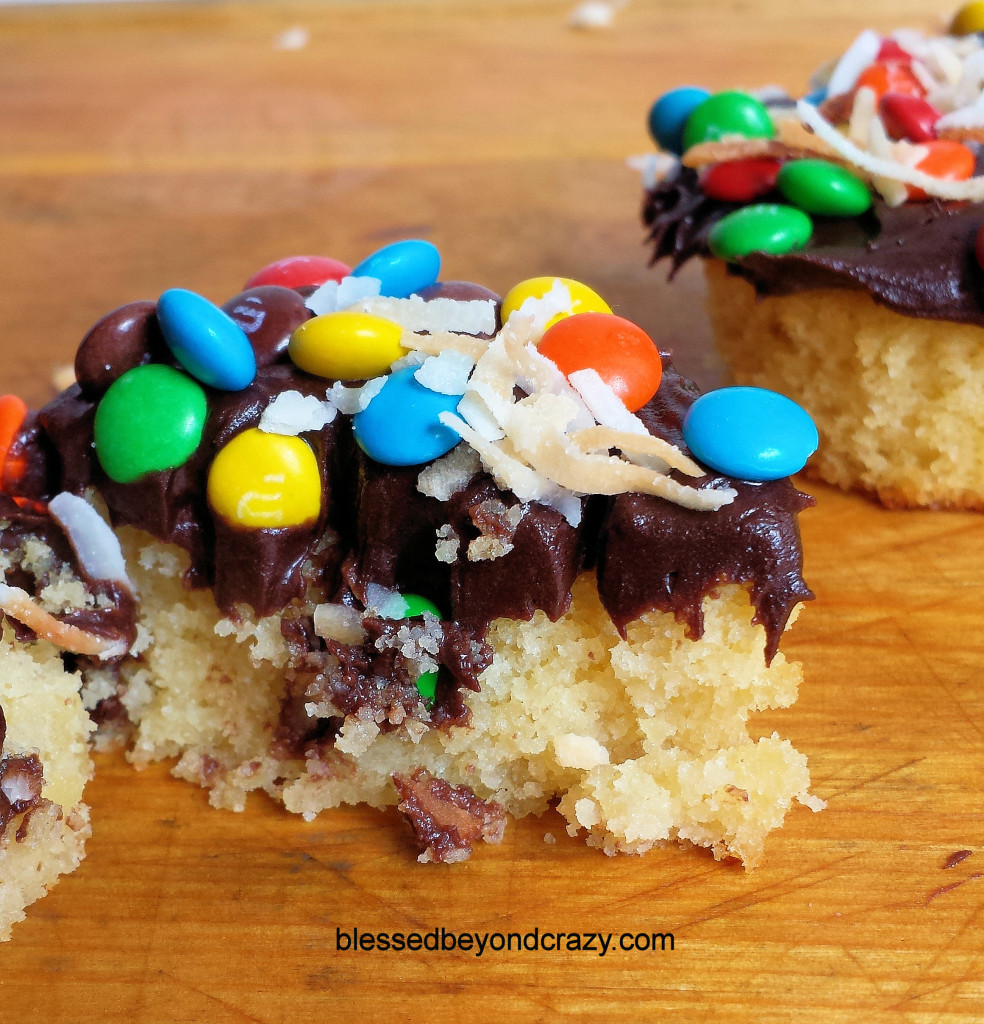 My daughter told me that my grandson took one bite of these almond cakes and stated, "Grandma needs to blog about these cakes because these are good!" (Sigh) Well, grandma Linda couldn't let the little guy down now, could I?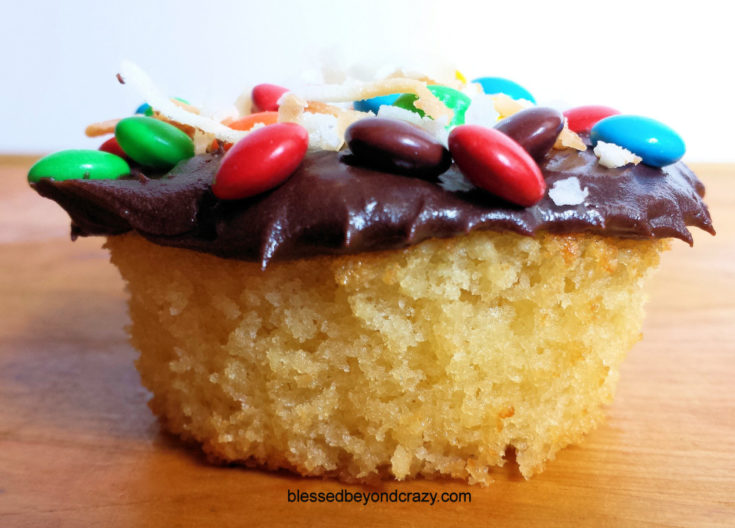 Yield: 8 - 12
Grain-Free Mini Almond Cakes
Prep Time: 15 minutes

Cook Time: 25 minutes

Additional Time: 20 minutes

Total Time: 1 hour

A delicious and easy-to-make grain-free dessert.
Ingredients
3/4 cup unsalted butter
1 cup granulated sugar
4 eggs
1/2 cup milk or milk alternative such as soy, coconut, almond milk
1 teaspoon vanilla extract (GF Option: use a gluten-free brand)
1 1/2 cups almond meal
1/2 cup organic coconut flour
1/4 teaspoon salt
2 teaspoons baking powder (GF Option: use a gluten-free brand)
1 tub chocolate icing (GF Option: use gluten-free frosting)
Instructions
In a medium mixing bowl, cream together butter and sugar until smooth.
Add in eggs and beat until fully blended.
Add milk and vanilla and mix until combined.
In a separate bowl, combine almond meal and coconut flour, salt, and baking powder.
Stir in dry ingredients into the wet ingredients.
Beat until creamy.
Pour batter into a well-greased 9 x 13 pan or into cupcake liners.
Bake in a preheated 350 degrees F oven for 25 - 30 minutes or until a toothpick inserted into the center comes out clean.
Cool for 20 minutes.
Ice with your favorite chocolate icing.
Serve.
I certainly can see myself making Grain-Free Mini Almond Cakes again in the very near future!!!
Excuse me while I go shopping at Thrive Market and order more almond flour!!!
Happy baking!
Linda
More great ideas: