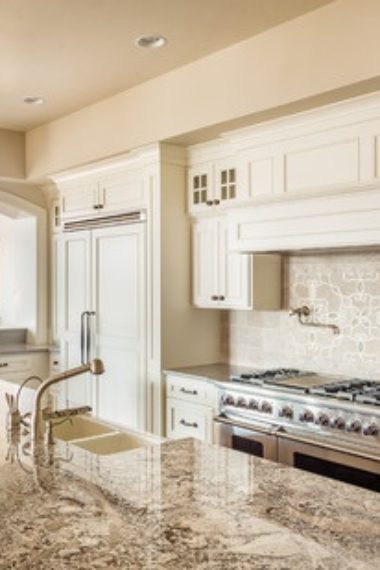 These 12 Ways to Make Your Kitchen Feel Bigger really can make a difference in your overall ambiance.
Sometimes a few simple changes can make a huge impact on the overall look or feel of a room. For example, a few years ago my parents changed the hardware on their kitchen cabinets. They replaced their brass hinges, knobs, and handles with bronze kitchen hardware. This one simple change really did make their cabinets look fresh and newer.
To help support our blogging activities, our site contains affiliate links. If you make a purchase from a link on our site, we may receive a small percentage of that sale, at no extra cost to you. Blessed Beyond Crazy is a participant in the Amazon Services LLC Associates Program, an affiliate advertising program designed to provide a means for sites to earn advertising fees by advertising and linking to amazon.com.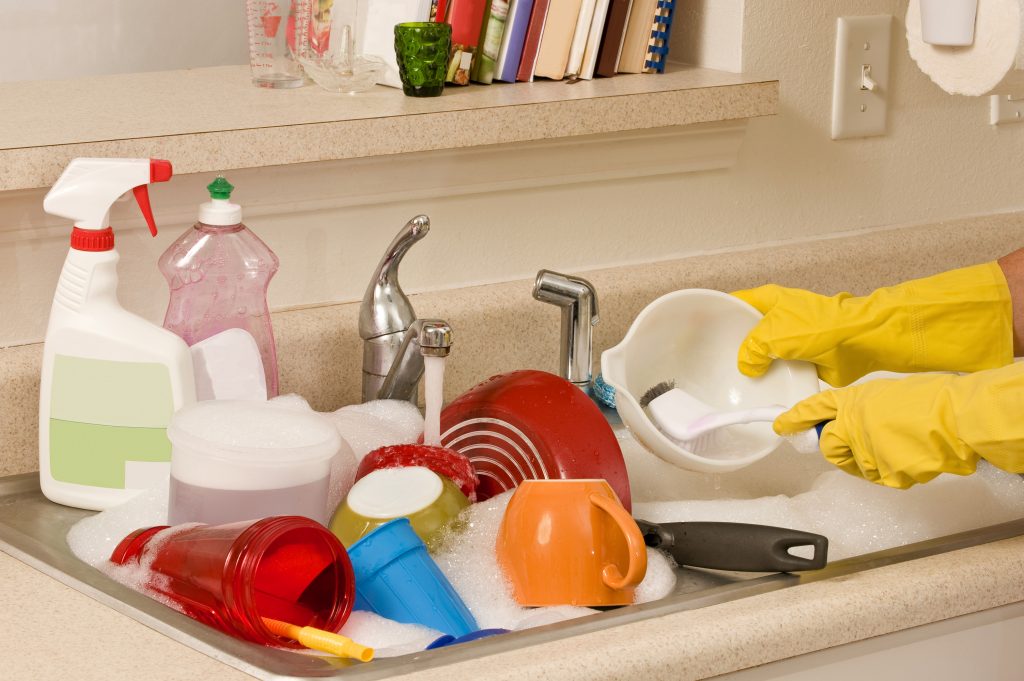 1. Declutter
It may go without saying, but the quickest and easiest way to make your kitchen look bigger is to clean up any clutter. Having piles of books and papers, stacks of dishes, medicine bottles, plastic containers, cords, and other stuff sitting around can easily make any room feel chaotic and busy. Simply taking a few minutes to toss the trash, put away kitchen items, and clear off tables and countertops can instantly help your kitchen look bigger.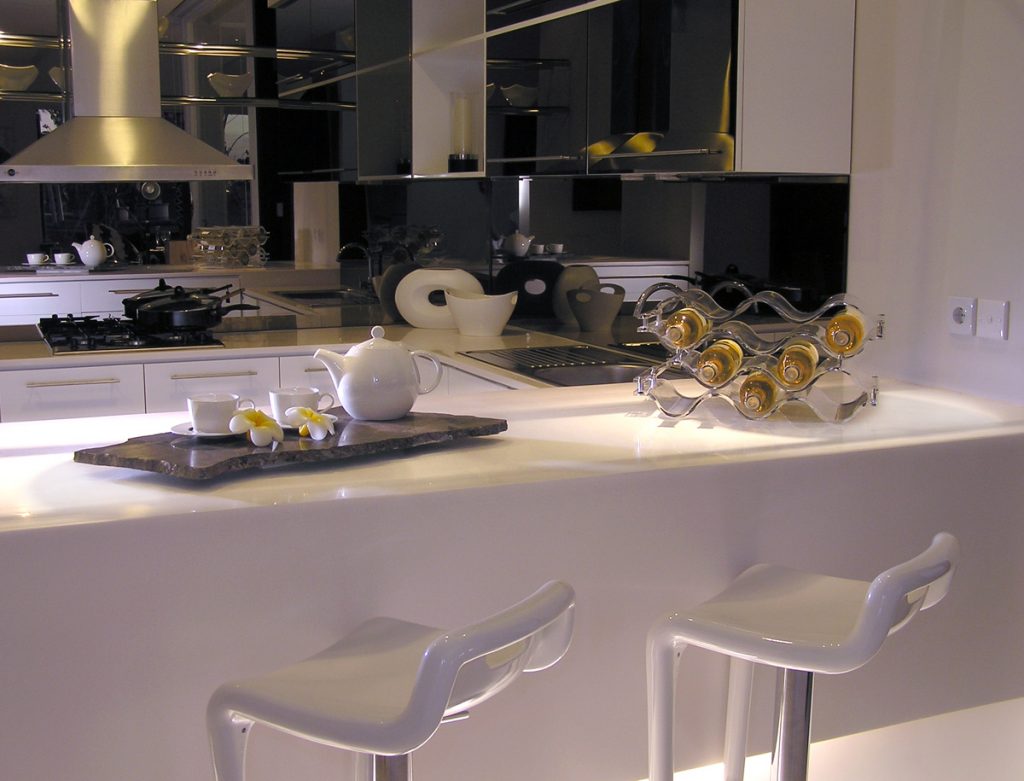 2. Backsplash
Just as in any room in your home, mirrors are one of the quickest ways to help any room look larger. A tinted mirrored backsplash is subtle and not only reflects images, light, and colors it will also add a clean, modern and classy ambiance.
If a mirrored backsplash doesn't interest you, there are numerous options when it comes to a kitchen backsplash. Consider other reflective materials such as brushed aluminum tiles, Mother of Pearl mosaic tiles, or tin or brushed stainless steel backsplash. Since these materials have a subtly reflective sheen they help give your kitchen a sense of depth.
To help walls appear taller, try using a short backsplash in the same color as your walls. This gives the illusion that your backsplash and walls are one, therefore making the wall appear taller. In addition, carrying a backsplash all the way to the ceiling helps a kitchen feel bigger.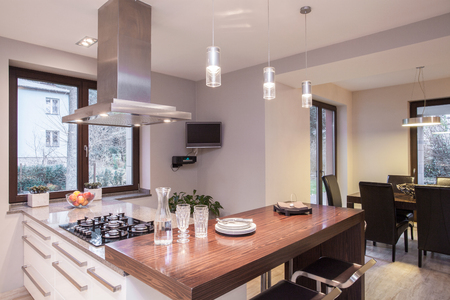 3. Chic Range Hood
Open areas help any room feel much more spacious, therefore consider installing a chic and modern range hood. Whether attached to a wall or hanging from the ceiling, a handsome range hood creates a nice visual break and stylish dimension.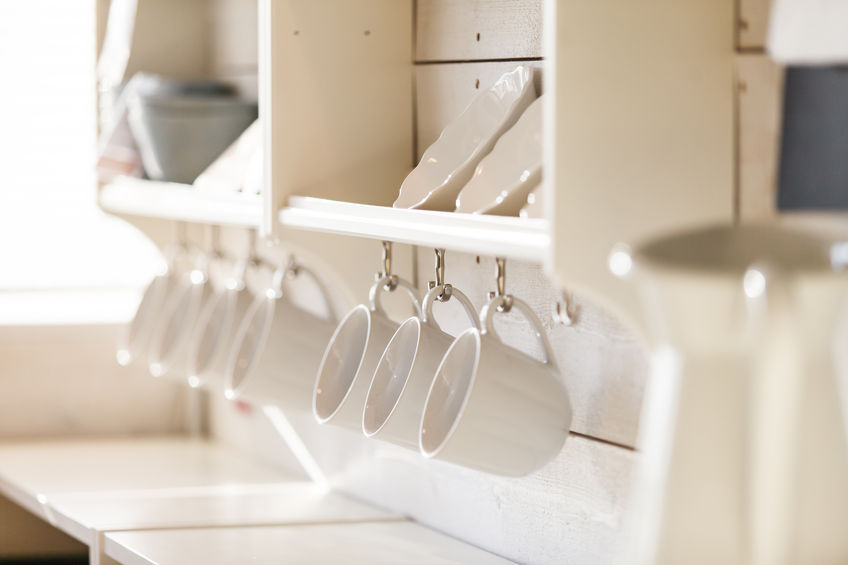 4. Open Shelving
The addition of a few open shelves in your kitchen will add a lovely touch of rustic and/or industrial charm and provide a feeling of open space. This concept is a great way to store your everyday dishes close at hand as well as a great way to display special pieces, heirlooms, and much more. Consider changing your display right along with the changing of the seasons and resist the urge to overload the shelves. Remember, clutter is not your friend when trying to create a feeling of spaciousness.
Another idea which adds a sense of depth and interest is to swap several solid cabinet doors with glass-paneled doors. (Notice the small glass doors in the upper cabinets in the picture below.) You may also consider creating an extra special focal point by illuminating the inside of these cabinets.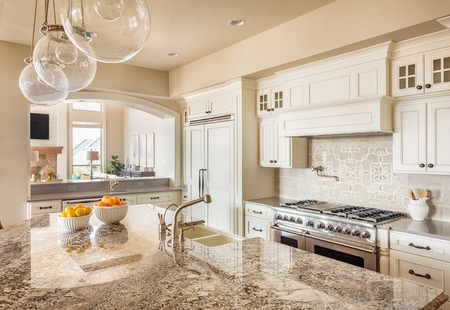 5. Paneled Appliances
In a former home, my husband and I had a wooden oak paneled refrigerator door that seamlessly blended in with the cabinetry. (Notice the paneled refrigerator door in the picture above.) Paneled appliances create a sophisticated look and a nice visual flow.
6. The Right Hues
Cool shades of neutral colors will help your walls to visually recede and support a light, airy, and open feel in your kitchen. To create a consistent flow, consider painting your walls, ceiling, trim, and doors all the same color. The addition of colorful accessories will really stand out and add a nice touch. (Notice how the bowls of colorful fruit really "pop" in the picture above.)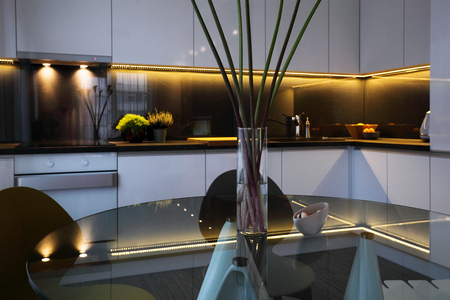 7. Hardware
Hardware, or the lack thereof, can have a remarkable impact on the overall appearance of your kitchen. Cabinets with concealed or touch-activated latches help your kitchen feel roomy and spacious.
8. Cabinet Lighting
Dark shadows around cabinetry can make a kitchen feel gloomy and much smaller than it really is. Therefore it is of the utmost importance to have the proper lighting. Fun and interesting kitchen light fixtures draw your attention upward and create an illusion of height.
When I was growing up my parents installed LED strip lighting under and above our kitchen cabinets. These dimmable lights were on separate switches and therefore we could also use them as nightlights. The addition of these lighting strips really did make our kitchen brighter and appear bigger. (Don't forget to add lights inside cabinets with glass doors too.)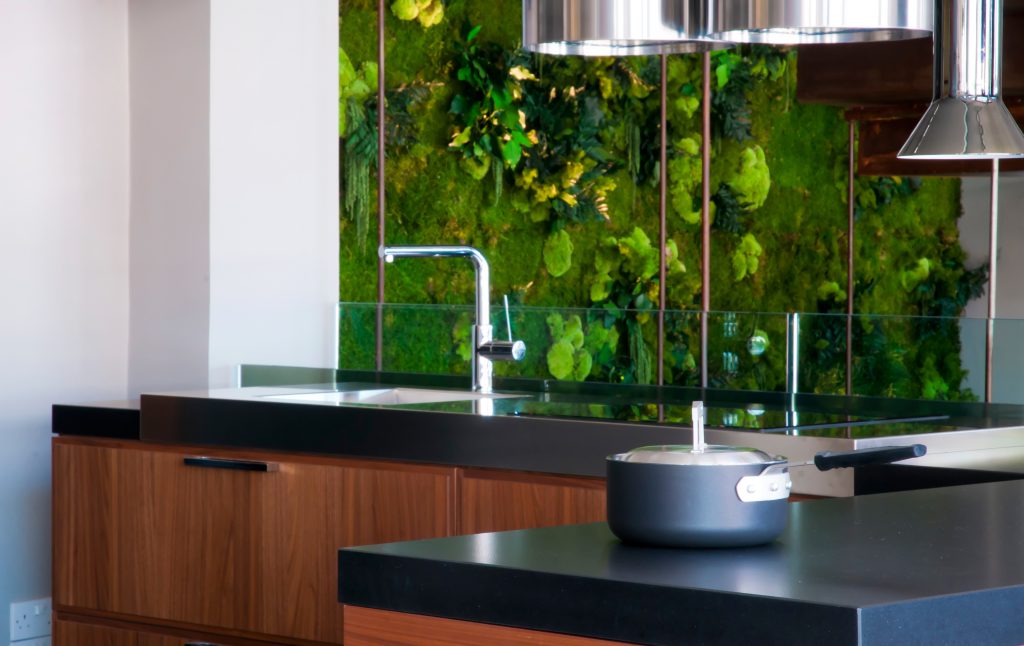 9. Natural Light
Any kitchen will feel bigger when it's bathed in natural sunlight. Leave windows untreated or use sheer kitchen curtains that allow the natural light to shine in. If using heavier curtains for privacy be sure to keep them in the same color as your walls for a continual visual flow.
10. Touches of Nature
Just as natural light increases depth perception, so do touches of nature. Try to incorporate fresh flowers and living plants, potted herbs, fresh fruits and vegetables, and other pops of nature to help create a sense that Mother Earth is living inside your home.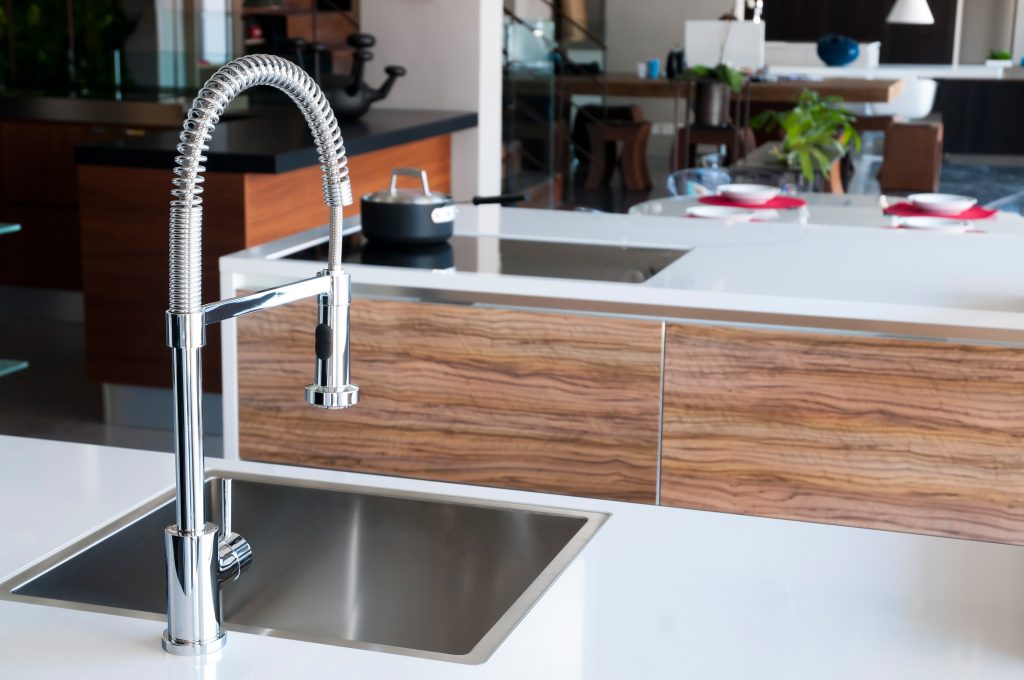 11. Single Sink
Over the past several years single farmhouse sinks have gained in popularity. While they certainly do add rustic charm to any kitchen, a single sink also provides an extra counter and workspace and maybe even room for additional cabinetry. This is especially relevant for super small kitchens that need all of the storage and countertop areas they can get.
12. Multi-functional Furniture
If your kitchen is super small, it really is wise to invest in several multi-functional pieces that serve multiple functions and provide additional storage or workspace in your kitchen. Folding, stacking, and rolling items such as a rolling kitchen island can easily be moved into a corner, a closet, or moved into an entirely different room in the house when not in use.
Consider using a pocket or sliding barn door to increase visual flow from room to room and provide the sense of open space.
Did you know that because of their transparency, glass tables also help make a kitchen look bigger? (Notice the glass table in the photo above the heading: Hardware.)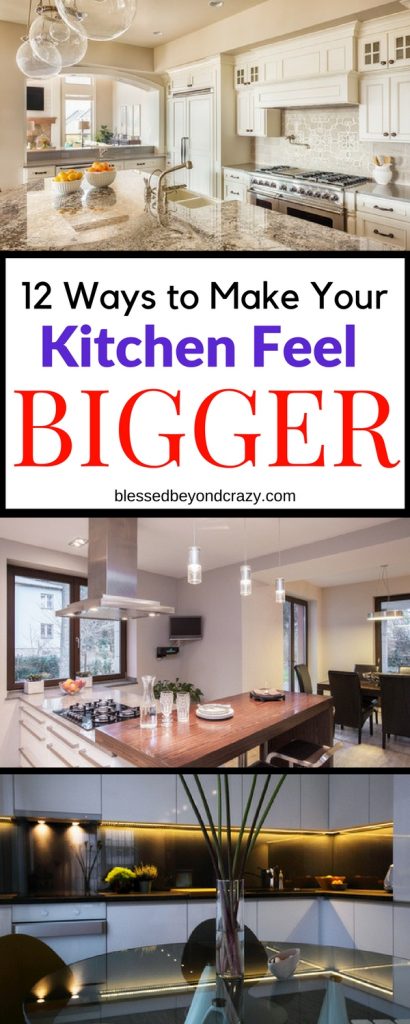 Your kitchen should be comfortable, functional, and a great place to relax. Making a few key changes really can improve the overall ambiance of your kitchen and make it feel much bigger than it really is.
Linda
More great ideas: