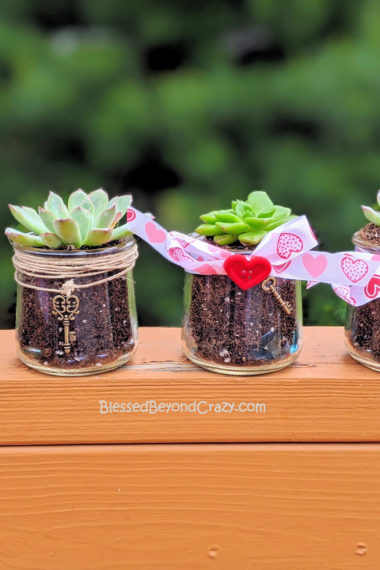 Looking for a fun, yet simple DIY crafty project you can do with your kids? Check out these Repurposed Succulent Planters Kids Can Easily Make!
This inexpensive project is a fun activity to do with your children. These planters also make a darling little DIY gift for Mother's Day, Teachers Appreciation Day, or a "Just Because" present for someone special in your life.
To help support our blogging activities, our site contains affiliate links. If you make a purchase from a link on our site, we may receive a small percentage of that sale, at no extra cost to you. Blessed Beyond Crazy is a participant in the Amazon Services LLC Associates Program, an affiliate advertising program designed to provide a means for sites to earn advertising fees by advertising and linking to amazon.com. As an Amazon Associate, I earn from qualifying purchases.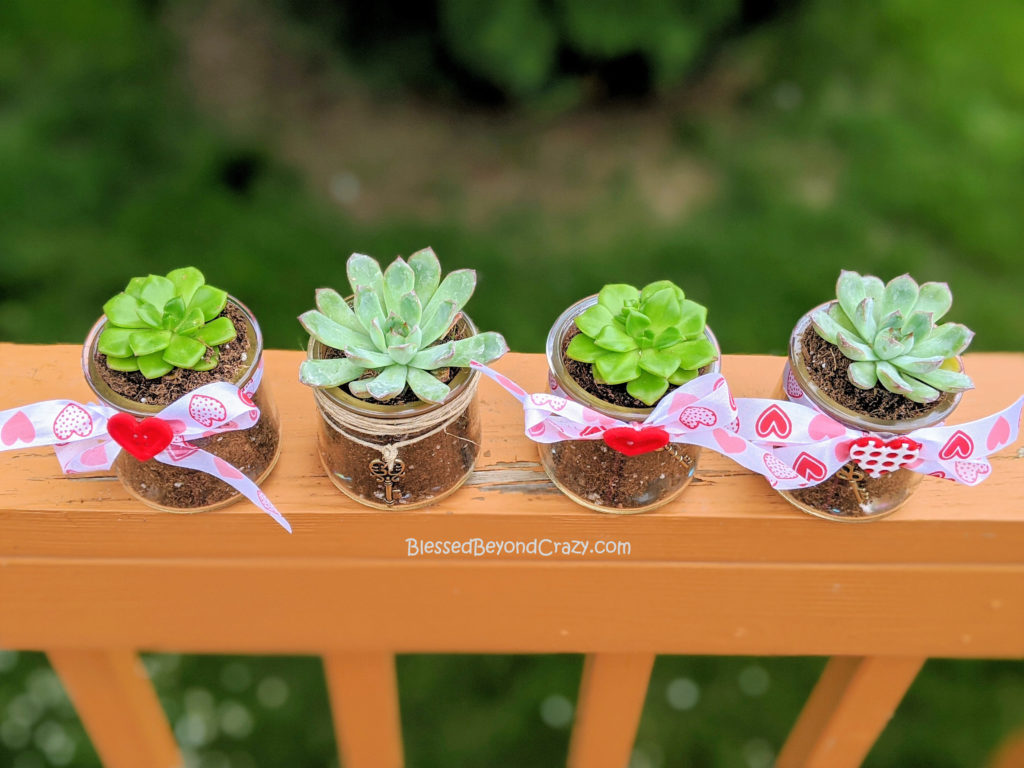 Grandma Linda
As a grandmother, I have learned that kids love surprising their parents with a homemade DIY gift! It seems they especially love creating a DIY gift that is made from upcycled or recycled materials. That's what makes these Repurposed Succulent Planters inexpensive and special.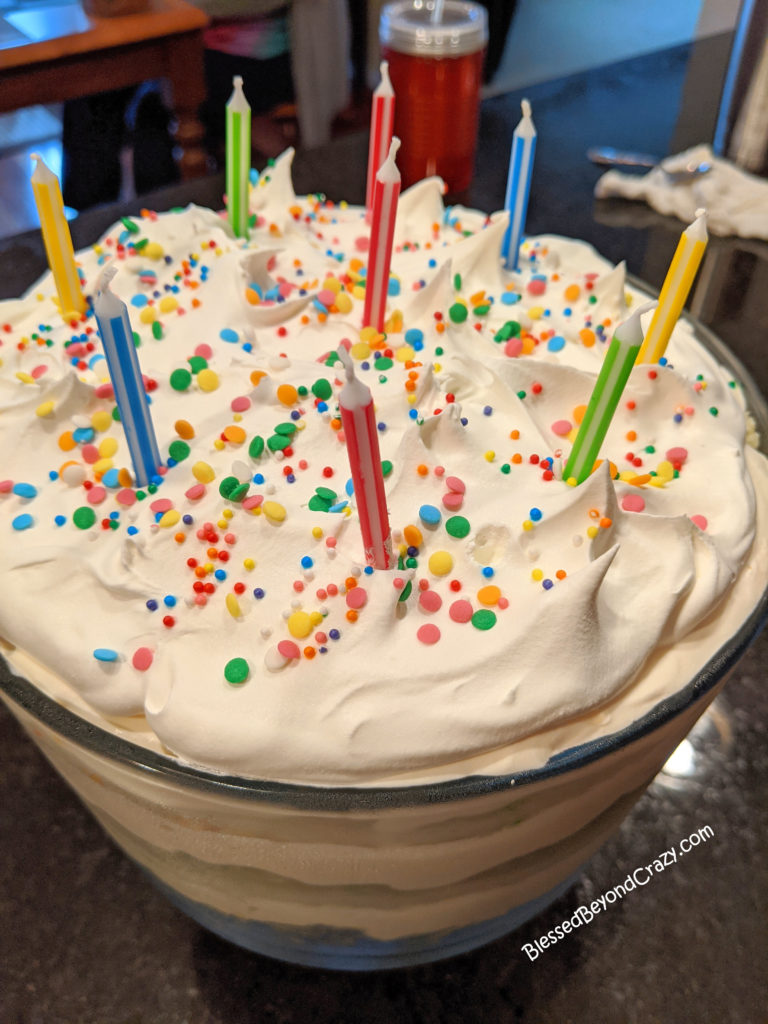 Birthday Sleepover
Kids also love to have sleepovers, eat colorful and yummy food, and celebrate just about anything!
Recently, my four granddaughters came to my house for a birthday sleepover. Naturally, there were lots of giggles, story-telling, food/snacking, and a surprise (gluten-free) Birthday Cake Trifle!
In addition to the trifle, I also planned a fun little DIY craft project for the girls to do. When I told them what my idea was, they were excited!!!
My idea was to repurpose glass yogurt jars and turn them into succulent planters, then give them surprise gifts to their moms. (We also made a homemade treat for the dads, but I'll save that for another post.) 🙂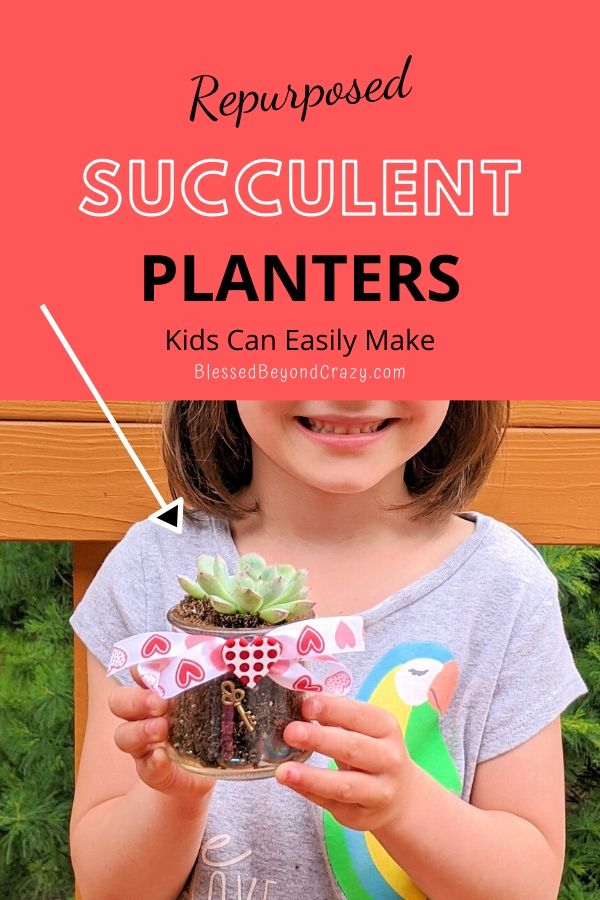 Succulents
First, each girl was given one small succulent plant.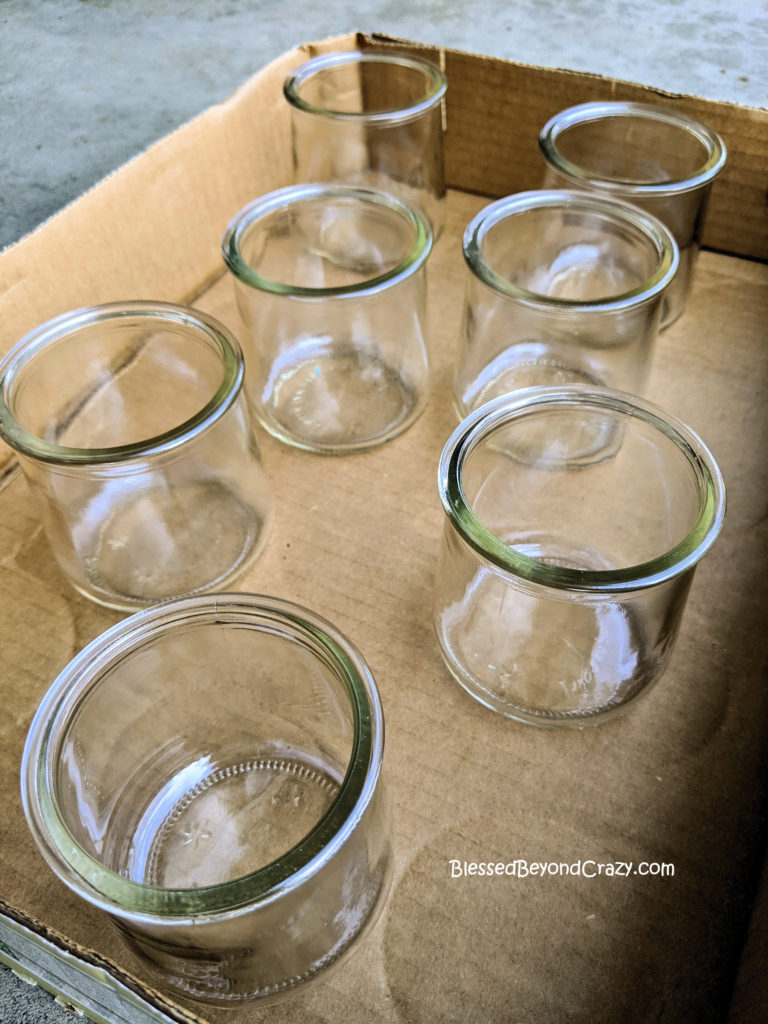 Next, each girl was given a clean yogurt jar (although you can use any small glass jar) and told she could decorate it for her mom.
We then rummaged through my craft tote and found spools of ribbon, buttons, tiny craft keys, glass pebbles, twine, and more. It was fun to see what items the girls picked out and how they wanted to decorate their jars.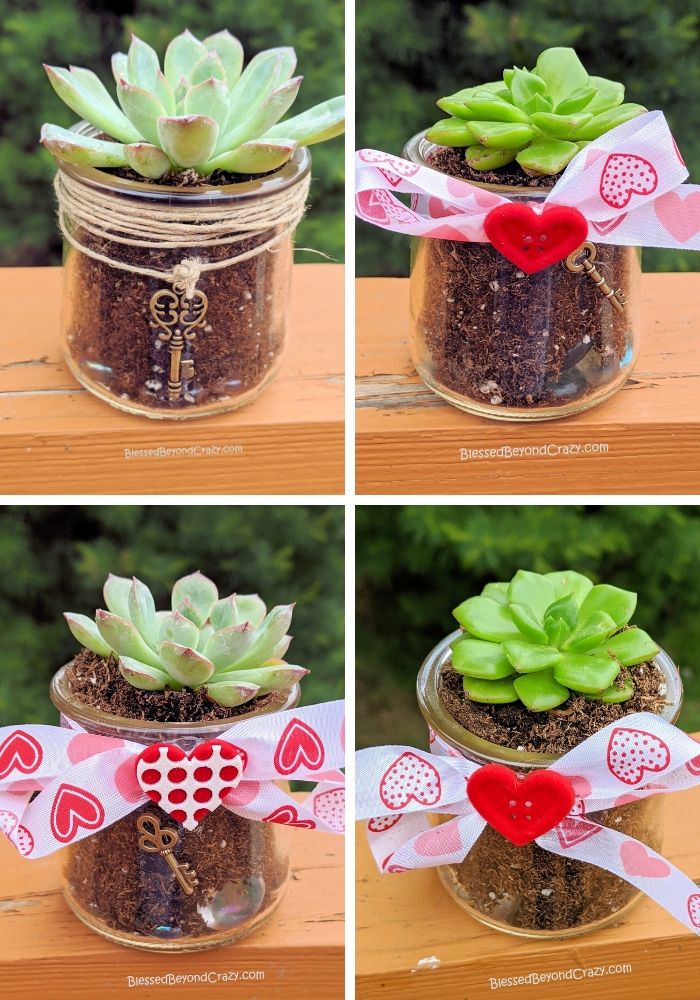 End Results
My oldest granddaughter chose a rustic theme. She wrapped craft twine around and around the top of her jar, then tied a knot which secured a tiny little key.
The three younger girls all chose to make a bow at the top of their jars using Valentine's Day ribbon. Once the bow was securely in place, I hot glued a heart button in the center of each bow. They also chose to attach a tiny key; two attached it to the front of the jar, the other on the back of the jar.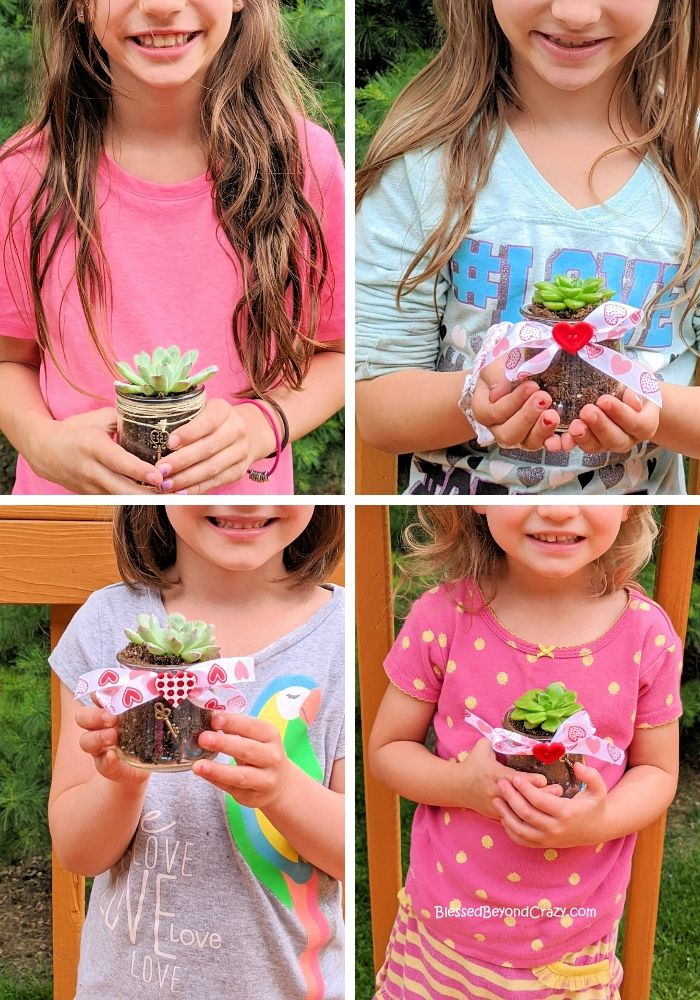 One Planter Requires Approx. 15 Minutes
It took us approximately 1 hour (from start to finish) to create these repurposed succulent planters, mainly because we made four planters at one time. You can easily make just one in about 15 minutes. (See mine below!)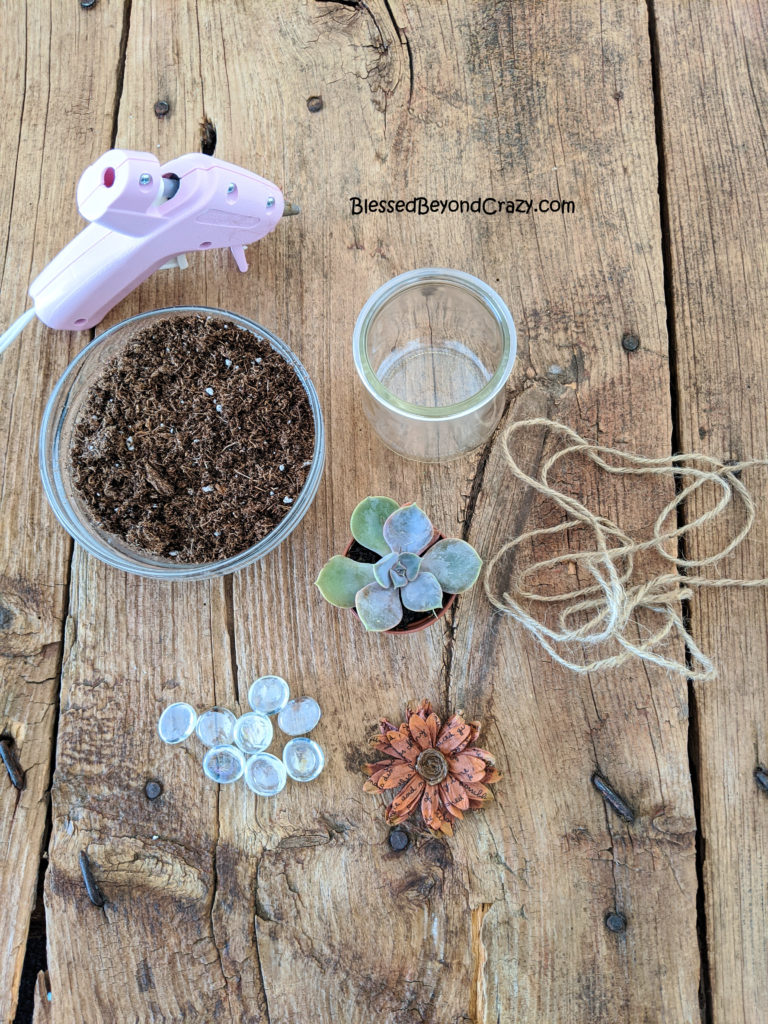 After the girls went back home, I was inspired to create my very own repurposed succulent planter.
List of my supplies: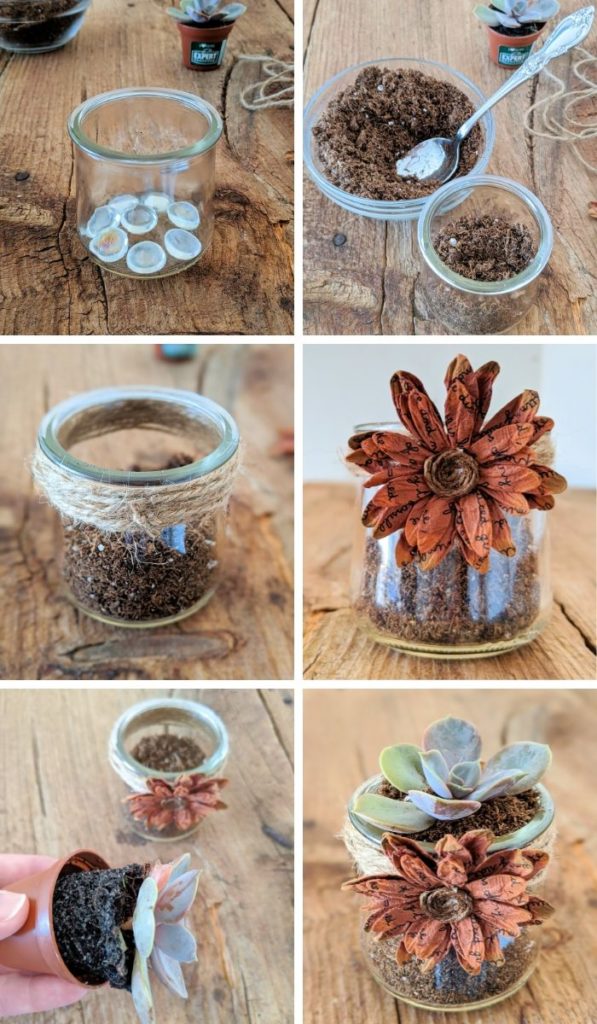 Step-by-Step
Place a few glass pebbles or rocks into the bottom of a clean jar. (This helps with drainage so the succulent doesn't drown if overwatered.)
Fill the jar a little over half full of potting soil.
Wrap the top of the jar with twine or ribbon.
Use hot-glue to attach embellishments.
Remove succulent from its original container and place it inside the jar.
Carefully spoon more potting soil around the succulent until it is secured and no gaps can be seen. Brush away any excess potting soil.
Water the succulent just until the soil is moist. (Be careful not to overwater!)
Enjoy!
NOTE: When helping small children, it's better to have them decorate their jar before adding the pebbles, potting soil, and succulent.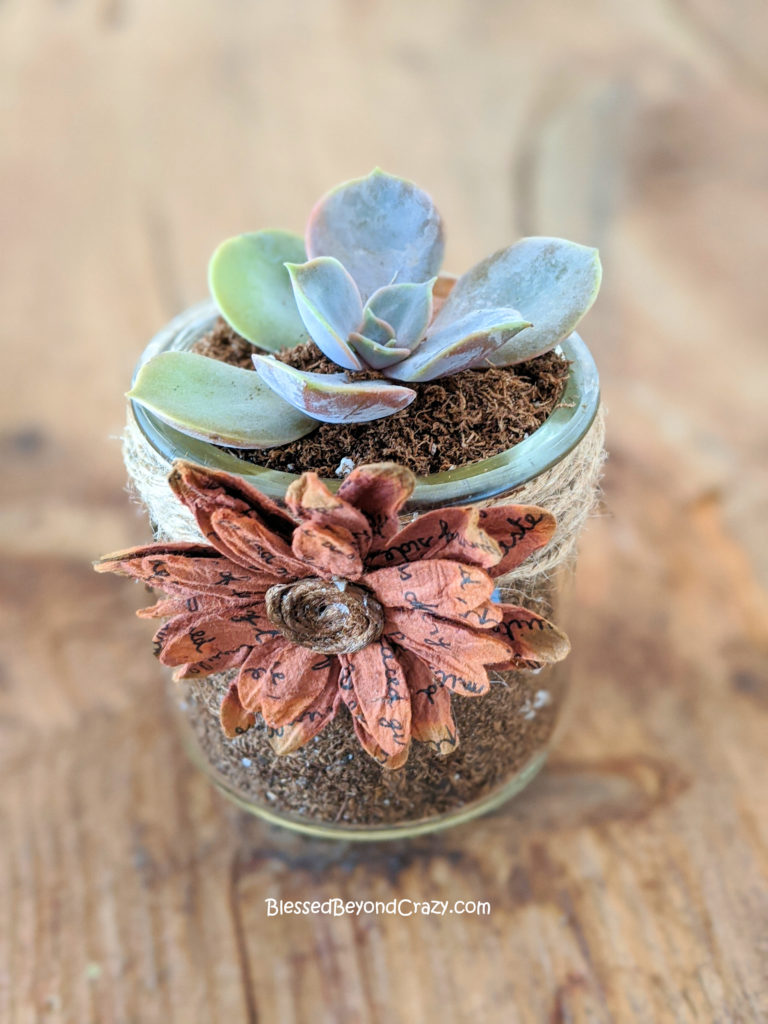 Finished Product
In the photo above you can see my finished repurposed succulent planter.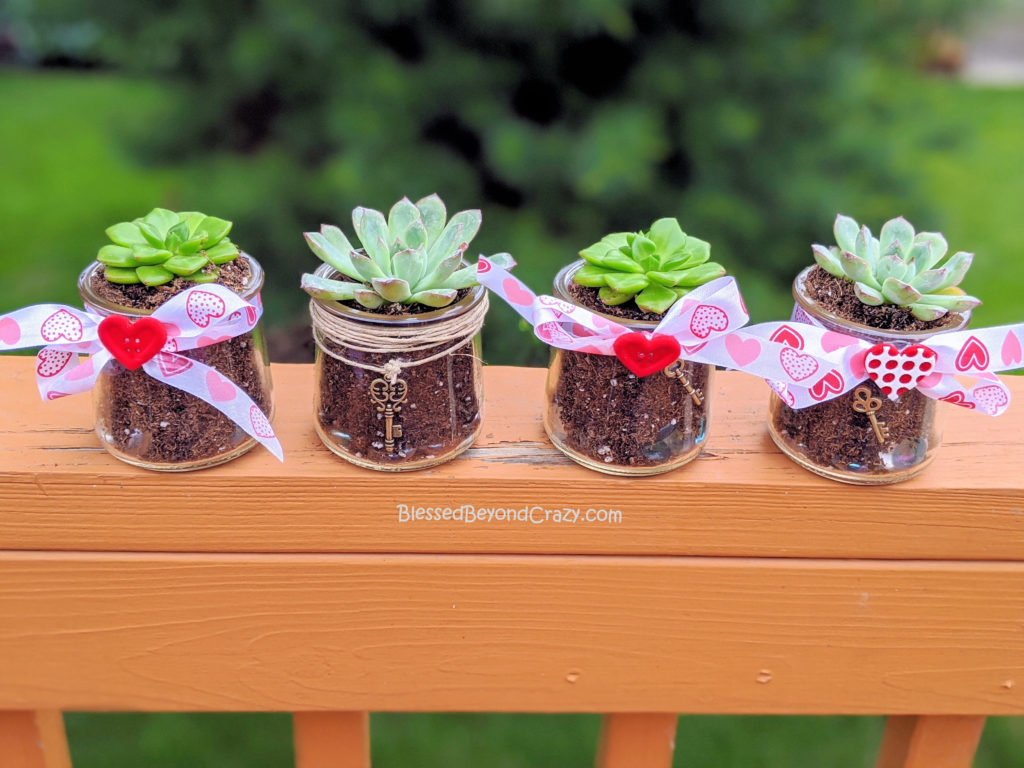 What do you think of these Repurposed Succulent Planters Kids Can Easily Make?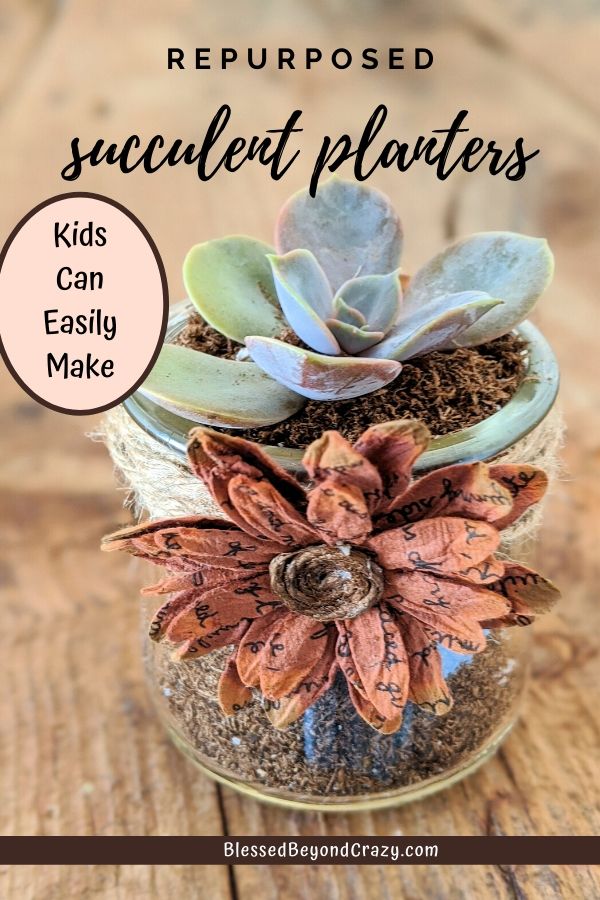 Enjoy!
Linda
More great ideas: