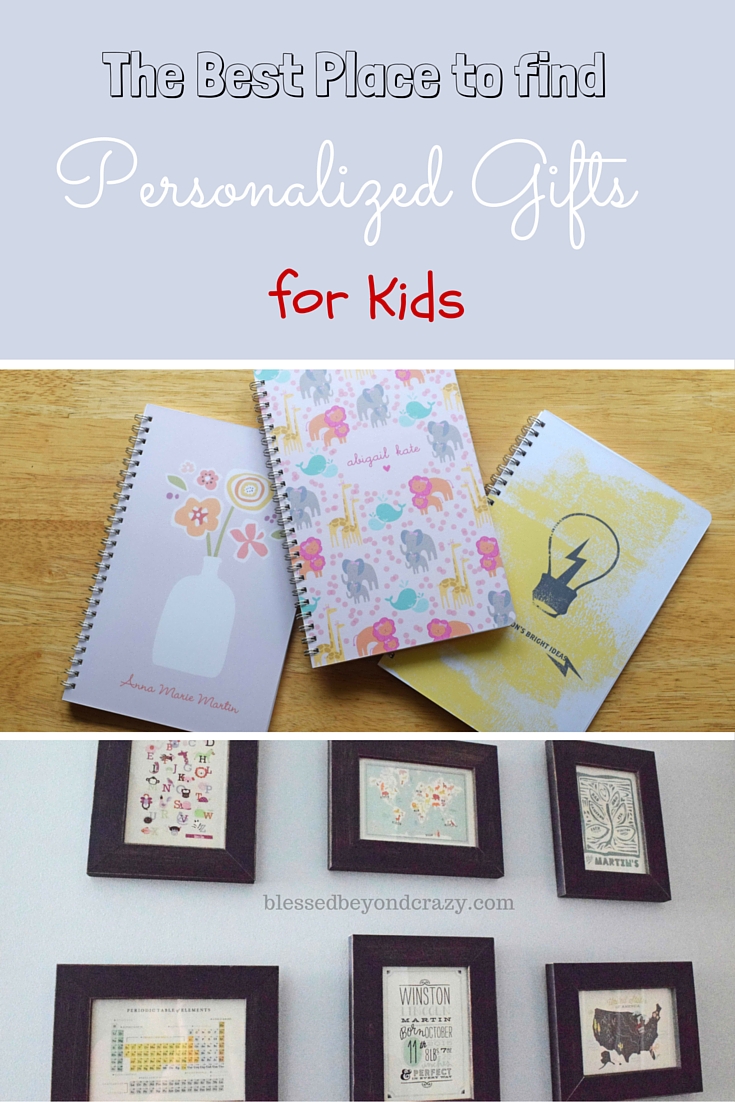 If you are on the hunt to find personalized gifts for kids, then let me tell you about this adorable website with tons of options!
Personalized Gifts for the Walls:
We recently painted our kids' bathroom. It was formerly a brown color that made the bathroom seem small and dark. Having a new paint color meant that the old decorations didn't match (what a total bummer–Not!), and this also meant I was excited to pick out new stuff!
I asked my husband to make, and hang, a new towel rack that is close to the ground so that our small children would be able to hang up their own towels, (our previous towel rack was hung very high). Since the towel rack is now lower, there is a nice space above it to add pictures.
I found these super adorable pictures on Minted. Some of them are personalized with my kids' names or our family names. Minted actually has 16 different frames to choose from!! Since these frames were going on a light-colored wall I liked the contrast with the dark frame.
It was so hard to pick these pictures out! There was page after page of adorable prints to choose from! Some were educational, which were crazy difficult for me to resist (and I lost that struggle).
Pictures that are personalized, cute, and educational! Is there anything more perfect for a kid's space? I think not! Minted also has a great selection of other darling prints that are not necessarily educational. So if you are looking for a specific theme for a baby nursery or child's bedroom/bathroom, you should definitely check out their wide selection of prints! There are many to choose from!
These art prints would also make awesome Personalized Gifts for an expecting mom!
Personalized Birthday Decor:
My son and my daughter both have summer birthdays that are close together, so I selected this cute Birthday banner and party garland that is simply perfect. I chose a gender-neutral theme so I can use it more than once ;). It's made from a sturdy card stock so it will definitely last through many birthday parties.
Minted has a lot of birthday themes to choose from and you can personalize the banners to add a child's name or age. I really wish I would have known about this website two years ago when I threw my son a Pirate Themed Birthday party. Actually, looking over their website, every "themed" birthday party I've ever attempted to throw could have benefited from Minted's Party Decor! They have some adorable decorations! You can even get your party invitations (with your child's photo) from Minted.
Personalized Stationery:
Speaking of birthdays…Have you ever tried to get your child to write a thank you note after they were given a gift? I have my son write thank you notes (because he's old enough to write) and while he understands he has to do it, it isn't his favorite activity. Minted has Thank You Cards that can be personalized. How cool is that? That makes writing a thank you note much more exciting for my 7-year-old son! Plus, he picked out the design that has a super cool pickup truck on the front (he is soooo into cars right now!). Now my son has his own stationery that he loves, plus he is forming good habits.
My oldest kids now have their very own personalized notebooks. They were so excited to pick them out on the Minted website. It was a difficult task because there were so many cool designs to choose from. These personalized notebooks can be used for drawing, writing, as a journal, planner, address book, etc. The important part is that they are now excited to draw and write and that is a huge win for me as their mom! When I ordered their notebooks, they chose if the notebook had lines, a grid, or was blank inside. I let my kids pick out exactly what they wanted, which makes this an awesome personalized gift idea for any child!
Overall, Minted is a super cool website with tons of adorable products (WAY more than what I mentioned)! If you are looking for personalized gift ideas for a child or a baby gift, then check out Minted. If you are throwing a baby shower or a child's birthday party, then check out Minted. If you are decorating any space for a child or baby, then check out Minted. Seriously, just go check them out!
Anna
Minted is generously giving a $250 shopping spree on its site to one of our readers!
To enter click HERE.
I received free products in exchange for my honest review. All opinions are my own. To help support our blogging activities, our site contains affiliate links. If you make a purchase from a link on our site, we may receive a small percentage of that sale, at no extra cost to you.