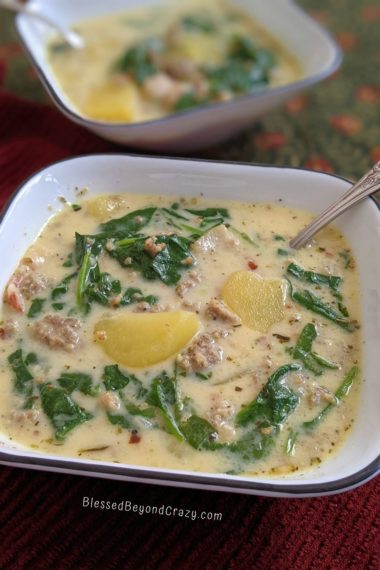 The rich taste of this Creamy Homemade Zuppa Soup is both filling and satisfying. It's a complete meal all by itself, but feel free to add a side salad.
My family loves eating soup and I love making it. As you probably know, soup is wonderful to have on hand. I often freeze it in small containers and thaw it whenever I don't have time to cook.

To help support our blogging activities, our site contains affiliate links. If you make a purchase from a link on our site, we may receive a small percentage of that sale, at no extra cost to you. Blessed Beyond Crazy is a participant in the Amazon Services LLC Associates Program, an affiliate advertising program designed to provide a means for sites to earn advertising fees by advertising and linking to amazon.com. As an Amazon Associate, I earn from qualifying purchases.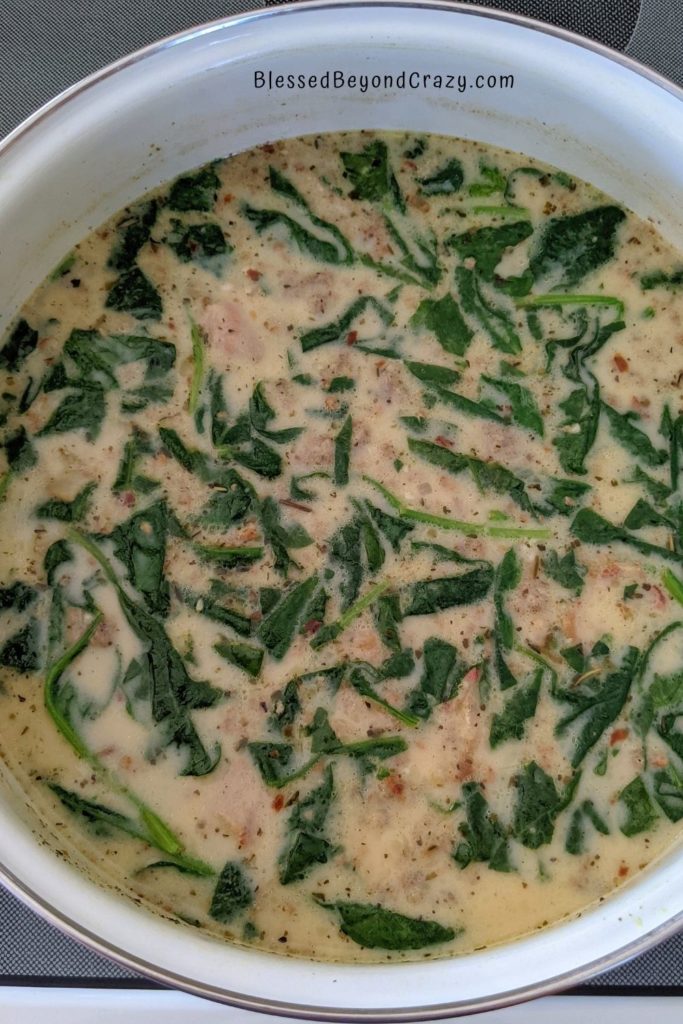 Cooking Soup
Creamy Homemade Zuppa Soup comes together quickly. In approximately 35 minutes you'll have supper ready.
This recipe yields a little over 2 quarts.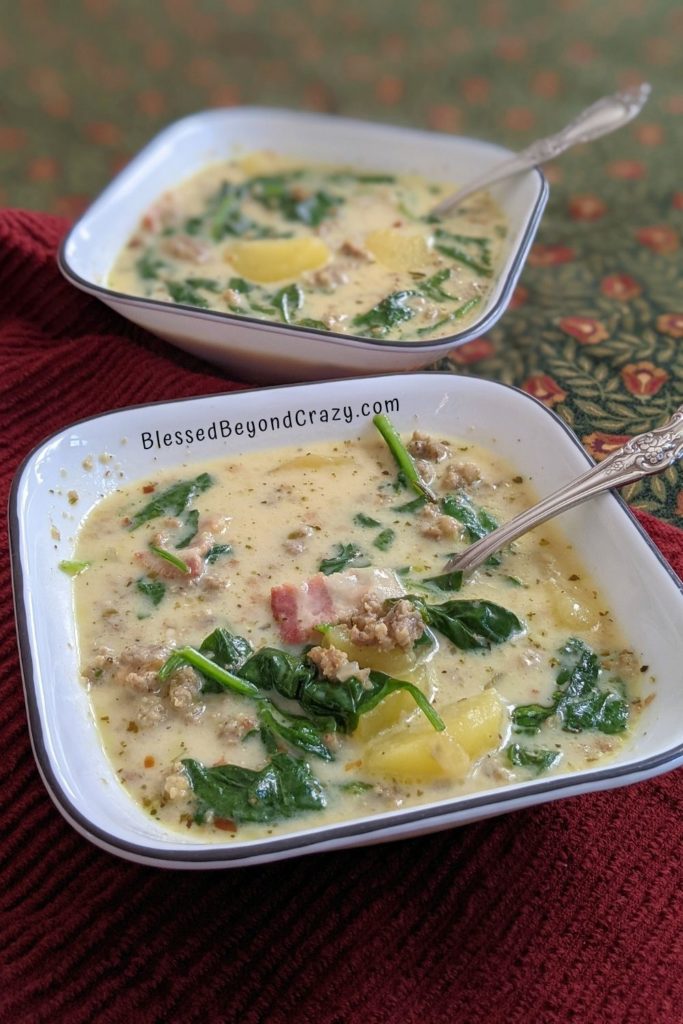 Simple Ingredients
The yummy ingredients consist of bacon, Italian sausage, potatoes, spinach or kale, onions and garlic, chicken broth, and evaporated milk or heavy cream. The seasonings consist of Italian seasoning, crushed red pepper flakes, salt, and pepper.
Turn Up the Heat
The beauty of this recipe is that you can easily tweak it. You can turn up the heat by adding more red pepper flakes. You can reduce the heat by leaving them out entirely.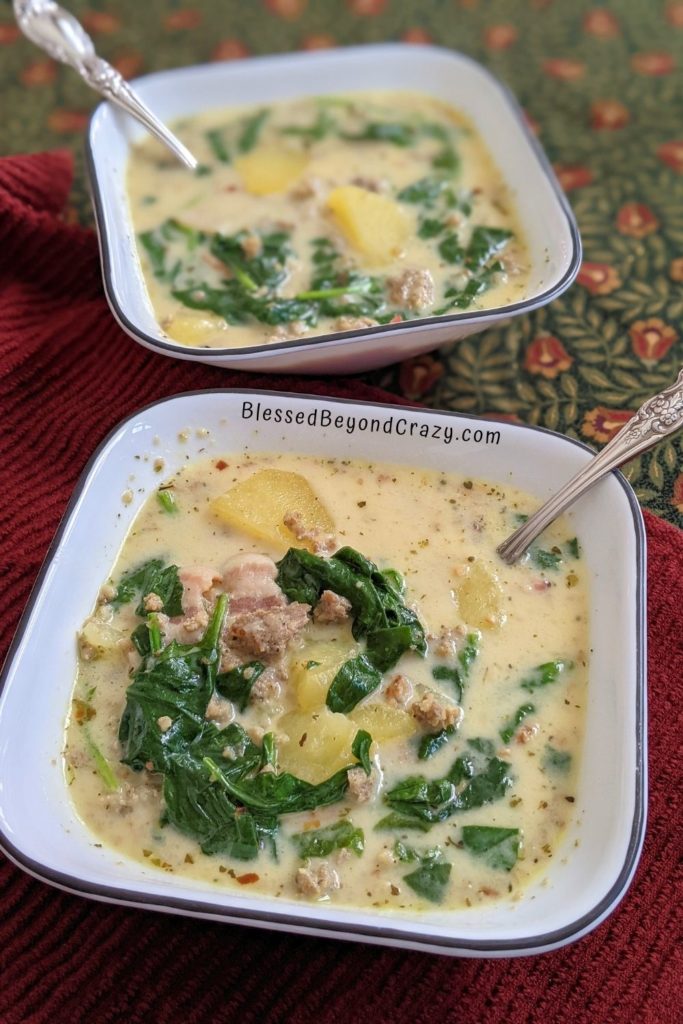 Delicious Soup
You can also make Creamy Homemade Zuppa Soup gluten-free. Simply use gluten-free ingredients (included in the recipe card.)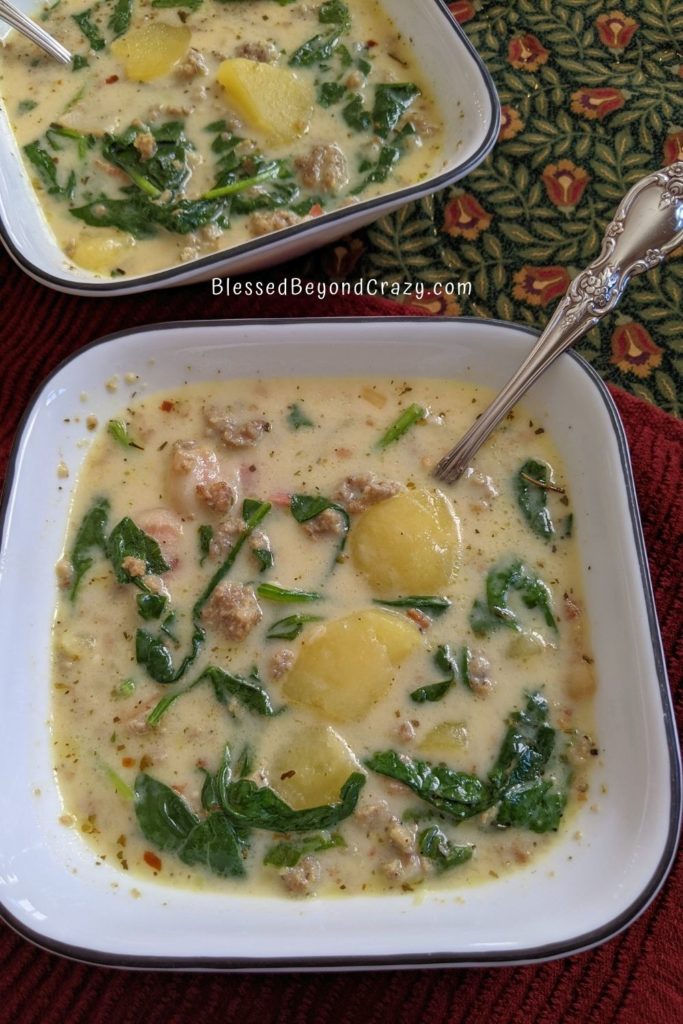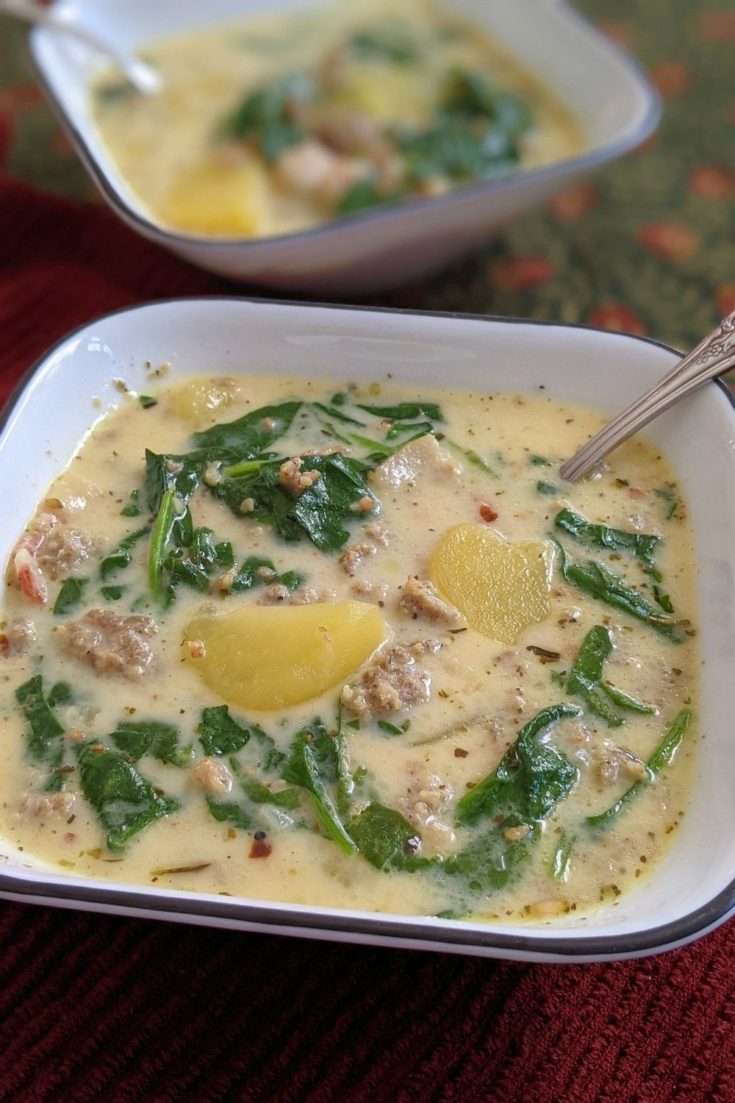 Yield:

Approx. 2 Quart
How to Make Creamy Homemade Zuppa Soup
A rich, flavorful, and delicious soup that's both filling and satisfying.
Ingredients
4 slices bacon, chopped (GF Option - use a gluten-free brand)
1 pound ground Italian sausage (GF Option - use a gluten-free brand)
1/4 cup onion, chopped
4 cloves garlic, minced
1 teaspoon Italian seasoning
1/4 teaspoon crushed red pepper, or to taste
1/2 teaspoon salt, or to taste
1/2 teaspoon pepper, or to taste
6 cups chicken broth
2 large russet potatoes, thinly sliced
1 cup evaporated milk (or heavy cream)
2 tablespoons corn starch
2 packed cups baby spinach (or kale, trimmed and chopped)
Instructions
Cook bacon, sausage, onion, and garlic in a stockpot over medium-high heat until pork is browned. Drain off excess grease.
Stir in Italian seasoning, crushed red pepper, salt, pepper, chicken broth, and potatoes. Bring to a boil, reduce heat, cover and simmer for 15 minutes or until potatoes are tender.
Whisk evaporated milk and cornstarch in a small bowl until smooth Add to soup; stir until thickened.
Add spinach. Stir until spinach is wilted. Serve immediately.
Don't you want a big steamy bowl of this amazing soup?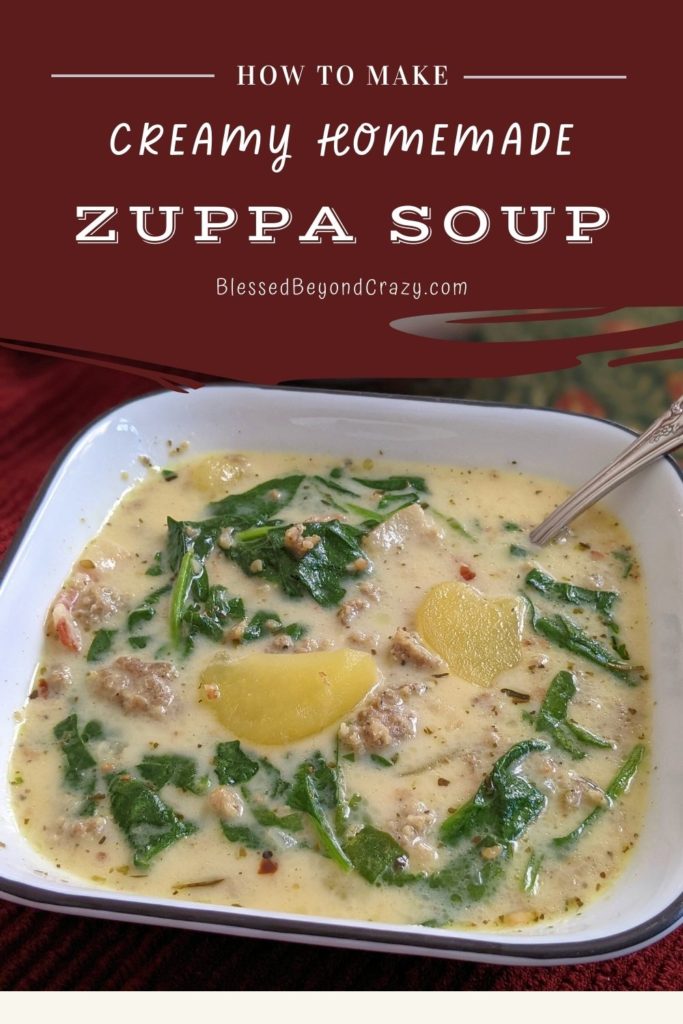 Now that you know how to make it, I hope that you and your family enjoy Creamy Homemade Zuppa Soup.
Enjoy!
Linda
More great ideas: