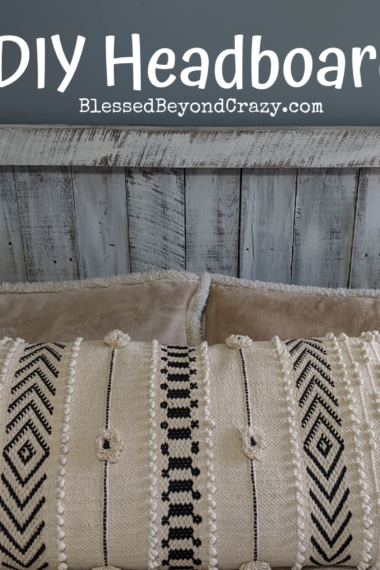 This DIY Headboard was one of the most commented things when we were showing our house for sale last fall!
Update: Yup, we were trying to sell our house and everyone wanted to know where we got our headboard from! Well, Seth made it years ago, and I blogged about it years ago. However, I forgot that we had whitewashed it and given it a facelift! I love it even more now, and apparently so does everyone else! I am updating this blog post with new pictures of the white-washed version. P.S. Our house did sell and our rustic DIY headboard moved with us!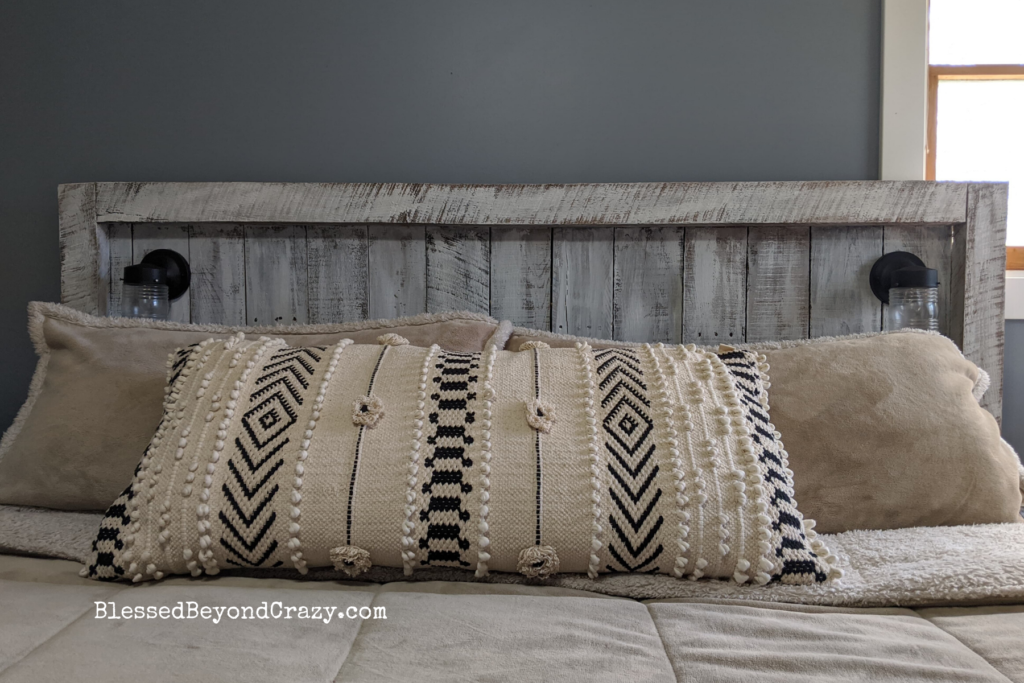 I even got some new throw pillows, because pallets aren't the most comfortable thing to lean against while reading, or on a Zoom meeting (because my room is the only place quiet enough for me to have a meeting)!
Ever since my husband found a whole trailer load of pallets and covered our sunroom walls with re-purposed pallet wood, he has been eager to find more "pallet" projects. 
Finishing our sunroom built his confidence in woodworking. I suppose he doesn't think it's as hard as he thought. 
Lucky me!!! Not only did I get a finished sunroom, I also got a gardening box! And now he made me a headboard!! 
I guess buying him all those power tools for his birthday and Father's day really paid off! Lucky him….?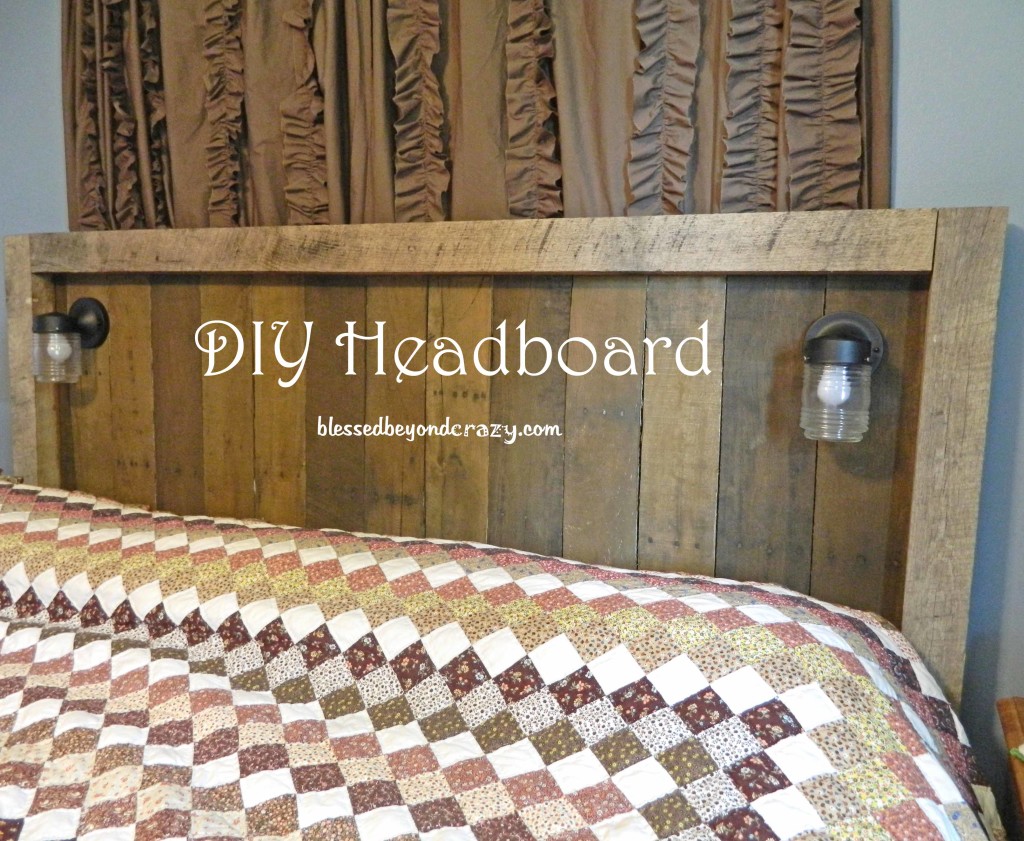 My husband finds all this wood from our local industrial park. Almost every single business has piles of pallets and wood thrown into a corner of their parking lot. He goes and talks to the managers, and they tell him he can just take whatever he wants for free!
Disclaimer: When getting pallet wood, be picky! Some pallets have been treated with chemicals or have mold on them. You don't want to introduce those things to your home!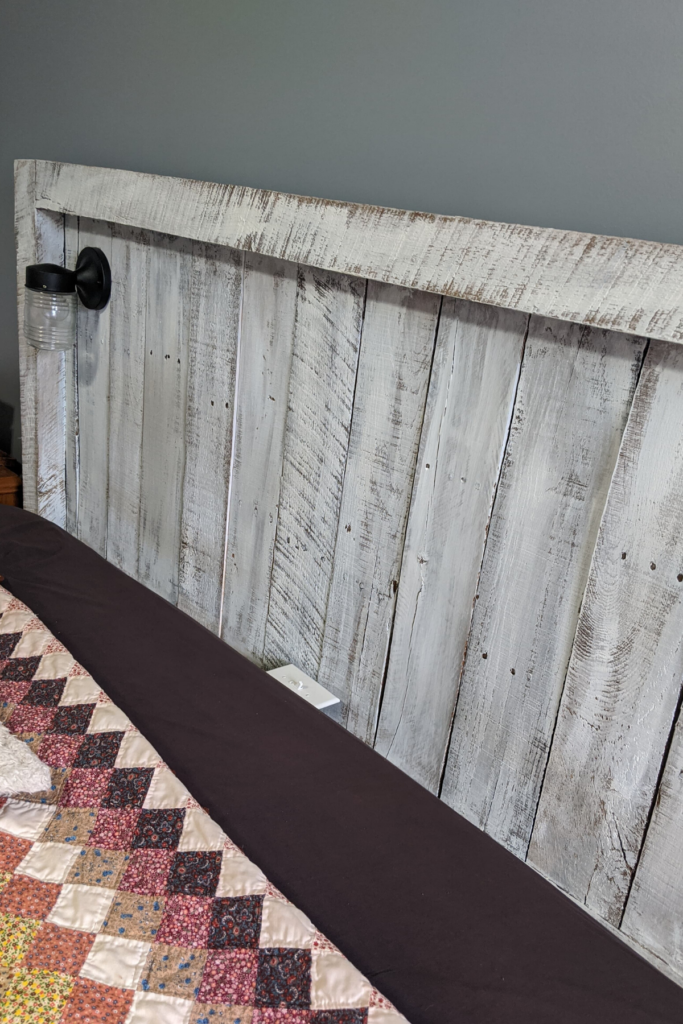 He was originally looking for wood to make a workbench. But when he found these beams and wide boards, he decided they would make a nice headboard.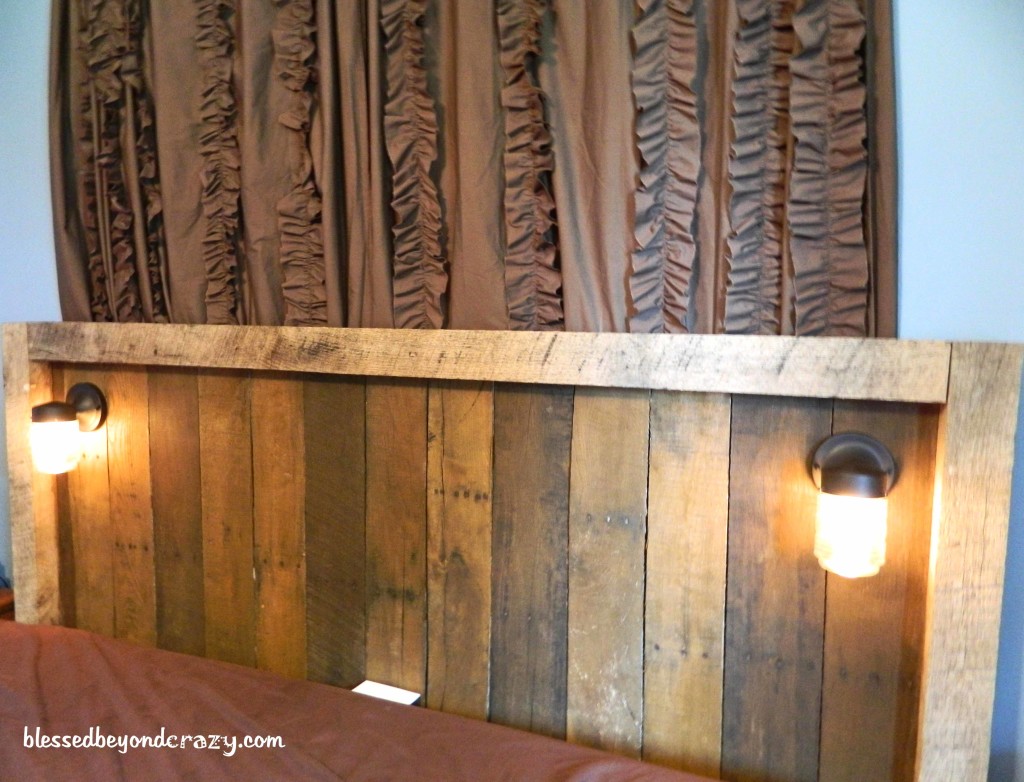 We have had our King size bed for about 2 1/2 years. For about the last 2 years I've been bugging him to make me a headboard.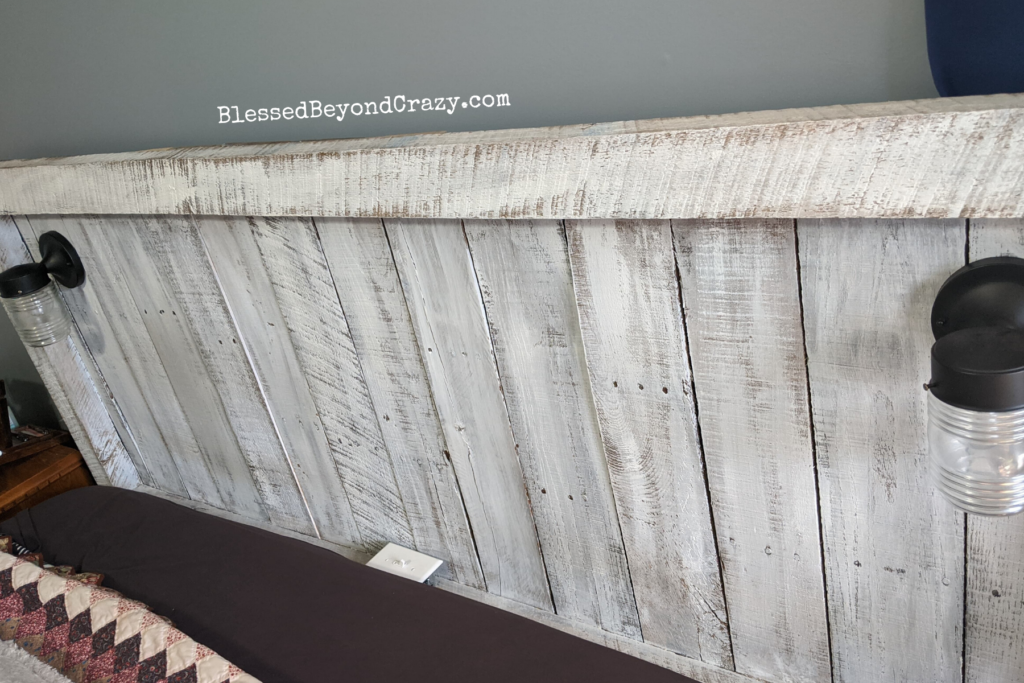 We got the lamps from Lowe's for $4 apiece. They are meant to be outside lights, so they don't have individual switches. He wired them to a single light switch located in the middle of the bottom beam. Then he wired the light switch up to an extension cord that plugs into the wall. All those wires and stuff are on the back of the headboard. Update: Years later the lights still work perfectly! I still can't believe how cheap we got them! 
The light switch also has a dimmer on it, for…. reading… and…mood lighting… in case, you know… moods happen.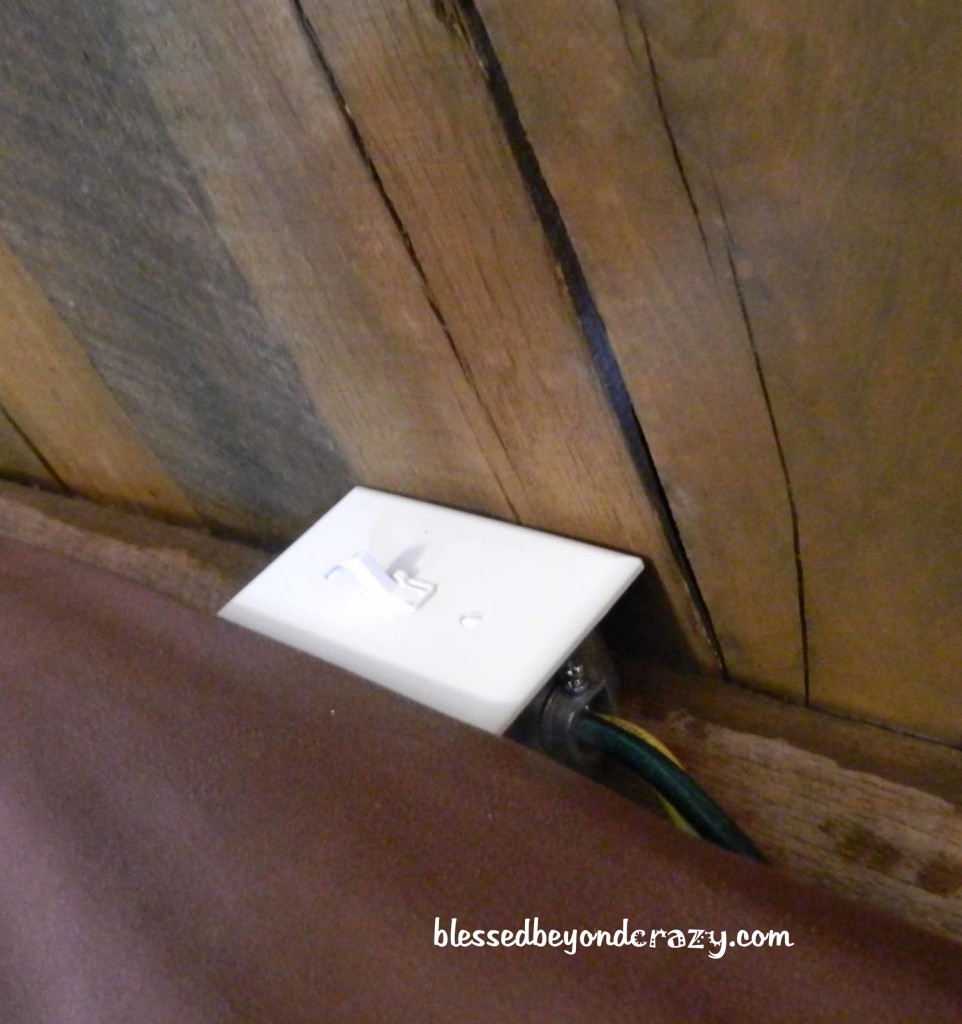 The rustic looks really go great with this quilt that my grandmother made years ago!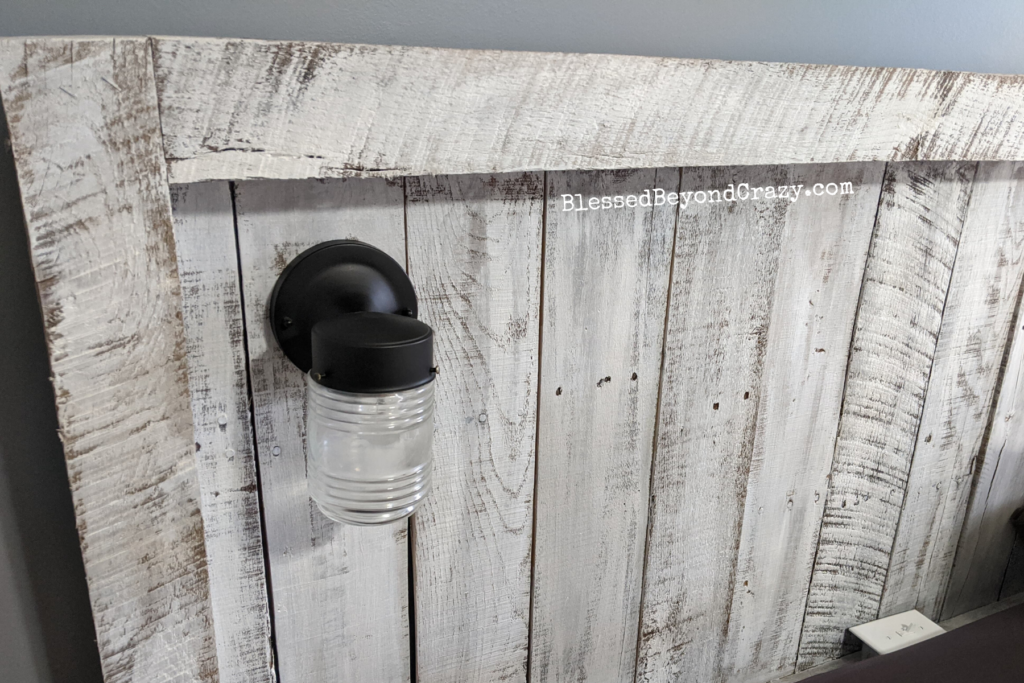 Now, if you'll excuse me, I need to go take a nap.
Anna
P.S. I am completely open to all pallet furniture/project suggestions! 😉