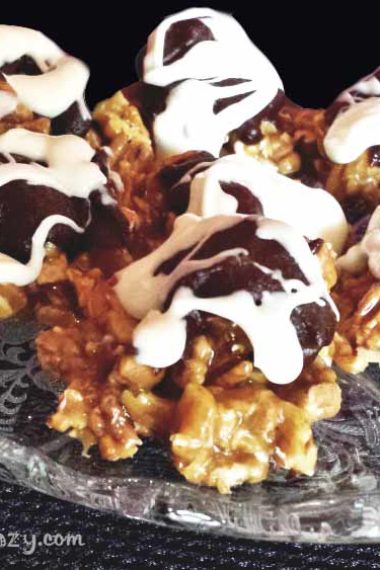 What do you get when you combine caramel, pecans, and chocolate? Heavenly Caramel Pecan Clusters! Bite-size caramel pecan clusters are tiny pieces of heaven. Yep. They are sooooo good that I can't eat just one!

To help support our blogging activities, our site contains affiliate links. If you make a purchase from a link on our site, we may receive a small percentage of that sale, at no extra cost to you. Blessed Beyond Crazy is a participant in the Amazon Services LLC Associates Program, an affiliate advertising program designed to provide a means for sites to earn advertising fees by advertising and linking to amazon.com. As an Amazon Associate, I earn from qualifying purchases.

First of all, Caramel Pecan Clusters start with a recipe that my Mom gave me. As you may recall in a previous post: Sugar and Spice Pecans, I mentioned that my parents have several pecan trees on their farm.  So in this recipe, I used fresh, organic pecans; right out of the shell!  For this recipe, my mother suggested that I roast the pecans first. This roasting process takes some of the oil out of the pecans, helps them taste better, and helps the chocolate stick better to them.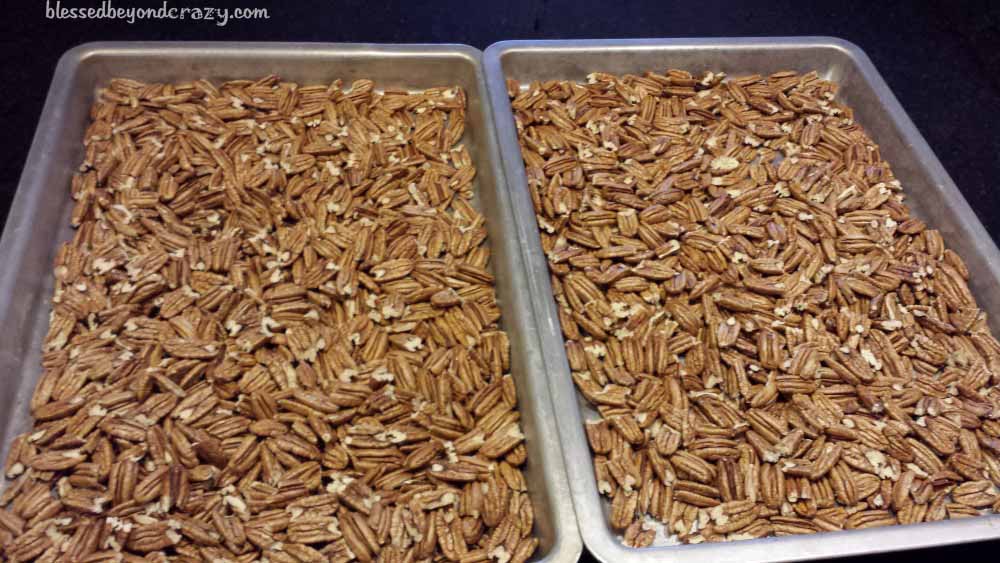 **The picture below shows more than 2 cups of pecans, however, I roasted more pecans than I needed for this candy recipe. I thought while I was at it I would make extra and will use them in other recipes later on.
Once the pecans were roasted I removed them from the oven and let them cool completely. While the pecans are cooling, I unwrapped a package of caramels and combined them with butter and water, and placed them in a double boiler.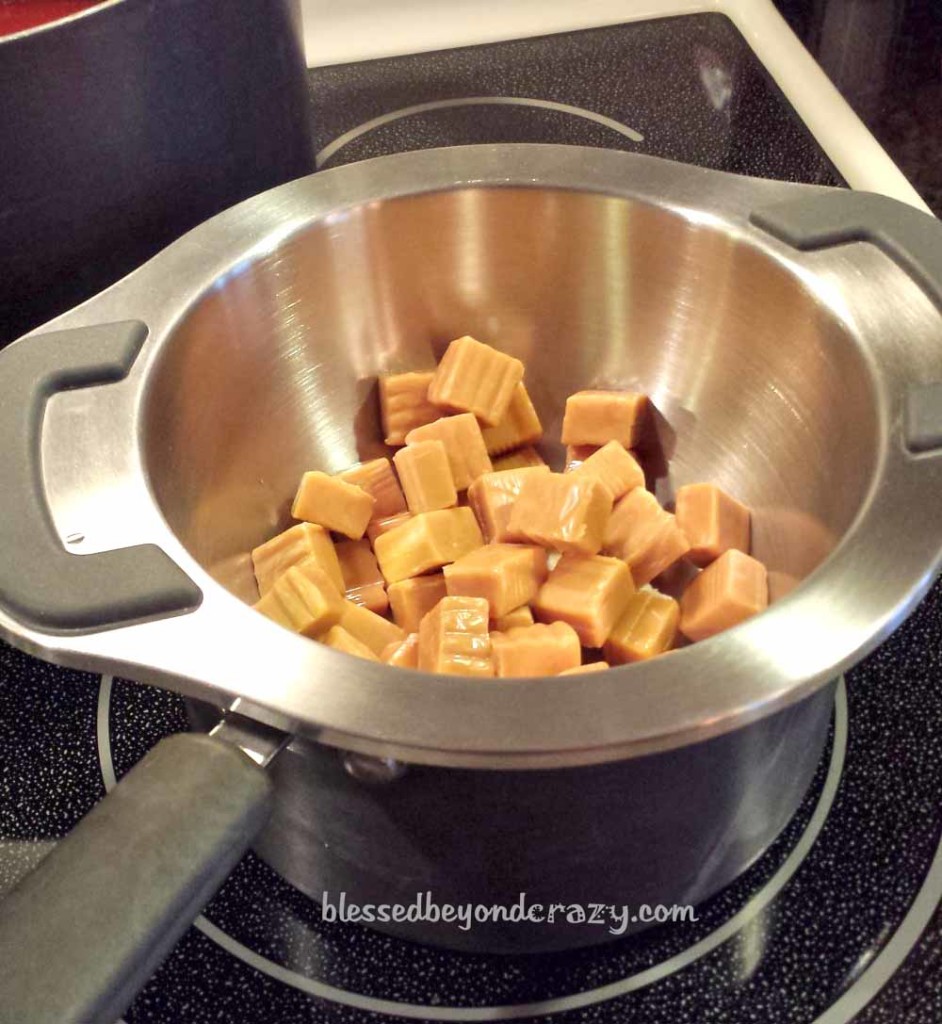 I slowly heated the caramels until they were melted, then combined 2 cups of chopped roasted pecans with the melted caramel.
Once this yummy goodness was mixed together I took two teaspoons and dropped the mixture into bite-size mounds onto waxed paper and placed them in my freezer for 20 minutes. This allowed the caramel clusters to harden and made them easier to work with.
Because these Caramel Pecan Clusters are so tasty they make a nice little DIY gift. In addition, they are a nice treat for parties or any holiday.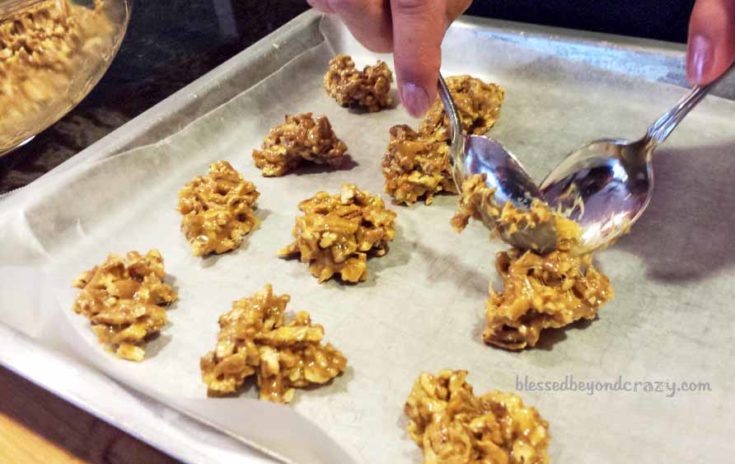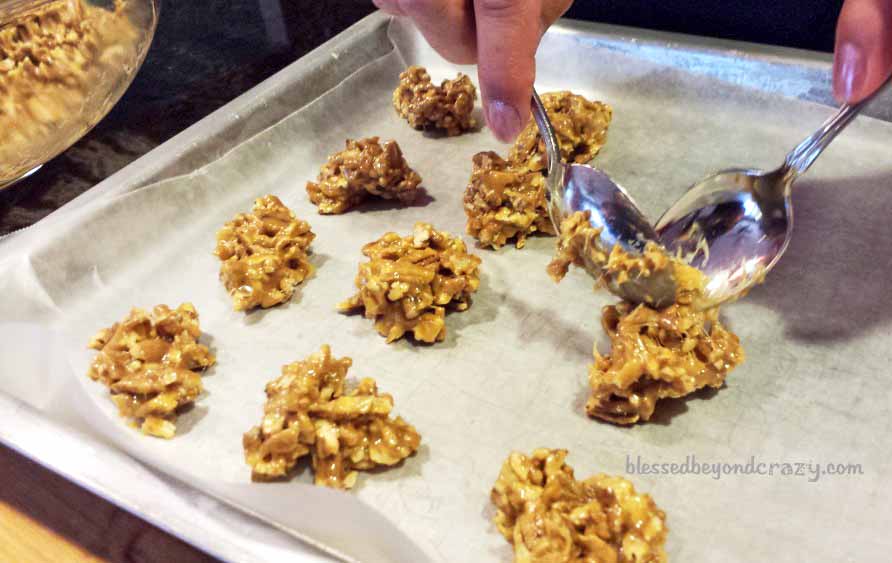 Yield:

Approx. 20 clusters
Caramel Pecan Clusters
A delicious and easy candy recipe.
Ingredients
2 cup pecans, roasted
1 (11 oz) pkg. caramels
2 tbsp butter
2 tbsp water
Optional: 4 oz chocolate bark & 4 oz white almond bark
Instructions
To roast pecans, divide the pecans and place them on two large cookie sheets.
Bake in a preheated 200 degrees F oven for 30 minutes; stirring them once.
Remove from oven.
Unwrap caramels and combined them with butter and water, place in a double boiler.
Heat the caramels on medium heat until melted, stir to keep them from burning.
Combine roasted pecans with melted caramel.
Using a teaspoon, drop mixture onto a waxed paper, place in freezer for 20 minutes.
Optional: melt chocolate bark in double boiler and drizzled it over the clusters, repeat with white almond bark.
Place candies in a single layer in an air-tight container.
For the final touch, I melted chocolate in a double boiler and drizzled it over the clusters, and repeated with white almond bark. To make them just a little more festive I also add colorful sprinkles on top.
Store the candies in a single layer, in an air-tight container. If you keep them in your freezer; once frozen you can stack them but be sure to keep a sheet of wax paper between each layer. Store in a cool, dry place or keep in your freezer until ready to serve.
What is your favorite homemade candy?
Enjoy!
Linda
More great recipes: