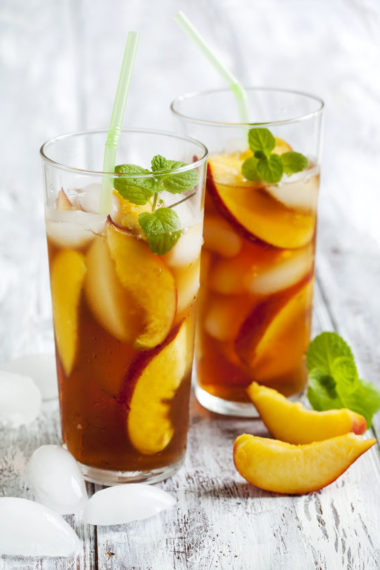 It's summertime, it's hot and it's time to make a huge pitcher of Tasty Homemade Peach Tea! 
I personally think there's something extremely refreshing about a glass of ice-cold tea on a hot summer day. Skip the soda and the Kool-Aid and bring on the tea!
To help support our blogging activities, our site contains affiliate links. If you make a purchase from a link on our site, we may receive a small percentage of that sale, at no extra cost to you. Blessed Beyond Crazy is a participant in the Amazon Services LLC Associates Program, an affiliate advertising program designed to provide a means for sites to earn advertising fees by advertising and linking to amazon.com. As an Amazon Associate, I earn from qualifying purchases.
Tea Lover
Anyone who knows me well knows that I love tea. All kinds of tea. The best tea I have ever tasted came to me in the form of a gift from a friend. A couple of years ago, Sarah went to Africa for a work-related trip and her hotel was surrounded by tea fields. Before she journeyed back to the States, she purchased several bags of newly harvested tea to bring home as gifts.
Oh, my goodness! Talk about the absolutely BEST tea I have ever tasted in my entire life! Umm, um! Over the course of a few months, I consumed the entire bag of tea. Let me tell you, I thoroughly enjoyed every single drop! Since then, I have tried to locate that exact tea but to no avail. Perhaps someday Sarah will revisit Africa again. 🙂
Fresh Peaches
Well, as you know my parents have a farm and on that farm, there are several peach trees. They have two types of peach trees: yellow and white peaches. For this recipe, we will be using yellow peaches.
Fresh Mint
This tasty homemade peach tea recipe also calls for a garnish of fresh mint leaves. Not only do they provide a pop of color, but they also add a nice hint of mint flavor.
The combination of freshly brewed black tea plus peaches and mint is truly magical. Add a little sweetener, a little all-natural peach juice, along with ice and you're ready to enjoy this tasty peach tea!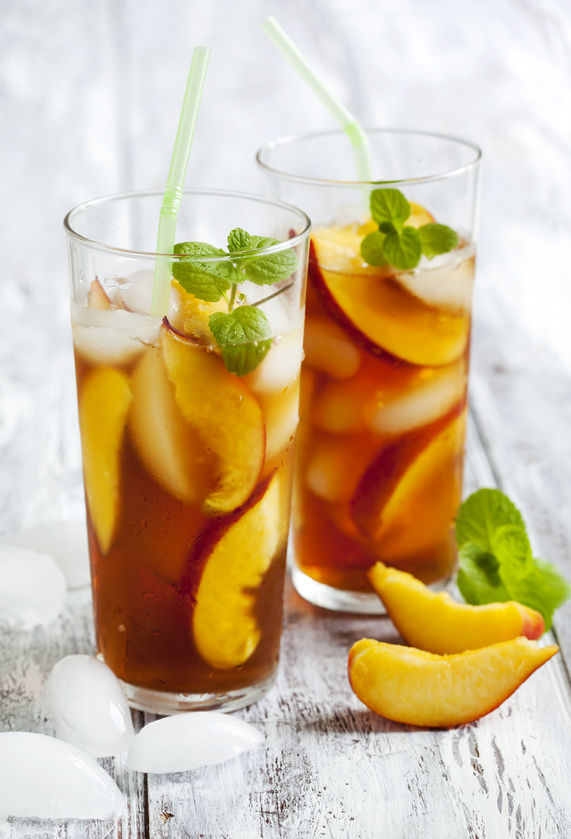 Yield: 16 - 20 Cups
Tasty Homemade Peach Tea
Prep Time: 20 minutes

Total Time: 20 minutes

A delicious, refreshing, and simple peach tea recipe.
Ingredients
4 family size black tea bags
6 green tea bags
2 quarts fresh filtered water, divided
1/2 cup sugar, or to taste (or sweetener of choice)
6 fresh peaches, juiced and strained (or 2 cups of a purchased all-natural peach juice of choice)
2 cups fresh peaches, sliced
fresh mint
2 quarts ice cubes
Instructions
Bring 2 quarts of water to a boil and steep black and green tea bags for 15 minutes. Gently squeeze liquid out of tea bags, discard.
Add sugar (or sweetener of choice) to hot tea and stir until dissolved.
Add peach juice and peach slices to tea, stir.
Add 2 quarts ice cubes
Garnish with sprigs of fresh mint.
Serve.
Happy summer!
Linda
More great ideas: