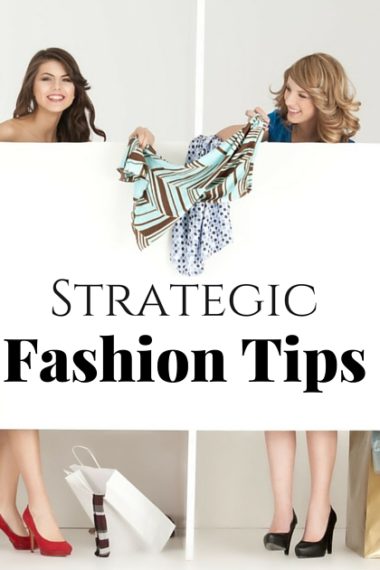 Want to learn how to look thinner? Here are simple and easy strategic fashion tips to help you look 10 pounds lighter.
I hate to admit it, but I need to shed a few extra pounds. With the exception of the past few years, I've always managed to stay within an ideal weight range for my age, height, and petite body type. However, the older I get, it appears that my clothes are shrinking more and more. A situation I'm definitely not happy about! Therefore, I have started to implement an exercise routine and stop the late-night snacking and hopefully, I will begin to see some results soon. If you are like me and struggling with your weight, then perhaps these strategic fashion tips to help you look 10 pounds lighter will help you as well.
To help support our blogging activities, our site contains affiliate links. If you make a purchase from a link on our site, we may receive a small percentage of that sale, at no extra cost to you. Blessed Beyond Crazy is a participant in the Amazon Services LLC Associates Program, an affiliate advertising program designed to provide a means for sites to earn advertising fees by advertising and linking to amazon.com.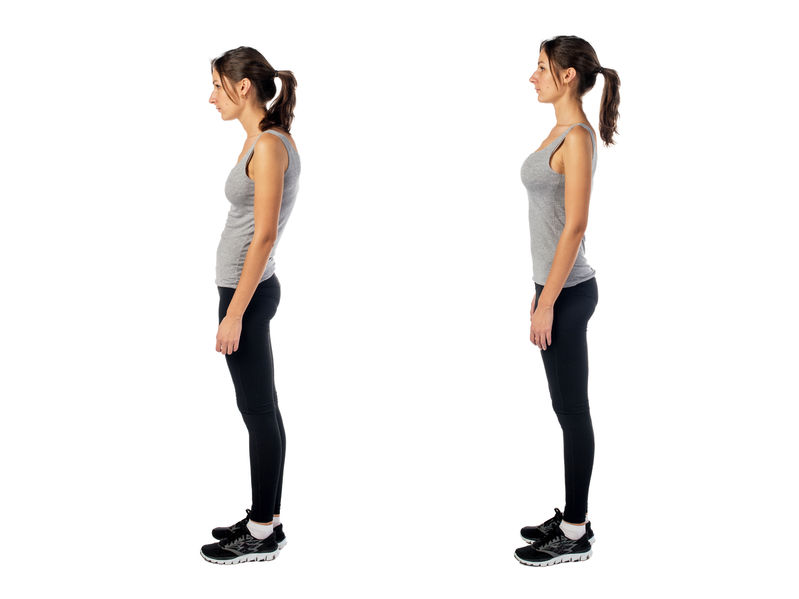 Your Posture Matters
So this is why our mothers tell us not to slouch. Standing up tall, with shoulders straight and slightly back, will help elongate your body. Correct posture makes you look thinner, confident, and in control. As you can see in the pictures above, slouching makes you appear several inches shorter than you actually are, it curves the spine forward and protrudes the belly.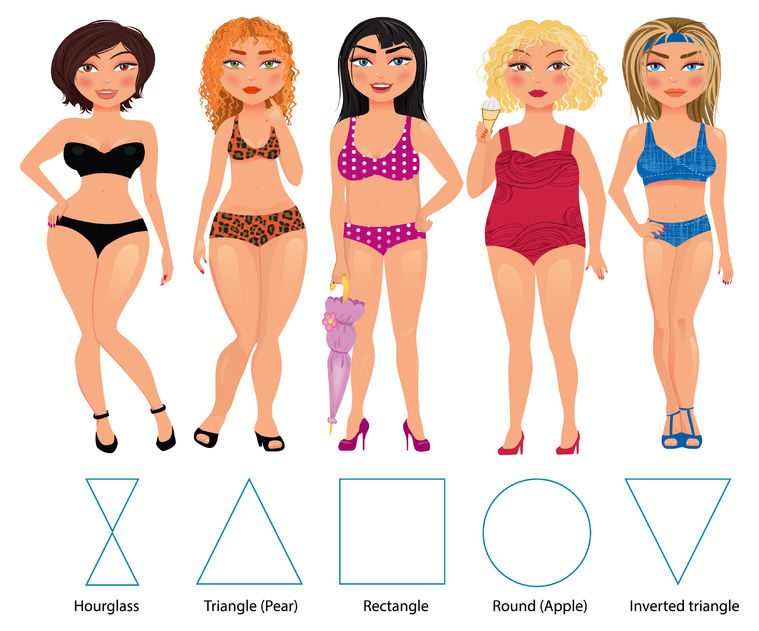 What Shape Are You?
Did you know that there are 5 general body shapes?
Hourglass – balanced, well-proportioned, and actually resembles the shape of an hourglass. Most women desire this shape.
Triangle (Pear) – narrow shoulders, wide hips, and upper thighs, and a smaller bust.
Rectangle – waistline is not well defined and shoulders are fairly even with the hips. Most runway models have this body shape.
Round (Apple) – the middle of the body is large and extends beyond the breast. Arms and legs look smaller in comparison to the mid-section.
Inverted Triangle – waistline is not well defined, shoulders are broad, your bust is on the smaller side, legs are slim, and hips are small.
As you can see, each shape creates a different silhouette. Therefore, there are different fashion rules and style guidelines for each one. Look at yourself objectively in front of a full-length mirror and see which shape you resemble. Some women fall into two different body types. Also, keep in mind that your body shape can change as you age and as you gain/lose weight.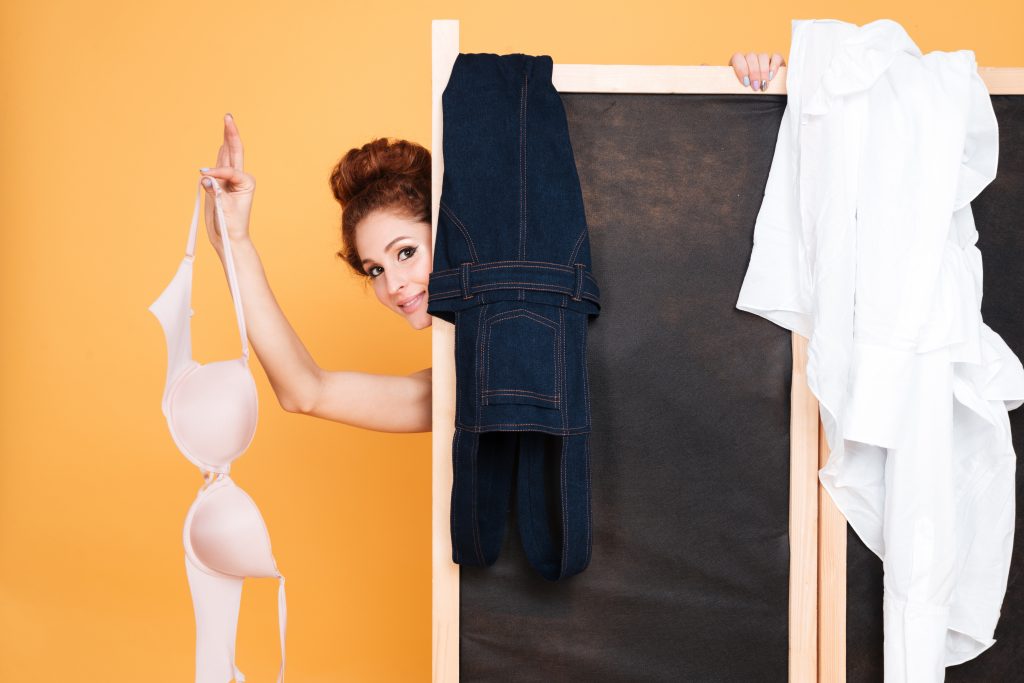 Start With the Right Undergarments!
Believe it or not, your undergarments are extremely important to your overall look and are the basis for everything you wear. Many times, women wear ill-fitting or the wrong size bra. To prevent your breast from sagging, (which makes you look older, heavier, and shorter) I strongly suggest that you get fitted with a quality support bra. In my hometown, we have a lingerie shop that features custom fittings. It is well worth the time and effort to find the right size and style of bras. In the end, you'll be glad you did.
Body shapewear, such as Spanx, will work wonders to help you show off your shape. Consider the specific features of each piece of shapewear and know how to take your measurements for the correct size and fit. There are many options and control types to select from such as: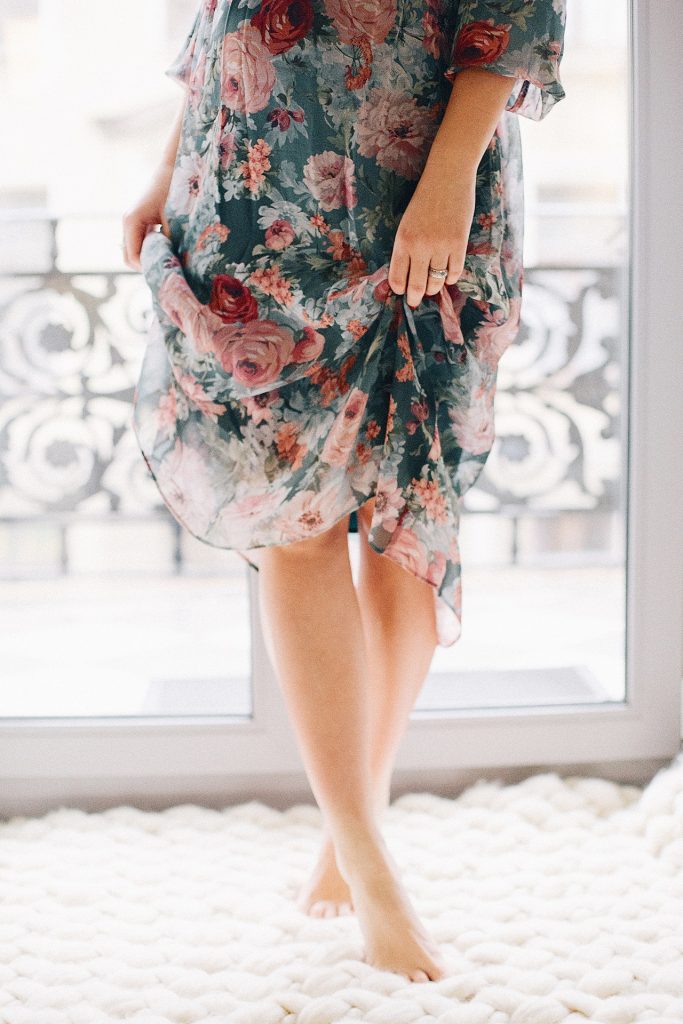 Patterns
Another of our strategic fashion tips – Patterns can either help you or hurt you when it comes to looking 10 pounds lighter. When combining two different patterns remember that one pattern should always be bigger than the other.
Consider choosing a color block dress. This pattern will instantly help you look pounds lighter. Another idea is to wear an hourglass pattern. This design will trick your eyes and make you appear lighter while visually accenting your curves.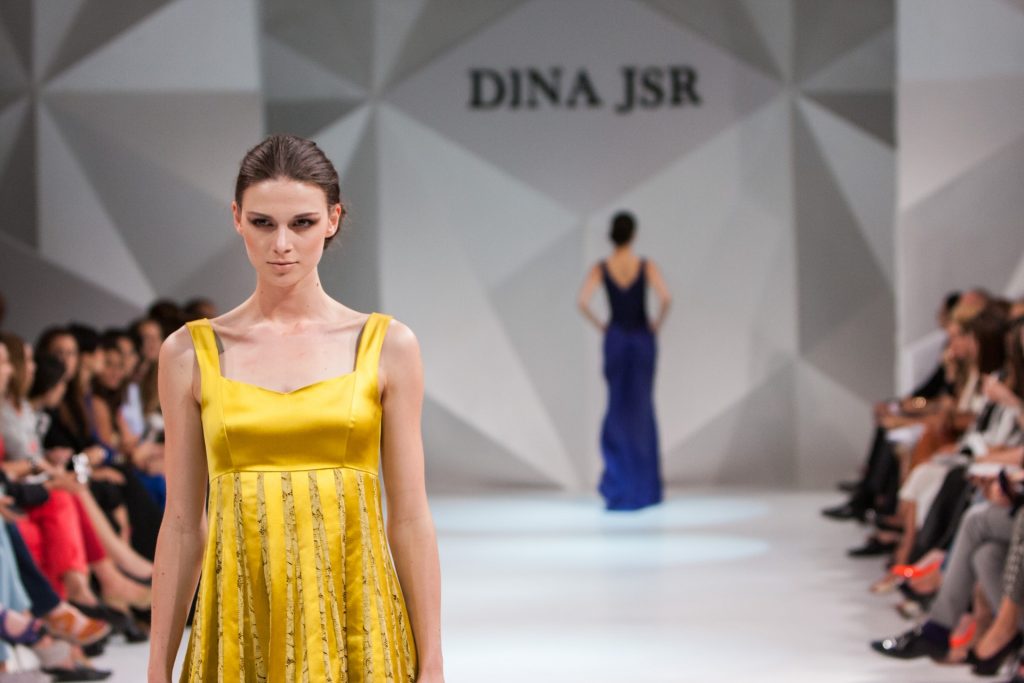 Vertical lines are also a great way to deceive your eyes into thinking you are taller and thinner than you actually are.
Prints aren't as slimming as black or other solid colors. Remember this rule: the bigger the print, the bigger you will look. The smaller the print, the smaller you will look.

Consider Colors
Black is the standard color when trying to appear lighter, but did you know that wearing solid black can actually make you appear thinner, but look overall heavier? Therefore, incorporating the patterns mentioned above or add a wide belt and another color in addition to black. Camouflage trouble areas by wearing bright or light colors on your good features and black or dark colors on problem areas.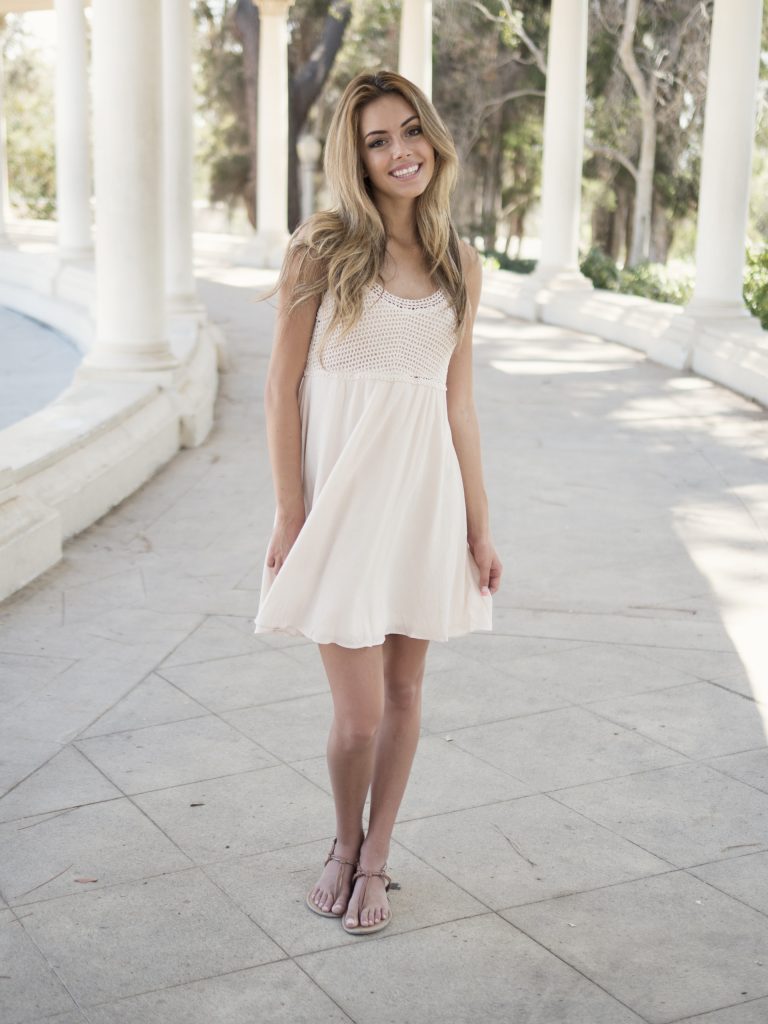 Other colors can also help you appear slimmer, especially when you wear just one color. The continuation of a solid color gives the impression of one long, slimline.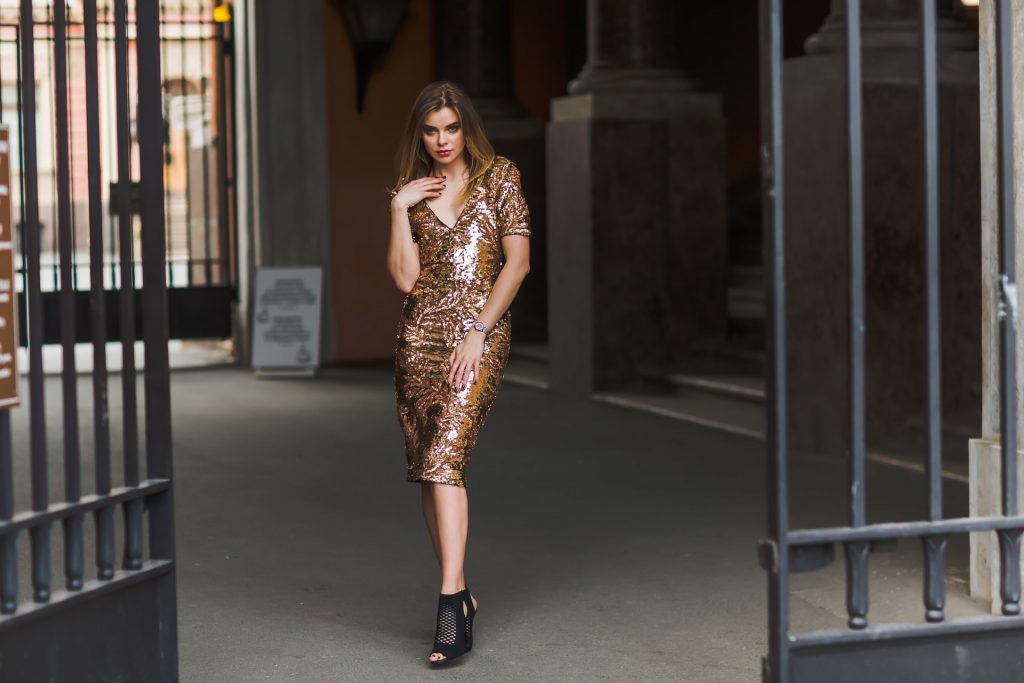 You can also try mixing different shades of the same color or match the color of your pants/skirt with leggings and shoes.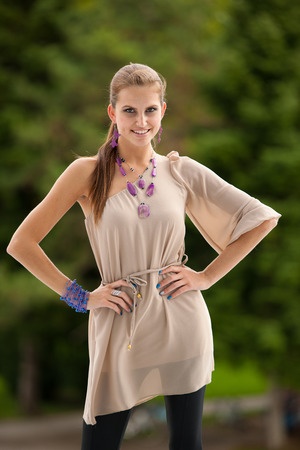 Styles
Styles are important when you are trying to look 10 pounds lighter.
Here are some tips to remember:
Wear straight, knee-length skirts or dresses.
Wear tops, tunics, jackets, or sweaters that fall at mid-hip or lower. This will give the effect of a long, vertical line which helps lengthen and slim your body.
Tops, jackets, or cardigans that fall at the top of your hips create a horizontal line at the widest point of your body, therefore emphasizing it. This will make your body appear shorter.
Wear pants, skirts, and dresses that lie smoothly on your body to avoid making your stomach and hips look larger than they are. Remember that any pleating will add fullness and the more fabric, the larger you appear.
Wear clothing that is fitted, not too tight, and not too baggy. A sure way to look pounds heavier is to squeeze into clothing that is too tight.
Unlike pleats, a flat front makes you look taller and slimmer.
Cinch dresses, jackets, or tops with a wide belt that is at least two inches wide. Narrower belts can draw attention to any bulges. Thick belts help you appear smaller and help to accent the natural curve of your waist.
Pair a baggier article of clothing with a tighter mate. As an example, wear wide-leg pants with a fitted blouse.
Wear opaque black tights instead of nude or light-colored tights.
Shoes
One of the quickest ways to look 10 pounds lighter is to throw on a pair of stiletto pumps. Heels instantly trick the eye into reapportioning your weight, which in turn helps you look thinner, taller, and lighter. Flat shoes do just the opposite because they make you look shorter and bigger around the waist.
Do not wear shoes with ankle straps. The strap will create a visual line and make your legs appear divided, therefore making you appear shorter and heavier.
Remember, you do not have to wear sky-high stilettos. You can always wear a pair of wedges or kitten heels to give yourself a little boost.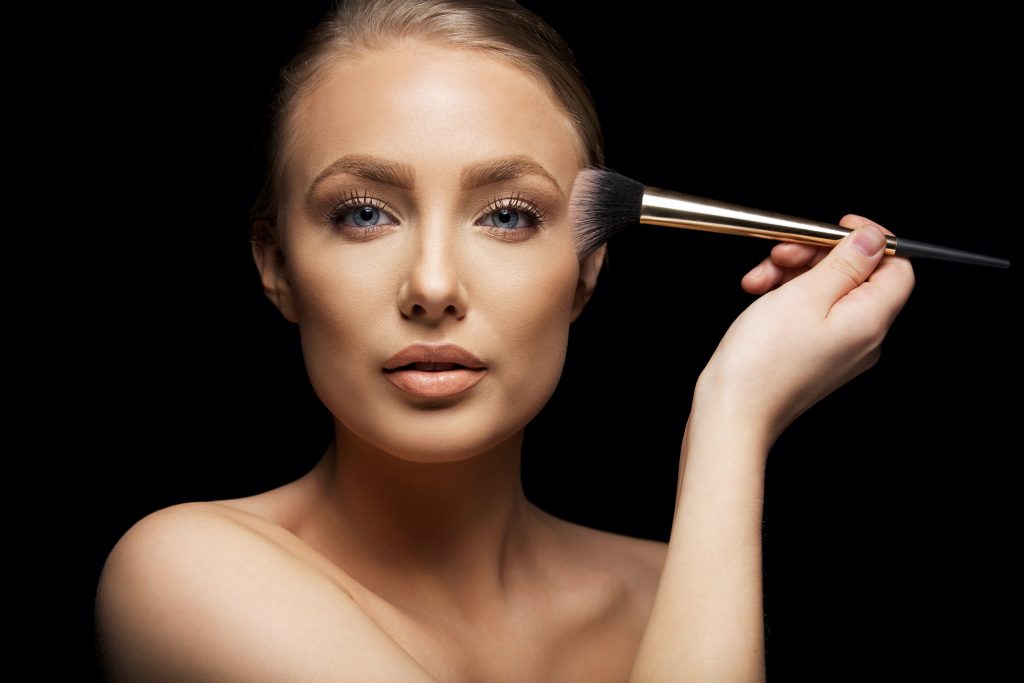 Makeup
Yet another of our strategic fashion tips is wearing a small amount of makeup can actually help you look thinner. Create a youthful glow by using a three-tone blush palette and bronzing powder. Play up your eyes with a light touch of eyeshadow and eyeliner and a touch of lipstick or gloss on your lips. Don't forget your hair! Instead of a fuller hairstyle wear a sleek, laid-back style to show off your beautiful facial features.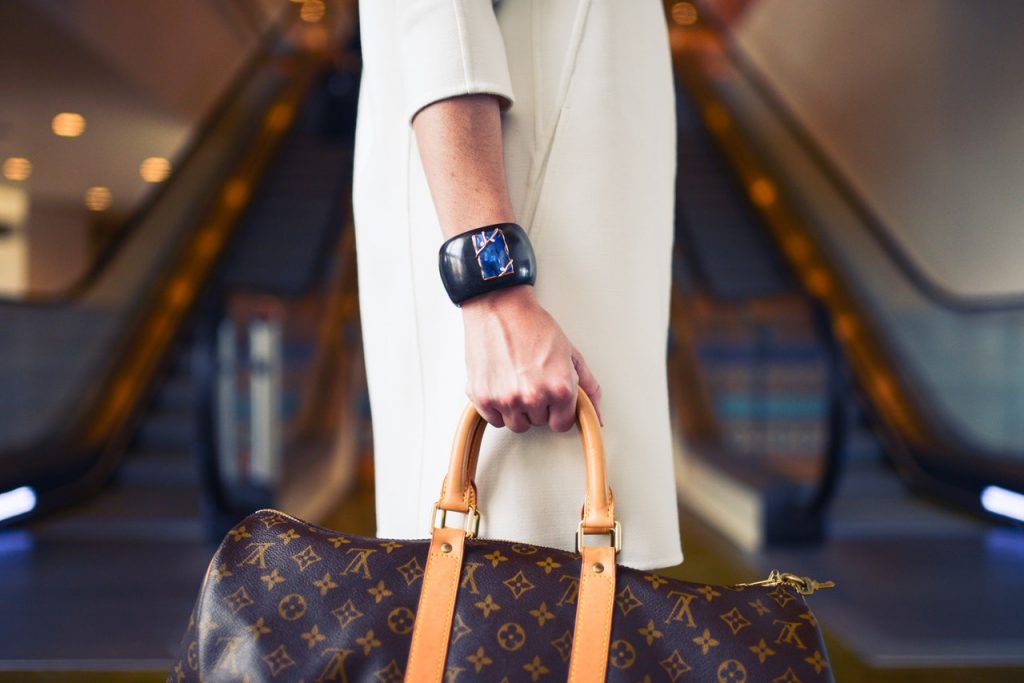 Accessories
Finally, accessorize with a large purse or oversized handbag. Proportionally, the larger bag will help your body appear smaller.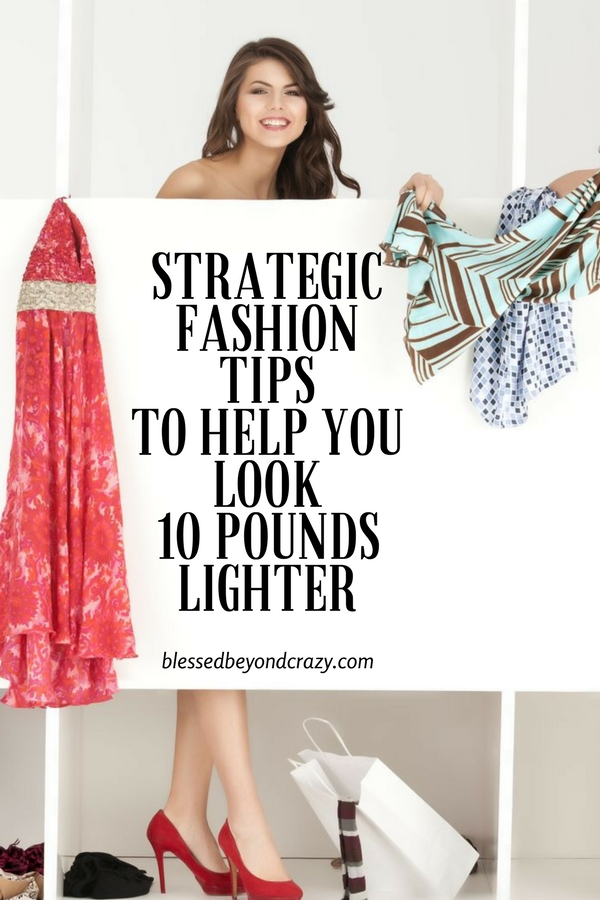 Photography Tip: When taking photographs, keep your whole body slightly turned to the side, with your shoulders slightly tilted forward and your arms positioned away from your body. If possible, the photographer should be slightly elevated, (perhaps standing on a stool), looking down on you. This body position and angle will instantly help you look slimmer and your waist and hips will look narrower.
Experiment with these strategic fashion tips and see if they help you look 10 pounds lighter too.
Have fun!
Linda
More great ideas: