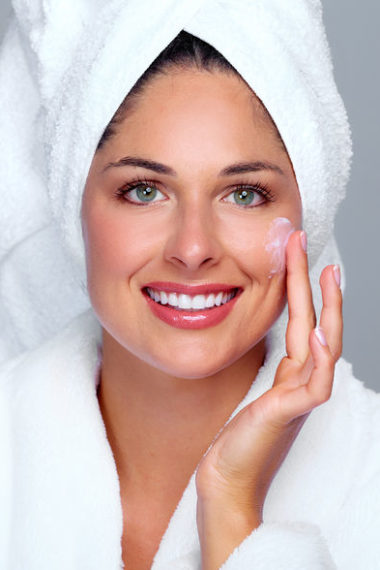 If you have sensitivities, then you really need to check out 13 Beauty Products that Women with Sensitive Skin Love!
Unfortunately, I am a person who has been "blessed" with seasonal, food, and drug allergies, along with sensitive skin. Because I have these issues, I am forced to be very diligent about what I put in my body and what products I use on my body.
Oftentimes I consider all of this to be a blessing in disguise because it forces me to eat healthier, take medications only when absolutely necessary, and use products that are super gentle. Since I know that I am not the only one with these types of sensitivities, I thought it would be helpful if I shared with you 13 beauty products that women with sensitive skin love.
To help support our blogging activities, our site contains affiliate links. If you purchase from a link on our site, we may receive a small percentage of that sale, at no extra cost to you. Blessed Beyond Crazy is a participant in the Amazon Services LLC Associates Program, an affiliate advertising program designed to provide a means for sites to earn advertising fees by advertising and linking to amazon.com. As an Amazon Associate, I earn from qualifying purchases.

In this post, I share with you products that I personally have used or are currently using. I often joke with my family that "If I can use it, ANYBODY can use it!" Of course, there is always an exception to every rule, however, the products I mention in this post I have found to be perfect for my sensitive skin.
Moisturizing
Our skin is the largest organ of the body and protects us from microbes and the elements helps regulate body temperature and allow us to experience the sensations of touch, heat, and cold. Since our skin plays such a vital role in our health, wellness, and overall beauty, it is important to keep it hydrated and moisturized, no matter our age. There are many good moisturizers on the market today but here are several moisturizing products I love:Derma E Hydrating Age-Defying Day Cream and Night Creme – Price: $30
Derma e's day crème's fine, silky formula is enriched with anti-aging antioxidants Green Tea, Vitamins C and E, and soothing Aloe. It's perfect for skin that needs long-lasting moisture throughout the day.
The night crème thoroughly moisturizes and plumps skin to reduce the look of fine lines and wrinkles and is enriched to be ultra-hydrating, and formulated with anti-aging antioxidants, Vitamins C and E, and soothing Aloe.
Both crèmes help to defend skin from free radicals and the effects of the environment, which in turn diminishes signs of aging and create softer, smoother, younger-looking skin. These extra-rich, deeply penetrating formulas deliver hydrating properties of nature's moisture magnet, Hyaluronic Acid (HA). A single molecule of HA can hold up to 1,000 times its weight in water, binding moisture to help plump, soften, smooth, tone, and rehydrate skin. Both products are 100% vegan, cruelty-free, paraben-free, sulfate-free, mineral oil-free, lanolin-free, gluten-free, GMO-free.

Arbonne Re9 Advanced Night Repair Crème – Price $85

This premier anti-aging night repair crème contains an ultra-hydrating blend of botanicals and collagen-supporting ingredients. Using this product daily really does help achieve visibly youthful-looking skin. Key ingredients: algae extract, sea buckthorn oil, marine lavender extract. Vegan and gluten-free, cruelty-free, paraben-free, sulfate-free, mineral oil-free, and no artificial dyes or perfumes.

Simple Replenishing Rich Moisturizer – Price $6
This facial lotion helps skin hydration. Infused with Glycerin, Allantoin, and Bisabolol is known to hydration, calm, and nourish your skin. A simple moisturizer that is formulated with multi-vitamins, no artificial dyes or perfumes, no parabens, and no harsh chemicals.

Poppy Austin Finest Pure Organic Argan Oil – Price $30
100% pure organic argan oil is rich in anti-aging Vitamin E and is famed for its natural healing and restorative properties. Argan oil can be used to soften and hydrate everything from your hair, face, skin, and nails, as well as dermatological issues such as psoriasis, eczema, and stretch marks.
Foundation – Why wear it?
Have you ever wondered if there are any benefits to wearing a foundation? Consider the following:
Foundation is a barrier against pollution and toxins in the environment.

It evens out skin color and adds radiance to your complexion.

Large pores can be made to look smaller.

Skin blemishes can be made to look less noticeable.

Foundation acts as a base for the rest of your makeup.

Wearing a foundation can give you more confidence in your appearance.

Many foundations contain sunscreen which you really should wear every day anyway as a defense against aging and skin cancers.

The correct foundation can help make you look younger.

Many foundations contain ingredients that can help your skin such as moisturizers and anti-aging ingredients.

Red skin tendency can be toned down. (Source:

The Make-Up Market)

Urban Decay Naked Skin Weightless Ultra Definition Liquid Makeup – Price $28 – I have tried many different foundations through the years and so far my favorite is this UD foundation. I love the coverage it provides (not too light/not too heavy), plus it looks very natural. Just be sure to buy a shade that best matches your skin tone.
This foundation is a weightless foundation that helps skin achieve a natural, illuminated, and bright finish. Naked Skin is formulated with light-diffusing spheres, transforming you to look professionally retouched. Buildable coverage allows women to customize their looks. Available in a meticulously calibrated range of shades, Urban Decay's precise shade numbering system does poetic justice to both warm tones (ending in ".0") and cool skin tones (ending in ".5"). The finish is matte, never flat, and luminous, but not shiny. This makeup loads skin with a list of nourishing ingredients including Matrixyl 3000 (a powerful anti-wrinkle peptide), protective and brightening Litchiderm, antioxidant Green Tea, and Sodium Hyaluronate for optimal skin hydration and nutrient absorption. Naked Skin is suspended in a sleek, sophisticated pump bottle, allowing more control and less waste of product. Paraben-free, sulfate-free, free of synthetic fragrances, free of phthalates, GMO-free, and triclosan-free.
Eyes
It's been said that our eyes are the doorway to our soul. If you believe this statement, then you'll want to add a touch of color to highlight them a bit (or a lot!). The key to eye shadow is in the blending! Whether you use your finger, makeup brushes or a sponge, make sure to blend well. I do use an eyelash curler but rarely use mascara since my eyelashes are naturally black, plus I have yet to find one that doesn't irritate my eyes.

Urban Decay Eye Shadow Primers – Price $20
I never used an eyeshadow primer until my step-daughter suggested I try a sample of Urban Decay's original eye primer. Now I will not wear eyeshadow without using this primer first. My favorite shade is called Minor Sin. This particular creamy, super-sheer primer called "Minor Sin" has a champagne shimmer that gives you vibrant, crease-free wear for 24 hours. It goes on smoothly and lets eyes flaunt crease-free shadow and more vibrant color. You can even wear it all by itself for a soft, shimmery effect. Formulated with polymer technology, it fills in any imperfections on the skin's surface, preps lids for all-day shadow, and is paraben-free.

MAC Eye Shadow – Price $16
This highly pigmented powder applies evenly and blends well. It comes in a wide variety of colors, textures, and finishes. Dermatologist and Ophthalmologist tested, non-acnegenic, safe for contact wearers, and can be used wet or dry. (My favorite shades thus far are: Girlie, Trax, and Shale.)
Cheeks
Applying blush can enhance your underlying facial structure, define your cheekbones and add an overall healthy glow to your look. Be sure to buy a shade that works best with your skin tones and resist the urge to apply too much.

BECCA Mineral Blush – Price $32
Delicate powder blush in a range of colors that range from subtle to bold. Infused with antioxidant vitamins for all skin types, even the most sensitive, it's enriched with micro-fine minerals and antioxidant vitamins to achieve a natural-looking, flushed appearance. Paraben-free, sulfate-free, and free of phthalates. (My favorite shade is Deep Mulberry.)
Tarte Amazonian Clay Blush – Price $28
A long-wearing blush that is infused with natural clay harvested from the banks of the Amazon River and naturally baked by the sun. This nutrient-rich blush benefits all skin types for a fade-free flawless finish that lasts an amazing 12 hours. Colors range from soft to vivid to suit a wide variety of skin tones. For oily skin types, Amazonian clay minimizes oil in and around pores to balance skin and keep the product in place. Those with dry skin will benefit from the clay's nourishing and hydrating properties, which naturally restore the skin's moisture. Combination skin types can rely on their ability to zero in on skin concerns and deliver benefits to restore complexion harmony. The result: Blush that wears better, longer, and truer. This product is free of petrochemicals, synthetic fragrances, GMOs, and triclosan, paraben-free, sulfate-free, and free of phthalates. (My favorite shades are Dazzled/soft rose and Blushing Bride/plummy rose.)
Lips
The right shade of lipstick can add attractiveness to a woman's face, plus it's a fun way to express ourselves. Read about the history of lipstick HERE.

Bite Beauty Luminous Creme Lipstick – Price $26 –
Bite Beauty has a nice collection of high-impact lipsticks in dimensional shades that have been handcrafted to deliver extreme moisture, soft texture, and creamy wear. Created and crafted by hand, Bite's small batch, low-heat process preserves a balanced blend of lip-quenching nutrients, vitamins, and omega oils that are essential for achieving healthy-looking lips. Made with 12 edible oils and triple-milled pigments, this lipstick provides saturated lip color with weightless coverage and a citrus flavor made from fresh-pressed fruit. With its sole focus on lips, Bite Beauty proves you don't have to sacrifice performance for a product made from nature. Their lip products are created with natural and food-grade ingredients for the beauty they're better for you. They do not contain petrochemicals and are certified gluten-free, paraben-free, sulfate-free and free of phthalates. (My favorite color is Fig/Nude Rose.)
Cleanser
Even if you don't wear makeup, it's still very important to wash your face with a cleanser. Cleansing your pores allows your moisturizer to penetrate into your skin for maximum effectiveness and leaves skin feeling refreshed, soft and clean.
Acure Organics Brightening Facial Scrub – Price $10 – This cleanser does a great job of deep-cleaning, without drying out my skin. My face feels baby-soft after each use and is the only cleanser that I use.
This creamy, non-foaming cleanser is formulated with a soothing blend of organic argan oil, probiotics, and pumpkin seed oil. It leaves my face feeling fresh, clean, and hydrated. Gluten-free, vegan, vegetarian, sulfate-free, cruelty-free, paraben-free, PEG-free, petroleum-free, free of phthalates, silicone-free, synthetic fragrance-free, and won't clog pores.
Shampoo & Conditioner
Proclaim Olive Glossing Shampoo – Price $9 (33.8 oz) (I love the smell of the Proclaim Olive Glossing Shampoo and Conditioner. My hair looks great and never tangles.)
Gently and effectively cleanses and detangles, helps prevent hair color from fading while natural olive oil restores lost moisture, and leaves hair soft, smooth and shiny. Paraben, gluten, and silicone-free.
Proclaim Olive Glossing Conditioner – Price $6 (33.8 oz)
Proclaim Olive Glossing Conditioner nourishes dry, dull hair, repairs split ends, heals dandruff, detangles, prevents color from fading, and makes your hair incredibly shiny.
Tip: When shopping for a new product, I try to read the comments and reviews before making my purchase, I suggest you do the same.
I hope that you enjoy these 13 beauty products that women with sensitive skin love as much as I do!
Here's to looking and feeling great!
Linda