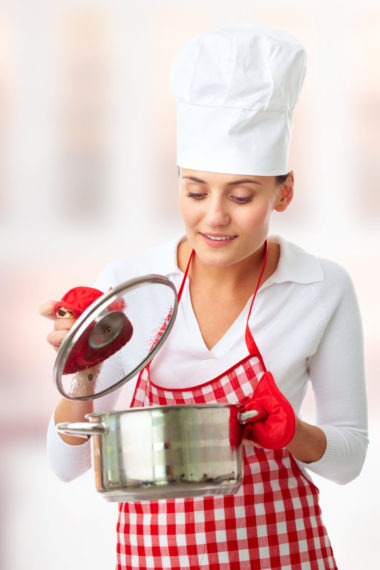 Have you ever wondered what cookware best suits your family's needs? In today's post, we are featuring the pros and cons of various types of cookware.
To help support our blogging activities, our site contains affiliate links. If you make a purchase from a link on our site, we may receive a small percentage of that sale, at no extra cost to you. Blessed Beyond Crazy is a participant in the Amazon Services LLC Associates Program, an affiliate advertising program designed to provide a means for sites to earn advertising fees by advertising and linking to amazon.com.
Disclaimer
First of all, before you begin reading this post let me first state that we are NOT being paid by any company or manufacturer to write this post and this is NOT a sponsored post. All opinions in this post are strictly our own. However, this post does contain affiliate links.
Recently I was on a personal mission to replace most of my kitchen pots and pans. Through some homework, personal experience, and trial-n-error I finally found what I was looking for.
I'll let you know what I ended up buying at the end of this post, but in the meantime, Anna and I are going to discuss what is great, and not so great, about all the cookware options that are available.
Pros:
An old-fashioned way to cook fat-free

Most porous of all metals

No special utensils are needed to cook in it (i.e. you can use a metal spatula without fear of scratching it).

Well-seasoned cast iron pan will only get better with age

Conducts heat beautifully

Great for searing and blackening

Can go from stovetop to oven with no problem

If properly cared for will last a lifetime

Once you have a well-seasoned skillet you can cook with less amount of oil

Chemical-free alternative to non-stick pans

You can actually boost your iron intake because iron from the pan leaches into your food as it cooks

Food cooks beautifully and it's a great way to brown your food

It can be used over any cooking source, therefore making it great for emergencies

Inexpensive
Cons:
It's extremely heavy

It can be a bit of a hassle to maintain and needs to be "seasoned" occasionally

You can not use soap to clean it – unless you re-season it right away.

It will rust if not properly maintained

Grease can turn rancid in pores

Needs to be stored with a bit of oily film on the inside to keep it from rusting and to keep it seasoned
(Anna)– This is my husband, and his family's, favorite cookware hands down. His mother has given us several cast iron pans through the years and they last forever! I don't have to worry about replacing these pans–ever!
(Linda) – I own several cast iron skillets. They are great for frying foods and I particularly love using a cast iron skillet to make fried chicken. I also love the durability of cast iron. Personally, I like using soapy water to clean my cookware but this tends to dull the "seasoning" of the cast iron. It is also very heavy.
Find Cast Iron Cookware
Pros:
Easily washes with soapy water

It's non-stick

Lightweight cookware

Some brands of Teflon cookware can be placed in an oven at 350 degrees F for up to one hour
Cons:
The surface can scratch, chip, and/or flake. As the pans get older the scratches get bigger and tend to chip easily, leaving chips of Teflon in your food.

The pans may stain

Needs to be "seasoned" before the first use and sometimes in between uses

Pan warps under thermal shock (an overheated empty pan, a hot pan in contact with cold water or placed on a cold surface, etc.)

The non-stick coating contains PFOA is a chemical that is used in the manufacturing of traditional PTFE-based nonstick cookware coatings and other products. PTFE is the abbreviated name for a remarkable polymer called polytetrafluoroethylene.

T

he repellent coating that keeps food from sticking to nonstick pots and pans contains PFCs (perfluorocarbons), a chemical that's linked to liver damage, cancer, developmental problems, and, according to one 2011 study in the Journal of Clinical Endocrinology & Metabolism, early menopause. PFCs get released—and inhaled—from nonstick pans in the form of fumes when pans are heated on high heat. Likewise, we can ingest them when the surface of the pan gets scratched.

You get what you pay for. Meaning: Some brands may last for years and years while other brands will only last for a few months.
(Linda) – Through the years I have owned numerous Teflon pots and pans. The food rarely sticks to the pans and I enjoy cooking with it. After a time, though, the Teflon starts to come off. Time for new cookware!
Find Teflon Cookware
Pros:
Easy to clean

Comes in various pretty colors

Food can be safely stored in it

Dishwasher safe
Cons:
Chips easily

Not very durable

Food sticks

Safety is a question regarding ceramic cookware because it originates from the porcelain glaze. It often contains small amounts of lead.
(Anna)– I have only owned one ceramic pan. The first few times I used it I was amazed at how the food didn't stick and LOVED using it. That only lasted for about a month before it started getting worn out and food began sticking. The pan only lasted for about 6 months before I had to replace it. Perhaps it was the brand I purchased, (it was an inexpensive pan), or that we used it quite often. I do believe that a pan should last longer than 6 months. I won't be buying ceramic cookware again.
Find Nonstick Ceramic Cookware
#4. Aluminum Cookware
Pros:
Excellent heat conduction.

Resists rust and corrosion

Inexpensive

Lightweight
Cons:
Not desirable due to the Alzheimer's and aluminum toxicity connection

Very soft metal

The extreme chemical reaction between food and pan – scratches easily and allows tiny food particles to collect and breed bacteria

Can interfere with food and bring about certain undesirable chemical reaction and a metallic taste

Can discolor food

Not very durable
Find Aluminum Cookware
#5. Orgreenic Cookware
Pros:
Made with a relatively new ceramic-based nonstick material that is said to be environmentally friendlier than traditional nonstick, which is petroleum-based.
Cons:
Nonstick coating seems to become less effective over time.

Should not be heated to high temperatures.

Needs to be seasoned regularly.

To avoid scratching the non-stick surface it is recommended that you do not use sharp or metal cooking utensils with the cookware.
(Linda) – I have owned two various skillet sizes of this cookware. At first, it worked like a dream and I loved it. After a year of use, the food started to stick more and more and I found myself "seasoning" the cookware often to help prevent this issue. I eventually discarded the skillets.
Find Orgreenic Cookware
Pros:
The speckled black finish creates a unique look.

Lightweight

Ultra-hard, rock-like surface offers incredible durability.

Outstanding release performance that is 3 times better than traditional nonstick cookware.

Thick, forged aluminum base lends even heat distribution

Nonstick interiors ensure quick and easy clean up with soapy water

Tempered glass lids lock in heat, moisture, and flavor.

Stainless steel handles allow for a safe, secure grip.

Oven safe up to 392 degrees F / 200 C

Dishwasher safe (but may become dull due to the detergent)
Cons:
To avoid piercing the non-stick surface you cannot use sharp or metal cooking utensils with the cookware.

Add salt to water only after it comes to a boil. Salt grain deposits on the cookware bottom will attack the metal as the heat melts it down.

Cannot use metal scouring pads to clean the surface.

If using a ceramic stovetop, you should lift the pan rather than slide it across the glass plate or you could scratch your stovetop.

Can only use on low to medium heat. Excessive surface temperatures can cause permanent damage to the non-stick surface.

It is recommended that you add a teaspoon of cooking oil prior to each use for better non-stick performance.
(Linda) – I own a whole set of this cookware. It never sticks and is super easy to clean with soap and water. If you follow the directions and take care of it I believe this cookware will last a long time.
Find Starfrit The Rock Cookware
#7. Enamel Nonstick Cookware
Pros:
Glass-like enamel is usually covering some kind of metal, such as aluminum, steel or cast iron.

Durable.

Affordable.

Lightweight.

Conducts heat fast.

Comes in a variety of colors.

Naturally nonstick due to its non-porous surface.

Good quality enamel cookware is oven safe up to 350 degrees F.

Pans on the surface do not breed bacteria.
Cons:
Enamel can chip, off then the metal underneath can rust.

Food can scorch easily while cooking.

Foods cool off quickly once removed from the heat source.
Find Enamel Nonstick Cookware
#8. Glass Cookware

Pros:
Looks nice

Can be used as a server

Food can be watched while covered
Cons:
Has hot spots and poor heat distribution.

Foods stick and burn.

Older glass cookware may contain lead.

May chip, leaving sharp edges and shards of glass in food.
(Linda) – I have owned several pieces of glass cookware for years. I love that you can see the food cooking through the glass and can also serve the food right in the glass pans. Once the glassware is heated I find it necessary to stir the food often to keep it from scorching on the bottom of the pan.
Find Glass Cookware
Pros:
Even cooking with few hot spots

Heats up foods faster and uses less energy

Doesn't react with acidic foods

Durable and long-lasting: expect 25 years of use

Looks good and easy to see the food while it cooks (if you have a glass lid)

Dishwasher safe

The metal is an alloy, or combination, that includes small amounts of chromium and nickel, creating a surface that is resistant to rust and corrosion.
Cons:
Buy the best surgical stainless steel cookware 

Many stainless steel pans are made with a lower grade of steel. Because of the softness of this grade of the metal, when heated, it expands and the food sticks to the pan. You are then forced to cook with oil and the pan becomes difficult to clean.

Higher-priced stainless steel cookware has an added inner core made of copper or aluminum, which improves heat conductivity.

For some people who have a nickel allergy, the small percentage of nickel may pose an issue.

Unless you're boiling water, the use of oil is also a must.
(Linda) – Nearly 30 years ago my parents bought me a whole set of stainless steel cookware. Overall, I really like this set of cookware. To this day, the pans themselves look almost brand new, (with the exception of the handles). The skillet is the one piece that food seems to stick in but the other pans do not stick. I still have several of the pieces but discarded the skillet and a smaller pan when the handle fell off of it.
Find Stainless Steel Cookware
#10. Copper Cookware
Pros:
Excels at quick warm-ups and even heat distribution

Professional look.
Cons:
Because copper can leak into food in large amounts when heated, the cooking surfaces are usually lined with tin or stainless steel – over time, these coatings can break down and allow copper to dissolve in food.

Reacts with alkaline or acidic foods, which can take on a metallic taste after being cooked in a copper pot.

Certain foods (such as eggs), can develop gray streaks because they pick up copper compounds

Older copper cookware may have tin or nickel coatings and should not be used for cooking

Expensive

There is upkeep (needs to be polished regularly and may need to be re-tinned every few years)
Find Copper Cookware
Conclusion:
You be the judge! We suggest that you personally look into all of the different available types of cookware on the market today and make your own decisions as to what style and construction you feel comfortable with. Be sure to look at quality first and remember that the most expensive item on the shelf isn't necessarily the best quality on the shelf.
(Linda)– Out of all the different cookware available on the market today my personal favorite cookware is the new The ROCK Cookware by Starfrit. I purchased a complete set (#6 shown above) and love it. My food never comes close to sticking and the pans clean easily with soap and water. I can personally, (and highly), recommend this cookware and have purchased a whole set for my own personal use. In addition, I also purchased several of the skillets and gave them to family members as gifts. They love them too.
(Anna)– I too love The ROCK Cookware. I only have one skillet that I use on a daily basis and so far has held up its quality perfectly. I still love using cast iron and don't expect to ever convince my husband to replace it with anything else (not that I want him to).
Our personal opinions are based on our own experiences. For your convenience, we have provided Amazon links. You can also find cookware on other websites and we recommend that you do a cost comparison to find the best price.
Happy Cooking!
Linda and Anna
Sources: