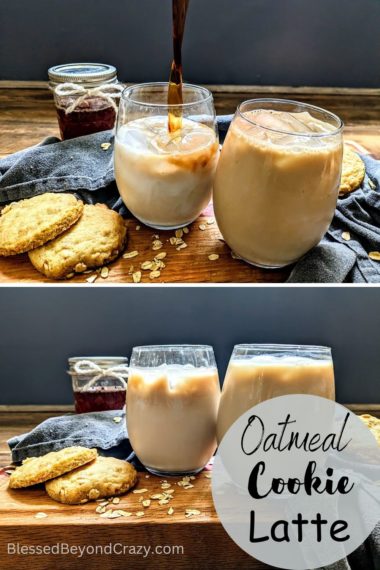 This Oatmeal Cookie Latte is easy, creamy, and delicious. You can make it hot or iced, but either way, it's amazing.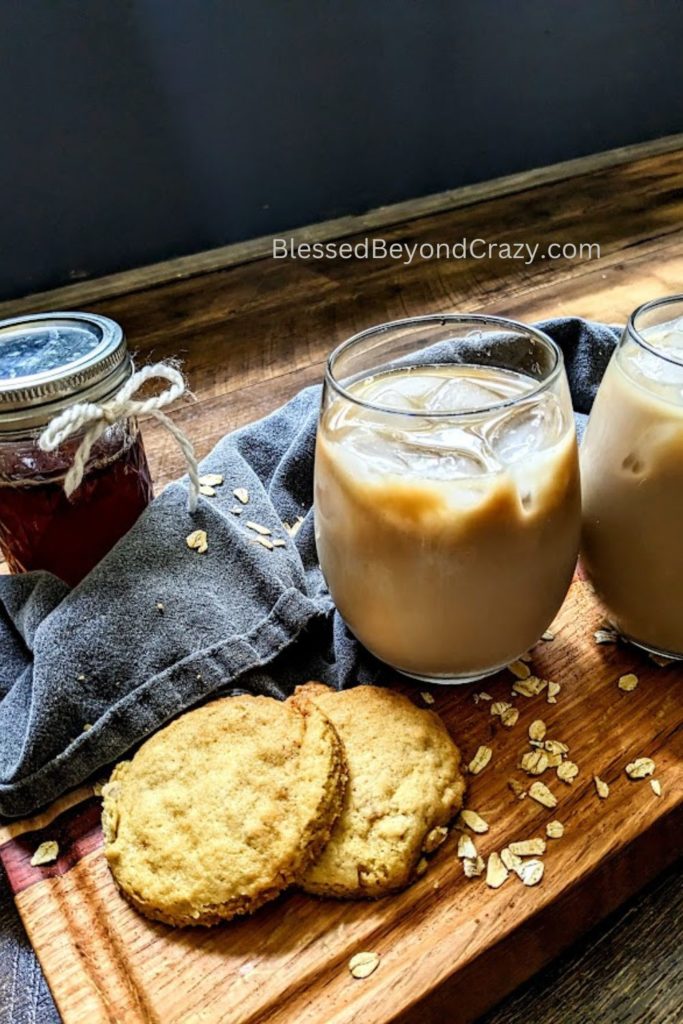 It's safe to say that my whole family LOVES coffee, and so do I. Once, I went to a coffee shop and ordered an oatmeal cookie latte. It was delicious but expensive. I knew I could make a cheaper, better version at home. After multiple modifications, I did. I have found the most delicious, creamy, refreshing, oatmeal cookie latte. And plus, it's not ten dollars per coffee.
To help support our blogging activities, our site contains affiliate links. If you make a purchase from a link on our site, we may receive a small percentage of that sale, at no extra cost to you. Blessed Beyond Crazy is a participant in the Amazon Services LLC Associates Program. This affiliate advertising program is designed to provide a means for sites to earn advertising fees by advertising and linking to amazon.com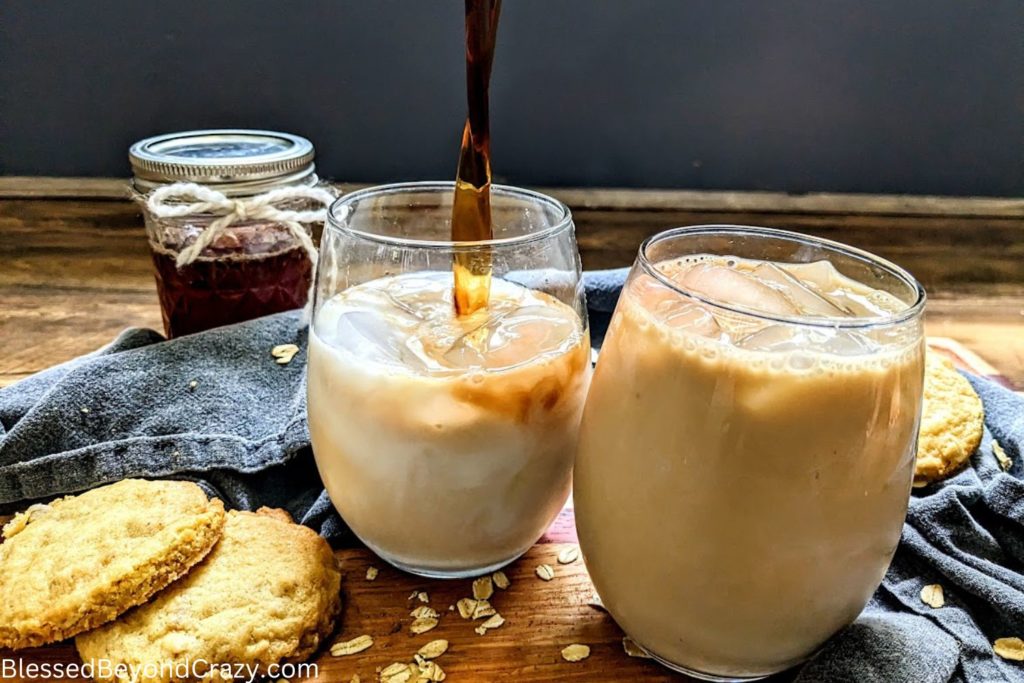 The coffee shop that I went to used Torani Brown Sugar Cinnamon Syrup. However, I made my own syrup because I do not have that one. Although, I did use Torani French Vanilla Syrup.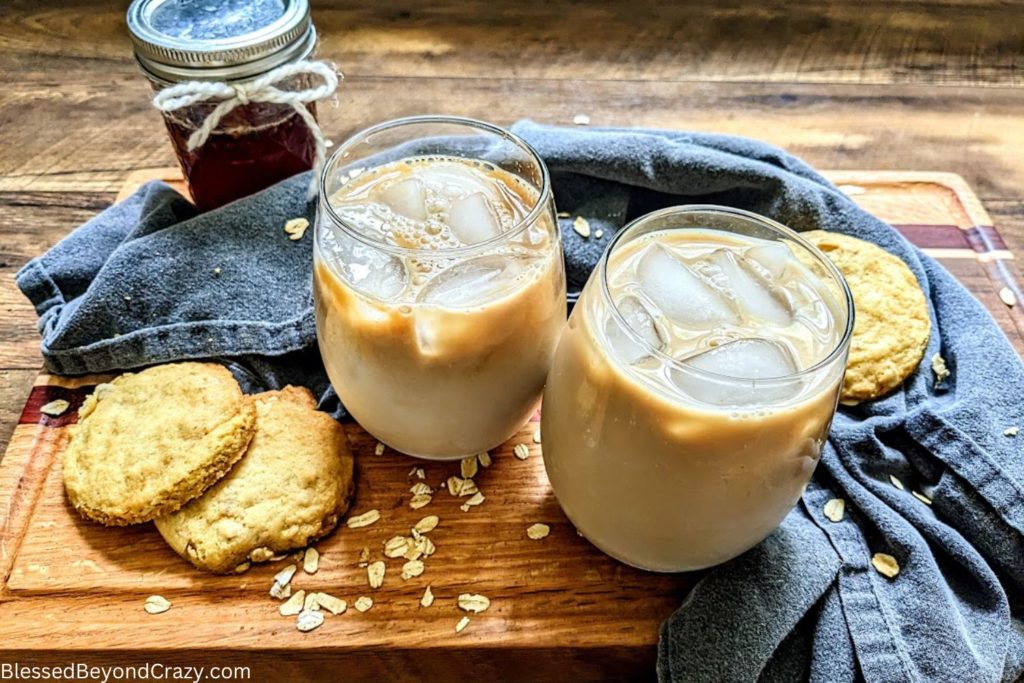 Ingredients:
For the Brown Sugar Cinnamon Syrup:
1 tsp cinnamon
1 Tbsp brown sugar
4 Tbsp boiling water
1 tbsp maple syrup
For the Oatmeal Cookie Latte:
1/2 cup milk
4 oz strong coffee or 1 shot of espresso
2 tsp brown sugar cinnamon syrup
2 tsp French vanilla syrup ( I used Torani)
Handful of ice
Directions:
For the Brown Sugar Cinnamon Syrup:
Add sugar, maple syrup, and cinnamon to a bowl or jar
Add boiling water and stir until sugar and cinnamon are dissolved
Let cool completely before adding to a jar. cover and store in the fridge for up to 2 weeks
For the Oatmeal Cookie Latte:
Add ice, milk, and syrups to a cup
Add chilled coffee or espresso
Stir and enjoy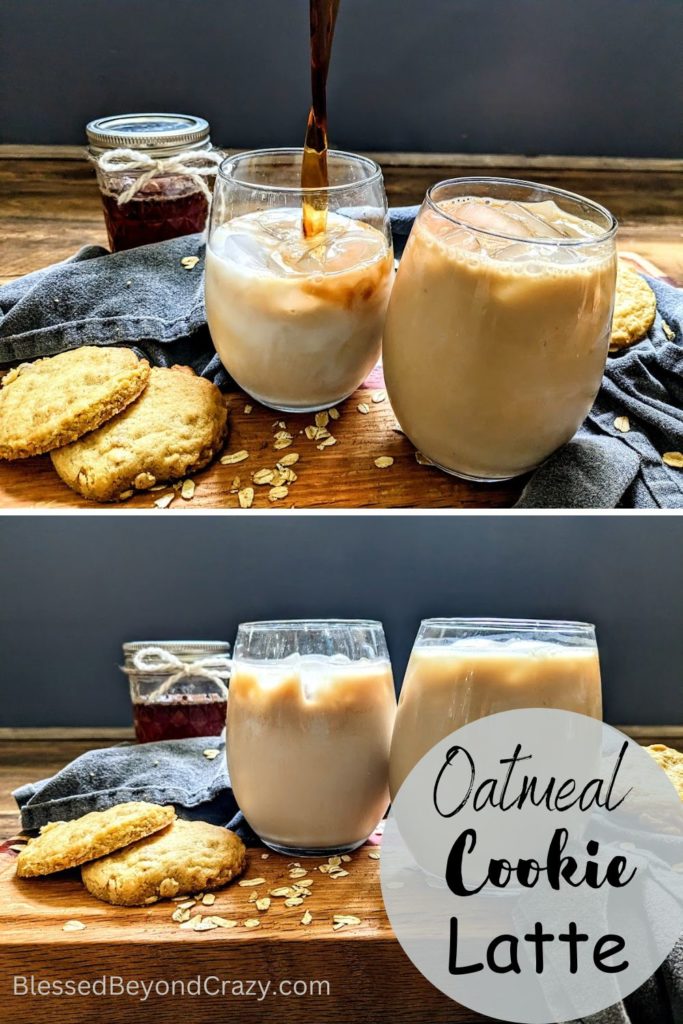 Ingredients
For the Brown Sugar Cinnamon Syrup:
1 tsp cinnamon
1 Tbsp brown sugar
4 Tbsp boiling water
1 tbsp maple syrup
For the Oatmeal Cookie Latte:
1/2 cup milk
4 oz strong coffee or 1 shot of espresso
2 tsp brown sugar cinnamon syrup
2 tsp French vanilla syrup ( I used Torani)
Handful of ice
Instructions
For the Brown Sugar Cinnamon Syrup:
Add sugar, maple syrup, and cinnamon to a bowl or jar
Add boiling water and stir until sugar and cinnamon are dissolved
Let cool completely before adding to a jar. cover and store in the fridge for up to 2 weeks
For the Oatmeal Cookie Latte:
Add ice, milk, and syrups to a cup
Add chilled coffee or espresso
Stir and enjoy
Notes
If you are making it hot, just omit the ice
Like this post? View another: