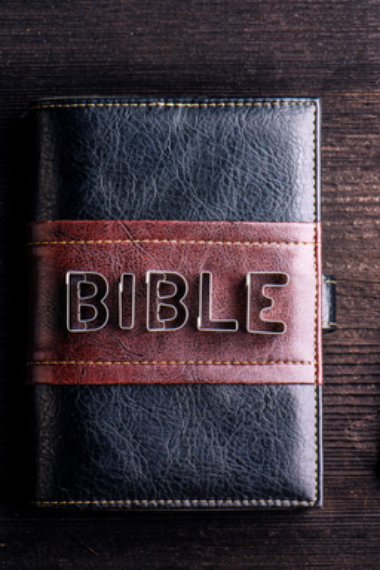 As a parent, I know that it is my responsibility to teach my children about the Bible and what it says. As a Christian, I know that it is my responsibility to read the Bible and DO what it says. There are a million different ways to incorporate scripture into your life and the life of your children. I would like to share with you one extremely easy way to effortlessly memorize scripture.
To help support our blogging activities, our site contains affiliate links. If you make a purchase from a link on our site, we may receive a small percentage of that sale, at no extra cost to you. Blessed Beyond Crazy is a participant in the Amazon Services LLC Associates Program, an affiliate advertising program designed to provide a means for sites to earn advertising fees by advertising and linking to amazon.com.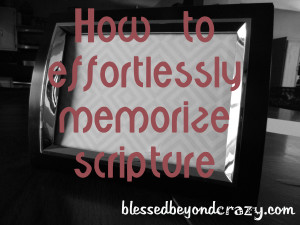 One day I was reading Romans, and I got to Romans 12:2, "Do not conform to the pattern of this world but be transformed by the renewing of your mind. Then you will be able to test and approve what God's will is–his good, pleasing and perfect will." WOW! I love that verse. I just HAD to write it down somewhere. I wanted to meditate and be reminded of that for a while.
This happened to me when I spotted an abandoned picture frame laying around in the post-Christmas pile of "things-that-have-not-yet-found-a-home." AH! It clicked. I could make a scripture board out of this frame by using a dry erase marker on the glass. Of course, this isn't exactly an original idea. If you have been on Pinterest longer than an hour, you'll see projects like this for leaving love notes, daily reminders, or even a whole week's schedule.
This project takes approximately 5 minutes or less.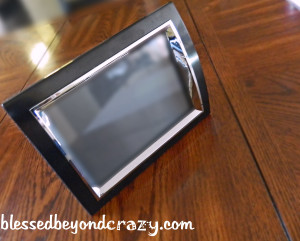 First, you need to locate an empty frame. I used a 5 x 7. Use whatever size you want. If you happen to be an organized person and do not horde stuff (such as empty picture frames), you could pick up a super cheap one at a thrift store or the dollar store. Next, find scrapbook paper. If you happen to be like me, and are unorganized and can't find your scrapbook paper, use regular paper and attempt to make chevrons with a highlighter draw a pretty design yourself.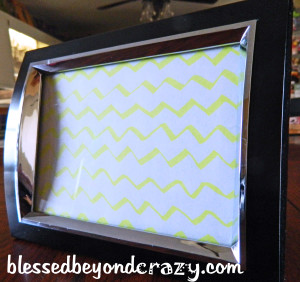 And I found my scrapbook paper!!! Much prettier!
Make sure to pick a light colored paper and design so when you write on the glass your words are visible.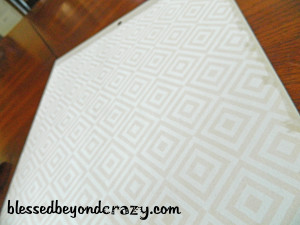 The steps are ridiculously easy!!!
Trace the back of the frame on the back of your scrapbook paper.
Cut
Frame
Locate a dry erase marker. Write!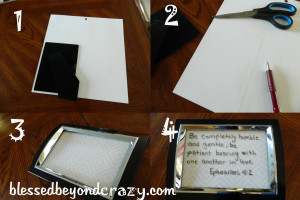 "Be completely humble and gentle; be patient bearing with one another in love." Ephesians 4:2
Who doesn't need to be reminded of this verse? What an awesome passage!
And the finished product!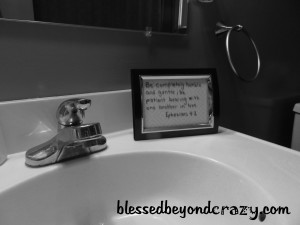 As you can see, I put this in my bathroom. I chose the bathroom because we spend a lot of time standing at the sink: brushing our teeth, getting ready, drying off after a shower, etc. It is a pretty hard location to ignore. Every time I go in there I see the verse; if my children are in the bathroom with me (when are they not with me!), I read it aloud. Another good location would be next to your kitchen sink or on a coffee table.
I try to change the verse every week, but I encourage my husband to change it whenever he comes across a verse that we could memorize or meditate on.
After a while, I know that this picture frame will be easy to ignore. It won't be new and it will just blend in with the other bathroom decorations. A good way to keep this visible is to periodically change the scrapbook paper in the frame, change the color of the marker, or change the frame itself. Now it is easier to catch our eye and for us to take the time to read the verse.
If you can't think of a verse off the top of your head I would encourage you to do a search at biblegateway.com, or something similar, on a topic that you may be struggling with. A few examples: joy, affirmation, anger, forgiveness.
I hope this is helpful for your family.
What are some easy methods that your family uses to memorize scriptures? I would love to hear from you!
Anna