Guys, something really awesome happened to me this past weekend!
I made 5, yes FIVE, new recipes from Pinterest. That's a lot of cooking, and that's a lot of FAITH in my pinning abilities.
So, normally I'm gambling about 50/50 chance on the recipe being a success or a flop. I've had some real dosers in the past. Like throw out the whole meal (plus the pan) then immediately delete that pin! (I'll admit, sometimes it's my fault for trying to modify a recipe).
However, this past weekend they were all a success! Every single recipe I tried from Pinterest was AMAZING! So good, in fact, that I have to share them with everyone. Best of all, I've just done your menu planning for you, dessert and all!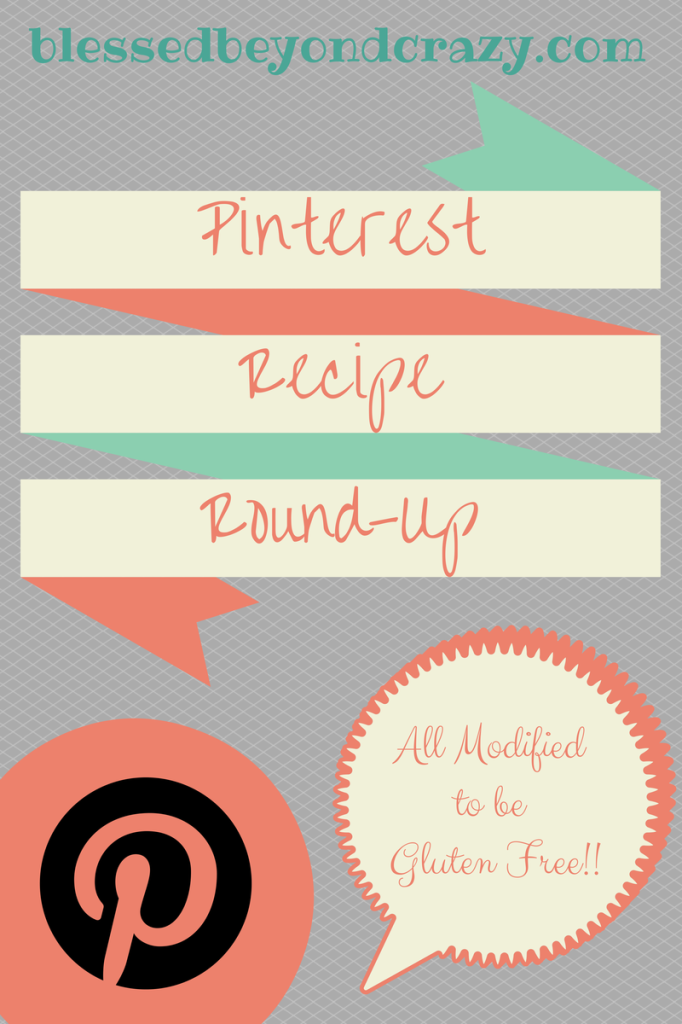 1. Chicken and Wild Rice Soup
Yummm, comfort food! I'm probably the only weird one who makes hot soup in August, but this recipe was totally worth it!
For some reason I can't find wild rice in a grocery store around where I live. So I used normal white rice. It was still delicious, but I recommended using Wild Rice if you can find it. I loved the mushrooms in this soup!
This soup calls for flour. To make it gluten free I used cornstarch instead of flour. The flour to cornstarch substitution ratio is 2:1.
Or, go straight to this recipe!
2. Spicy Apricot Chicken
I had this pinned for a loooonnnngg time before I decided to give it a chance. I was thinking this is either going to be awesome or horrible! I was scared to even tell my husband what I was making because he would have called me crazy!
Thankfully, it turned out AWESOME! It was sweet and spicy! My kids even liked it! My son said it reminded of Chinese food.
I had to make this gluten free, so I used cornstarch as my coating instead of bread crumbs. This gave it a bit of a weird texture (still delicious though). Next time I think I'll just skip the coating all together.
Or, go to straight to this recipe!
3. Gluten Free Cinnamon Rolls Cinnabon Copycat Recipe
Best Cinnamon Rolls I have ever had in my entire life!
I normally don't like cinnamon rolls! I'm not a big cinnamon fan (ironically I'm featuring 2 cinnamon recipes in this roundup). My husband was complaining that during the appreciation week at work, someone brought in cinnamon rolls and he couldn't have any–CHALLENGE ACCEPTED! I made these while he was at work to surprise him. They were so good that I drove to his work place to drop them off for him!
These are AMAZING fresh out of the oven. CAN'T. STOP. EATING. THEM! There is no way anyone could ever tell that these are gluten free! My 6 year old took a bite of one and said, "This makes me feel good!"
I did not modify this recipe at all. I would stick exactly to the directions and ingredients. She even has a video to demonstration how to properly roll out the dough. Use lots of flour!
I almost didn't make this recipe because it calls for almond flour, and I didn't have any. But I did have a bag of almonds, so I made my own! Just throw some almonds into a blender and pulse until they turn to flour. Be careful, if your over-blend you will get almond butter. Then I put it through a flour sifter to sift out the bigger chunks.
Or, go straight to this recipe!
4. Grilled Peaches with Cinnamon Whipped Cream
Three years ago I saw a recipe for grilled peaches in a Kraft Food & Family magazine. Ever since then I have wanted to try them. It wasn't until this past weekend when my grandparents brought about 5 dozen peaches from their farm that we finally made them! To say I had high expectations is an understatement. I was stoked to find this recipe on Pinterest. These were super fast and easy to make! My husband and I devoured 3 peaches in about 5 seconds. The cinnamon whipped cream is amazing! Just a heads up though–Make sure your grill is clean!! Ours had a slight BBQ flavor from our past meals. It took away from the peach flavor a little bit. Next time I think I'll try broiling them in the oven instead. But I will definitely still be making the cinnamon whipped cream!
Or, go straight to this recipe!
5. Texas Caviar
While I love the name of this recipe, it's pretty deceiving. No fish eggs here! This was another recipe that I could not stop eating. This stuff is addicting! I've made two batches so far. And both were gone in about 24 hours.
The worst part about this recipe is that it has to marinate for about 12 hours before it gets good. It's hard to resist when you see it staring back at you in the fridge… must…have…more…self…control!
I did not use the black eyed peas or the jalapeno.
Or, go straight to this recipe!

You can find these recipes (and other deliciousness) on the following Pinterest boards:
Follow Anna Martin's board Favorite Recipes on Pinterest.
Follow Anna Martin's board Gluten-Free Food on Pinterest.
Follow Anna Martin's board Sweet tooth! on Pinterest.

Share your favorite Pins with us please!
Enjoy!
Anna