The weather is getting a little cooler, the apples are falling off the trees and it's a perfect time to make this good old-fashioned Praline Apple Bread.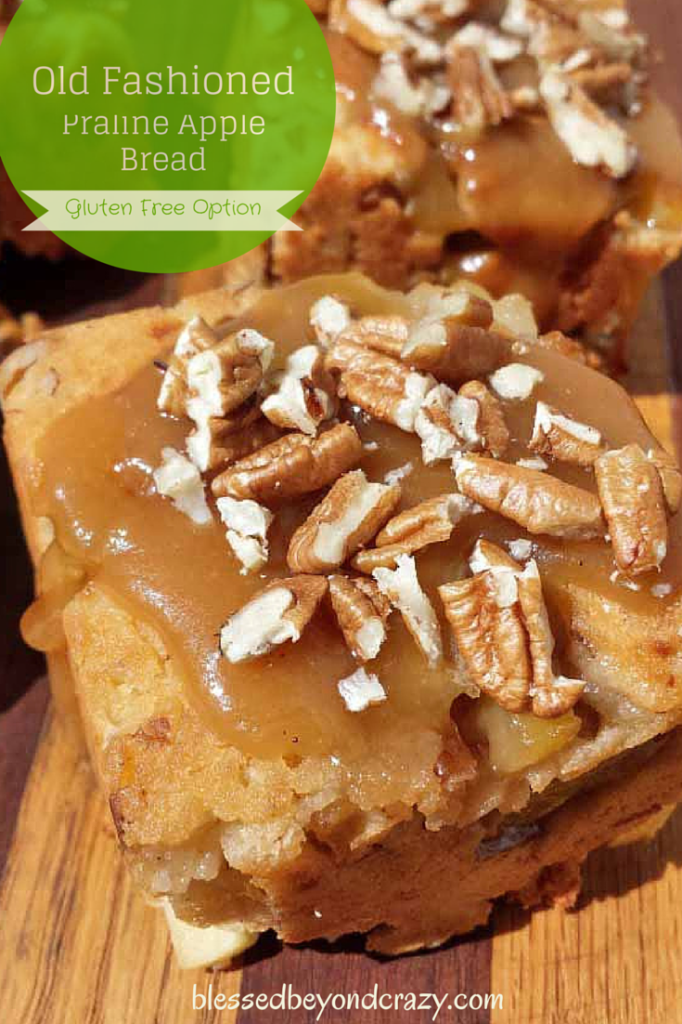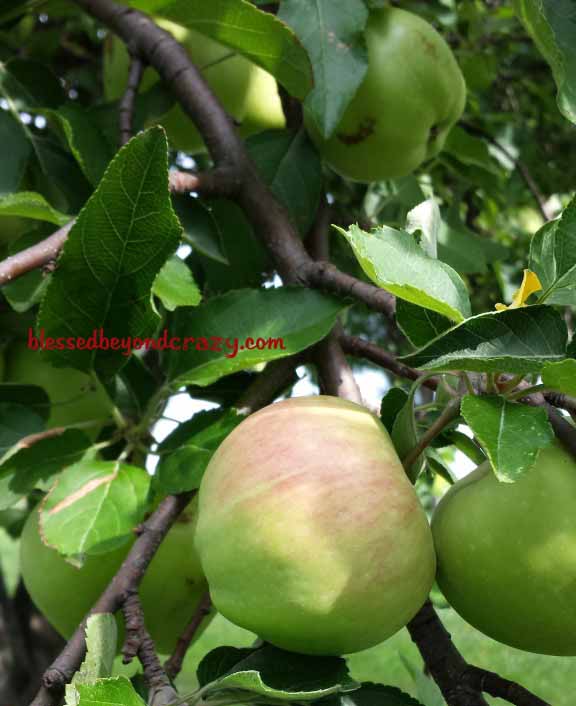 This bread is absolutely delicious all by itself, or served with a cup of coffee, apple cider or hot chocolate.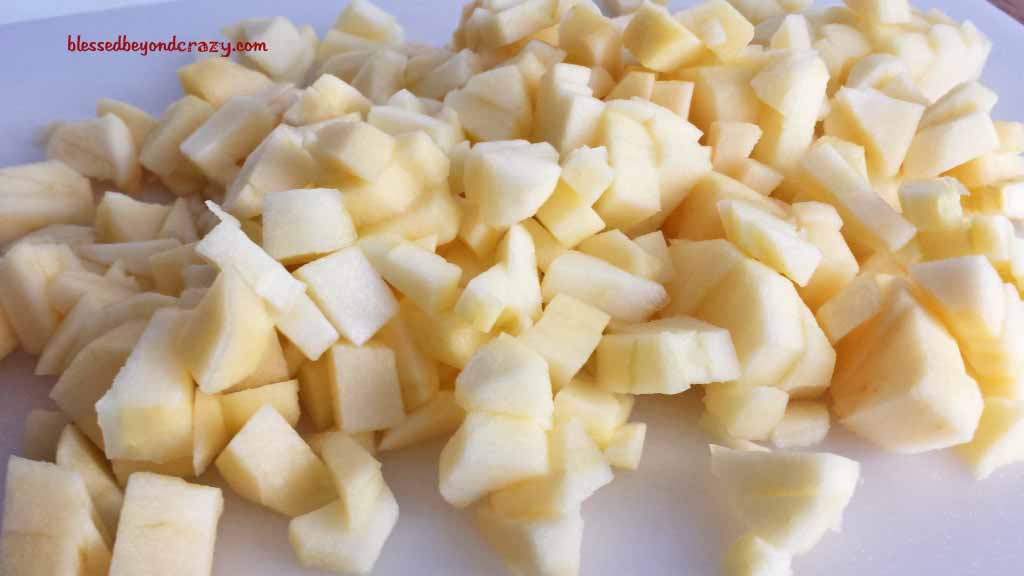 Apples are so yummy and good for us and I like to use them in recipes whenever I can. Measure 1 1/4 cups apples, peeled and chopped. Sometimes I leave the peels on for extra fiber; especially if I am using organic apples from my parent's farm. The picture in this post of the apples hanging on the tree is a picture from their farm earlier this summer. The apples were still green and slowly turning red. They are as organic as you can possibly get. No chemicals or pesticides. Totally nature made.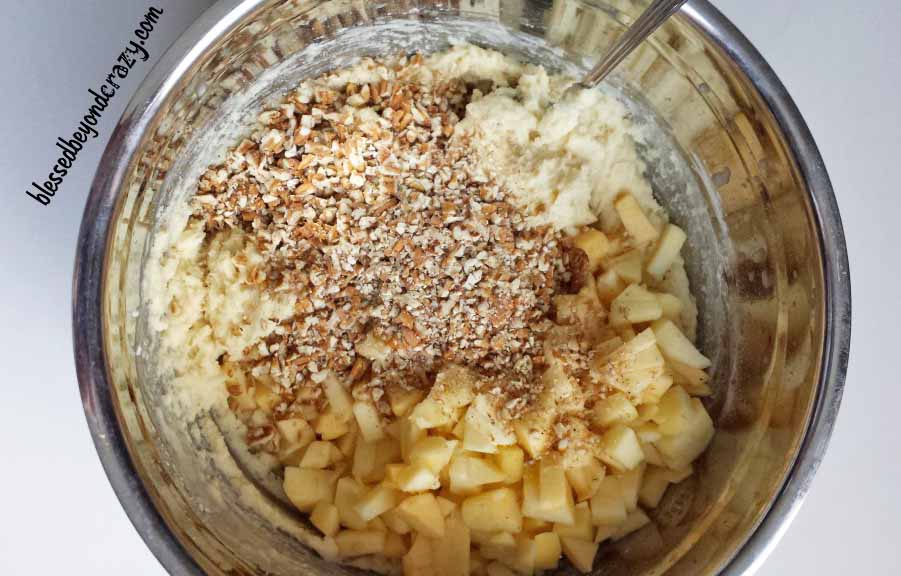 Combine the ingredients according to the directions and place batter into a greased and floured loaf pan or muffin tin. I recently purchased this Wilton's baking pan and absolutely LOVE it! I kept seeing this neat square mini loaf pan and I finally decided to buy it. Man am I glad I did! It does not stick, browns evenly and is easy to clean. I have decided that I can use this versatile pan to make mini meatloaf's, brownies, mini cakes, etc… You can find this mini loaf pan here: Wilton Brownie Bar Pan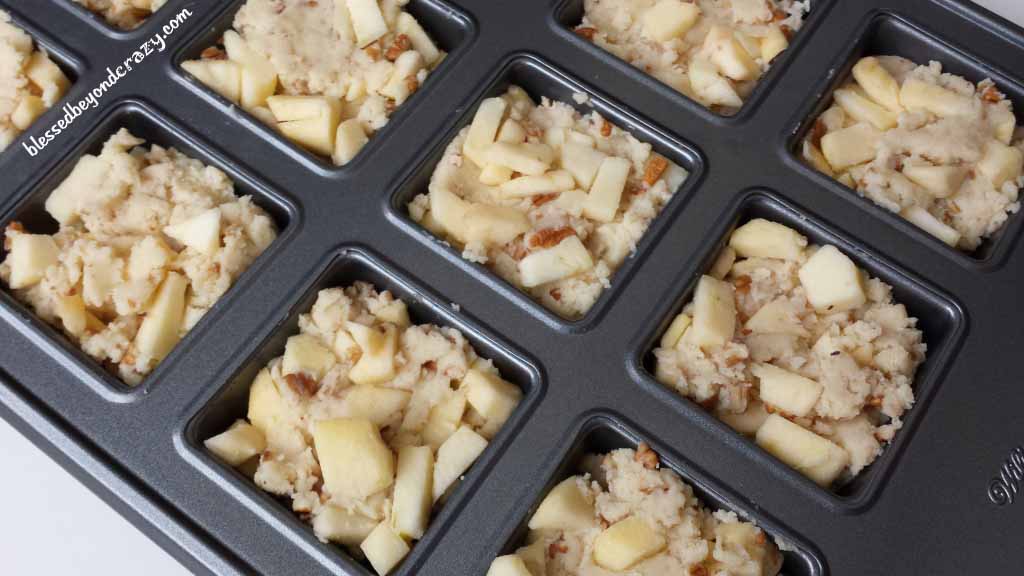 Preheat the oven to 350 degrees F.
Bake for 55 – 60 minutes for a loaf, or 45 – 50 minutes for muffins. I always check to see if the bread is finished baking by inserting a toothpick in the center. If it comes out "clean," and without any gooey batter, then they are done baking. I wish you could smell these baking simply by looking at the picture!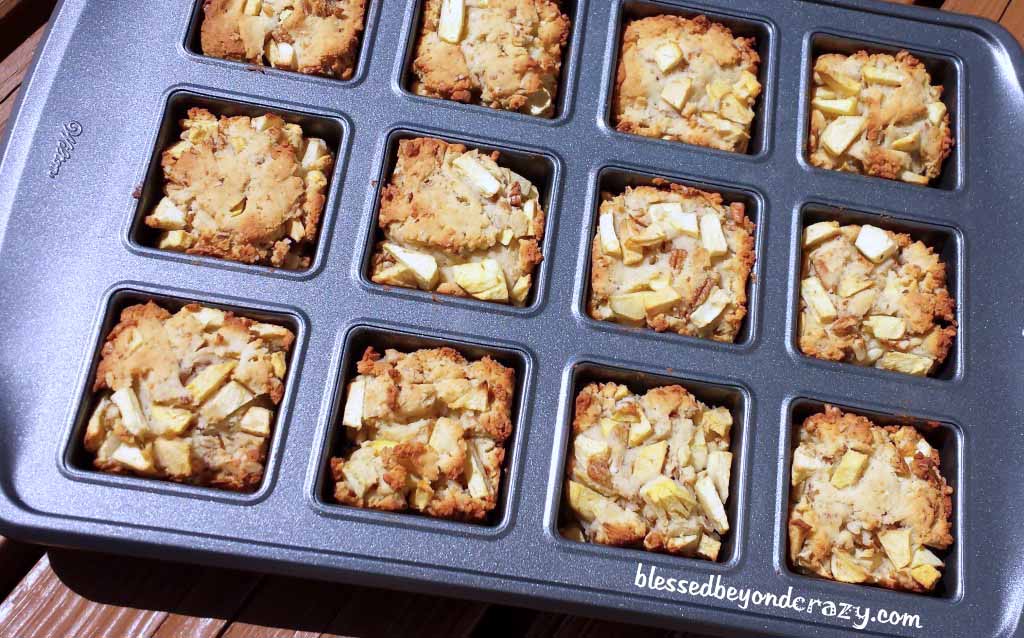 Allow the bread to cool in the pan for 10 minutes. While the bread is cooling, combine 1/4 cup butter and 1/4 cup brown sugar in a pan.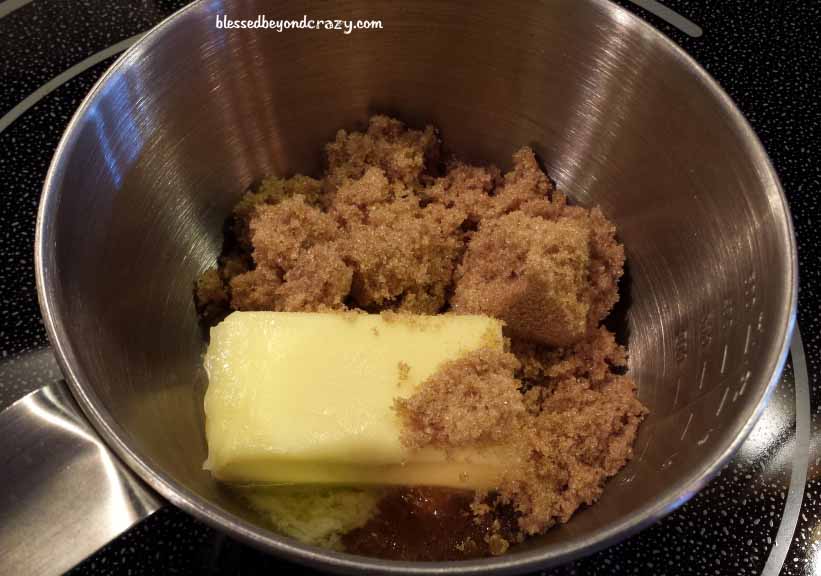 Bring praline mixture to a full boil for 1 minute; stirring frequently to keep the mixture from burning.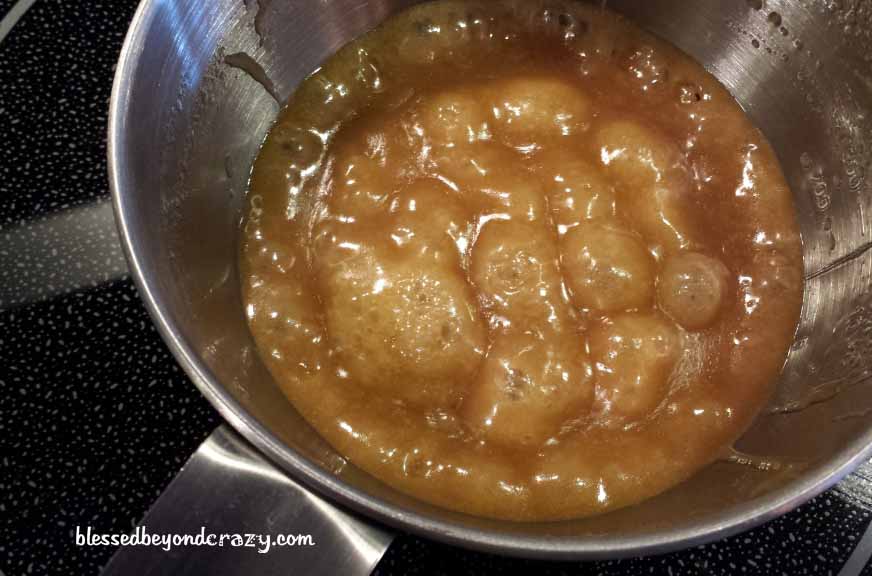 Remove bread from pan and drizzle the hot praline mixture over the bread.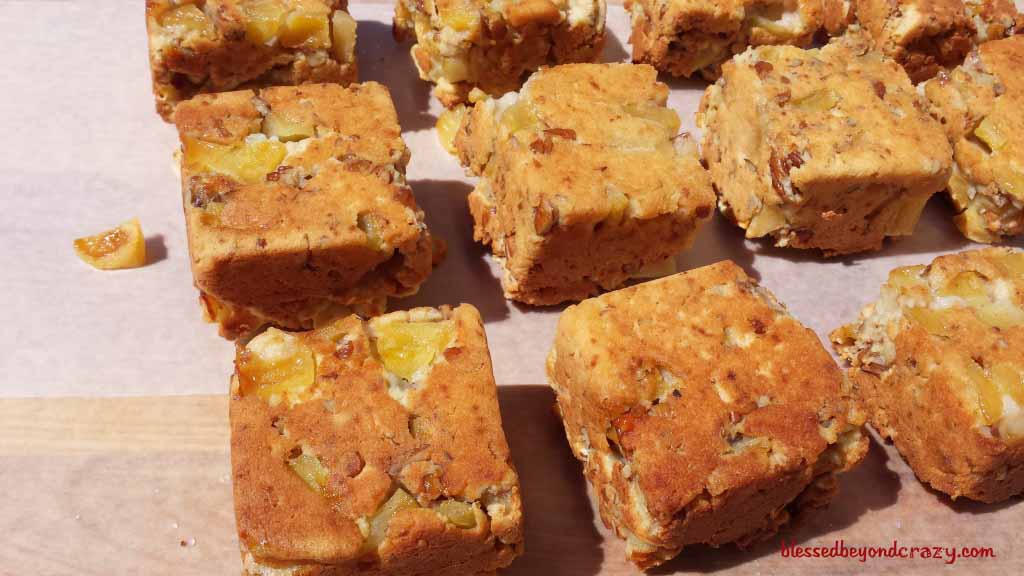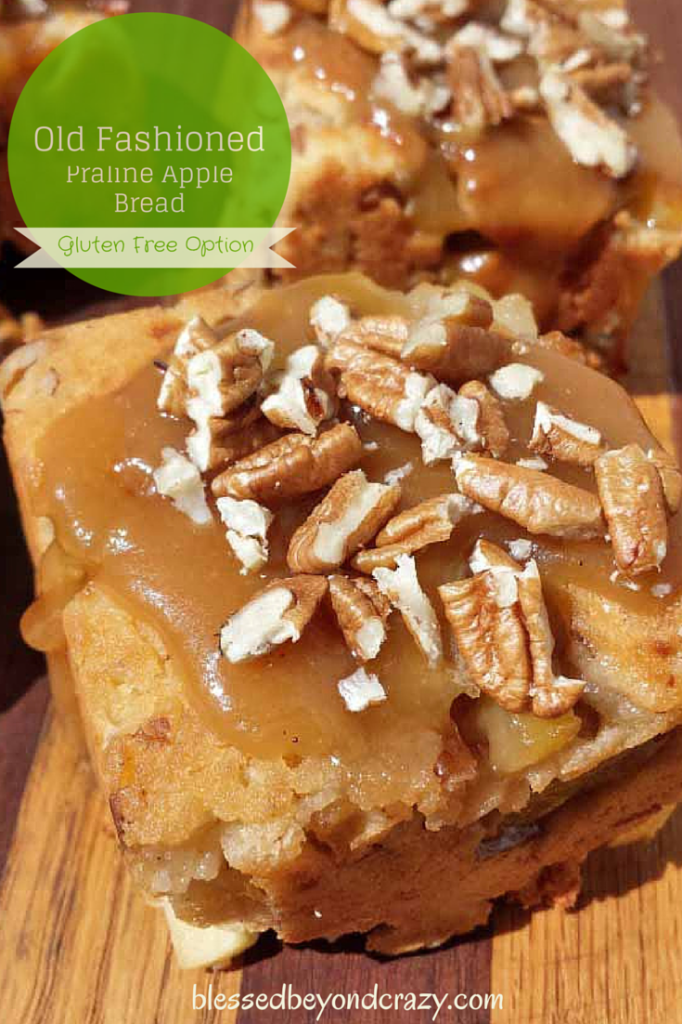 Top with additional chopped pecans.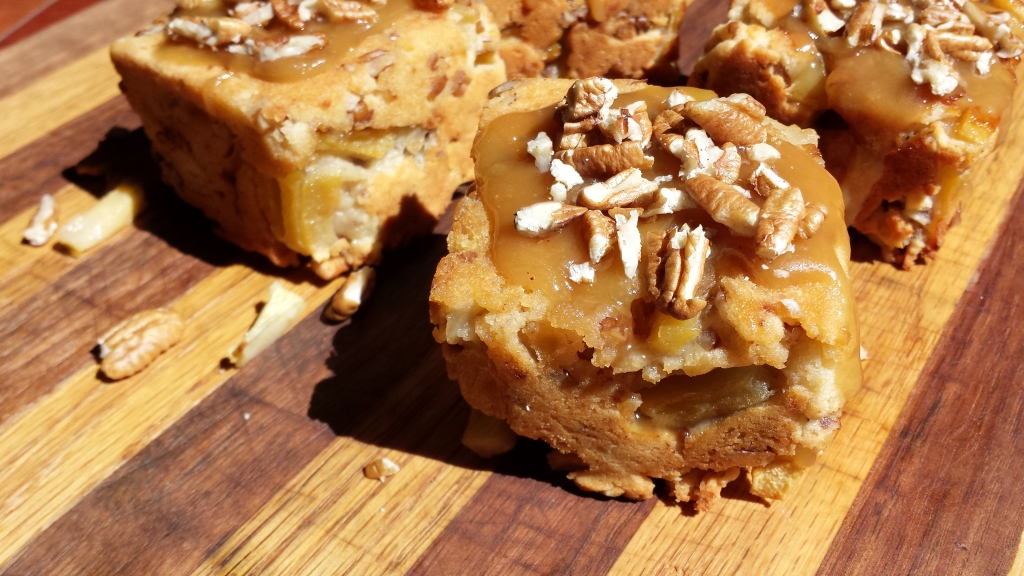 This bread smells so delicious while it's baking. It makes our whole house smell like wonderful fall.
Praline Apple Bread
2014-09-16 21:44:16
Serves 8
A delicious apple bread recipe.
Ingredients
1 cup sugar
8 oz. sour cream (*for gluten free option: use GF sour cream)
2 eggs
2 teaspoons vanilla
2 cups flour (*gluten free option: use GF flour blend)
2 teaspoons baking powder (*for gluten free option: use GF baking powder)
1/2 teaspoon baking soda
1 1/4 cups apples, peeled and chopped
1 cup chopped pecans, divided
Glaze
1/4 cup butter
1/4 cup brown sugar
Instructions
Combine first 4 ingredients.
Beat on medium for 2 minutes.
Mix in dry ingredients.
Stir in apples and 1/2 cup pecans.
Pour into greased and floured 9 x 5 loaf pan.
Bake at 350 degrees for 55 - 60 minutes.
Cool in pan for 10 minutes.
While cooling: bring brown sugar and butter to a boil for 1 minutes.
After removing bread from pan, drizzle with boiled praline mixture.
Top with additional chopped pecans.
Notes
Optional: add 1/4 teaspoon of ground cinnamon, 1/8 teaspoon of ground nutmeg and a pinch of ground cloves.
Blessed Beyond Crazy http://blessedbeyondcrazy.com/
Happy apple season!
Linda