With Halloween just a few days away I thought it would be fun to have a cute little snack for the grandchildren when they come for a visit. Thus, Boo Boo Bites were born.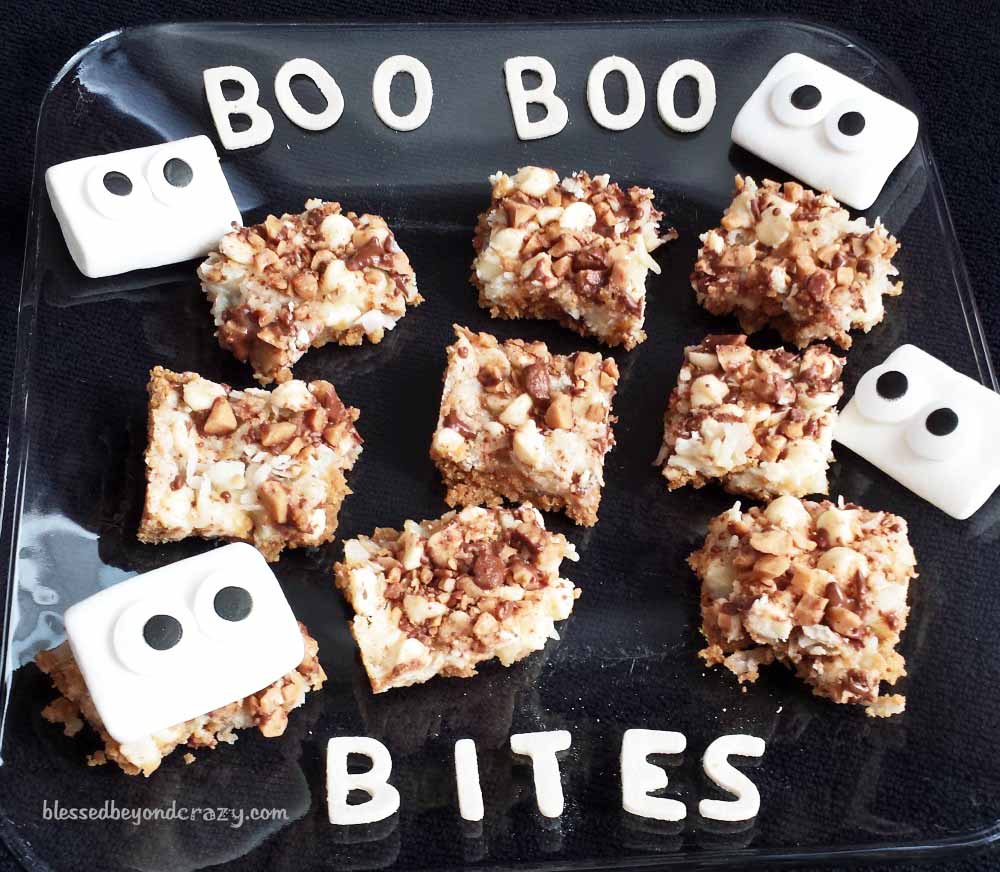 I have a confession. Sometimes I get a hanker'n, (that is such a fun word), to play in the kitchen. Today was one of those days. Since my grandchildren are still small I wanted to make a treat that is the perfect size for little hands. Of course…. as you all know by now, I always include a gluten free option.
These fun little sweet treats all started with a few fondant letter cutters, marshmallows and candy eyeballs.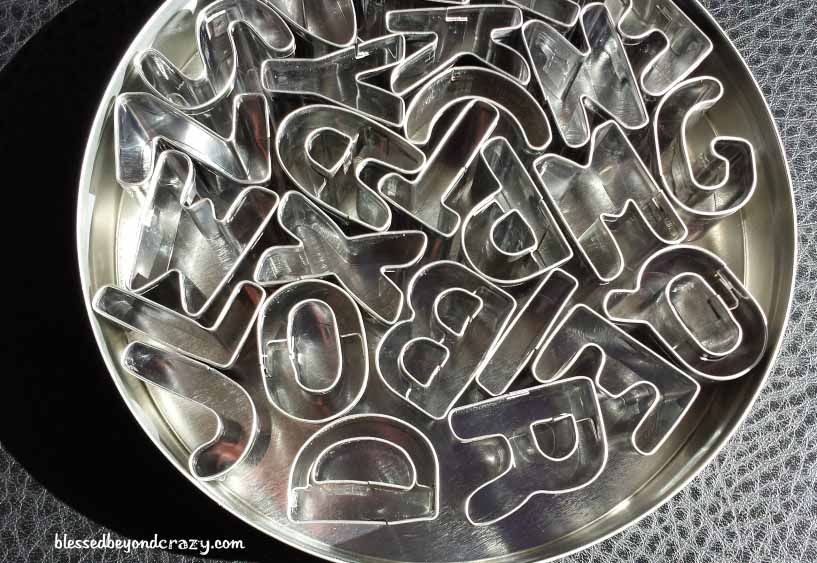 Do you ever go into a hobby store and just browse? I find that often times I will be inspired to create something when I stroll up and down those aisles. Sometimes I find a great bargain. That was the case a few days ago when I stumbled upon some neat 1″ metal alphabet letter cutters with a metal case on sale; plus I had a 40% discount coupon. Boom! Sold! Now my mind is going crazy with ideas and I'm sure you will see these creeping into more upcoming post!
To find metal alphabet letter cutters like mine, click here: Walnut Hollow Clay Cutter Alphabet Set-1″ Letters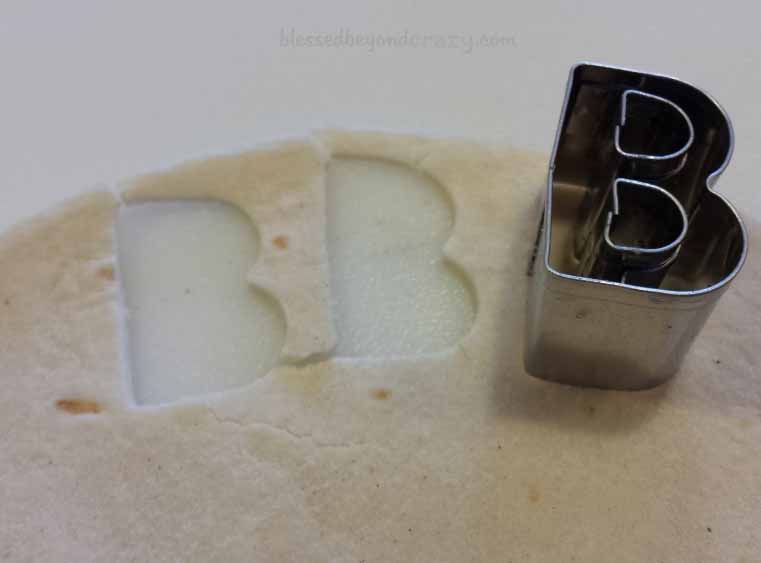 I usually have a package of gluten free tortilla wraps in my refrigerator so I grabbed a tortilla and started punching out letters. It worked beautifully.
To create these delicious Boo-Boo Bars, I modified a recipe I found in one of my cookbooks called Best-Loved Cookies. The original recipe is called "Chippy Chewy Bars" found on page 232. I do not know who the original creator is, but this particular cookbook has well over 375 fabulous cookie recipes.
If you are interested in this cookbook you can find it here: Best-Loved Cookies
This recipe starts by making a bottom crust by combining butter and graham crackers.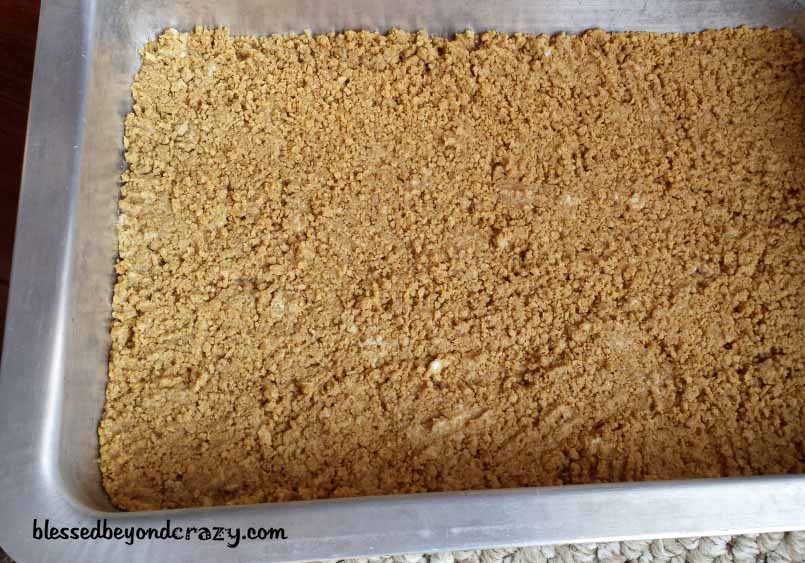 Next, I sprinkled white chocolate chips all over the crust.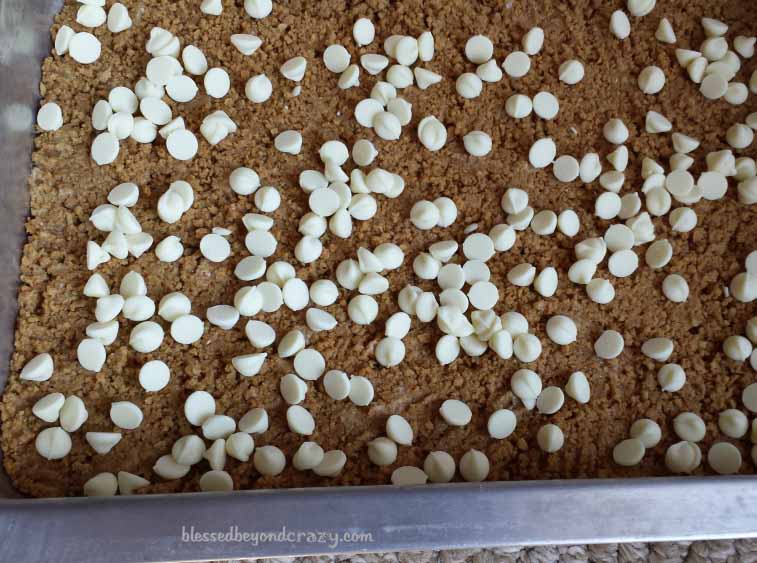 Now a layer of shredded coconut.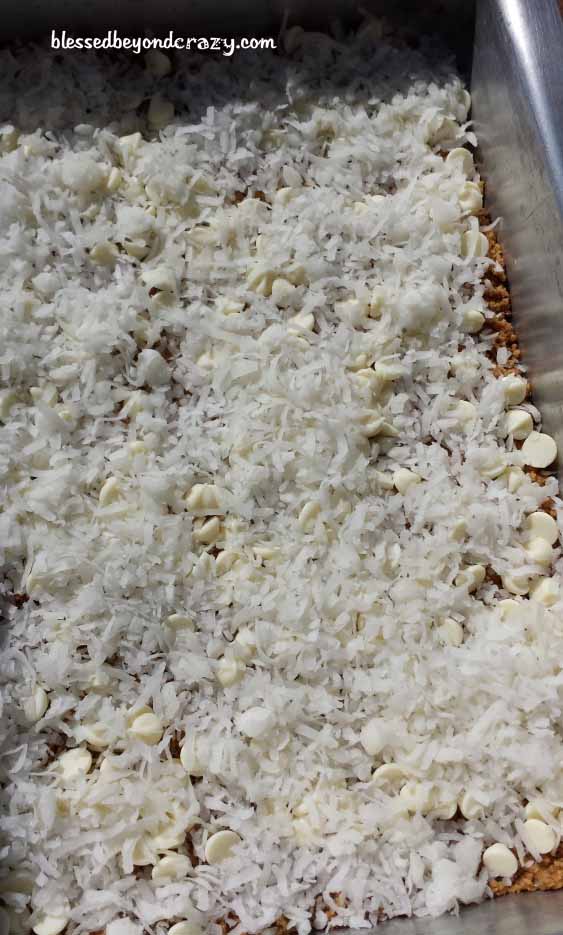 And more white chocolate chips.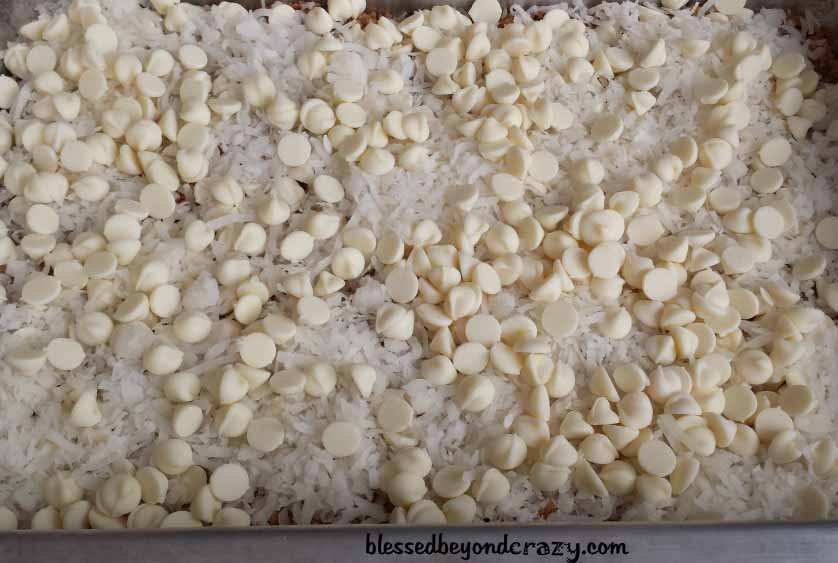 I then drizzled a can of sweetened condensed milk over the top and baked it for 20 minutes.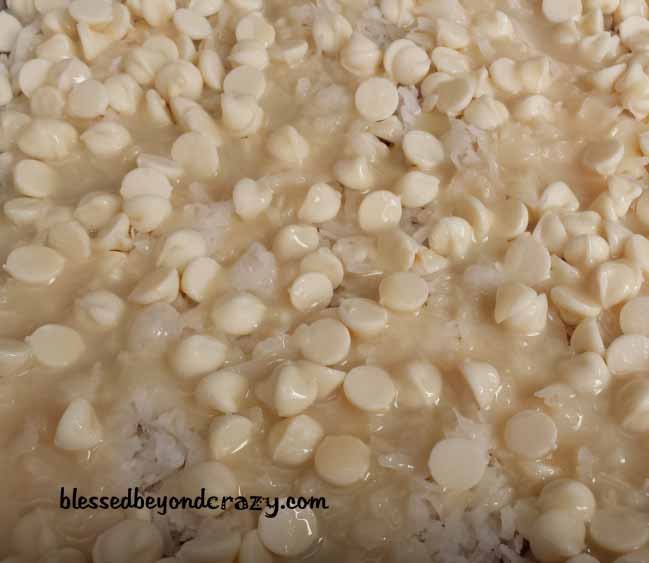 When the bars were finished baking I removed them from the oven and immediately sprinkled Heath Bit Chocolate Toffee chunks over the top.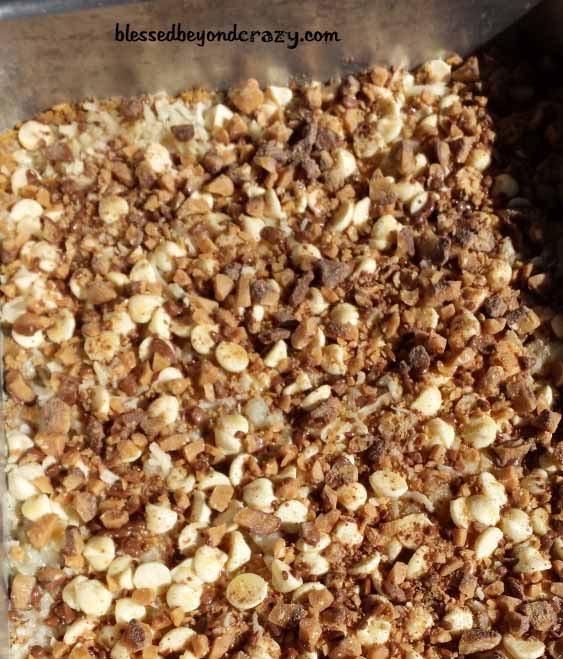 These bars remind me of Almond Joy candy bars with a hint of toffee.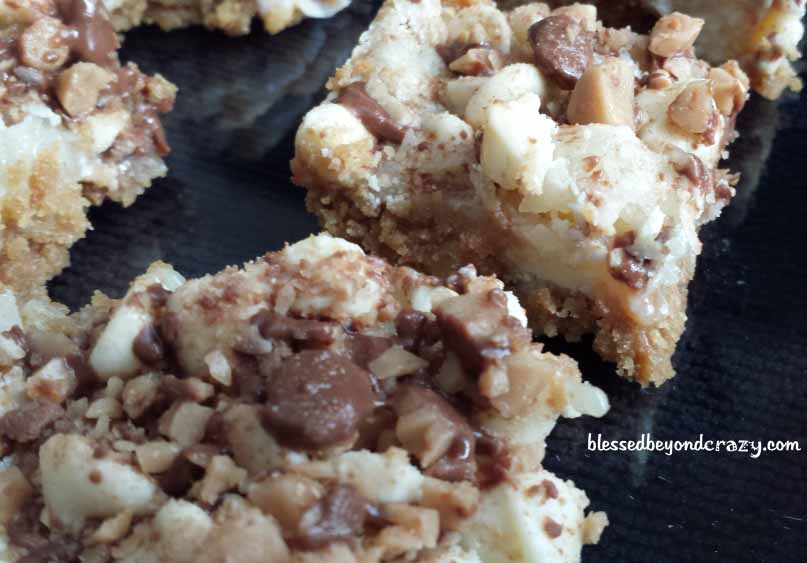 After the bars were at room temperature I cut them into mini bite-size segments. Since I was having fun and playing around with these I really didn't care if they were perfectly cut. (Shhhh… don't tell, but before taking these photos, a few of these landed in my tummy! It's our secret. Ok?)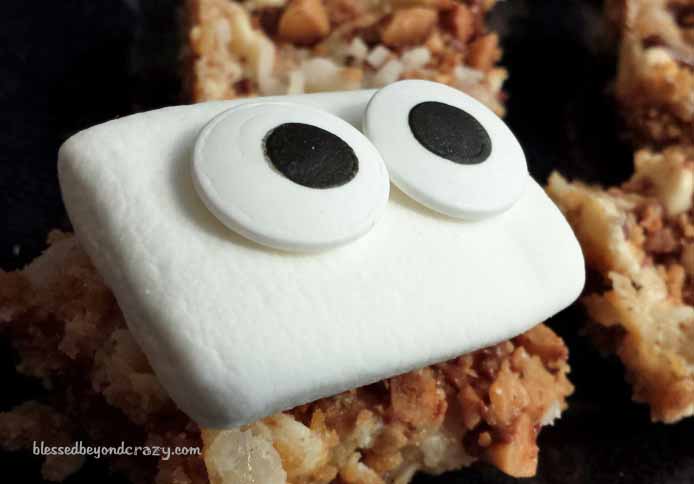 After I had finished cutting the bars into little 'bites' I placed a few of them onto a glass plate. With a drop of white cake icing, I attached some fun little candy eyeballs to marshmallows and make cute little 'ghost' out of them. I gently laid a few marshmallows on top of the 'bites'. (*GF Option: make sure to use gluten free candies)
I also placed the cut-out letters onto the plate.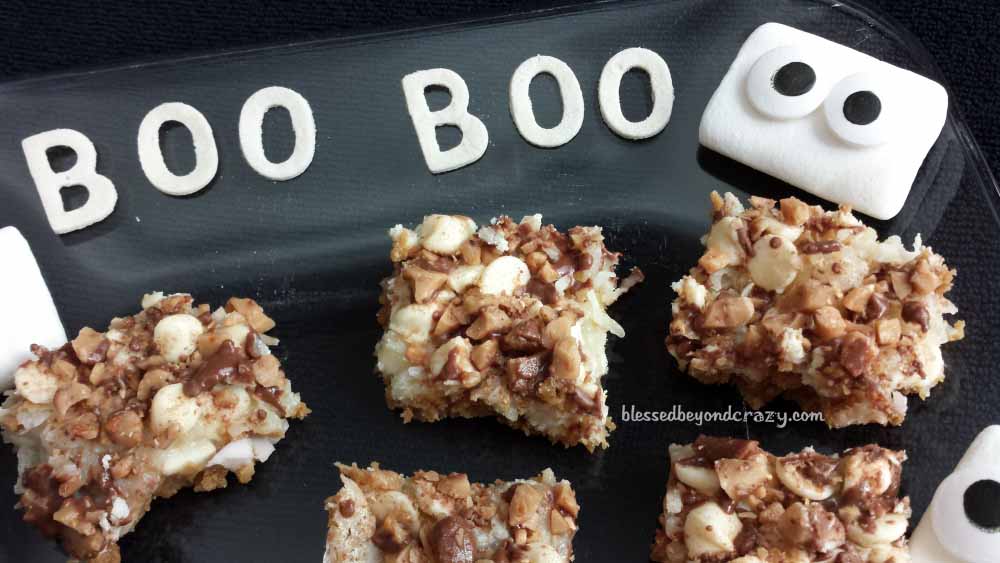 Hmmm…I can't decide if I had more fun creating these yummy treats, or taking pictures of them.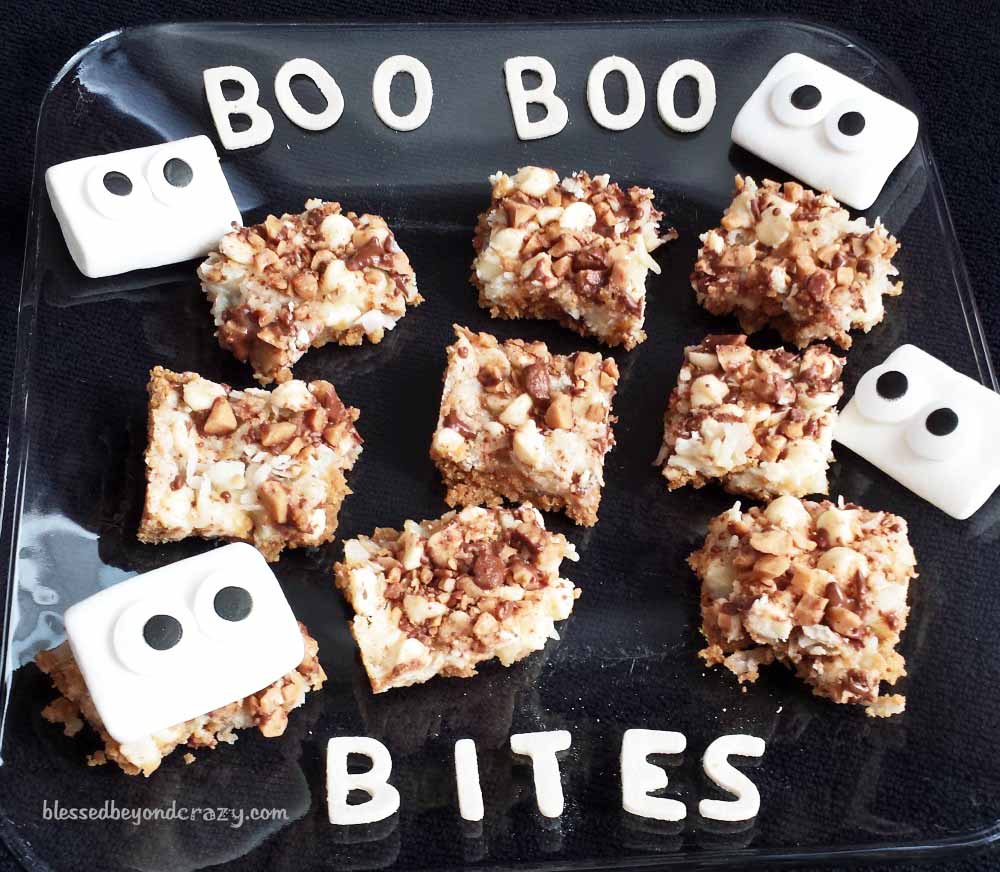 Well, I ended up making a whole family of these "Boo-Boo" Bites.
I packaged up a few of these to give to a friend. I think that it will be a fun when she opens up the packing to find these cute little bite-size, yummy candy-bar like, ghost treats starring at her.
Boo-Boo Bars
2014-10-27 21:45:44
Delicious bars that taste like a candybar.
Ingredients
1/2 cup butter (softened)
1 - 1/2 cups graham cracker crumbs (*GF Option: use gluten free graham cracker crumbs)
1 - 2/3 cups white chocolate chips (divided)
1 - 1/2 cups sweetened coconut flakes (*GF Option: use gluten free coconut)
1 can (14 ounces) sweetened condensed milk
1 - 1/2 cups Heath Bits Chips
(*GF Option: add 1 teaspoon guar gum, 1 heaping Tablespoon potato starch, plus 1 Tablespoon ground flax to the graham cracker mixture)
Instructions
Heat oven to 350 degrees F.
Combine graham cracker crumbs and softened butter.
Place mixture into a greased 13 x 9 x 2-inch baking pan; press down with a fork.
Sprinkle half of the white chocolate chips over crumbs.
Sprinkle coconut over white chocolate chips.
Sprinkle the remaining white chocolate chips over coconut.
Drizzle sweetened condensed milk evenly over top.
Press down firmly.
Bake 20 minutes, or until lightly browned.
Remove from oven and immediately sprinkle Heath Bits evenly over the bars.
Allow to cool to room temperature.
Cut into bars.
Optional
Place bars in freezer for 20 minutes before cutting to assist in making 'cleaner' cuts.
Use coconut oil instead of butter.
Top with M&M's instead of Heath Bits
Sprinkle with chopped nuts
Adapted from Best Loved Cookies Cookbook
Adapted from Best Loved Cookies Cookbook
Blessed Beyond Crazy http://blessedbeyondcrazy.com/
I can't wait to serve these to my grandchildren.
Happy Halloween!
BOO!
Linda