This whole delicious concoction starts with a simple flour burrito wrap. Since I am on a gluten and corn free diet, I used Udi's GF burrito wraps to make my dessert. I used regular flour burrito wraps to make this dessert for my husband. On a large cookie sheet place burrito wraps making sure that they do not overlap. Brush on a thin layer of melted butter making sure it goes all the way to the ends.
Sprinkle a generous amount of cinnamon and sugar over top of the butter.
Bake in a 350 degree preheated oven for approximately 10 – 15 minutes; or until the burrito wraps turn a golden brown.
The non-gluten free wraps usually get a few 'bubbles' in them, so don't be alarmed. This is normal. As the wraps bake, you can pop the 'bubbles' with a toothpick if you like.
Once the wraps are finished baking, remove from the oven and allow them to cool completely.
Once the wraps are cool, add a scoop of your favorite vanilla ice cream, drizzle with honey and top with a dash of ground cinnamon.
Now the fun part…. break off pieces of the baked burrito wrap and use it as a 'spoon' for the ice cream.
Repeat the process.
Don't be afraid to get your hands a little messy because this is a fun dessert to eat with your fingers.
This fun little dessert can be ready in no time and I dare you to eat just one.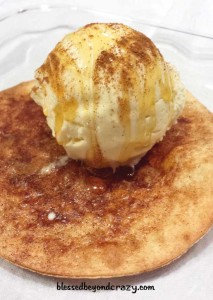 You can also use any flavor of ice cream you like and change the toppings. Here are just a few ideas:
*coffee flavored ice cream with chocolate and/or caramel drizzle
*strawberry ice cream with whipped topping and fresh chopped strawberries
*chocolate ice cream with caramel drizzle, chopped nuts and/or heath bits
Another way to eat these is by turning the wraps into "nacho" chips first.
Use your imagination.
What other combinations would you try?
Have fun making this quick and easy dessert.
Enjoy!
Linda