Have you heard? My family and I love trifles! We just can't get enough of them! I love being able to make this yummy dessert ahead of time and it's always fun trying new combinations of ingredients.
In today's post we are featuring a maple cream cheese pumpkin bar trifle. It's a great combination of pumpkin bars, whipped topping, cream cheese and a touch of maple and caramel sauce. PLUS… it can easily be tweaked to be gluten free!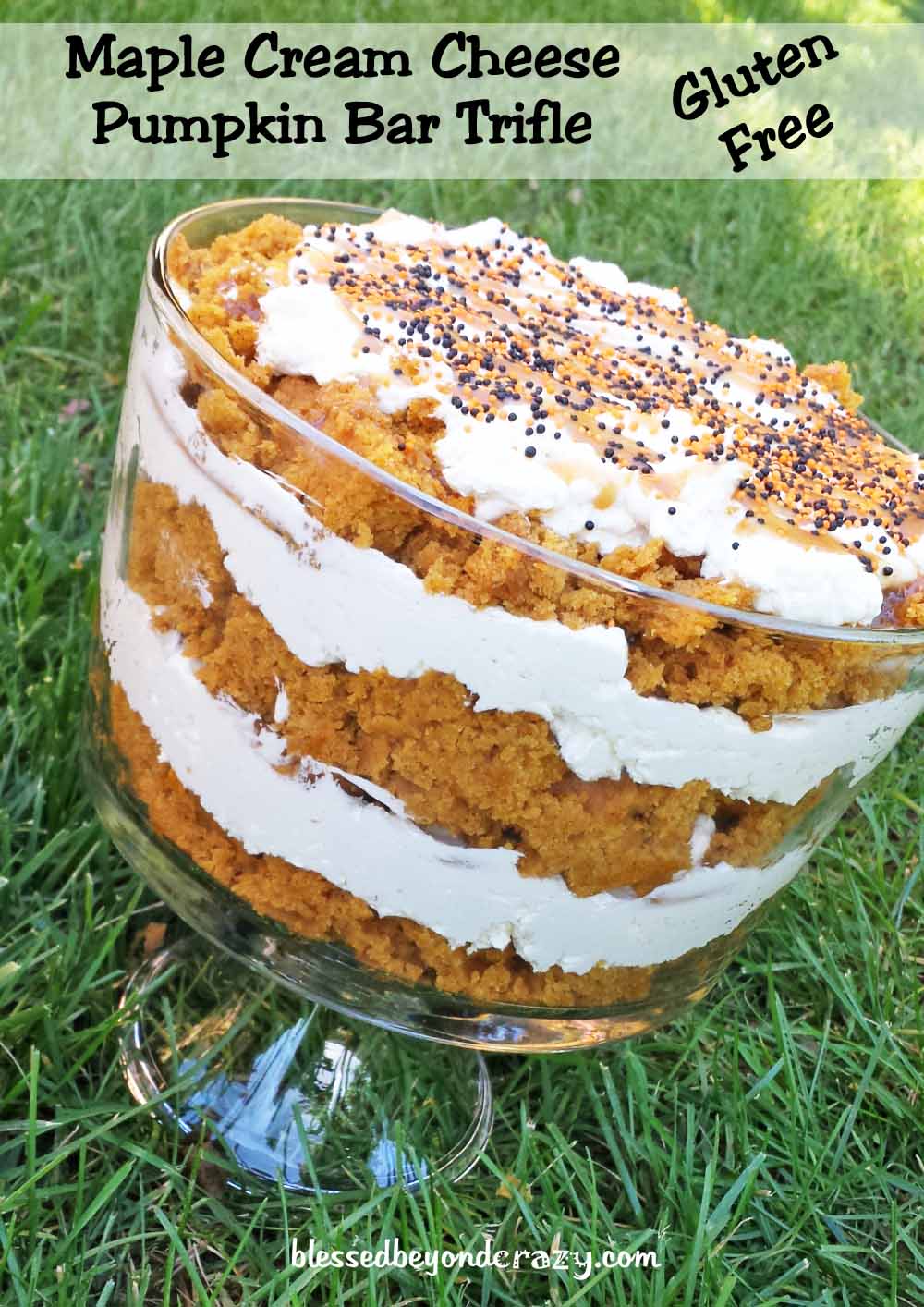 First, we need to make a batch of pumpkin bars.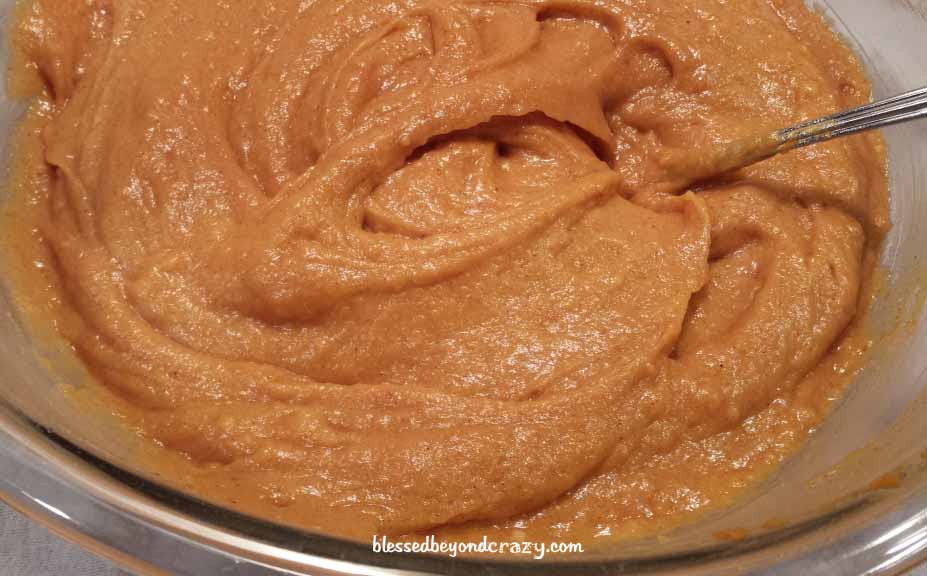 Combine the ingredients according to the directions.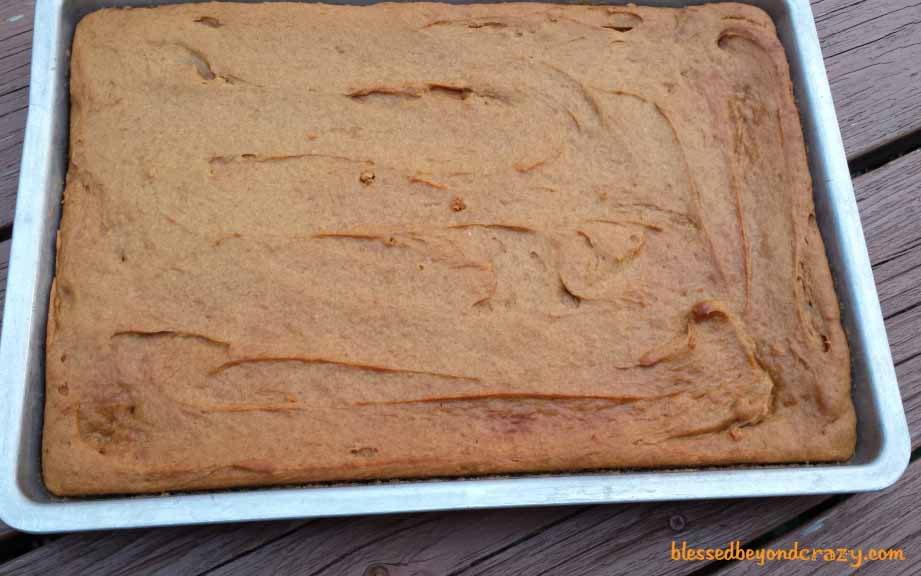 Bake at 350 degrees for 25 – 30 minutes. When the bars are finished baking, remove from the oven and cool to room temperature. (For this particular recipe the bars do not need to be 'pretty' because they will be crumbled and layered to make the trifle. In the picture you can see where I poked the toothpick into the center of the pumpkin bars to see if they were finished baking). While the pumpkin bars are cooling you have time to whip up the filling.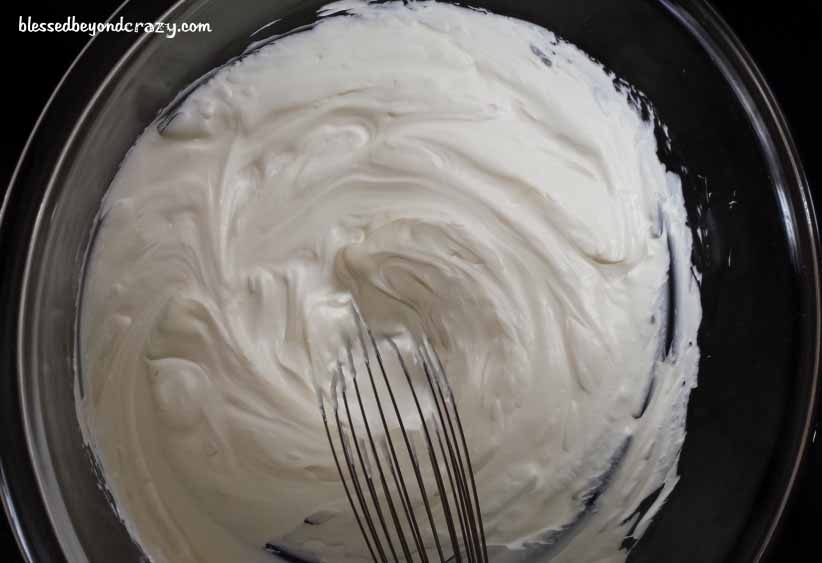 In a mixing bowl, whisk together 2 cartons of whipped topping, 2/3 cup granulated sugar, 5 drops of maple extract. Add (2) – 8 ounce packages of softened cream cheese and stir into the whipped topping mixture.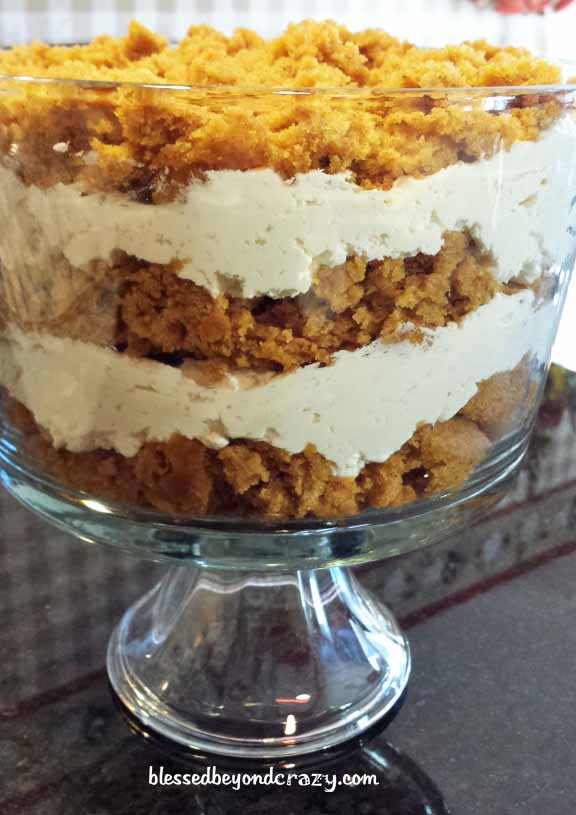 Place a layer of crumbled pumpkin bars in the bottom of a trifle bowl. Top with a layer of the cream cheese mixture and a drizzle of caramel sauce. Alternate layers until the bowl is completely filled.
To find a trifle bowl like mine click here: Anchor Hocking Presence Trifle Bowl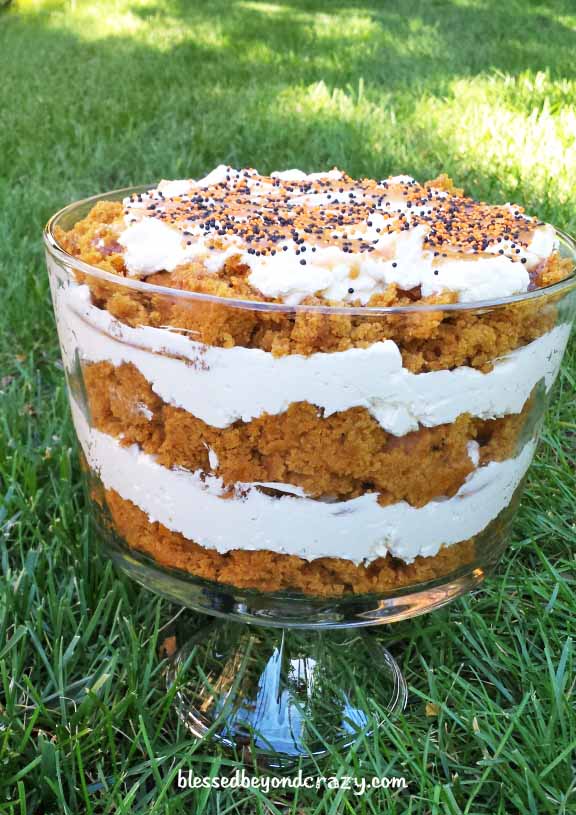 For the final touch, drizzle more caramel sauce over the top of the trifle and add colorful candy sprinkles.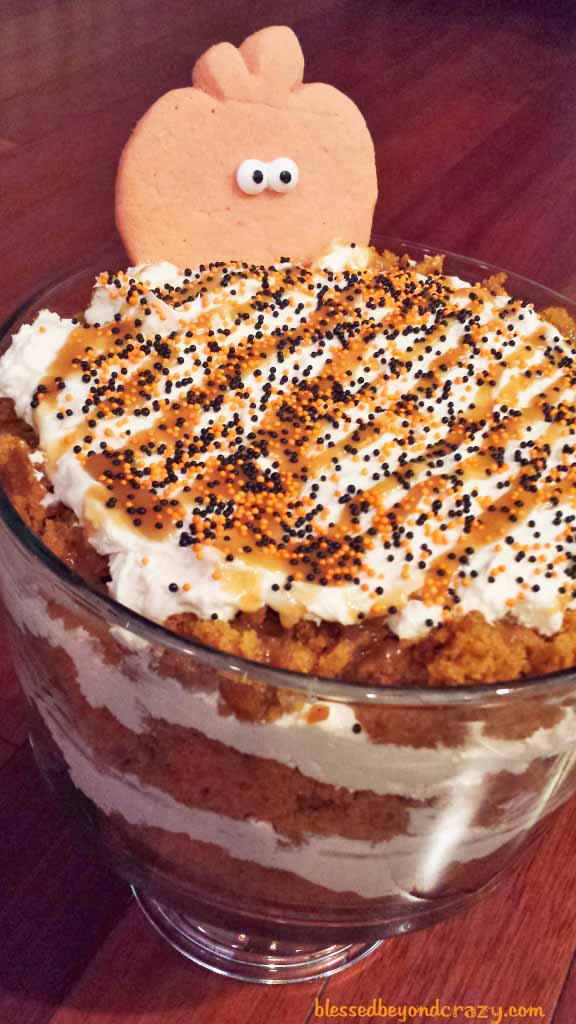 To make the trifle even more festive you can also add a fun Halloween Sugar Cookie.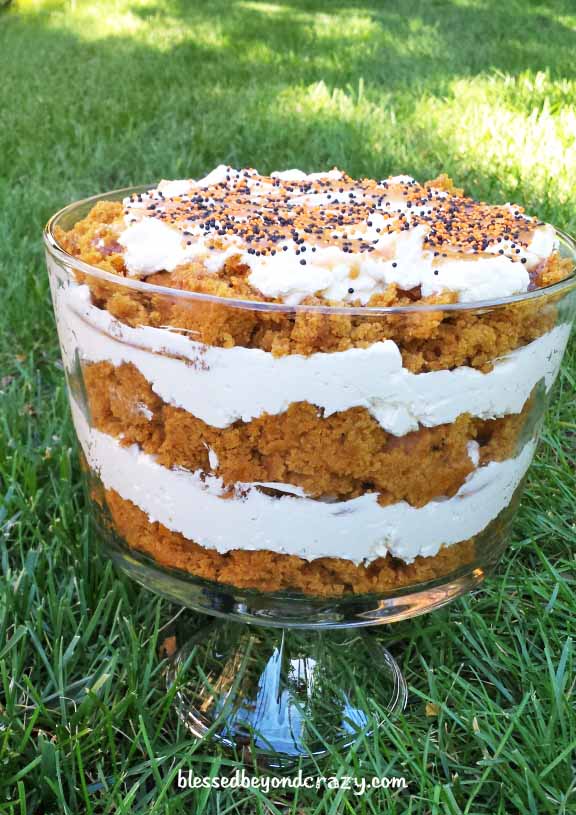 Pumpkin Bars (GF Option)
2014-10-15 22:26:45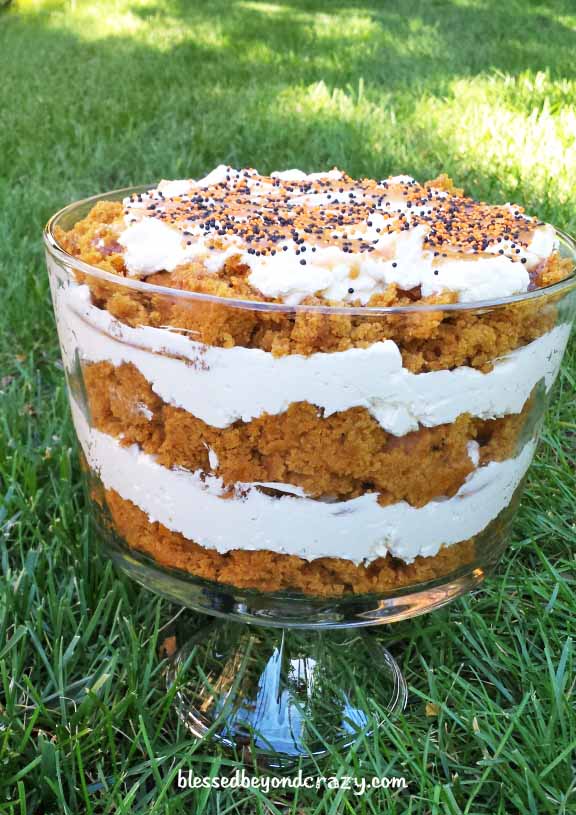 Serves 15
A deliciously moist pumpkin bar.
Ingredients
1 - 16 ounce can pumpkin
2 cups granulated sugar
1 cup canola oil
4 eggs
2 cups flour (*GF Option: use 2 cups gluten free flour blend)
2 teaspoons baking powder (GF - use a gluten free brand)
2 teaspoons baking soda (*I use aluminum free)
2 teaspoons ground cinnamon
1/4 teaspoon nutmeg
1/4 teaspoon salt
1 teaspoon vanilla
1 heaping Tablespoon ground flax
Optional: 1 cup chopped pecans
(*GF Option: 2 Tablespoons potato starch and 1/4 teaspoon Guar Gum)
Frosting
1 small carton whipped topping
1 - 8 ounce package cream cheese; softened
Instructions
In a large mixing bowl, whisk together pumpkin, sugar, oil, eggs and vanilla.
In another bowl combine flour, baking powder, baking soda, salt, cinnamon, nutmeg, flax and pecans.
Add dry mixture to the wet mixture.
Stir until all ingredients are combined.
Bake in a 11' x 16' greased baking pan for 20 - 30 minutes.
Cool.
Frost with cream cheese mixture.
Refrigerate leftovers.
Additional Topping Options
Sprinkles of ground cinnamon.
Caramel Sauce (*GF Option: use gluten free caramel sauce).
Candy Sprinkles (*GF Option: use gluten free sprinkles).
Blessed Beyond Crazy http://blessedbeyondcrazy.com/
Have fun creating your very own trifle!
Happy Fall!
Linda