Now that school is out and hot weather is upon us, it's time to enjoy all of those wonderful summertime activities. Naturally, pool parties are included in the list and can be hosted in your own backyard swimming pool, or at a rented hotel or public pool. In today's post, we share 15 Simple DIY Summer Pool Party Tips to help you host the most memorable and enjoyable pool party… ever!
To help support our blogging activities, our site contains affiliate links. If you make a purchase from a link on our site, we may receive a small percentage of that sale, at no extra cost to you. Blessed Beyond Crazy is a participant in the Amazon Services LLC Associates Program, an affiliate advertising program designed to provide a means for sites to earn advertising fees by advertising and linking to amazon.com.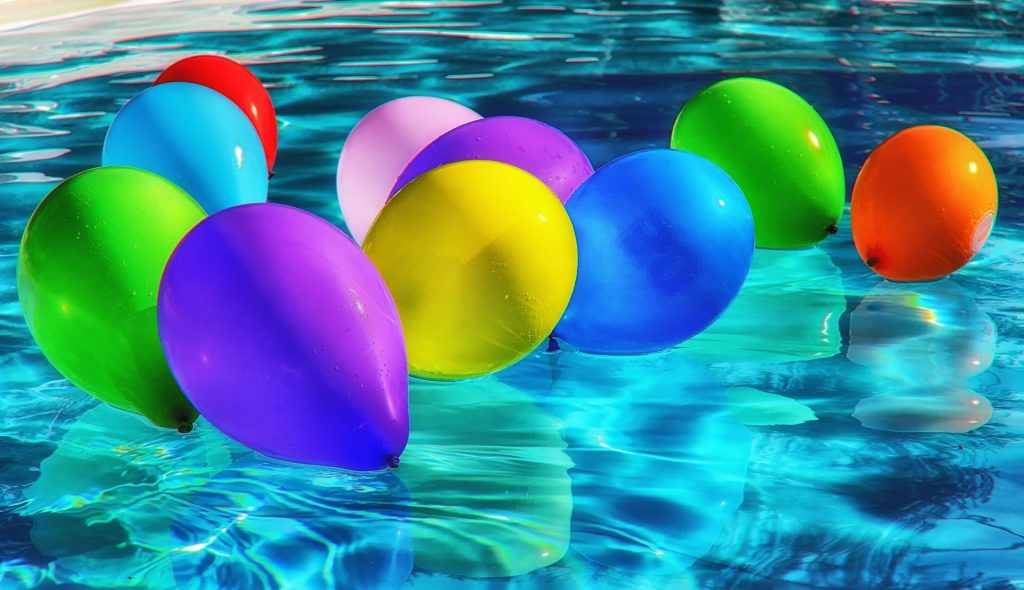 1) Color
It's amazing how the simple addition of colorful decorations and pool accessories can create a cheery and upbeat ambiance. Colorful items such as seashells and fishnets, balloons and beach balls, paper lanterns and twinkle lights, and tropical themed tableware are affordable and can quickly turn a drab pool party into a bright, festive one. After dark, light up the night and keep pesky bugs at bay, with glowing citronella candles and tiki torches.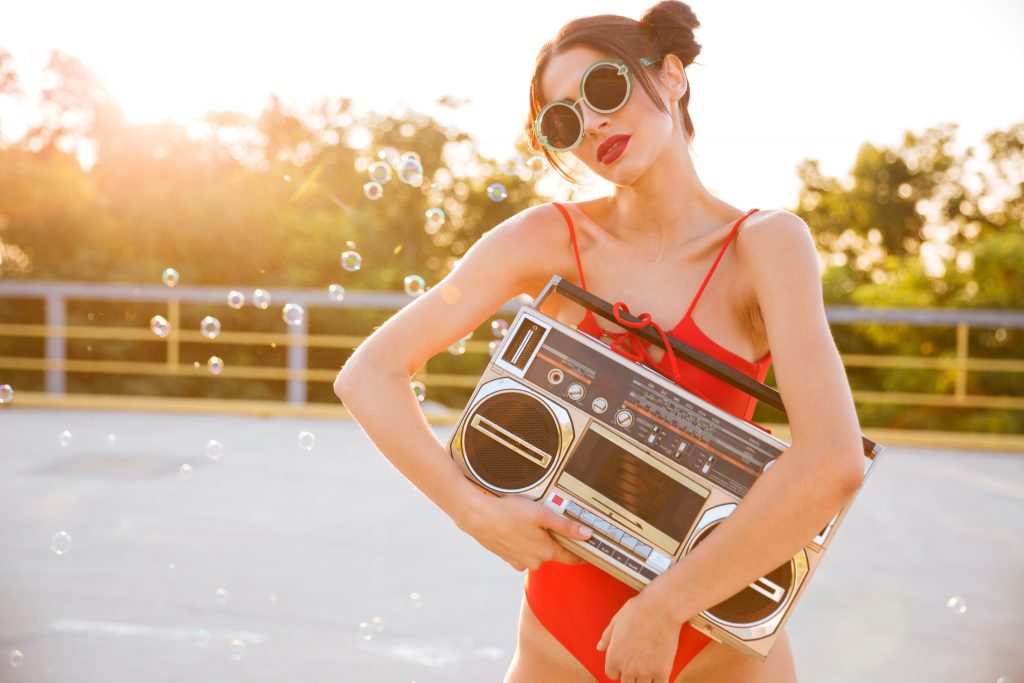 2) Music
Another quick and easy way to add festivity to your pool party is the addition of music. A retro playlist of favorite classic songs such as "Summer Breeze" by Seals and Croft, "Splish Splash" by Bobby Darin, "Good Vibrations" by the Beach Boys, and "Walking on Sunshine" by Katrina & The Waves is always a hit.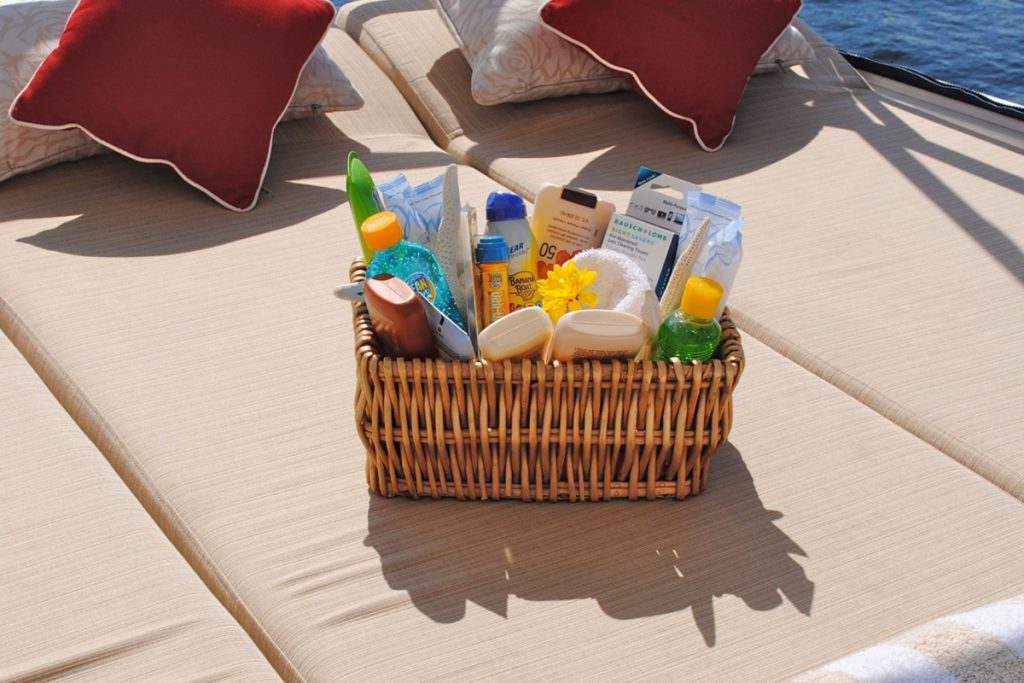 3) Sunscreen & Supplies
To keep your guests comfortable throughout the party, provide a basket filled with supplies such as sunscreen, bug spray, aloe vera lotion, and insect sting medicine. If little ones are invited to the party, you may also want to include a few disposable swim diapers, a bottle of antibacterial hand sanitizer, a package of baby wipes, and a roll of small trash bags.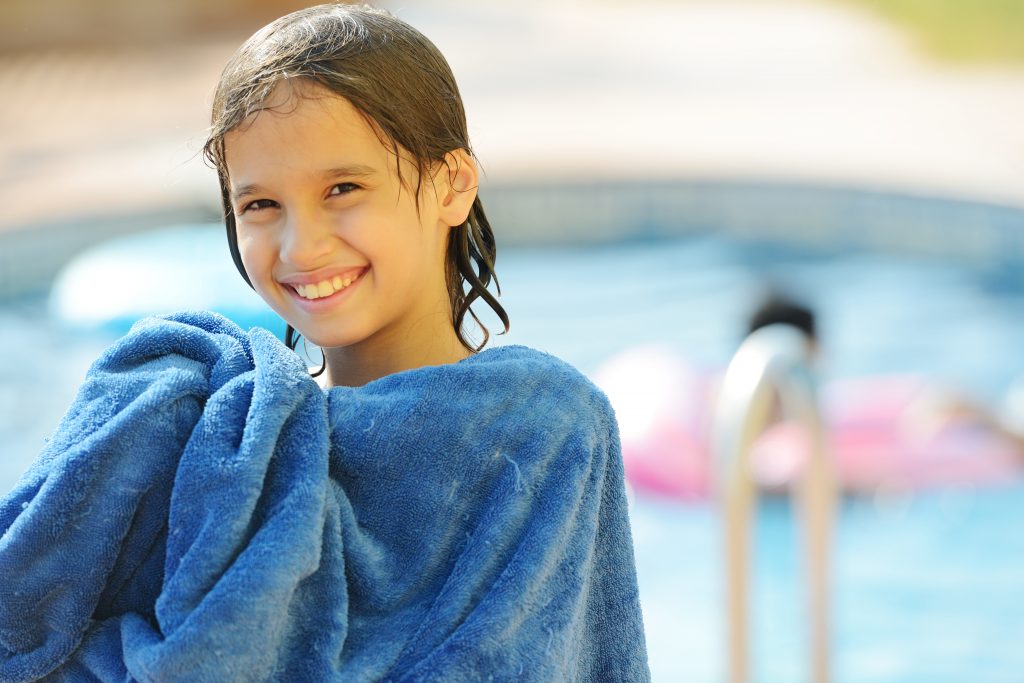 4) Extra Comforts
Although many of your guests may bring their own beach towels from home, it's always a good idea to keep extra towels readily available (it's funny how a towel or two often ends up in the pool.) It's also a good idea to strategically place several nonslip mats near drink or food stations, bathrooms and entryways.
In addition, if this is the first time someone is in your home point out where the bathroom is located or at least display a sign that shows them where to go when the time comes.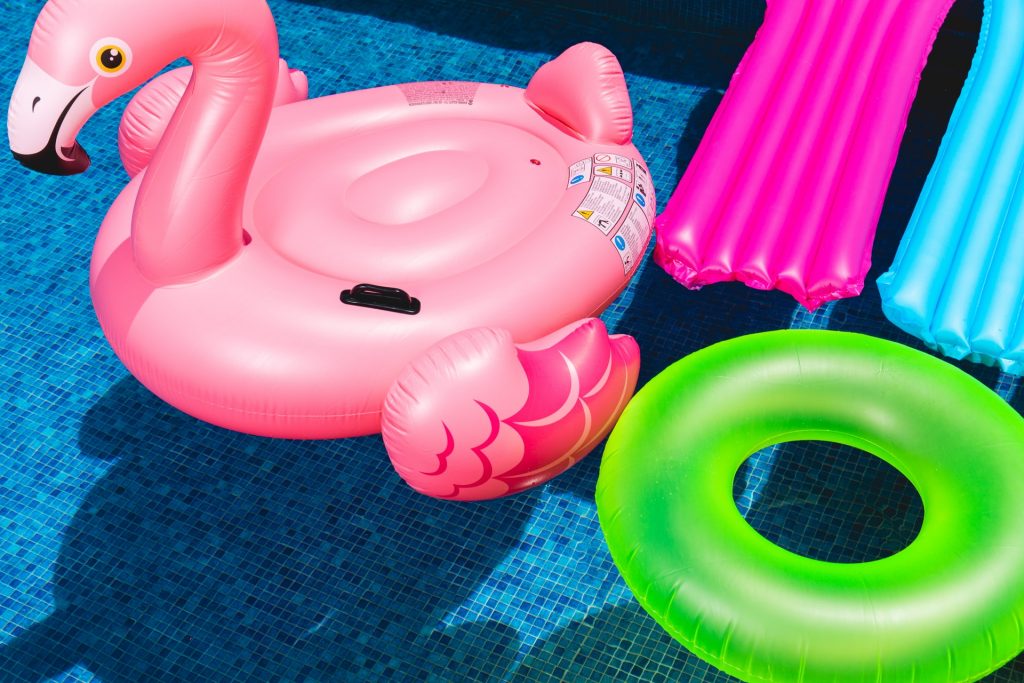 5) Pool Floats & Accessories
Your guests will be delighted to jump right into a pool stocked with an array of beach balls, inflated loungers, and pool floats. Remember to include inflatable drink holders and/or coolers, and maybe even a few pairs of swim goggles, and water guns or soakers.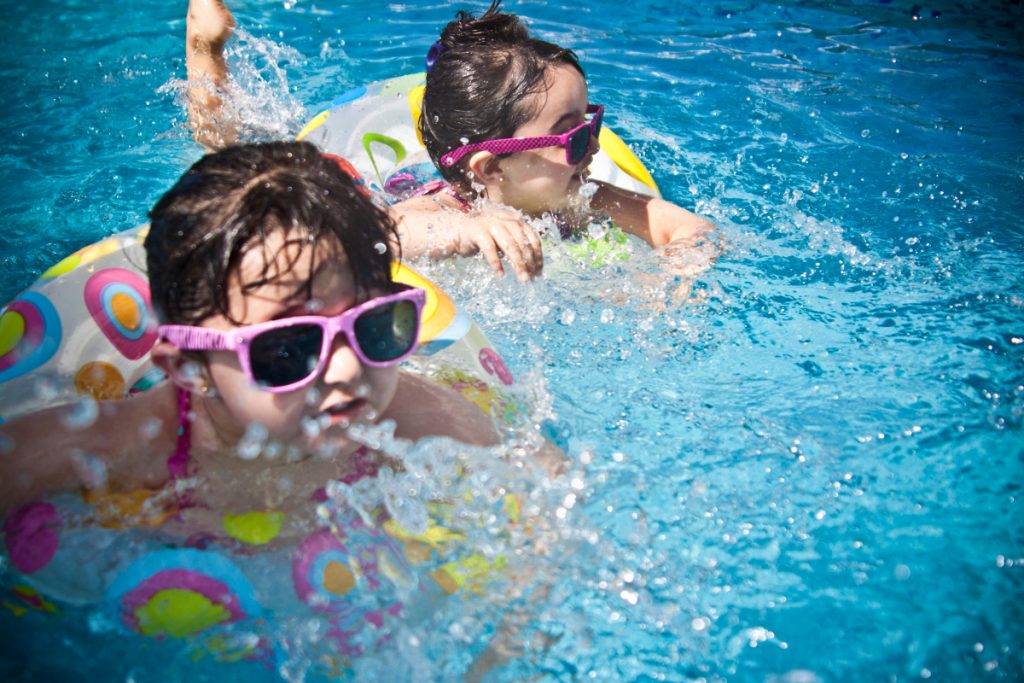 6) Supervision
To prevent any potential problems, never leave children unattended near a pool. Both you and your guests will be able to relax and enjoy the party more if a certified lifeguard is on hand to watch the children during the party. Many high school and college students work as lifeguards during the summer and will probably jump at a chance to earn a little extra cash.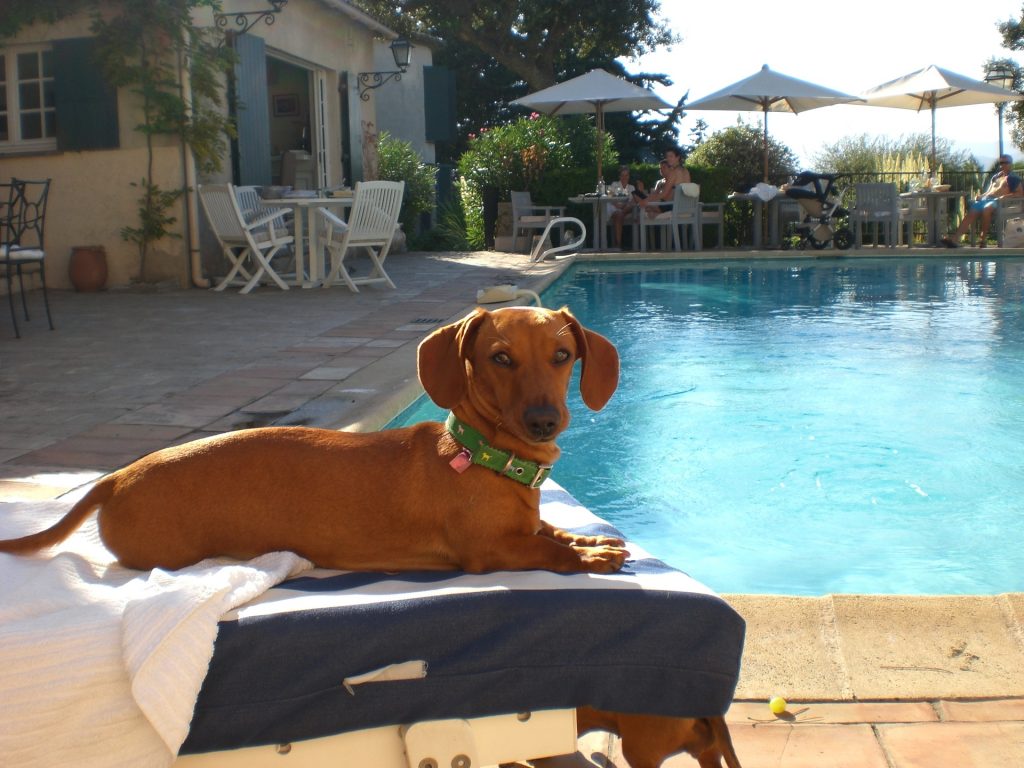 7) Pets
Although most pet owners consider their pet to be just another member of the family, they may not enjoy the party as much as you and your guests. Some pets become nervous around strangers and may have accidents or show aggressive behavior towards your guests. Therefore, it may be best to ask someone your pet is comfortable with to watch them for the day.
If your pet is poolside, be sure to keep plenty of fresh water and shade available. Yes, our furry little friends can get sunburn too so don't forget pet-friendly sunscreen and apply it to their most vulnerable areas such as their nose, ears, and belly. Also, remember that chlorinated water can be drying to their skin and may wash off sunscreen and topical flea or tick control.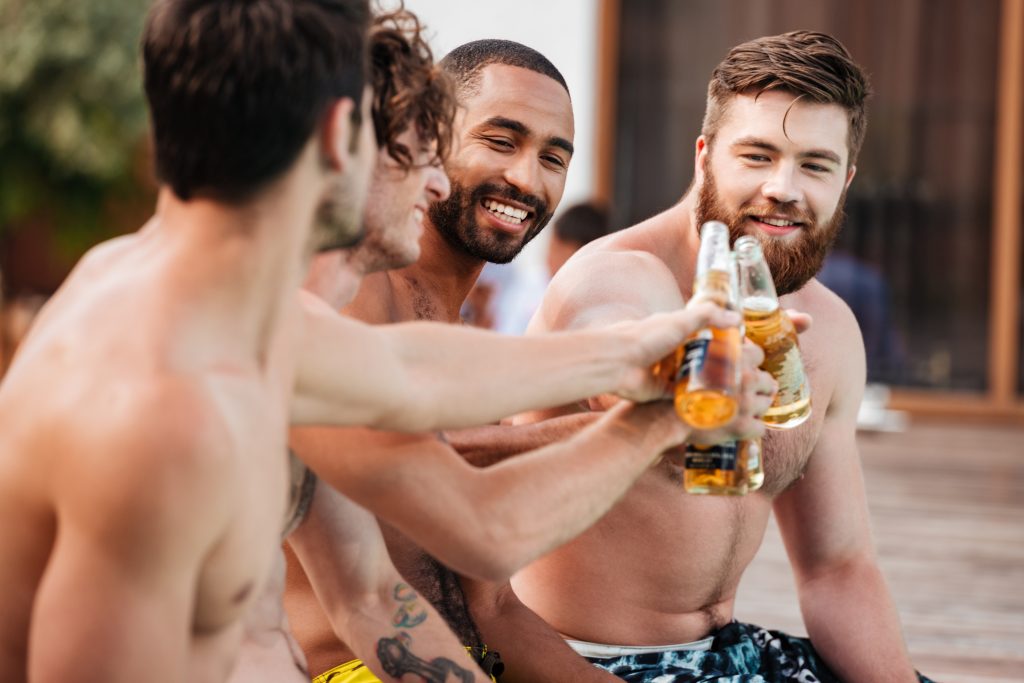 8) Stay Hydrated
Between the heat, sweating, swimming, and having fun, your guests may forget to stay hydrated. The most common symptoms of dehydration are cramping, dizziness, headaches, and sluggishness. Therefore, in order to keep you and your guests well hydrated, offer an endless supply of refreshing beverages. Some of the best hydrating drinks include plain or fruit-infused water, coconut or cucumber water, lemonade, herbal teas, and homemade smoothies.
9) Food & Drink Stations
Food and drink stations are convenient and allow guests to serve themselves whenever they please. In order to keep the traffic flow moving and prevent overcrowding at one station, strategically place food and drink stations in different locations near the pool. To help keep party cost down, get creative and use everyday items to serve foodstuff, e.g., drink condiments in martini glasses.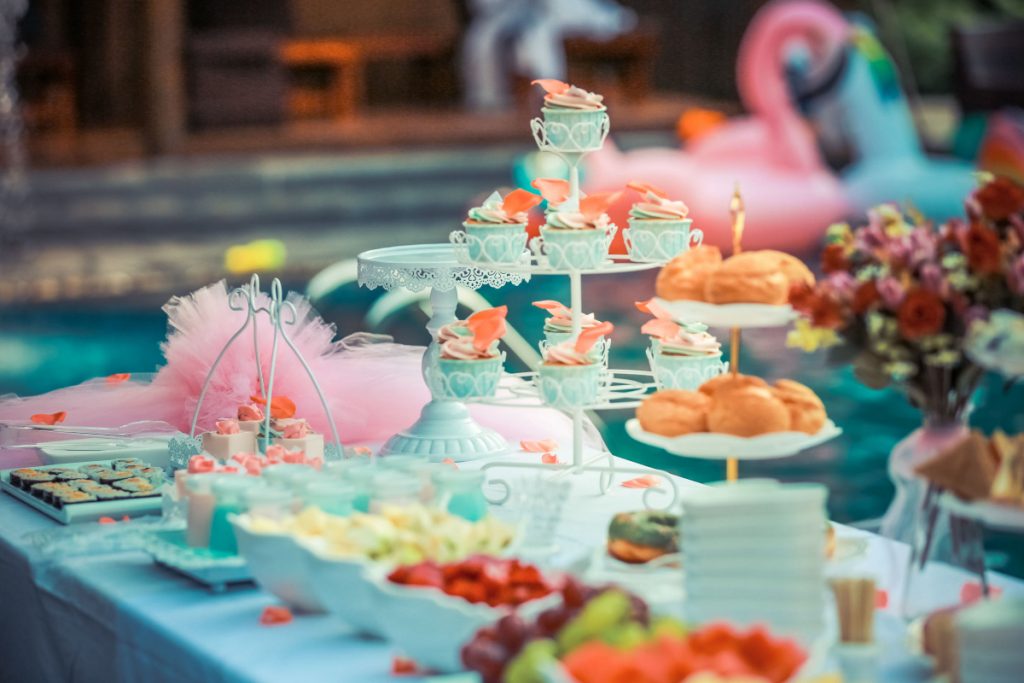 10) Presentation
Any chef will tell you that one key to serving a delicious dish is its presentation. Did you know that's why most restaurants serve food on white dishes? Buffet lines often elevate food at various heights for better visibility and easier serving. Finger foods are always best at a pool party and remember to keep cold foods cold. You certainly do not want someone getting sick because the mayo went bad!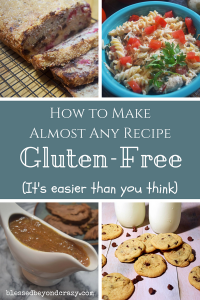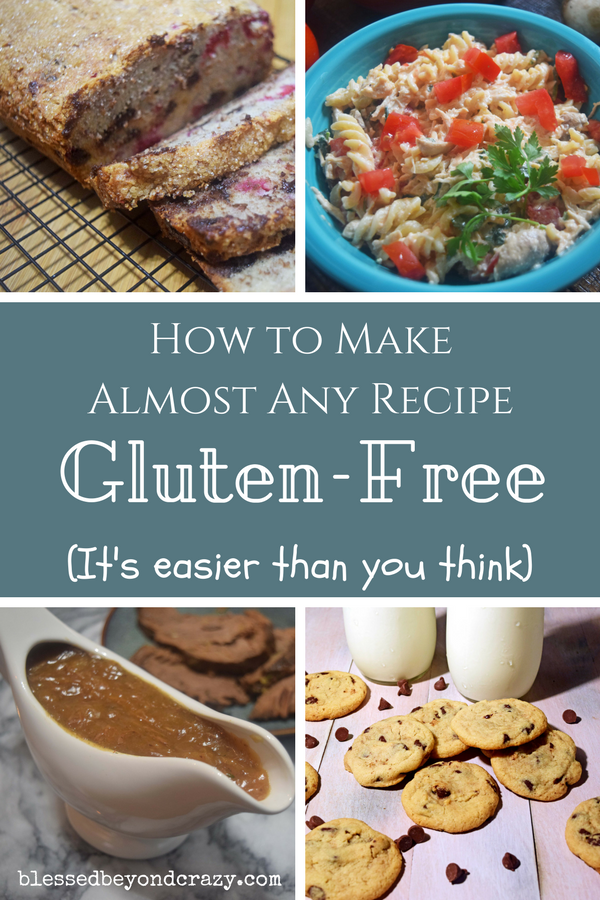 Another thing to consider when planning your menu… do any of your guests have dietary restrictions? Ask beforehand if any of your guests are on a special diet such as a low-carb, vegan, or gluten-free diet? Your party won't be much fun for your guests if they can't find food appropriate for their particular dietary need.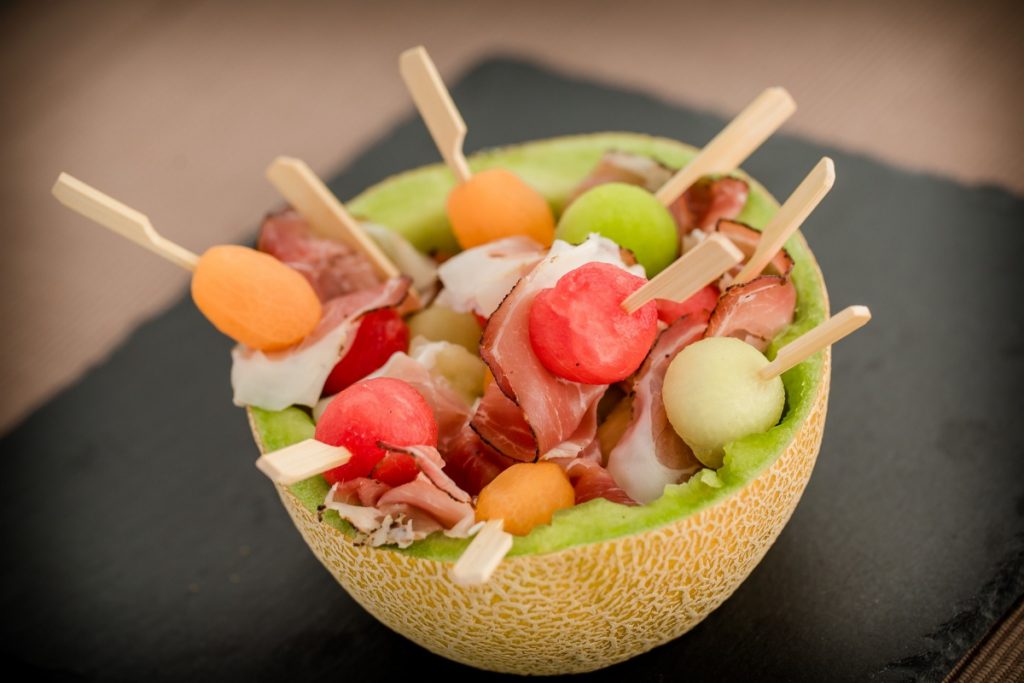 11) Disposables
Make your pool party cleanup a breeze by using disposable serving bowls and tableware, e.g., use hollowed out watermelons and cantaloupes as serving bowls.



12) Take a Break 
It's always a good idea to take a short break after eating and now is the perfect time to play a few games, hand out party favors, snap a few photos, or visit with friends.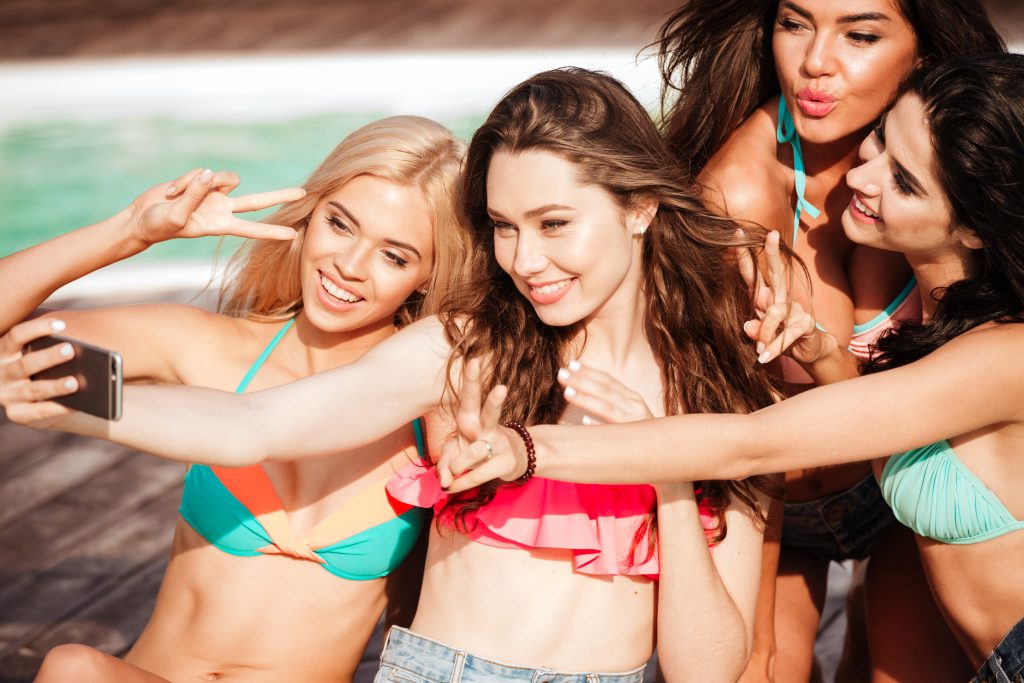 13) Memories
Fun times often become cherished memories so be sure to capture a few photos throughout the party. Later, you and your guests can upload photos online and create fun memory photo books.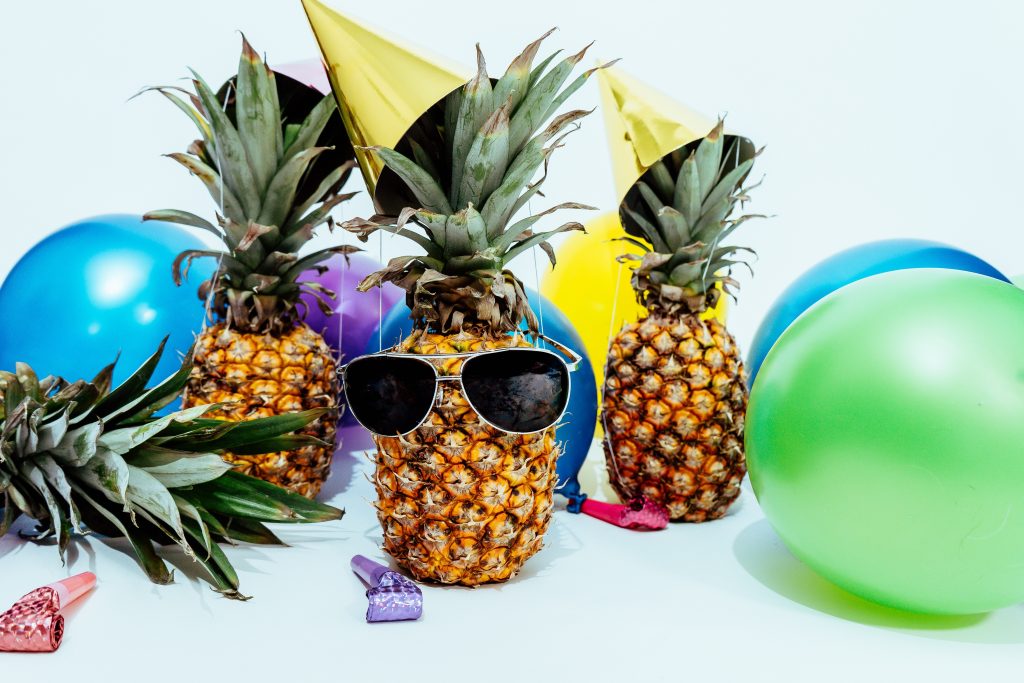 14) Party Favors
Party Favors are also on our list of 15 Simple DIY Summer Pool Party Tips. Something as simple as fresh pineapples can serve double duty as party decorations, (e.g., add party hats, sunglasses, and a lei around the bottom) then afterward, let each guest take one home as a sweet party favor. 


15) Insurance Coverage
Safety is always the number one priority when hosting any party and while no one expects accidents to happen, pool parties do have an added element of danger. Check with your insurance agent and make sure that you have the proper homeowners coverage, including your pool.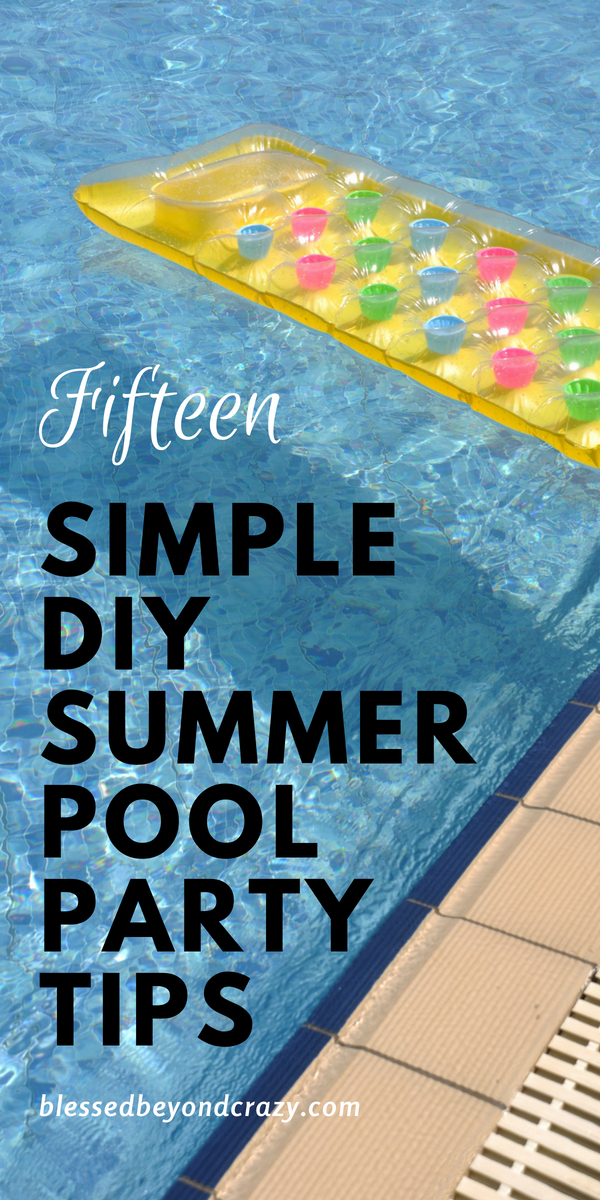 Have fun hosting your summer pool party!!
Happy Summer!
Linda
More great ideas: